Our readers often ask us, "where are the best places to say in Napa Valley on a budget?" We decided it was time to create an easy guide for you. We know it isn't easy finding cheap hotels in Napa Valley. This wine tasting mecca draws millions of wine lovers each year. You will be competing with your fellow travelers for a limited number of quality Napa hotel rooms. All that competition means that even the most affordable Napa Valley hotels aren't really "cheap". There are just too many people looking for affordable accommodations and the hotels, inn, and B&Bs all know that. You may see a few more Napa hotels offer deals in the "off-season" (Jan-Mar) but in general, you should expect to pay at least $150 a night for a basic Napa Hotel room.
So what should you do when you are planning your Napa Valley tour? How can you possibly stay on a budget while also having a killer time drinking world-renowned wines? We've got you covered. We combined our personal knowledge of the best places to stay in Napa on a budget with tips from friends and third-party reviews.
We tried our best to find affordable Napa Valley hotels in all corners of this large county. This will give you the flexibility to find Napa accommodations closest to the wineries you to focus on. Again, don't be shocked by what is considered a cheap place to stay in Napa Valley. This is all relative. What the hotels on our list represent is a great value in a very expensive destination.
Do you need an affordable Napa hotel in the next few weeks? You can use this link to find last minute hotel deals with big savings. Do you want a package that includes a hotel stay, wine tasting, and dining? Here are the best napa valley vacation packages.

Photo Courtesy: Bergson Hotel
The Bergson is a charming boutique hotel. It makes an ideal base for exploring the wineries around Calistoga, California. This North-West Napa county hotel features very reasonable prices. The cost of a standard room begins at $115 per night. Need more evidence that this is a great place to stay in Napa Valley? Check out the great reviews from many happy guests.
The hotel's amenities include private balconies, healing spas and access to bike trails. These trails are a godsend for winery tourists. You can enjoy the beauty of the Napa countryside while safely peddling between wine tasting stops. Even after a long day of tasting, you can peddle safely back to The Bergson.
Milliken Creek Inn & Spa is a luxurious and decadent destination that provides exemplary service to create the most inviting experience for their guests. Amenities include daily access to the spa and wellness center. Here they offer an array of services for weary wine tourists! This affordable Napa hotel also features complimentary receptions and tastings run by local vintners. At these events, you are offered selections of wines, cheeses, and elegant cordials. There is nothing better than a nightcap at your hotel to conclude your evening.
The price is reasonable for such the services you receive. When you also factor in the location, $250/night is a relative bargain when compared to other places to stay in Napa Valley.
Wine Country Inn
Wine Country Inn is recognized as one of Napa Valley's finest boutique hotels for their ideal location. The hotel surroundings are lush. They feature relaxing landscapes and breathtaking views. The Inn offers private decks and patios that overlook local Napa vineyards. One perk of this Napa hotel is that it's pet-friendly. This is uncommon when looking for places to stay in Napa Valley. If you are looking to bring your furry friends along for your wine tasting vacation, this may be the spot for you!
The establishment offers weekly wine tastings and provides an intuitive wine guide for the local vineyards found in this extraordinary AVA. These include Duckhorn, Titus, Cade, Louis M Martini, Charles Krug, and Mumm Winery.
Click Here | Receive a special discount when you book at the Wine Country Inn
Candlelight Inn is an elegant and historic inn that rests on the tributary of the Napa River. This fine Napa inn offers breathtaking views and scenery. Each room is equipped with luxurious private decks, four-poster beds, and fireplaces.
We feel it is imperative to catch a  glimpse of the iconic Redwoods when you are traveling through Northern California. The Candlelight Inn has it's very own Redwood grove that you can hang out in! The Inn also features homegrown produce.  You can enjoy "farm" to table meals when you dine at the Inn's restaurant. You can't get much more "Napa" than that.
The owners have built strong relationships with the wineries of the area. They can lead you in the right direction when it comes to tastings, train luncheons, and hot air balloon tours.
Meritage Resort and Spa offers unique adventures and much-needed relaxation. The resort is home to an award-winning spa and globally renowned Trinitas Cellars Tasting Room. The Estate Cave is built 40 feet underground. Here you can indulge in flights of Trinitas Wines paired with chocolates.
The four-diamond hotel rests on nine acres of vineyards, hiking trails, grottos, and cabanas which provide a relaxing and inspirational stay. The resort provides easy access to downtown and the wine tasting areas via a shuttle service. It's a nice feature when you consider all the great wine you will be "sipping" on your trip.
This stay in southern Napa will cost you about $230 a night for a standard room. You can find seasonal specials as low as $150.  If you have flexible travel dates, you can score a beautiful room at an outstanding price. That's what makes this one of the best places to stay in Napa Valley.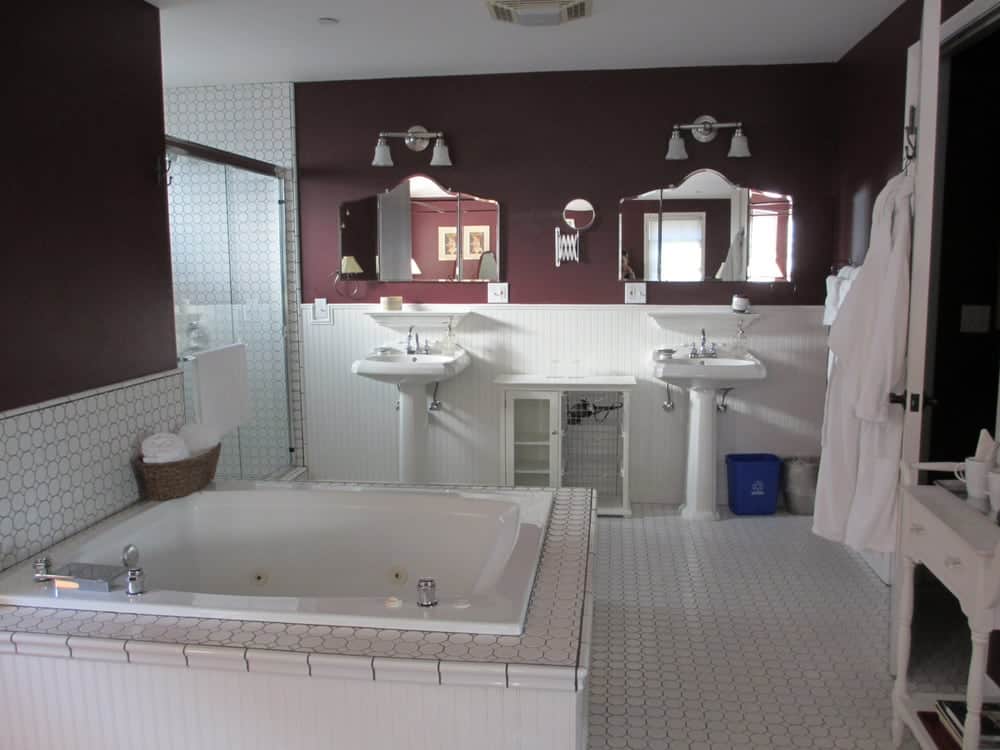 The Inn on First provides an eclectic experience for your visit to Napa Valley. The reviews for this property say it all. Guests are charmed by the staff and the inn itself.
Your stay includes personal wine tours and evening wine tastings. You can also book an array of adventure packages such as exotic car expeditions, biking, horseback riding, fly fishing and private cooking classes.
Located just moments away from downtown Napa, this is an ideal place to stay. You will be resting your head down the road from 30 tasting rooms of world-renowned Napa wine.
The Inn on First proudly offers an award-winning breakfast, which is sourced from local fresh ingredients prepared by a culinary master. This is the perfect way a to start out a long day of imbibing. You can book these rooms at a solid price starting at $175/night - but they go quickly! Remember, planning is key if you want to find some of the most affordable places to stay in Napa.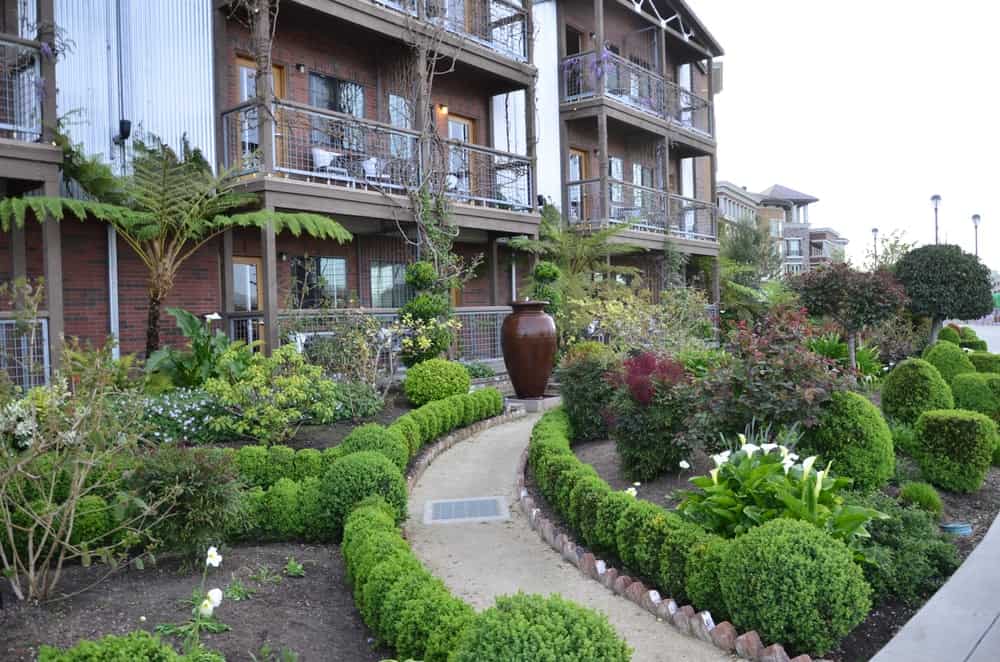 The Napa River Inn is known as the place "Where the Water Meets the Wine." This iconic hotel is downtown Napa's Michelin rated Forbes Four Star hotel. If you are looking for the best place to stay in the heart of downtown Napa, this is the place for you.
The exotic landscape overlooks lush courtyards and a waterfront view. Guests enjoy breakfast-in-bed and easy access to 25+ tasting rooms within walking distance. The Napa River Inn provides world-class dining and offers complimentary tours in a Lexus for an upscale treat while exploring the surrounding wineries and tasting rooms.
For some travelers, this hotel may fall a bit outside the affordable Napa hotel range. But check for specials and you may get a good rate at one of the best places to stay in Napa Valley.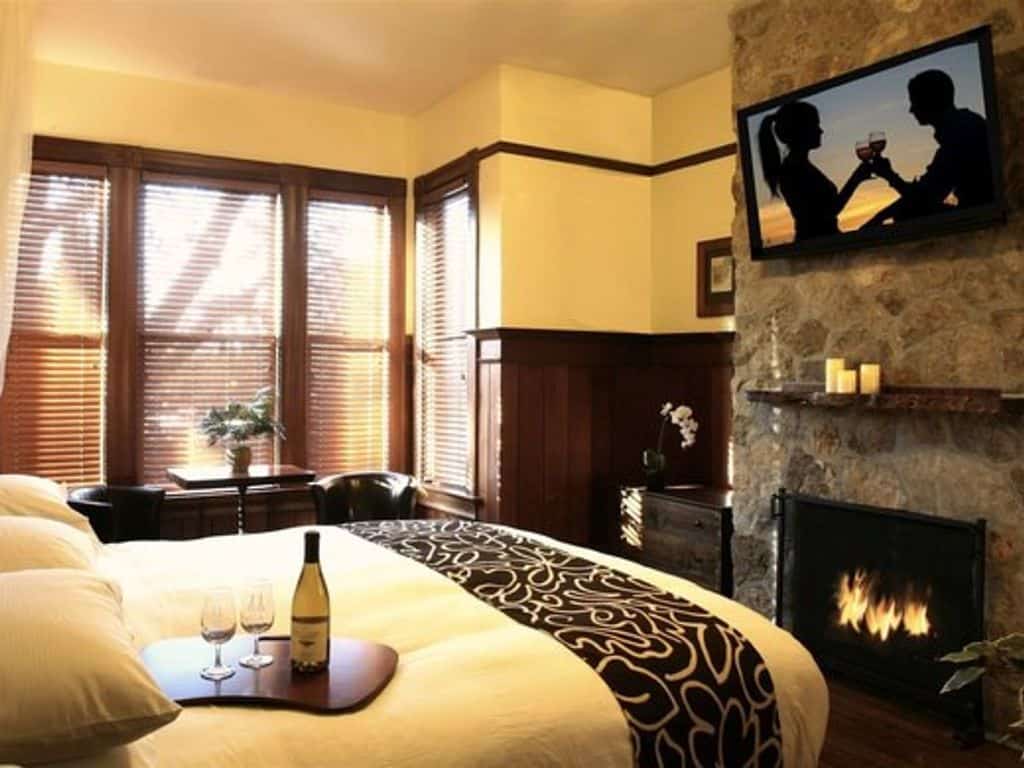 Hotel Napa Valley's location is perfect. It is in the heart of downtown Napa close proximity to vineyards, shopping, and the airport. Rates here begin at $129 a night. The Hotel consistently receives high ratings and accolades.
The Hotel is actually a cluster of buildings they call the campus. You can stay at the Cabernet House, Merlot House, Main House, and private cottages tucked in between its lush courtyards.
Your stay includes discounts on tours and many local attractions to the area. Hotel Napa proudly offers a highly organized and intuitive winery guide that includes 400 of the surrounding wineries organized by AVA - trust me, this WILL come in handy when exploring the vast majesty of Napa Valley.
This two-story cottage on Napa Creek offers a quaint package of serenity, seclusion and nature at the price of $90.00. Equipped with a full kitchen, two queen beds, and its very own path to the creek, this is ideal for families or couples who are yearning for a dose of wine and nature. Location is close to tasting rooms, restaurants and shopping - and with such an incredible price, think of all the libations and wine you can indulge in!
This Tuscan villa is a private gated estate that sits on 3 acres of secluded vineyards that overlook cascading hillsides and mountains of the heart of Napa Valley. This 2 bedroom 1 bath is $750 per night, which sounds rather pricey at first... but hear me out! The stunning villa comes completely furnished with a wood stove, outdoor grill and functional kitchen - if you are an avid chef, this option will save you money instead of going to a restaurant for each meal. Consider splitting the cost with another couple and this private estate may be the destination to your dream vacation in Napa.
Conclusion and more resources for the best affordable places to stay in Napa Valley
Finding the best place to stay in Napa Valley should be a fun experience. Remember that you are planning a relaxing visit to one of the most beautiful wine regions in the world. Napa offers stunning natural landscapes, great weather most of the year, and world-class dining. And those aren't even the main attraction!
If this list of affordable places to stay in Napa Valley isn't what you are looking for. You should look at our review of Airbnb options in Napa. Or you can peruse our list of the top resorts in Napa Valley if you are willing to spend a bit more.