Statement from Malibu wines:
Thanks to everyone in the community for your prayers and support through this difficult time. Our amazing animal care and facilities team began preparing for evacuations late last night and because of their efforts we have survived the fire. Our management team and animal trainers are onsite right now feeding, providing water, repairing enclosures, and caring for our animal family (including Stanley). While we have lost a considerable portion of our barns and facilities, our primary concern is the lives our animal and human families. We have a small number of number of animals unaccounted for but the search is continuing through the night. Your offers of support are deeply appreciated and as we begin the reconstruction process we will reach out to neighbors to help with this process!
From Rosenthal Winery:
Due to recent fires in the Malibu area,
the Rosenthal Tasting Room will be closed until further notice.

Our thoughts and prayers go out to everyone affected,
including Firefighters and First Responders.
The 5 Best Malibu and Ventura Wineries to visit
Don't let your wine tasting glass run dry just because you haven't made it to Napa Valley in a while. Some of the most unique wine tasting experiences can be found a little off the beaten path outside Los Angeles in beautiful Malibu and Ventura wine countries.
These unassuming wine tasting locations boast acres of vineyards, award-winning wines, special events, hiking, yoga, outdoor movie nights, and even a safari.
For SoCal locals, this makes for a vino-filled day trip (think sharing an Uber XL with friends) without having to jet up to Northern California - having to be awkwardly wanded by airport security and forced to sit in the dreaded middle seat on a budget airline. The best Malibu wineries and the best Ventura wineries make for a perfect wine getaway and you can keep your shoes on the whole time, or not.
An alternative to Coachella?: This tasting room, cozily snuggled in the Santa Monica mountains, is more like an all-day adventure where you can experience wine tasting, live music, and a picnic lunch in a converted school bus. Many LA locals consider this the best Malibu winery to visit.
Tasting flights rotate but menus include 5 tastings of enticing varietals like Mourvédre, Pinot Noir, and Syrah as well as the classics Chardonnay and Cabernet.
The outdoor winery has a lineup of entertainment and musings from afternoon 'til sunset like flower crown pop-ups, food trucks, Malibu Sips n' Giggles comedy show, Yoga & Mimosas on Sundays, trivia nights, and live band karaoke.
Malibu Wines also features a 100-acre safari where you can wine taste among wildlife which is sure to supercharge your Instagram by snagging that giraffe selfie or grazing zebra. If you are looking for wineries close to LA, this is one of the best options.
Entry Fee: Free  - Tastings: $12-$16 for a flight -  Bottles: Around $28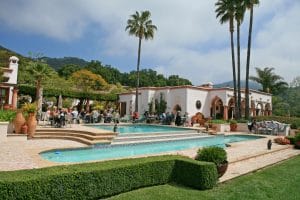 For Those Who Are Curious What Malibu Grapes Taste Like :  ~ Tucked away in Newton Canyon, about 10 min up from Pacific Coast Highway, is a lush, 250-acre nature wonderland with a stunning landscape of hillside vineyards and cascading oak trees.
Rosenthal Winery is an outdoor tasting room and event venue featuring live music, movie nights, and standup comedy. Rosenthal is Malibu's first winery, one of the few that grow and use their own grapes, and has some delectable wines like their 2012 Estate Cabernet and their 2015 Sparkling Rosé.
In addition to their award-winning, signature estate wines, Rosenthal also produces Surfrider Wines where proceeds benefit the Surfrider Foundation - an organization that helps preserve our oceans and waterways. They also offer group and private guided tours of the vineyards. This is definitely one of the best Malibu winery experiences.
Entry Fee: Free - Tastings: price varies - Bottles: start at $38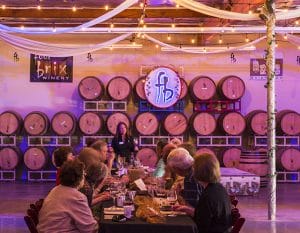 For The World Traveler with an Expired Passport: This craft winery located in Ventura has a niche in winemaking by producing internationally-inspired wine blends. This Ventura winery combined the four big wine regions of Italy, Spain, France, and California and the term for measuring sugar in grapes to come up with their unique name, Four Brix.
The Brix House is the tasting room at Brix Winery. On any given day here you can find - live music, food trucks, pizza nights, and wine dinners.
The Four Brix winery grapes are sourced from local vines from Ojai, Santa Ynez Valley, and Paso Robles.
You can dive into the 5-wine tasting from their very best bottles of sparkling wine, fan-favorite Red Blends, Petite Syrah, Viognier, and even dessert wine. Their pours are very generous too! That helped land this on our list of the best Ventura wineries.
Entry Fee: Free - Tastings: $12 for two wine tastings - Bottles: average price $35
For Those Who Only Have A Hamilton:  This tasting room is perfect for those who want more grape for their money. Only open on weekends (weekdays by appointment), Camarillo Custom Crush Winery offers tastings for just $10. For an Alexander Hamilton, you get six tastings of their featured wines (tasting menus change every two weeks) and a take-home custom wine glass.
But like a game show, that's not all - you also get to take 1/2 off your tasting when you purchase a bottle of wine. Visit their website and you can also print a $3 off tasting coupon. Winery tours are available by request and patrons are encouraged to hang out and enjoy a full glass of their favorite wine.  You can bring your own snacks and picnic, or indulge in one of their gourmet cheese plates. Although the wines are private label, all wines are produced and bottled on-site.
For Those Who Namaste all Day: Morning meditation, check. Yoga class, check. Having a glass of organic wine, check, check. Casa Barranca Winery is the first certified organic winery in the Central Coast.
This winery and estate are not open to the public, but the vibrant tasting room is and is centrally located in the historic Arcade building in beautiful Ojai.
The tasting room offers 2 for 1 tastings using the "Magic Word" found on their website. Casa Barranca produces more than 5,000 cases of wine per year which includes varieties of Chardonnay, Sangiovese, Cabernet Franc, Rosé, Viognier, Grenache Blanc, Pinot Noir, Sauvignon Blanc, and Cabernet Sauvignon.
The winemakers use the latest technology to practice natural and sustainable viticulture for producing organic wine. All power is solar and all water used on the estate is taken from an artesian spring. All farming is done without pesticides or herbicides. Sulfite-free wines are also available.
Entry Fee: Free - Tastings: 2 for 1 with online magic word - Bottles: start at $16
Our list of the 5 most expensive California wines, sometimes known as California cult wines, is dominated by one region and one type of grape. […]
We are often asked, "What are the top wineries for Napa insiders?" If you have been wine tasting in Napa Valley, you've probably hit some […]
Head over to the first wine tasting skills article if you're just now joining us. Everyone else, strap in and put on your helmets; we're […]