by Tony Afterwit
Mendocino County

is a sparsely populated and a enchanting place, offering a majestic coastline with charming, rustic villages, tranquil river valleys, ancient stands of redwoods and a diverse and remarkable range of wines and wineries.
Mendocino is home to many California red wine varieties, including Zinfandel, Syrah, Petite Sirah, Carignan, Charbono and Grenache. In Mendocino's cooler regions you can find Pinot Noir, Chardonnay and Gewurztraminer grapes as well as plantings of Pinot Gris, Sauvignon Blanc, Riesling, Muscat, Cabernet Sauvignon and Merlot. With only 60 some wineries in the region 80 percent or more of the fruit leaves the county and is made into wine elsewhere.
The terrain of the county is mountainous with 60% of the county covered with coniferous forests. Many microclimates exist which contribute to the areas distinctive appellations. Annual rainfall ranges from 19 inches to as much as 70 inches. The county has warm summers with hot dry days and temperatures over 90 degrees. Nights are cool with temperatures dropping to the mid-40's. The coastline is often foggy with sunny, warmer weather common inland.
| | | |
| --- | --- | --- |
| | | |
| Goldeneye Winery backyard view | | Husch Vineyards |
Soils tend to be low in calcium, have low pH and are moderately fertile. In the valleys, alluvial soils frequently have clay horizons up to six feet deep. On the slopes fractured rock is 18 inches to four feet under shallow soils.

Of the nine growing regions seven have been identified as American Viticultural Appellations (AVA). Sanel and Ukiah Valleys are both waiting on their AVA status.
Anderson Valley
is one of California' a coolest growing areas and is noted for sparkling wine, Riesling, Chardonnay Pinot noir and Gewürztraminer. The northwest end of the valley, near Philo, is very cool and often foggy. The warmer southeast end of the Valley, near Boonville, is planted with Cabernet Sauvignon and Sauvignon Blanc. The sun-exposed ridges grow fine Zinfandel, Cabernet Sauvignon and Merlot. Over a dozen wineries are open to visitors.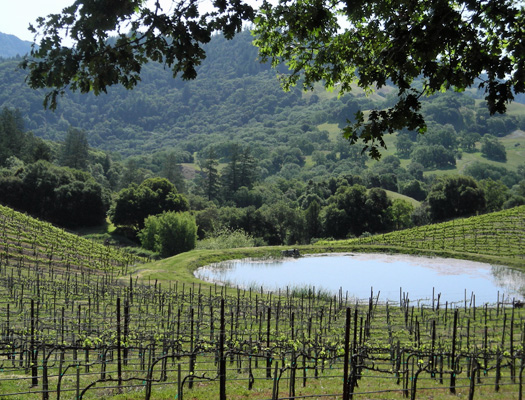 Anderson Valley Vineyard
Yorkville Highlands
straddles Highway 128 and is just south of Anderson Valley growing Sauvignon Blanc, Cabernet Sauvignon and Merlot. The bucolic rural area is a bit warmer and has rocky soils with good drainage forcing vines to dig deep for water. The result is low-vigor vines that yield concentrated fruit. Three good wineries with tasting rooms are located here.
Mendocino Ridges
is to the west of Anderson Valley and continues to the coast including elevations above 1200 feet. Only 75 acres of vines and no wineries are located in this remote rugged area.
Cole Ranch
is the smallest AVA in the United States with just 60 acres of Cabernet Sauvignon, Merlot and Riesling grapes. Located at elevations from 1,400 to 1,600 feet between Sanel Valley and Anderson Valley, Cole Ranch is owned by the Sterling family who own Esterlina Winery in nearby Philo.
Sanel Valley
is not yet a recognized as an AVA. It is located around the small town of Hopland on the Russian River. Sauvignon Blanc, Chardonnay and Cabernet Sauvignon are generally found growing on the flat river plains. A few wineries can be seen from the highway who welcomes visitors.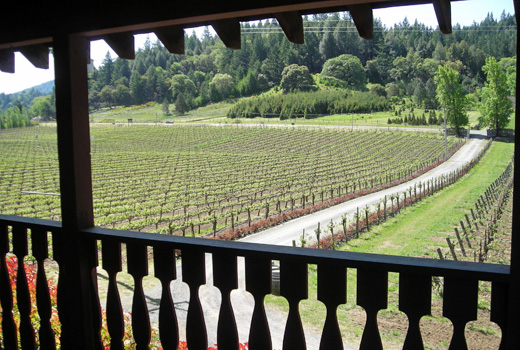 View from Yorkville Cellars, Yorkville Highlands
McDowell Valley
is a tiny, high-sloping bench land that sits up to 1,000 feet above sea level and is a small sub-region within the Sanel Valley. It specializes in Rhone varietals including Grenache, Syrah Marsanne and Viognier as well as Zinfandel. The reds can be big, bold and flavorful.
Ukiah Valley
is Mendocino's largest growing area and extends along the Russian River and Highway 101. Cabernet Sauvignon and Zinfandel grow on the higher benchlands above the Russian River with Chardonnay and Sauvignon Blanc grown on the river plain. The region is currently being considered as a separate AVA.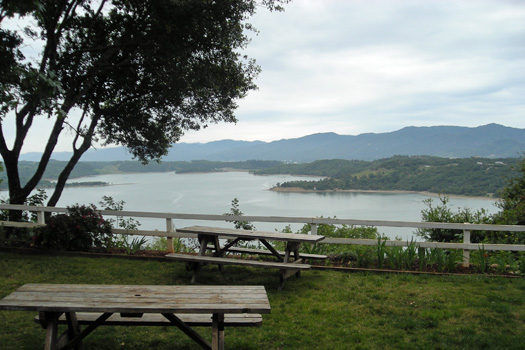 Lake Mendocino looking south from Fife Vineyards
Redwood Valley

is slightly cooler and thus later-ripening than the nearby Ukiah Valley and has a varied rolling terrain. Chardonnay and Sauvignon Blanc along with Zinfandel, Petite Sirah and Cabernet Sauvignon are the dominant grapes. Fewer than a dozen wineries reside here with many requiring appointments to taste.
Potter Valley,

northeast of Ukiah, and directly east of Redwood Valley is at the headwaters of the Russian River's East Fork. The valley is at about 1,000 feet elevation and has cooler night time temperatures. Sauvignon Blanc, Chardonnay and Riesling grapes from grow well though no wineries are located here.

---