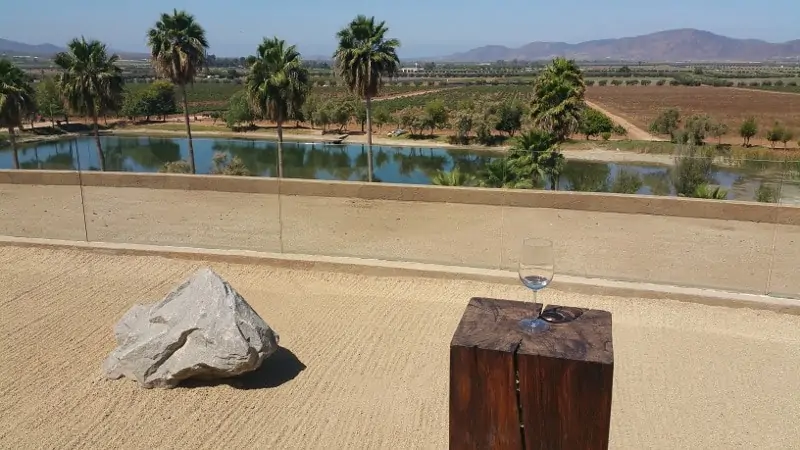 After having explored the wine regions of "alta" California, including Napa, Sonoma, Monterey, Paso Robles, Santa Barbara, Malibu and Temecula, it is time to find the best Baja California wineries for wine tasting!
Located across the U.S./Mexico border, approximately one hour south of Tijuana, the Valle de Guadalupe is the wine capital of Mexico. While 90 percent of the wine in Mexico is produced here,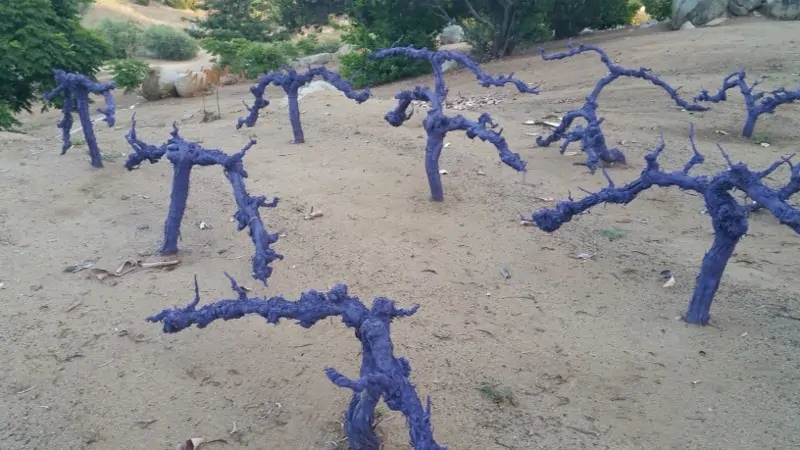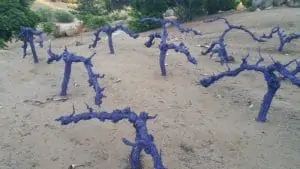 there are only 6,000 acres of vines and a total of 1.5 million cases of wine produced per year. Vines were first planted by monks in 1579 but by 1699, the king of Spain prohibited making wine except for the church. Winemaking started growing again in 1821 after Mexico gained its independence from Spain. Bodegas de Santo Tomás, the first of the Baja California wineries, was established in 1888 and in 1906 the Valle de Guadalupe was established by Russian immigrants who had fled the Russian Revolution. L.A. Cetto, the largest of the Baja California  wineries in the valle, was founded in 1928. But social, economic and cultural problems hindered the development of the wine culture until approximately 30 years ago. Today there are estimated 120 wineries in Baja.
Valle de Guadalupe is 12 miles north of the beach town of Ensenada. The climate is similar to that of the Central Coast. Days are warm with summer temperatures reaching 100 degrees and nights are cool. Valle de Guadalupe is influenced by the ocean and is protected by two mountain ranges, one to the north and one to the south.
There are more than 50 grape varieties planted, ranging from French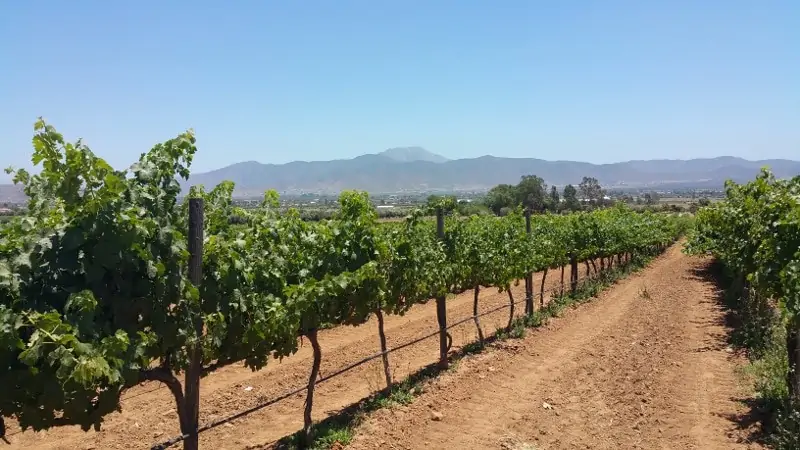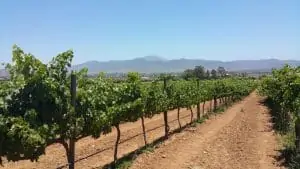 grapes (cabernet sauvignon, syrah, pinot noir, malbec, sauvignon blanc, chardonnay, chenin blanc), Spanish grapes (garnacha, tempranillo, carignan), Italian grapes (nebbiolo, dolcetto, sangiovese), zinfandel and more. And one thing you will find, in addition to many single varietal wines, are many unique blends. Of course, there will be a blend of cabernet sauvignon and merlot but what about grenache, carignan and tempranillo or mourvedre, syrah, cabernet sauvignon and petit verdot? These unique blends are common to find at the Baja California wineries. I even tried a blend that included nebbiolo and zinfandel! It may sound strange to us but as many producers explained to me, the expressions of the grapes are different here than other places and perhaps that is why they can blend grapes together that we would not traditionally expect. Each winemaker is trying to make the best wines possible and with blends they can be different and independent, showcasing their creative and artistic spirits.
There are a lot of Baja California wineries to explore in the Valle de Guadalupe. Here are 9 of my favorites:
9 Top Baja California Wineries
Francisco Zarco s/n Valle de Guadalupe
Ensenada Baja California, Mexico
52 (646) 155 2080
reservaciones@montexanic.com.mx
Reservations required. Group tours offered daily from 10AM-5PM
Established 29 years ago, Monte Xanic is a pioneer in the Mexican wine revolution and Baja California's most award-winning winery. The winery is large and modern, rivaling some you would find in Napa. This is one of the top Baja California wineries to visit.
Camino Vecinal al rancho Cañada del trigo s/n Valle de Guardalupe
C.P. 22750 Ensenada Baja California
52 (646) 155-24-33
Open Daily. Monday – Friday 10am – 5pm. Saturday and Sunday 10am – 6pm.
Famous traveling winemaker Michel Rolland consulted on this winery owned by Ernesto Álvarez Morphy Camou. The vineyards were first planted in the 1930s by the President of Mexico to make brandy. Vina de Frannes, started in 2015, is a modern winery with traditional touches which sits on 50 acres. Sit outside looking at the views of the vineyards and mountains while peacefully sipping the wines.
Rancho San Miguel Fraccion A, S/N Ejido El Porvenir
22755 Ensenada, B.C., Mexico
52 (646) 688 1019
Open Wednesday through Monday 11am – 7pm
A gravity-fed winery, Decantos is a magnificent modern structure that sits on a hill. With floor to ceiling glass windows around the circular building, the views are amazing.
Camino Vecinal al Tigre, KM 3 (near Rancho El Parral) CP. 22766
Valle de Guadalupe, Baja California
52 (646) 947-52-56
Aliximia comes from the word "Alquimia" which means alchemy in Spanish, a perfect name for a winery whose family's background is in science and math. Mathematics Ph.D. turned winemaker Álvaro Álvarez and his family built a unique 3-story round winery that looks like a flying saucer.
82.5 Carretera Tecate-Ensenada
Valle de Guadalupe
Ensenada, Baja California, Mexico
Tasting by Appointment Only: Contact Kristin Shore at Kristin@vinoslechuza.com
Originally from San Diego, the Magnussen family fell in love with Baja California after numerous family trips and purchased land in 2003. Parents Ray and Patty convinced their daughter Kristen and her husband Adam to join them full time in 2013.
Parcela 26 s/n, Ejido El Porvenir Km 9
Valle de Guadalupe, Ensenada B.C.
52 (646) 156.8020
Open Monday – Thursday 11am – 5pm, Saturday and Sunday 10am – 6pm
 Owner Paolo Paoloni is originally from the Marche in Italy. He moved to Mexico City in 1985 and Valle de Guadalupe in 1998. Today he makes Mexican wine with an Italian heart.
Ranch San Marcos Toros Pintos S/N
Ejido Francisco Zarco, Valle de Guadalupe
Ensenada Baja California, Mexico C.P. 22750
+52 1 646 156 8053
Open Daily 11:00AM-5:00PM
Sailors Phil and Eileen Gregory traveled the world by boat before purchasing 70 acres in the Valle de Guadalupe. Using reclaimed fishing boats, the acclaimed winery was designed by Alejanro's D'Acosta, Mexico's most famous winery architect. The property is also home to a boutique hotel and two restaurants.
Carretera Tecate—Ensenada Km 87
Valle de Guadalupe
Ensenada, Baja California, Mexico
52 (646) 175 8883
Tasting Hours by Appointment Only
Viñas de Garza is a small boutique family winery owned by Amado and his wife Ana Lilia. Each wine label is connected to the family and a visit to their open-air tasting room feels like a visit to their home.
José María Velazco #1407
Zona Rio Tijuana, B.C. 22660
52 (664) 634 7129
Tasting by Appointment Only
Camillo Magoni is an icon in the region. Born and raised in Morbegno, Italy, Magoni studied and received his Enology and Viticulture degree from the prestigious Scoula Enologica Di Alba, located in Piedmont, Italy before accepting a job from Angelo Cetto at L.A. Cetto. In addition to classic grape varieties, Magoni cultivates more than 70 different grapes varietals from around the world in an experimental vineyard.
Where To Stay When Visiting The Wineries Of Baja Mexico
22760 Ensenada, Baja California, Mexico
Bruma is a tranquil boutique hotel designed by eight childhood friends located at the northern end of the Valle. There are five spacious rooms in the main building. The rooms are spacious with no televisions, telephones or keys for the doors. Concrete floors and stones jutting out of the walls add to the rustic modern design. A delicious home-cooked meal is provided each morning. There is a pool to relax in or hop on one of the free bicycles and ride through the vineyards. Staying at Bruma is simplistic but refined, comfortable yet cool.
Carretera #3 ensenada-tecate km 93.5, San antonio de las minas, 22761 ensenada, B.C., Mexico
 Javier Plascencia, one of the most respected chefs in Baja, is the owner of Finca la Divina. Formerly an old hacienda, it has been remodeled and modernized. Intimate, there are three guest rooms that center around the house's large great room. Enjoy a home-cooked breakfast and then enjoy the pool, jacuzzi, patio and barbecue grill in between wine tasting.
Km. 75, Carretera Tecate- Ensenada, Valle de Guadalupe, 22750
Driving down the road, you cannot miss Encuentro Guadalupe. The 22 minimalistic loft rooms sit on stilts spaced along the hill. Designed by friends who had a vision of a place to go camping in luxury, Encuentro is a truly unique place to stay, yet overpriced for the experience. A sustainable venue, there are no telephones or televisions but there is WiFi. Communication with the main desk is via walkie-talkie and jeeps will take you to and from your room, unless you want to hike. There are even Tesla charging stations. Unlike the other places I stayed, breakfast, except for a plate of fruit, is not included. The rooms are small and feel like low-lit refrigerators but the views are magnificent.
Where to Eat When Visiting Baja California Wineries:
Carretera Tecate Km 93.5, San Antonio De Las Minas, Baja California, Mexico
Open Thursday – Sunday 11:00am – 7:00pm
Located on the grounds of Casa de Peidra Winery, Conchas de Piedra is where terroir and merroir meet. Sit outside and enjoy Mexican sparkling wines made in the classic method by Hugo D'Acorta paired with shellfish from Chef Drew Deckman.
Carretera Ensenada-Tecate Km. 85.5, San Antonio de Las Minas, 22766 Valle de Guadalupe, B.C., Mexico
Originally from Georgia, Drew Deckman worked in Europe before finding his home in Valle de Guadalupe. He opened Deckman's in 2012, an outdoor restaurant that looks like a campground with a luxurious feel. The walls are made of hay bales and lights are strung above as Chef Deckman and his team cook on open fires. Located on the Mogor Ranch, all of the wine, vegetables, herbs, lamb, olive oil and eggs are estate grown or produced. The fish and seafood is sustainable and always from the Baja Peninsula. Beef, cheese, and salt are also local. You can order a la carte but a five-course tasting menu is also available.
Carretera Tecate - Ensenada Km 83, Ejido Francisco Zarco, Valle de Guadalupe, 22750 Ensenada, B.C., Mexico
An outdoor veranda grill with family-sized tables, Finca Altozano is set in a natural environment. Using only products and ingredients from the region, Chef Javier Plascencia roasts, smokes and grills in the open kitchen to produce incredible flavors.
Adobe Guadalupe
Parcela A-1 s/n, Rusa de Guadalupe, 22750 Ensenada, B.C., Mexico
Adobe Guadalupe is an elegant six-bedroom hacienda owned by Tru Miller, a Dutch woman who originally built the house for friends to visit. In addition to the guestrooms, they also produce wine and breed and ride champion Azteca horses. A formal five-course meal is available in the elegant dining room. For something more casual, head outside to the Adobe Truck where you can enjoy a glass of wine and tapas.
km 83, Tecate, Vivienda Popular, Ensenada, B.C., Mexico
Located in a ranch-house, Laja was the first restaurant opened by Chef Jair Tellez, one of Mexico's most important chefs. Born in Tijuana, Tellez worked under Daniel Boulud and Roland Passot. At Laja, French, American and Mexican cuisines all influence the menu to make the Laja style. The dishes are simple but flavorful and you can choose between a four-course or an eight-course tasting menu.
Rancho San Marcos S/N, Toros Tintos Francisco Sarco, 22750 Ensenada, BC, Mexico
Corazon de Tierra is considered one of the 50 best restaurants in Latin America and having eaten there, it is easy to understand why. The restaurant, with floor to ceiling windows, colorful wood table, multi-fabric chairs and custom pottery, has an open kitchen where Chef Diego Hernández-Baquedano creates his magic. Using sustainable, local ingredients, the flavors are authentic but contemporary with items such as guava flan with sage foam and pumpkin seeds or parsnip soup with dried sweet potato, kale and lamb.
Fun Finds Near the Baja California Wineries:
Cremeria Los Globos
Carretera Ensenada - Tecate s/n, Villa de Juárez, B.C., Mexico
If you like cheese, head to this local wine and cheese shop! We stumbled upon it while on a walk and had so much fun tasting all of the different local cheeses. We went back before we left to pick up a few cheeses and olive oils to bring home with us.
Organic Farmers Market at El Mogor
On Saturdays and Wednesdays from 11am – 1pm, there is an organic farmers market at El Mogor, a few minute drive past Deckman's. It is very small but you can purchase fresh vegetables, fruits, homemade jams, and tortillas.
How to Get to Valley de Guadalupe:
Getting to the Valle de Guadalupe is rather easy by car. But you will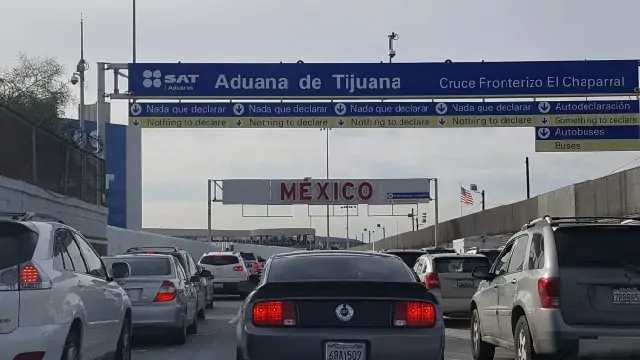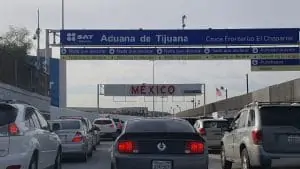 need to get insurance for your car if you are crossing the border. Another option, and how I suggest going, is to take the train to San Diego and then rent a car. This way, no matter where you are coming from, you do not have to fight the congestion on the 405 freeway and can peacefully travel down the coast. Once in San Diego, there is an Enterprise Rent-a-Care a few minutes away. They will pick you up at the train station at no cost, or it is a $5 uber ride. When you rent a car, you can get the necessary insurance as well. From the rental company, it is less than 30 minutes to cross the border and then another hour, driving along the coast for most of it, to get to Valle de Guadalupe.
Coming back to the US is a little more time consuming as crossing the border can take between 30 minutes and two hours. Make sure you do not have to use the bathroom and just be ready to sit and wait. You can always buy a cheesy souvenir or churros from one of the vendors walking by. If you have Global Entry, you can only use it if you are driving your own car and have pre-registered it with the Sentry program.
Travel Tips When Visiting the Baja California Wineries
Valle de Guadalupe is a casual place. It can be very hot and dry during the day but at night, especially in the winter where it can be quite cold at night.
You can use your credit cards almost everywhere. US Dollars are accepted as well.
Tipping is expected, just like in the United States.
You can use your cell phone but call your carrier in advance for an international plan.
Googlemaps works very well for getting around.
Beware the road conditions. Once you are off the main highway, the dirt roads can be rather bumpy. All the more reason to rent a car.
Gas stations are full service
The main streets have good signage but when you are off the main roads, the signs are fewer and farther between.
Arrive in the daylight as it is easier to find where you are going.
Bring a flashlight for at night.
Bottled water in the hotel rooms is safe to drink.
You can bring 1 bottle of wine per person back into the United States. They do ask you at customs and may look in your car and trunk.
Stop for lobster in Puerto Nuevo on your way to or from Tijuana to Valle de Guadalupe.
Allison Levine is the owner of Please The Palate, a boutique marketing and event-planning agency. Allison is Level 3 WSET Certified from the Wine & Spirits Education Trust, is certified as an Italian Wine Specialist from the North American Sommelier Association and has a Master's Degree in International Communications with a focus on cross-cultural training from the American University School of International Service. As a freelance writer, she contributes to numerous publications while eating and drinking her way around the world.
Allison also writes for the Napa Valley Register and other outlets, in addition to her blog at Please The Palate; Twitter and Instagram @plsthepalate; Facebook: Please The Palate