Wine in Cans: Can Do!
If you'll pardon the pathetic attempt at a pun, canned wine is exactly what it reads on the tin – wine in a can. Now, most people will react negatively to this – after all, boxed and canned beverages are for those who don't appreciate the taste of good alcohol. That's fine for beer, but wine?
All jokes aside, though, these past few years wine in cans has become all the rage, which is probably attributable to it being a novelty, but also the convenience factor. Let's paint a picture – it's summer, and you're headed to the beach. You'd love to bring some wine, but bottles are liable to breaking, and pouring vino out of a carton is sort of sacrilegious to a true connoisseur of fine wines.
Canned wine, in this case, would be a perfectly acceptable middle ground for most oenophiles, not only because they can't break, but also because cans are much faster to chill. Moreover, cans are significantly cheaper than bottles both for the producer and the consumer (they're cheaper to make, cheaper to ship, don't crush, don't shatter, don't weigh as much), and you still get the same wine, albeit in a little less prestigious package. Hence the great variety of canned red wine, canned white wine and everything in between.
Traditional Package
Now, as you're well aware, wine has been around for a very long time.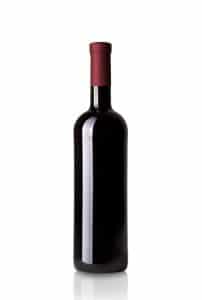 In ancient times, the Ancient Romans and Greeks used to pack it in clay containers called amphorae or amphoras. Interestingly enough, even some vintners today are using these to add a little breath of fresh air (speaking completely un-ironically) to their pallet of palates and tastes that other aging methods can't quite duplicate.
Glass bottles and cork stoppers, the iconic wine containers instantly recognized around the globe, have "only" been around for about three hundred years (we say "only" simply because wine has been stored and transported in clay containers of various make since about 6,000 BCE). With this in mind, canned red wine is something of a new toddler on the block, but with a distinct edge over bottled wine – you don't need a corkscrew!
The Canning Process
You take wine. You put wine in a can. Now you sell it and profit.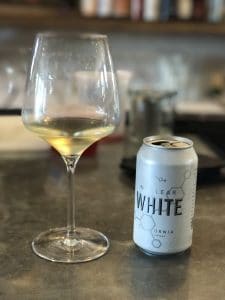 On a more serious note, canned wine is still being made the traditional way – the grapes are still picked, crushed, the juice fermented and the wine aged and fortified (or not) like in ye olden days. The only difference is that now it's packed in cans (your every day 8 or 12-ounce ones), and often comes in 4-packs. In a way, canned white wine is a beach-party oriented package rather than something to be paired with cheese slices and fancy dresses.
Now, you're probably wondering how canning process impacts wine quality. The truth of the matter is, it doesn't, at least not in any negative way. Just like with craft beer, canned red wine and white have absolutely swept through the wine industry like wildfire. But before we move to the positives, let's dispense with the negatives (perceived and real ones alike).
Yes, drinking your wine from a can does indeed mute the taste, which prevents you from fully enjoying the flavor. The complexity of it isn't fully gone, but it will taste rather flat across the board, irrespective of the maker and wine variety. However, there's no metallic taste you'd normally expect out of such container. We suggest you pour your canned red wine into a proper glass if you want to enjoy the full aroma and taste. But if you don't have a glass handy, canned red wine still tastes pretty damn good.
As noted earlier, the craft beer scene has seen a rise in can usage because the aluminum can of today is coated on the inside, fully eliminating the tinny taste. A similar trend is rapidly rising among the vintners, especially in California where many Central Coast producers are introducing canned wine.
Top California Wineries Using Cans
The list here is far from complete, or even comprehensive, but in case you're interested in sampling some canned wine, it's a good start. So, here's a short list of the ten top California wineries using cans (in no particular order), coupled with their flagship wines. This list includes canned red wine, canned white wine, and the ultimate beach treat, canned rosé wine:
The Wine Society is a beautifully designed wine in a can club. They offer a white, red and rosé wines in sleek modern cans with provocative names like Tempt, Fate, and Chance. The wines are crafted in California from some of the top vineyards. They occasionally add special feature wines, but these sell out quickly.
Even though this is a canned wine club, you can make a single order to try it out. The Wine Society canned wines also make a great gift because it's high-quality wine in a beautiful package.
Alloy Wine Works is a brand of canned wines under the Field Recordings, and they pride themselves on using the most "untapped"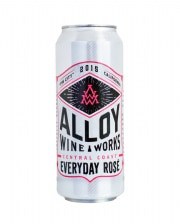 lots, which presumably means they buy grapes mostly from small vineyards. Their best-seller in canned wines is the Alloy Everyday Rosé (sells in 4-packs). Field Recordings also carry spritzers, with the Foxie Grapefruit being their signature product in this category. Think about the convenience of a four pack of ice-cold cans of Rosé at the beach.
This white wine in a can is a blend from Dancing Coyote winery has so far received one gold medal for the best canned wine at the San Francisco International Wine Competition, which speaks volumes in and of itself. This family-run winery also carries a line of canned Red Wine Blends.
The FlipFlop Winery offers a selection of fizzy canned wines which includes crisp white, sangria, white sangria, chill red and rosé. The crisp white is a nice choice, especially if you'd like something to pair with light foods such as chicken or pasta. Cracking open a can of sangria at your next barbecue doesn't bad either. You can easily order Flip Flop wine in a can on Amazon.
Much like the name would suggest, Hoxie pretty much focuses on making spritzers. The Lemon Linden is their bestseller currently, though the number of states they are able to ship is limited to Alaska, California, DC, Idaho, Louisiana, Missouri, North Dakota, Nebraska, New Hampshire, New Mexico, Nevada, Oregon, Virginia, West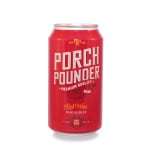 Virginia and Wyoming (as of yet). Read our interview with the founder Hoxie Spritzers here.
Mancan wines are Californian through and through, from the grapes to the cans. They have a decent selection of whites, reds and bubblies. If you want the full experience, you might want to order the mixed 4-pack (red, white and fizz).
Porch Pounder offers three distinct flavors and two sizes for a total of five choices – Chardonnay Shorty (12oz) and Chardonnay Tall Boy (16oz), Red Wine Shorty (12oz) and Red Wine Tall Boy (16oz), as well as Rosé Shorty. Everything comes in 4-packs. Did you ever dream of the day you'd see canned Chardonnay. That day has arrived!
The Drop winery carries three canned wine varieties – Rosé, Red and White, all of them quite aptly named Cali. Canned Rosé seems to be a popular choice for most of the wineries offering canned wine.
West Side Wine & Co. wines positively smack of California, from the winery's name to the refreshing slap from the cans. They're more about quality than quantity, so the selection is even more limited than with the others – you can go for either Chardonnay or Cabernet Sauvignon. Cabernet Sauvignon in a can seems a little rarer at this point. It's nice to see a winery breaking away from just the canned rosé.
10.  Nuclear Wines
Nuclear Wines is an offshoot of the Lumen Wines brand. The winery is based in Los Alamos on the Central Coast of California. They offer a white and red option that are produced and canned in Napa Valley. The wines taste great right out of the can and are made to drink young. These are a great option for a trip to the beach or to store in your wine emergency kit!
Yes, the Coppolas. However, the reasons for trying their canned wine goes beyond just the name (although the winery uses this advantage to the fullest). Their selection of canned wines isn't particularly rich – Sofia Blanc de Blancs Mini and Brut Rosé Mini are the two choices, the former being vastly more popular. That's right, a can of sparkling wine. Sounds good right?
Q & A With A Canned Wine Maker
We reached out to Will Henry, the maker of Nuclear Wines. We asked him the questions we keep getting about this new packaging. He knows his stuff, so we were very happy to talk with him.
Does wine in a can end up tasting like the can?
Not at all.  The cans are lined with a polymer - hence the wine only touches a very neutral substance that is tested thoroughly to not impart any flavor to the canned wine.  Corks are more dangerous!
Is there any impact on the wine aroma or flavor?
I haven't noticed any, and I am my own worst critic. I have had some wines in the can for a year and a half, and they taste as fresh and pretty as the day they went in.
Can wine age properly in a can?
The only real difference between a can and a bottle, from a scientific perspective, is that a bottle has a cork and allows a very minute interaction with the outside world, whereas a can is completely sealed.  Hence, wine in a can has the potential to age longer and more slowly than wine in a bottle. We just don't really know at this point, but it is somewhat similar to the debate over screw top enclosures on bottles. Regardless, I made wines that are ready to drink today - pretty, fruit forward wines that are not specifically meant for aging - but you never know with wine.
How to Serve Canned Red Wine
As we noted earlier, drinking from the can has a tendency of muting the taste. This isn't to say you won't feel the full-bodied smoothness of a Cabernet or the fruity goodness from a canned Riesling, but you'll certainly be missing on something. For this reason, it's best that you serve it from a glass if you can. If you're dead set on camping, you might want to consider investing in a set of shatterproof wineglasses (GOVINO comes to mind). Be sure to chill the wine (only slightly if you're drinking reds) to enjoy to the fullest.
Wrap Up
All in all, despite being the new kid on the block and accounting for a miniscule share on the market, canned wines are rising in popularity as the stigma of drinking from a can fades (faster than that of drinking it from a juice box, at any rate). Incidentally, this is pretty much the only thing left for the detractors to fault here, as the taste is exactly the same as if you drank it from a bottle, albeit it somewhat muted.
So, if you're even a tiny bit interested to see what all the hoo-ha is about, crack open a cold one with friends and enjoy.