Everything You Need to Know About CBD for Dogs
Are you just learning about the benefits of CBD dog treats? Are you wondering how CBD for dogs became such a big thing? After researching weed-infused wine, we started to research the growing trend of infusing products with CBD. That led us to CBD infused drinks, edibles and oil, and now CBD dog treats.
In the last few years, the legal cannabis market in North America has grown to become a $10 billion industry. This sudden rise in popularity has helped dissolve some of the negative stigmas about medical marijuana and inspired doctors to find new ways to use cannabis in the treatment of their patients.
Although not officially sanctioned by the FDA, many veterinarians are also using CBD to treat a variety of chronic ailments and acute painful conditions in dogs. Rather than giving their pets prescription drugs with long lists of possible side effects, more and more dog owners are opting for a CBD-based pet treatment.
We completely understand if you have reservations about giving your dog CBD oil or CBD dog treats. We hope this article can answer some of the questions you may have and point you to five trustworthy sources for buying CBD dog treats.
What is CBD
CBD is short for cannabidiol, a compound that naturally occurs in cannabis plants. First discovered in the 1940s, it took scientists decades to realize that this compound is pharmaceutically active. Several major studies of the health effects of CBD have shown promising results, but the FDA has so far only approved its use in the treatment of severe forms of childhood epilepsy.
It is important to note that the CBD found in oils and other pet supplements isn't the same as the CBD found in medical or recreational marijuana. Instead of sourcing this compound from marijuana, most manufacturers are extracting it from hemp, a variety of cannabis, hence the market name CBD hemp oil.
The reason for this is simple – whereas marijuana contains plenty of tetrahydrocannabinol (THC), hemp has very low levels of it. THC is the main psychoactive compound in marijuana that alters the users' state of mind and is responsible for "the high" that accompanies marijuana use. Because it contains minimal amounts of THC, CBD gives users all the benefits of medical marijuana without the brain-altering effects.
This is particularly important for dogs, as a five-year study published in 2012 found that not only can THC be potentially toxic for canines but it can also sometimes have fatal consequences. CBD is thus a safe alternative for dog owners who want to help their four-legged friends cope with illness-related pain.
What Are the Benefits of CBD Hemp Oil for Dogs?
Although the research on the medicinal use of CBD hemp oil is still in its early stages – both for dogs and for humans – early studies have identified a few major benefits of CBD. They include the following:
Chronic Pain Relief
A 2012 study found that CBD can help reduce chronic pain related to inflammation and nerve damage. Four years later, an animal-based study found that this powerful compound could also be effective against arthritic pain. On top of this, another study found that using cannabidiol oil may also help relieve pain in multiple sclerosis patients.
Stress and Anxiety Relief
Anxiety is very common in dogs and can manifest itself in a number of ways, from constant barking and chewing on furniture to indoor urination and aggressive behavior. However, a 2016 study found that CBD has an antidepressant-like effect and helps boost serotonin levels. In doing so, it helps reduce stress, anxiety, and depression in dogs.
Anti-Inflammatory Effect
According to a 2010 study, cannabidiol could help reduce inflammation in the body even more effectively than some officially sanctioned prescription drugs. Chronic inflammation is the cause of many common ailments, including irritable bowel disease, multiple sclerosis, and arthritis. Using CBD hemp oil may thus help relieve the symptoms for your dog.
Reduced Tumor Growth
Several studies conducted in the past decade have found that cannabidiol may help fight tumors. According to these studies, CBD inhibits the growth of breast cancer in humans, stops the development and growth of malignant tumors in animals, and may even help enhance the effects of chemotherapy.
Nausea Relief
Just like humans, dogs are prone to bouts of nausea and vomiting for a variety of reasons. Although many vets treat these symptoms with antiemetic medication, those meds are known to have many potentially dangerous side effects. However, a recent study found that CBD may be a more effective treatment for nausea and vomiting than these traditional drugs. What's more, CBD doesn't have any known side effects.
Epilepsy and Seizure Treatment
Clinical trials have shown that CBD is also effective against some rare forms of drug-resistant epilepsy. Over time, it can also help reduce the frequency of seizures or completely eliminate them. All the research so far has focused on children, but a new study that will thoroughly examine the effects of CBD in dogs with drug-resistant epilepsy is currently in progress.
Where Can I Buy CBD for Dogs?
Hemp-sourced CBD is approved in all 50 states for use on dogs and humans, so you shouldn't have any problem finding CBD hemp oil in pet supply stores and pharmacies, as well as online. Before you go out and buy hemp oil for dogs, there are a few things you should keep in mind:
Always buy organic CBD oil. Non-organic CBD products may contain potentially harmful additives like fungicides, pesticides, or solvents. You should thus always read the label first.
Look at the Certificate of Analysis. Some products are advertised as CBD oils, but they contain very little – if any – CBD. Always look at the Certificate of Analysis to make sure that the oil you want to buy has a high content of CBD and that it contains little-to-no THC.
Look beyond the price. As a rule, the purer the CBD oil, the more you will have to pay for it. The health of your four-legged friend isn't something you should try to save money on, so make sure to focus on the quality of the oil and not its price.
How Much CBD Oil Should I Give My Dog?
The correct dosage of CBD hemp oil for dogs depends on their size. If your veterinarian hasn't specified the how much CBD oil you should give your dog, you can calculate it yourself. Simply take your dog's weight in pounds and multiply it by 0.25. For example, if your dog weighs 16 pounds, the standard dose should be 16 x 0.25 = 4mg of CBD oil.
Keep in mind that drop sizes can vary based on the size of the bottle. A single drop usually contains either 0.5mg or 1mg of CBD oil, so make sure to read the label before administering it to your dog.
Who Has the Best CBD Dog Treats?
In addition to oil, CBD is also available in the form of dog treats. Dogs love them because they come in a variety of tastes, and dog owners love them because they're easier to use than CBD hemp oil for dogs.
There are many brands of CBD dog treats in the market, but only a few are known for the high quality of their products. They include:

Canna-Pet offers an extensive range of hemp dog biscuits in three standard tastes – maple bacon, turkey dinner, and PB&A (peanut, banana, and apple). All three are 100% organic, while PB&A is also vegan.
Click Here | Get 20% OFF Your First Order With Code new_customer20
MediPets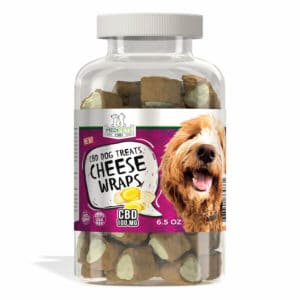 MediPets is an offshoot of the Diamond CBD brand. Diamond is one of the fastest growing CBD producers. They feature an extensive line of CBD based products for people and for pets. Their MediPets line of dog treats uses supercritical CO2 extraction to pull the hemp oil for dogs from the plant. This is important to note because cheaper CBD can be extracted using solvents that are harmful to pets.
Click Here | Get 25% Off Your CBD Dog Treat Order
Made By Hemp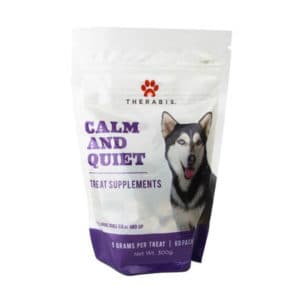 Made By Hemp offers a line of CBD pet supplements that includes everything from oils to specially formulated dog treats. You can even view the lab test results for the dog treats before you buy them. The site offers free shipping on any orders over $99.
Click Here | Buy Your Dog CBD Dog Treats
HolistaPet
HolistaPet is another reputable manufacturer of all-natural, organic CBD dog treats. Their biscuits come in three tastes – green apple and peanut butter (for stress and anxiety relief), pumpkin spice and cinnamon (for joint care), and blueberry and sweet potato (for heart care and immunity). All their dog treats are vegan, as well as dairy-, GMO-, and gluten-free.
King Kanine
has a specialized line of CBD dog treats called King Kalm Crunch. The treats are available in three sweet tastes – apple cinnamon, blueberry, and honey oats. Made from organic ingredients, they are also 100% gluten-free.
The Final Word
Whether in the form of oil or dog treats, CBD can help treat a variety of health problems – from stress, anxiety, and depression to chronic pain, inflammation, and nausea. If your beloved dog is suffering from a chronic ailment, adding CBD to their treatment could help reduce the symptoms of the condition and improve their overall quality of life.
No matter what CBD product you're buying, you should always read the label to see if the product in question contains sufficient amounts of this powerful compound. Whenever possible, go for high-quality, organic products and make sure to get the dosage right.