The Best Napa Valley Vacation Packages
Many of our readers ask us about the best Napa Valley vacation packages. If you consider yourself a wine connoisseur, Napa Valley is surely one of the destinations on your bucket list. Along with the world-class cabernet sauvignon, this stretch of Northern California boasts an impressive list of amenities for luxury travelers and couples looking for a special weekend away.
The region's romantic charm and gastronomic delights offer couples a chance to reconnect and foodies a chance to sample the best of California cuisine. Tack on well over 400 wineries and you are sure to find a Napa Valley vacation package that fits for tastes, budget, and style.
You can stay in a boutique bed & breakfast for some added privacy or enjoy five-star treatment at one of the lavish resorts. To help you choose the best wine-inspired holiday, we've selected some of the best Napa Valley vacation packages available.
(Top Pick) Napa Valley Vacation Packages
Ultimate Couples 2-Day Package in Napa Valley
A couple of days in the Napa Valley might be all you need to unwind and enjoy some romance with your loved one. And if you get it as an exclusive package deal, your visit to wine country is likely to be taken to another level.
The package includes a stay at Harvest Inn and two days of memorable wine-tasting experiences. It all starts with a private driver picking you up at the accommodation. The first stop is at the legendary Hall Wines, only a short drive away from Harvest Inn.
Wineries You Will Visit On This Napa Vacation Package
A giant rabbit sculpture will wow you the moment you arrive at Hall Wines. And you should be ready for some truly high-end tasting since Hall Wines is renowned for producing 95+ point vintages. But this is just to get your wine buds ready for Frank Family Vineyards.
The Bay Area's A-list has dubbed Frank Family Vineyards the best tasting room for the eighth consecutive year. The reasons are obvious the moment you set foot on the property. The wines are great with an atmosphere to match, plus you get a lunchtime picnic on the property.
The first day of the tour ends with a tasting at Whitehall Lane. This estate is famous for its sustainable wine-making practices. The winery offers impressive vintages and equality impressive vistas of the surrounding area.
The second day starts at around 11 am with the first stop at Merryvale Winery in St. Helena. This establishment stays true to the legacy of Napa Valley. It's where you can find some of the best Bordeaux-style blended wines in North America.
From there on, you are taken to the award-winning Auburn James, famous for their artisanal approach to wine-making. This winery is also the place where you'll have a picnic lunch.
After that, the second day ends with a visit to AXR, among Napa Valley's newest crop of rising stars. The ultimate visit to AXR includes a full tour of the property and a full round of wine-tasting. This is surely one of the best Napa Valley vacation packages for the money.
The Vacation Package Includes Great Dining Experiences
We consider this Napa Valley vacation package a great value because it includes lodging, winery tours, and great food. You will be treated to a picnics at both Auburn James and Frank Family wineries. You will enjoy the delicious California cuisine at Harvest Table restaurant after your first day of tasting and breakfast is provided each morning.
Click here for more details about the Couples 2-Day Package in Napa Valley.
Napa and Sonoma Wine Country Tour
Looking for a quick break from the hustle and bustle of San Francisco? If your answer is positive, the Napa and Sonoma Wine Country Tour might be what you are looking for.
The tour begins at the Gray Line Visitor Center in San Francisco. If you are staying at a hotel, feel free to contact the tour operator to pick you up your hotel.
From there, a well-equipped motor coach (complimentary Wi-Fi included) takes you over the Golden Gate Bridge. Approaching Sonoma Valley, you can expect the tour guide to recount exciting tales of Gold Rush fortunes and Spanish missionaries.
Wineries You Will Visit On This Napa Valley Vacation Package
Nicholson Ranch Winery is the first stop. The family-run estate offers some of the best pinot noirs, chardonnays, and merlots in the southern part of Sonoma. From the estate's patio, visitors can enjoy a picture perfect view of the sloping vineyards. After Nicholson Ranch, you go straight to the heart of wine country.
The tour of Napa Valley vineyards starts with the Madonna Estate in Carneros. This winery is family-owned like the majority of them, except this one also focuses on organic wine production. All the wine tasting, sights, and sounds are likely to make you peckish, just in time for the travel to Sonoma Square for lunch.
If you don't know it by now, you'll find out that Sonoma Square is known for the restaurants within and around it. Lunch is not included in the tour, but many would consider this to be a good thing – who wants to eat the same set lunch at the same restaurant with everyone else in the tour.
After that, the tour makes its final stop of the day at Sutter Home, one of the largest independent American wineries. If you had ever browsed in the California aisle of any wine store, you'd have heard of Sutter Home. What's in store is an afternoon of wine tasting and getting to know the proud history of Sutter, though unlike the former, the latter is completely optional.
The tour ends where it started in San Francisco. We are sure when you are dropped off in Union Square you will consider this one of the best Napa Valley vacation packages you've ever experienced. 
Click here for more information about this one-day Napa Valley excursion.
Total Wine Experience
There is no need to break the bank to spend a couple of days in Napa Valley. Case in point is the Total Wine Experience package.
Some of the highlights include leisurely wine tasting at 7 to 10 wineries and accommodation for one night with complimentary continental breakfast. You'll also get to visit the Marin Headlands and the Muir Woods National Monuments. Plus, it's not like you have to cram with other guests, as the tour is capped at only 14 people.
On the first day, you head north from San Francisco to the Muir Woods National Monument, where the monument isn't anything manmade but the entire forest of old-growth redwoods. The tour continues on to a number of wineries in Sonoma Valley. After a busy day of sipping wine, you'll be dropped at your accommodation near Sonoma Square.
How to spend the evening is completely up to you. There are plenty of restaurants in the area and even more wine-tasting rooms.
On the second day, the wine-tasting adventure continues with a ride to Glen Ellen for the first stop at Benziger Family Winery.
While there, first up is an educational tram tour of the winery, vineyards, and wine caves. This is followed by a wine-tasting session at Benziger's private room, to be rounded off with an organic lunch. After that, there are a few more stops in Sonoma and Napa Valley before heading back to San Francisco.
Total Wine Experience is an excellent option for those who prefer a more laid-back wine country experience. In addition, the itinerary allows you to explore the area around Sonoma Square on your own.
Click here to find out more about this affordable package.
3-Day Tour to Muir Woods, Napa Valley, and Sonoma County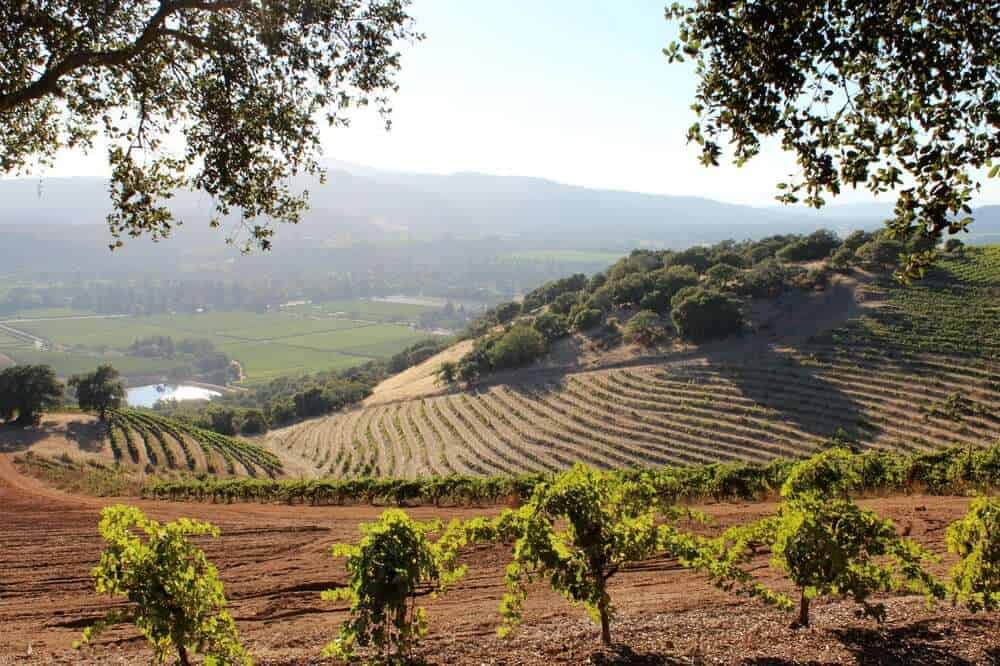 This is one of the most comprehensive tours of the major US wine-making regions. It includes a visit to landmark wineries, a walk in the Muir Woods National Monument, and quite the gastronomic experience. Those elements combine to make this one of the best Napa Valley vacation packages. 
From San Francisco, the first stop on the first day is at Muir Woods. That's for a chance to walk beneath some of the tallest trees in the world. From there on, your next stop is Cheese Country. En route, you can bet your last nickel that the driver or tour guide would point out the oak-covered slopes and pastures of Martin County hillsides.
The local producers' award-winning cheeses are bound to get your taste buds going and ready for the town of Petaluma, where exceptional wine-tasting rooms and cafes that serve local and international cuisines await. In the afternoon, you'll hit in no particular order B.R. Cohn Winery, Kunde Family Winery, Ravenswood Winery, and more.
On the second day, the tour makes its first stop at Domaine Chandon, known for its sparkling wines and champagnes. The second and middle day is filled. You'll visit the town of Yountville, where you're to grab a traditional lunch at Oakville Grocery and make a stop at the Culinary Institute of America. The afternoon is reserved for tasting at some of the best wineries in the area.
The final day begins with a stroll at Jack London's Beauty Ranch (Jack London State Park). While there, if you are down for some biodynamic wines, you can choose to visit Benziger Family Winery off London Ranch Road, though the admission fee is not included in the tour.
Finally, it's off to Cornerstone Sonoma for lunch, where you can also appreciate the works of local artists and taste some of the locally-produced spirits.
Click here to see the full offer.
The Final Sip
So there you go, you can have your pick of the best Napa vacation packages. Each offers a special chance to get up close and personal with America's premier wine country. And remember, Napa Valley offers so much more than just great wines.
There are also great food and some of the most iconic landmarks in all of California. Don't hesitate to explore and find just the right Napa Valley getaways that suit all your senses.