The Best Winemaking Kits
Why are so many people interested in finding the best winemaking kits? Well, up until fairly recently, winemaking was largely the domain of those who owned a vineyard. Or rather, of a handful of expert vintners famous for their immaculate winemaking process who enjoyed a stellar reputation among wine enthusiasts across the globe. Today, however, many people are able to enjoy the process of making wine at home. And with all the extra hours we are spending at home these days, this is a perfect diversion. Or maybe a path to a new career?
At A Glance: Our Top Picks for Wine Making Kits
There are many winemaking kits around, and some of them do a really great job. Thanks to these kits, everyone from hobbyists to aspiring winemakers can make their favorite beverage from scratch.
[Please Note] This post about the best winemaking kits contains affiliate links. If you click a link and make a purchase, we may receive a small marketing fee. 
QUICK OVERVIEW: Our Top Picks for Best Winemaking Kits
IMAGE
PRODUCT

Our Top Pick

North Mountain 30pc Wine Making Kit

Easy to use
Detailed step-by-step instructions
Complete kit includes

View on Amazon →

Master Vintner Fresh Harvest Home Winemaking Kit

Enough supplies to make 15 1-gallon batches
Craft colorful additions to any wine rack
Master Vintner quick tips make learning clear and fun

View on Amazon →

Winemakers Depot WEK50G Wine Making Kit

6 gallon glass carboy
8 gallon fermenting bucket
Lid that Accepts Airlock

View on Amazon →

Strange Brew Deluxe Wine Making Kit

Instructions Included
Easy to use
Includes all the equipment you need to make six gallons of wine

View on Amazon →
If you want to make your own wine at home, here are some of the best winemaking kits for you. Maybe you would rather build your own winemaking kit. You can read our article about what you need to make wine at home.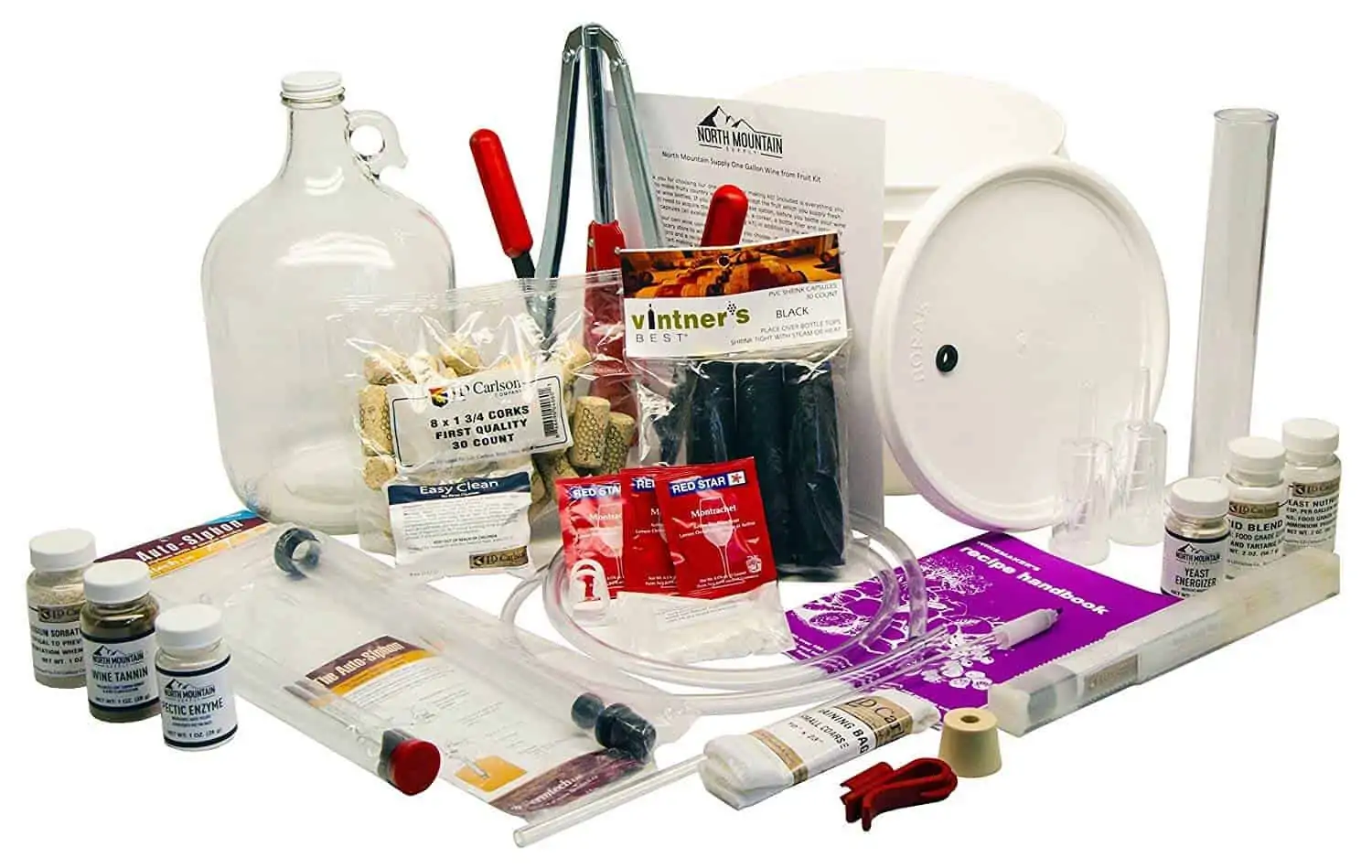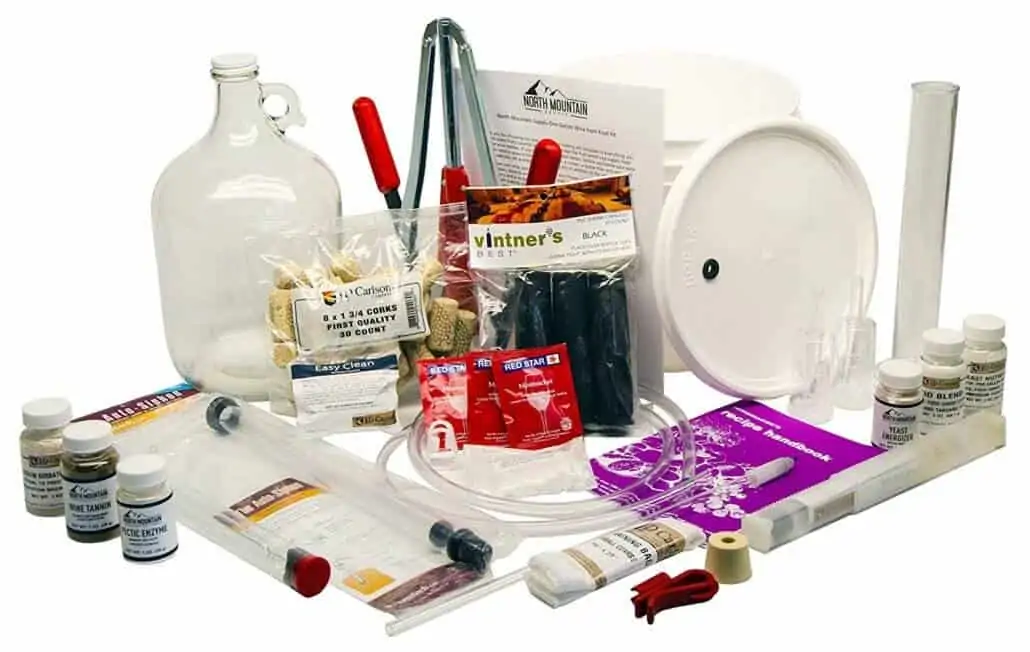 North Mountain wine-making kits are used by many wine enthusiasts worldwide. This one offers everything that an aspiring winemaker needs to create rich-tasting wines that will match their preferences.
All you have to do is choose the fruit that you want to make wine from, find some wine bottles, and you'll be good to go. The kit provides you with all the necessary equipment, along with detailed instructions on how to make a perfect bottle of your favorite wine. There's also a recipe book containing more than 100 varieties, so you can let your creativity roam free.
You get a 1-gallon glass jug, 2-gallon fermenter, and enough additives to make around 15 gallons of wine. Of course, you also get all the additional ingredients, so you can start your winemaking journey right away.
You can find the great fruit kits by clicking here.
You can find empty wine bottles by clicking here
North Mountain wants to make sure all the equipment is in perfect condition once you get it. For this reason, they offer a 30-day hassle-free replacement.
This kit is suitable for both beginners and serious vintners. It's complete enough to ensure that you can make all kinds of fruit wines and offers great value for money.
Click here if you want to learn more about this North Mountain winemaking kit.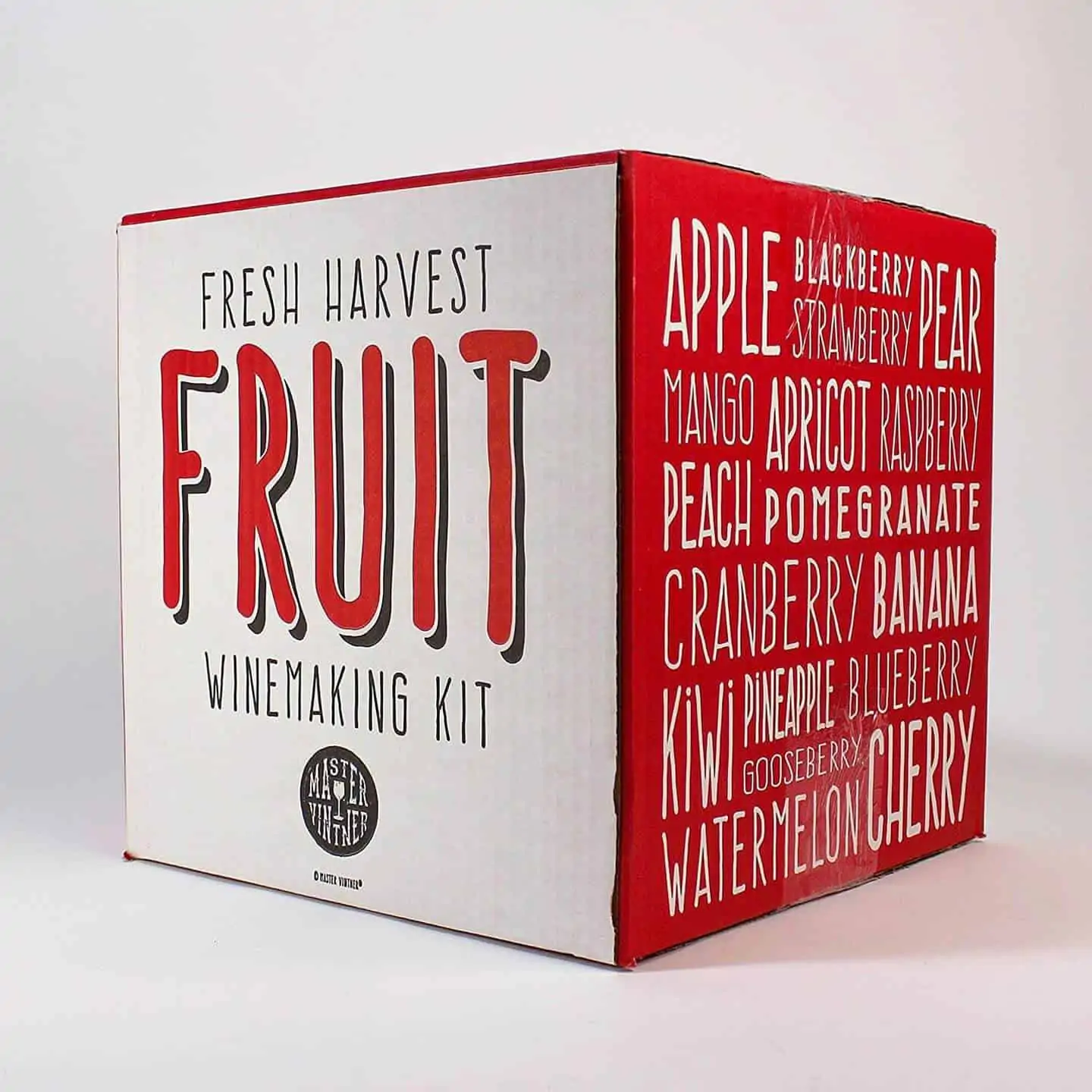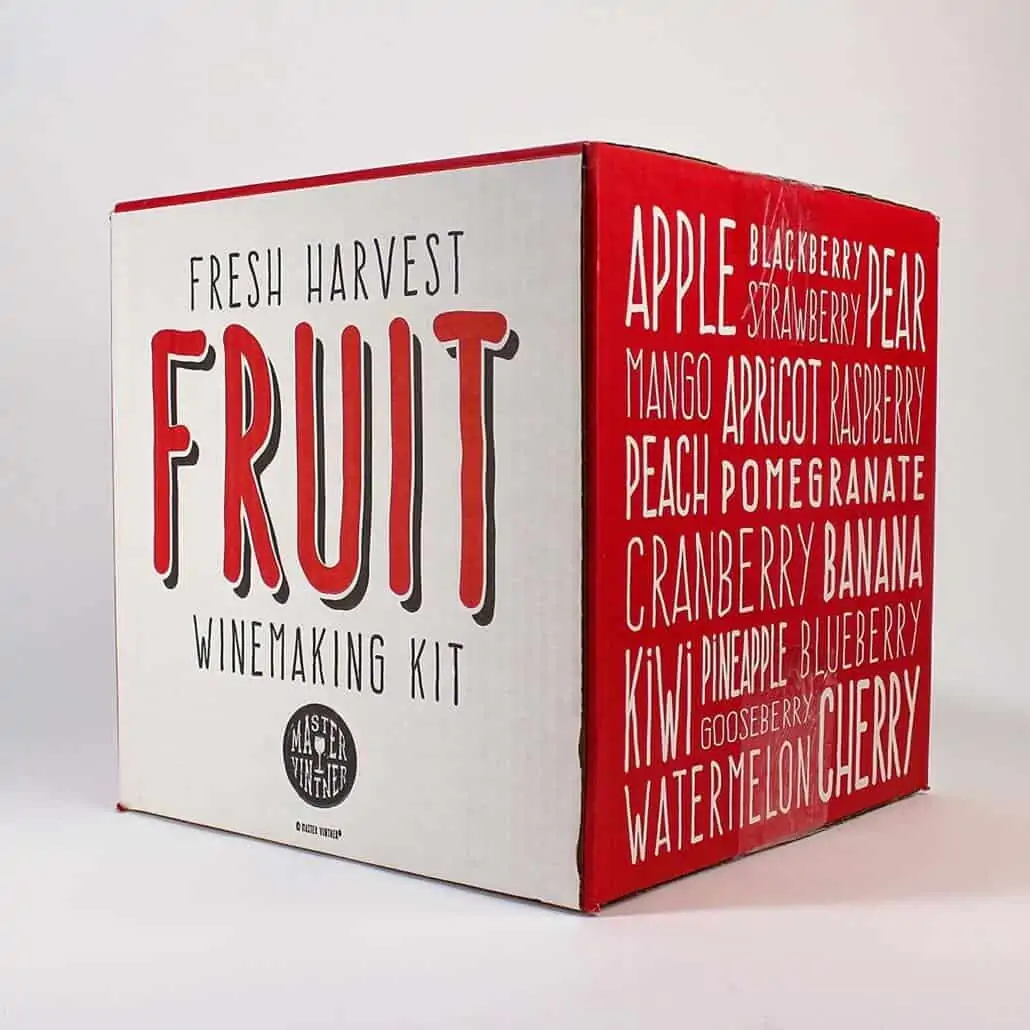 This is a perfect winemaking starter kit for everyone who has never tried the art of winemaking before. It offers all the essential equipment for you to make a gallon of wine in under one hour.
It's very easy to use and makes the winemaking process very enjoyable. It comes with a Winemaker Recipe Handbook, which will introduce all rookies to the world of winemaking and offer plenty of tips and recipes.
With the ingredients you get, you can make 15 batches of wine, 1 gallon each. Once you have your favorite fruit, you can make wine from scratch in no time.
Another thing that makes this kit perfect for beginners is its price. It's a fairly cheap setup, considering everything you get out of it. It can be a perfect starting point, and you can always upgrade if you end up loving the winemaking process.
Click here for more details on this Master Vintner home winemaking kit.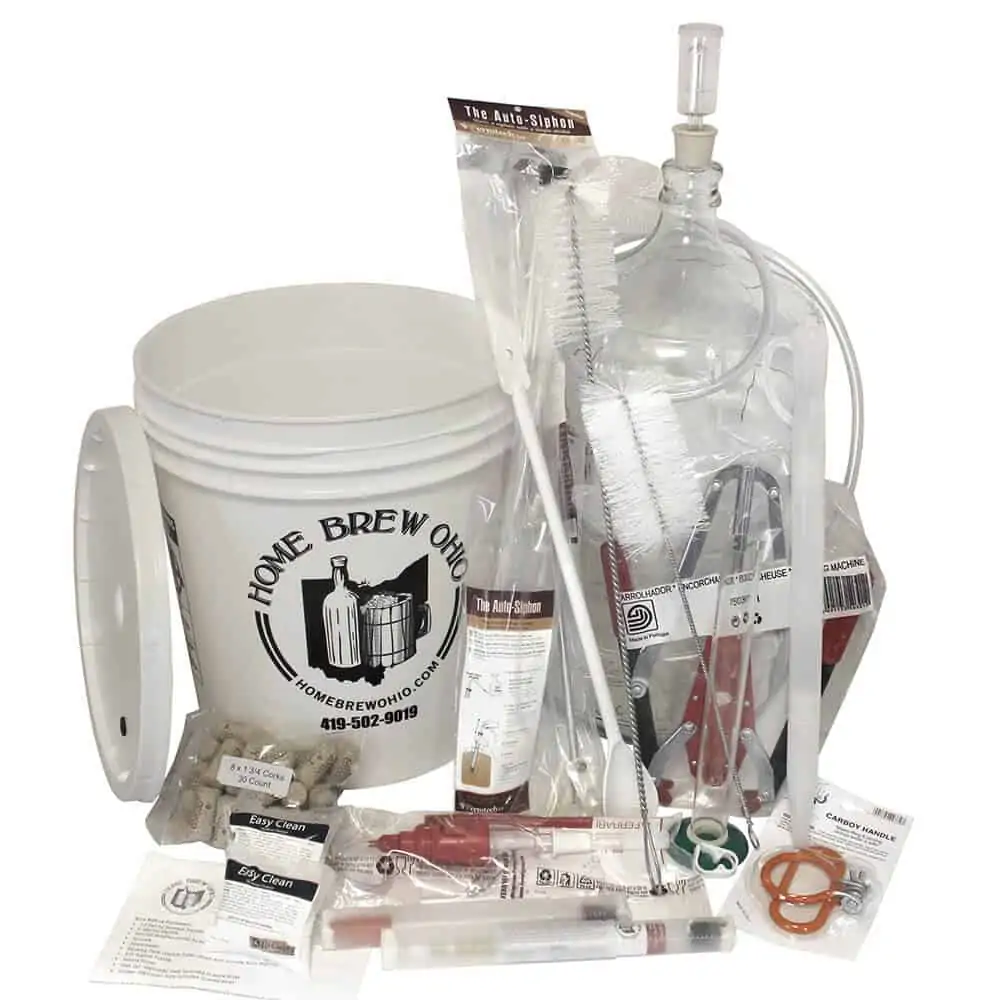 If you've been making wine at home for some time now, and consider yourself somewhat of an expert, Winemakers Depot's option might be the right one for you. It's a high-end kit that can keep up with your progress and let you take your winemaking skills to the next level.
It features a triple-scale hydrometer, 8-gallon fermenter, upgraded siphon hosing, and all other advanced equipment a serious vintner needs to make a perfect batch of wine. You also get a starter supply of sterilizers, along with some additional ingredients you need.
If you believe there's more to learn about the process of winemaking, there's also an instructional DVD that will offer all the guidance you need.
In addition, the package includes all the tools necessary for keeping your kit in perfect condition. With proper care, the equipment can last for years.
Of course, you don't have to be an expert to use this kit. It's suitable for beginners as well, but its price makes it more suitable for experienced winemakers that already have some experience.
Click here if you want to know more about this kit.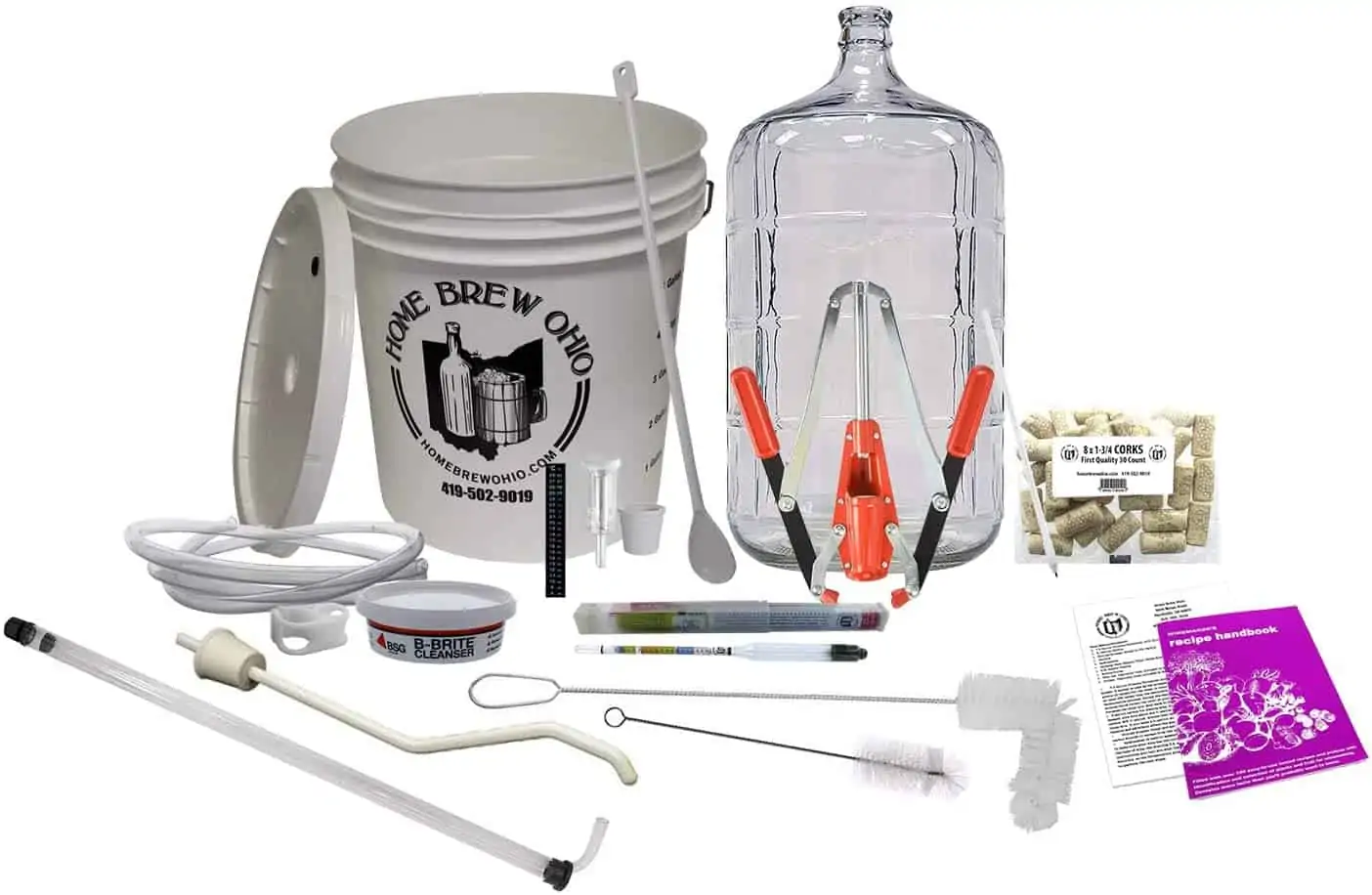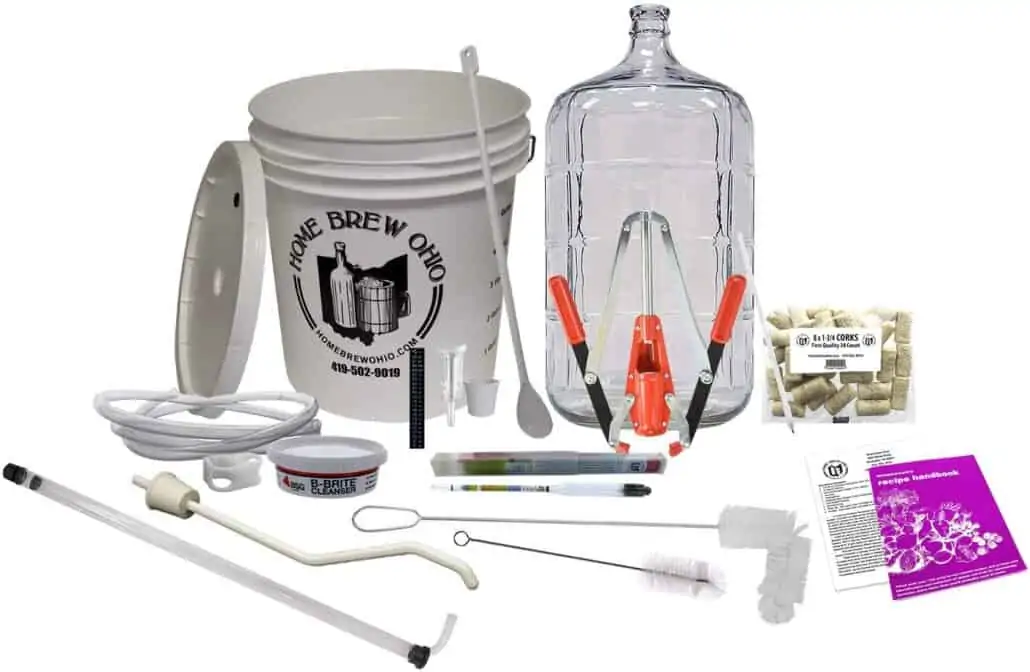 This mid-tier kit offers everything you need for 6 gallons of delicious wine. It features some advanced equipment that makes it easy to use and ensures that the winemaking process is easy and simple.
You get a 6-gallon glass carboy, a 7.8-gallon fermenter with a grommeted lid, and a 1/2-inch auto siphon pump which simplifies the process of making wine and can't be found in many other kits in this price range. It makes the kit very easy to use, so you can make a great batch even if you don't have a lot of experience.
Of course, you get all the other necessary equipment, so all you need to start making your own wine are grapes and bottles. The equipment is made out of durable materials, so you can expect years of use with proper care. And if you need any help, you can always consult the instructions and recipes that come with the kit.
Click here to find out more about everything this kit offers.
Are Home Wine Kits Any Good
Some people ask us if home wine kits are any good. We believe that home wine kits are good for beginners who want to experience winemaking first hand.
Manufacturers saw the market opportunity during the pandemic as more people took up winemaking as a hobby. That has led to an increase in the number and quality of kits that are available. Will you make 90+ point rated wines with a home wine kit? I think you know the answer to that.
How Long Does It Take To Make Wine From A Home Kit
It will take somewhere between 4 to 6 weeks to have wine that is ready to bottle from a home wine kit. Most of that time is the fermentation process. Once that is done, you can bottle the wine and let it mature a little. We recommend letting the wine sit in the bottle for at least two months.
Wrapping Up
Choosing the right wine-making kit is no easy task. There are quite some things to consider, so do your research before you decide to buy. As you can see, there are all kinds of features to think about, so choose the kit that will suit your winemaking goals.
If you're a beginner, we recommend going with a more affordable option. Some of the high-end ones offer features that can be a bit of an overkill to rookies and might be a bit too complex to use if you don't have any prior experience.
And if the notion of making wine from home is not a new one for you, you probably have already an idea of what it is that you're looking for. Whatever the case may be, think about the kind of wine you're looking to make, the features you'll need, and the investment you're willing to make. Once you have the answers to these questions, you can embark on the exciting journey of making your own wine.