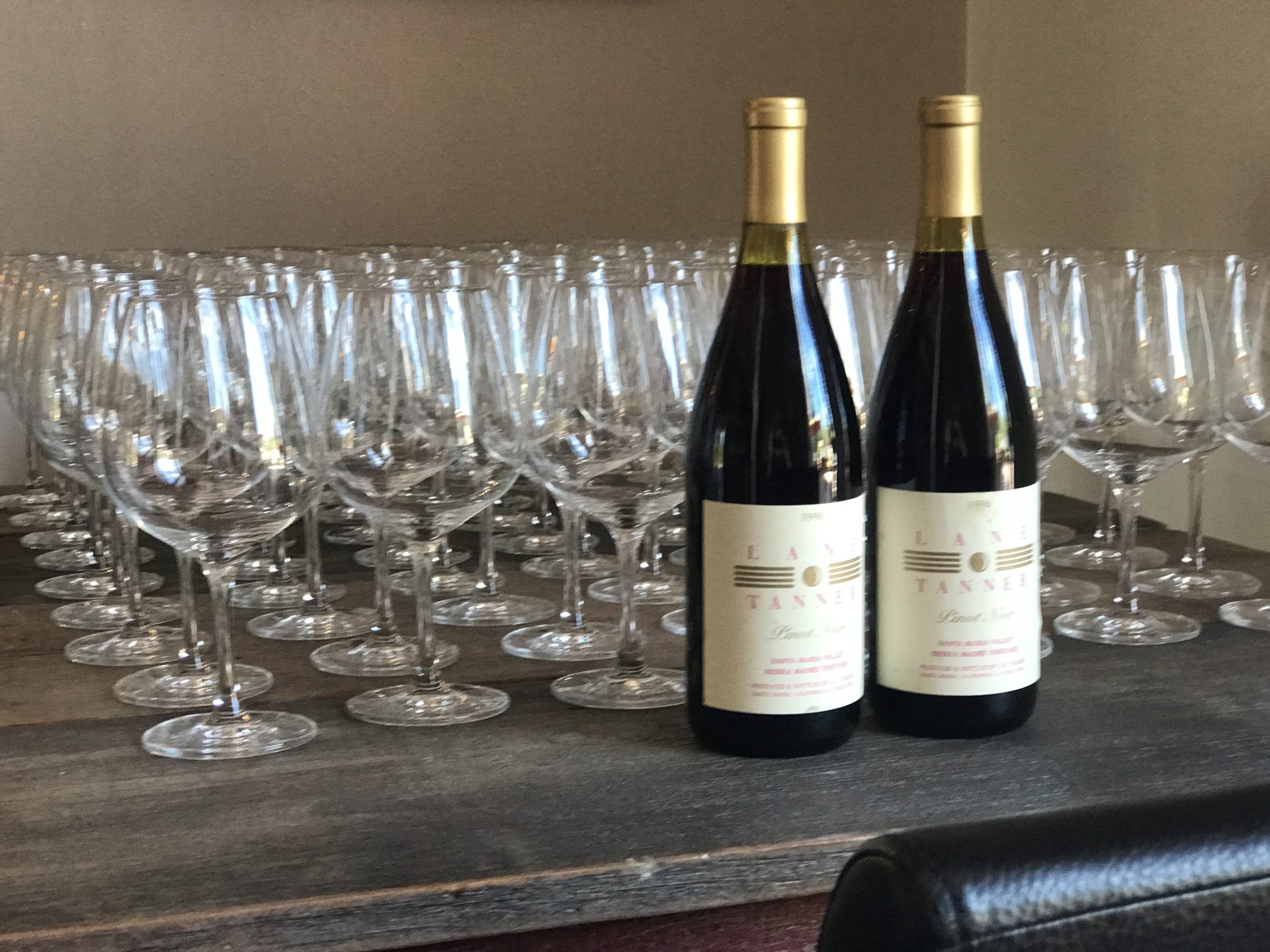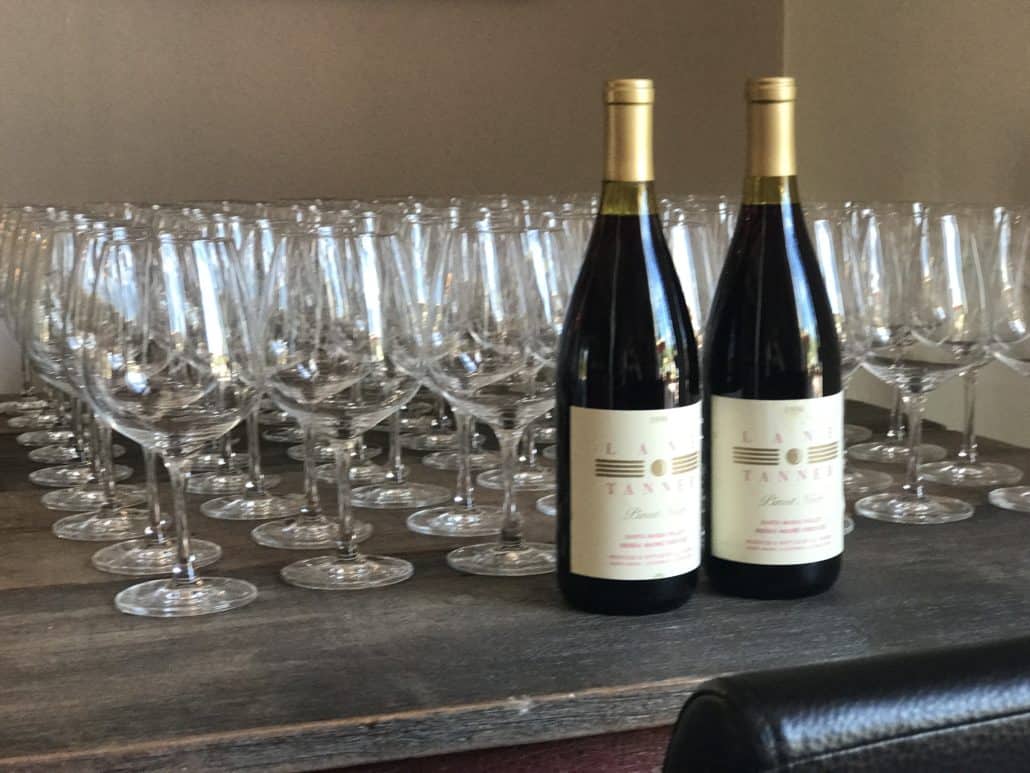 Life as we know it is on hold. We now have a "new normal" in which we are relegated to our homes for the unforeseeable future. As of March 16th, all customer-facing wineries, breweries, bars, nightclubs in California have been closed to the public. The point is to help flatten the curve of the coronavirus spreading throughout the United States. We are home for the foreseeable future to protect ourselves and those around us. 
Click here for reliable information on the coronavirus.
While we cannot travel to wineries and visit them right now. We can still buy their wines and support our local businesses who also need our help in this challenging time. Wineries in California are able to ship directly to consumer homes in most states around the country. With the closing of tasting rooms, many wineries are offering special deals on shipping and more. 
SANTA BARBARA WINE COUNTRY
Partners Will Henry and Lane Tanner share a common vision to make wines from the best cool-climate vineyards in Santa Barbara County. They are committed to honest and healthy winemaking practices and are a member of 1% the planet in which 1% of all sales are donated to environmental causes. In addition, while their tasting room and restaurant Pico in Los Alamos are closed, they are offered ALL proceeds to Luman sales to their employees at Pico, Lumen and Wine Shepherd. 
Offer: Order 12 or more bottles and shipping is free (via GSO or UPS). ALL proceeds to Luman sales to their employees at Pico, Lumen and Wine Shepherd. 
The name Sol-miner comes from "mining" the "Sun" which in turn nourishes the soul. The name inspires owners Anna and David Delaski to discover and unearth the treasures in the soils of the California Central Coast. While the tasting room is closed, they are shifting their energy into taking care of themselves and their community and focusing on online sales. 
Offer: For 3+ bottle orders, shipping is included 
Owner and winemaker Larry Schaffer produces small lot, handcrafted wines from vineyards throughout Santa Barbara County. Larry is offering both free shipping on orders of 6+ bottles as well as a 20% discount on 6+ bottles. 
Offer: Free shipping on all orders of 6+ bottles with the code shipment at checkout AND 20% discount on all orders of 6+ bottles with the code CV20.
Imagine Wine is a boutique winery founded by winemaker Ross Jay Rankin producing aromatic and delicious wines in the beautiful Santa Ynez Valley, near Santa Barbara, California.
Offer: 30% off all wines through the end of March. Freight is included in California and Arizona on 6 bottles or more. 
Founder and Winemaker Greg Brewer has been working within the Sta. Rita Hills AVA since the early 1990s. Cool ocean air and sandy soils contribute to the beautiful Chardonnays and Pinot Noirs produced by Brewer-Clifton. 
Offer: Automatic shipping included on all orders, no code needed.
Paying homage to its namesake, Uriel J. Nielson planted the first commercial vineyard in 1964 in Santa Barbara County. Five decades later, Nielson Wines produces fresh, vibrant wines from the cool, coastal vineyards, 
Offer: Automatic shipping included on all orders, no code needed.
Owned by the Jackson family, Barbara Banke and daughters Katie and Julia Jackson have a passion for sustainability. Cambria Estate produces Chardonnay and Pinot Noir from the cool Santa Maria Valley.
Offer: Automatic shipping included on all orders, no code needed.
PASO ROBLES
Barr Estate Winery is a small family-owned and operated vineyard, boutique winery and tasting room located at 6950 Union Road on the east side of Paso Robles in the Geneseo District where the warm days and cool nights are ideal for grape growing. Cabernet Sauvignon, Malbec, Petit Verdot, Petite Sirah, Primitivo, Tannat, and Albarino are grown on our 57-acre vineyard and crafted into our single vineyard estate wines.
Offer: Case Specials & 50% Discounts on '16 Albarino, '12 Malbec, '12 Leaf Angel AND $10 shipping within CA on case purchase
The fine print: Offer valid March 17, 2020, through April 17, 2020
Offer: Order 3 + bottles online or by phone and receive free shipping! Use code freeship3+ 
The fine print: Offer is until March 31, 2020
A beacon to top talent, Paso has attracted a group of farmers and viticulturists whose meticulousness and knowledge is unmatched. This is a group that shares not only our goal of making world-class Cabernet but the intensity with which we feel it. They work hard, driven by the integrity of their purpose. Their dedication far surpasses what is normal and their commitment to doing what's right is unwavering.
Offer: Complimentary shipping on all My Favorite Neighbor wines for the interim. 
The fine print: *limited time offer*
Established in 1998 on a steep hillside on Paso's westside, Brochelle Vineyards crafts wines that are a fascinating marriage of power and elegance. 
Offer:  $1.00 shipping on any order of 3 or more bottles
Case Special on the 2017 Estate Zinfandel (20% off already applied to the price)
Additional discounts will be automatically applied at checkout
Passionate curiosity started this journey. Tireless effort got us here. A sense of awe keeps all going. Gratitude keeps it all real.
Offer: $1 shipping with the promo code SHIPMYWINE
Fine Print:  3 bottle minimum – We currently are able to ship to: AZ, CA, IL, IN, IA, MI, MO, NV, NH, NM, NY, NC, ND, NC, OH, OK, PA, TX, WA, WY – Promo applies to orders shipping via UPS Ground
Eberle Winery is a family-owned producer and marketer of premium wines, representing the Eberle Estate, single varieties and designated vineyards. Eberle wines have showcased the history and diverse flavors of the Paso Robles Appellation since 1979. 
Offer: Ground shipping included with the purchase of 4 bottles or more. Use promo code HOME20 
Fine print: This special offer cannot be combined with other promotions. Flat rate shipping excludes Hawaii & Alaska or any prohibited states.  Excludes overnight and 2-day shipping.
Travel, adventure, intimate dinner parties, and gatherings - these are all common bonds of those of us who enjoy the Fermentations lifestyle. At Fermentations we are constantly discovering wonderful new gourmet foods, wines, unique gifts for friends and business clients, and accessories for entertaining in the wine country lifestyle. Sharing the experience with you is one of life's great pleasures.  
Offer: Free shipping with $150 order. We can currently ship to the following states: CA, ID, LA, NV, OR, Wash DC, WY, WV. 
Four Lanterns resides on 35 acres on the west side of Paso Robles in the formidable Willow Creek AVA. This area, renowned for hot days, cool nights and soil riddled with calcareous stone, provides a perfect environment for making exceptional wines. Specializing in wine varietals native to France's Rhone Valley & Bordeaux regions, Four Lanterns focuses on making estate wines, capitalizing on the natural strengths of their land. 
Offer: Free shipping on purchases of 6 bottles or more. 
Fulldraw began in 2012 when Connor McMahon jumped on the opportunity to acquire a 100-acre vineyard site in the Templeton Gap of west side Paso Robles. With six years of winemaking and farming experience at the adjacent property, Booker Vineyard, he understood that with its limestone soils and cooling maritime influences, this was a place where the Rhone varieties he loved would thrive.
Offer: Complimentary shipping on any wines purchased through the web store for the next 30 days. 
Grey Wolf Cellars & Barton Family Wines
In 1994, the Barton Family established Grey Wolf Cellars with sights of running a boutique, craft winery focusing on small lot, high-quality wines. Winemaker, Joe Barton has been doing just that ever since. Keeping with tradition, the GREY WOLF wines still entail small lot, creatively blended wines made from high-quality grapes grown locally. In 2011 Joe released two new and exciting brands. One being the BARTON label which entails our line of white wines and reserve reds. Joe's philosophy with the Barton brand is clean, dry, acidic and floral whites and best of the best red wines. 
Offer: $1 shipping through March with two bottles or more. 
Just a few miles inland from the fog-touched hills of San Simeon, in the heart of the Paso Robles Appellation, lie ninety-acres known as Saunder's Vineyard. The wines are a timeless marriage of history and innovation.
Offer: Order six bottles or more online with promo code SHIP6 to receive inclusive shipping
The small, family-run winery works diligently to serve the best blends you'll ever experience. With deliberate attention to each detail, Indigené Cellars meets its mission to find perfectly balanced blends and exquisite varietals. That mission makes our work all the more exciting every day.
Offer: Free delivery in CA with three bottle purchase
A family tradition with a new perspective. Janell Dusi's family heritage dates back to the early 1920s where grape growing has been a craft that has deep roots in the Dusi family. The farming practices that were implemented by my great-grandparents eighty years ago are still the standard that we follow today.
Offer: Offering Case Specials of $99 per case on the 2018 Pinot Grigio and 2018 Rosé. Pick up at the winery or get discounted shipping rates online. 
Jack Creek Cellars is located in a cool micro-climate on the south end of the Santa Lucia Mountain Range, within the Paso Robles Willow Creek District.  In our small, family-owned, vineyard and winery, we harvest a modest amount of high-quality, low-yielding fruit leading us to limited quantities of hand-nurtured, luscious Pinot Noir, Chardonnay, Grenache & Syrah.
Offer: $5 shipping on purchases of three bottles or more using code ineedwine
Locatelli Winery is a family-owned and operated winery that has been in business for over 17 years. With a hands-on approach starting at the vineyard through the winemaking process and onto bottling, they are dedicated to producing the finest wines in the Paso Robles Appellation.  
Offer: $10 Shipping on any wine purchase now through May 15, 2020. Feel free to mix and match. Order at least 12 bottles and also receive 10% off retail wine price.
The fine print: Sorry no shipping available to Alaska, Arkansas, Connecticut, Delaware, Hawaii, Kentucky, Michigan, Mississippi, Montana New Jersey, Rhode Island, South Dakota or Utah. Promotion is available on Locatelli and Old Mission San Miguel wine brands.
A lone Madrone stands atop a hill between the mountain and the sea in west Paso Robles, presiding over the rugged vineyard that started it all for brother and sister duo, Neil Collins and Jackie Meisinger.
The Lone Madrone wine label was founded in 1996 with the premier goal of producing distinctive wines exclusively from vineyards in the rugged limestone hills of west side Paso Robles. 
Offer: Complimentary shipping for all online orders for the duration of this health crisis. 
Family-owned and operated, Midnight Cellars was established in 1995 by the Hartenberger Family. The estate was planted with the five different varietals: eight acres of Chardonnay (Teresa Angela District); eight acres of Cabernet Sauvignon (Robert Scott District); eight acres of Merlot (Eugene District); eight acres of Zinfandel (Patricia Jane District); and a half-acre of Petit Verdot. Each district name pays homage to Mary Jane and Robert Hartengerger's grandchildren.
 Offer: $1 shipping on all online purchases (exclusions apply to AK and HI). Use promocode shipone.  Case Specials: (very limited quantities) 2015 Full Moon Red $150/case (promocode: fullmoon2015); 2015 Syrah "Nocturne" $150/case (promocode: syrah2015); 2018 Estate Chardonnay $120/case (promocode: chard2018).
They say good fences make good neighbors, but it was a love of wine and winemaking that was the connection between Opolo proprietors Rick Quinn and Dave Nichols. Their two families have lived side-by-side in Camarillo since 1996. Owning and farming nearly 300 acres of vines on the east and west side of Paso Robles, Opolo Vineyards produces award-winning wines.
Offer: $1 shipping on all online and phone orders of six bottles or more until the end of March. 
An old-world instrument marrying mathematics, science, and the stars, a sextant is a tool used to navigate across open water in order to explore uncharted territories. Sextent Wines is devoted to expanding the horizons of the Central Coast wine region by matching its unparalleled terroir with artisanal varietal selections and mindful winemaking practices intent on highlighting their Paso Robles estate vineyard and surrounding regions.
Offer: $1 GROUND SHIPPING when you purchase 3 bottles or more for the rest of March. (no code needed) 
Still Waters is a family-owned vineyard that is dedicated to producing small lots of premium estate wines including Cabernet Sauvignon, Merlot, Malbec, Cabernet Franc, Syrah, Grenache, Mourvedre, Primitivo, Zinfandel, Chardonnay, Sauvignon Blanc, Viognier, and Pinot Gris.  Nestled amongst the hills in the beautiful south-east portion of Paso Robles, Still Water Vineyards is the gateway to the El Pomar District sub-AVA. The property is devoted to providing adequate habitats for native species and includes 60 planted acres of SIP certified sustainable vineyards, 2 acres of gardens and flowers, and a grove of 130+-year-old olive trees. 
Offer: Grab a "mystery" pack filled with a medley of six wines for $138 plus tax & shipping! Enjoy a surprise pack of different varietals, different years, and different flavors. Save 50% off some delicious, elusive wines! 
TH Estate Wines is a small, family-owned vineyard and boutique winery located off Hwy 46 West in Paso Robles. Their special climate, terroir, and dedication to fastidious, sustainable farming practices produce exceptional fruit that is forward and focused. Terry and Jennifer Hoage's winemaking approach is to produce minimally processed wines that show intense fruit and complexity showcasing their passion for excellence. TH Vineyards brand focuses on estate-grown Rhone varietals (Syrah, Grenache, Mourvedre, Grenache Blanc, Roussanne, and Picpoul Blanc.)
Offer: Inclusive shipping on all orders of three or more bottles in California and on all orders of six or more bottles for orders out of state. We are also offering an additional 10% off all wine available with the discount code TH10. 
The fine print: The shipping promotion and additional discount is available through the end of the month
Tooth & Nail Winery is part of Rabble Wine Company, a family of wines united by one purpose: to take you far beyond the status quo. Rabble Wine Company was founded by Rob Murray, an upstart grower who bootstrapped his winery from the trenches of the vineyard. Each of the brands reflects its own distinct expression of the Rabble Wine Company world. Enjoy unconventional blends and small lot reserve wines. 
Offer: Shipping is included with the purchase of 3 bottles or more
Villa San-Juliette Vineyard & Winery is a picturesque wine destination located in the Paso Robles Estrella District. Embracing leisure, beauty, and craftsmanship, Villa San-Juliette aims to delight every guest with its 100% estate-grown Bordeaux and Rhone-style wines, artisan foods, and breathtaking views.
Offer: $1 shipping on four bottles of wine or more, now through April 1st
Fine print: We ship wine to the following states: AK, AZ, CA, CO, FL, GA, IA, ID, IL, MI, MN, MO, MT, NV, NY, NC, OH, OR, TX, VA, WA, DC, WI
Vino Vargas produces award-winning, single-vineyard wines hand-crafted to achieve a balance that will delight your palate. Vino Vargas offers a collection of wines that are well-balanced and food-friendly. Reds, whites, rosés, sparkling and dessert wines, the award-winning wines give you a choice for every occasion.
Offer: ZinFest Specials: 10% off 4+ bottles and 20% off of 12+ bottles. Flat-rate shipping – $5 on 2-5 bottles and $0 on 6+ bottles – within GSO service areas only. Call for reduced-cost shipping to other areas via FedEx or UPS.
SONOMA COUNTY
Focusing on uncommon Rhône varieties, Two Shepherds is owned by William Allen and Karen Daenen. The winery's philosophy is to embrace how wines were made for hundreds of years, before the introduction of chemicals and flavor manipulation. The wines are fermented naturally with native yeast, are aged on the lees, with minimal sulfur and are minimally racked and aged in neutral barrels. 
Offer: From now until the end of May, California residents enjoy complimentary shipping with all orders over 6 bottles and for smaller quantities, we offer flat rate shipping at $10. No code needed. For the rest of the United States, we offer flat $20 shipping on 6+ bottles. Simply go to the website and enter code "flat20" at checkout. 
Pedroncelli Winery is a sustainable family-owned winery in the Dry Creek Valley. The Pedroncelli family has been farming in the Dry Creek Valley since 1927. 
Offer: Use the coupon SipSonoma to get $5 shipping on a case of wine.
Donelan Family Wines is a small, boutique Sonoma winery producing Syrah, Grenache, Pinot Noir, Chardonnay, Roussanne and, Viognier. 
Offer: Receive $15 shipping when you buy 6+ bottles using promo code SHIPPING6. Receive complimentary shipping when you buy 12+ bottles using promo code FREESHIPPING. 10% of your purchase will be donated to a local restaurant of your choice! Please provide the name of the restaurant, its city, and state in the notes section of your order.
Winemaker Dianna Novy started Flaunt Wine Company as her first solo project. As a lover of Champagne, Flaunt Wine was the realization of a lifelong dream and Dianna produces a sparkling wine using the traditional French method Champenoise. 
Offer: Regularly $48 per bottle, the sparkling wine is available for 10% off 3-5 bottles, 20% off 4-6 bottles and 30% off 12+ bottles. No discount code needed.
Located in Sonoma County's Russian River Valley, Benovia Winery is known for producing coveted, sustainably-farmed Pinot Noir and Chardonnay. 
Offer: Free shipping on orders of 6 bottles or more. 
Sitting on 700 acres in the Alexander Valley, the Wetzel Family purchased the first piece of property in 1962 and released their first wine in 1968. Utilizing sustainable practices, the wines of Alexander Valley Vineyards showcase a true sense of place.
Offer: Shipping $1 per bottle (+$1 handling fee), minimum order of two bottles
Perched on a hillside overlooking the bucolic Russian River Valley, Copian was founded in 1999. Meaning "friend" or "buddy" in French, Copain specializes in vineyard-designate Pinot Noir, Chardonnay, and Syrah. 
Offer: Shipping included on all orders with the code SHIPNOW
Located in Santa Rosa, Matanzas Creek Winery and Vineyards are located among lavender fields. Making wine since 1977, Matanzas Creek Winery specializes in Sauvignon Blanc, Chardonnay and, Merlot. While you cannot currently visit the winery, you can take a virtual tour while enjoying the wine at home. 
Offer:  10% off all wine orders and 2-day shipping included. Use the code MCWNOW
Captȗre Wines harnesses the power and elegance of the Mayacama Mountains. Located 3000 feet about sea level, Captȗre's Pine Mountain estate vineyard windswept mountaintop is like a moonscape. This desolate place is planted to Cabernet Sauvignon as well as Merlot and Sauvignon Blanc. 
Offer:  Shipping included on all orders. Use code SPRING4U
Located in the Russian River Valley, plush redwood forests, cool morning fog, and warm afternoon sun surround La Crema. La Crema has been producing elegant Chardonnay and Pinot Noir for more than 40 years. You can imagine you are at La Crema Wines with a virtual tour.
Offer:  15% off wine orders and shipping included on all orders. Use code LCNOW
Established in 1982, Kendall-Jackson was founded not just as a business but as a family legacy. Focused on producing wine from California's best vineyards, Kendall-Jackson has vineyards in Sonoma County, Napa Valley, Lake County, Mendocino County, Monterey County, and Santa Barbara County.  
Offer:  20% off all wine orders and shipping included on all orders of $75+. Use code KJSPRING
NAPA VALLEY
Josh Phelps of Grounded Wine Co crafts accessible terroir-driven wines using select sustainably and organically-grown fruit from trusted farmers in California, Oregon, and Washington. Most of Josh's wines are available for $25 or less per bottle – and a case can be shipped for just 1 cent. 
Offer: A case of wine can be shipping for 1 cent
Galerie wines are portraits of place. The wines showcasing the dramatically different features of Northern California's most prized winegrowing appellations from Napa Valley to the Knights Valley to Spring Mountain/
Offer: Shipping included on all orders. Use code SPRING4U
Terra Valentine takes winemaking to a new level-about 2000 feet above the Napa Valley. Winemaker Sam Baxter, has always had a keen focus on the grapes in the vineyard to achieve ideal ripeness and flavor development, leading to a winemaking style marked by minimal intervention. The yield of this approach is evident in the Terra Valentine wines that reflect a sense of place while showing the intensity of mountain-grown fruit and balanced elegance.
Offer: Like a care package at summer camp, this six-pack is full of treats that will bring that Spring Mountain experience to your home. Get one for you and send one to your family or friends! The care package includes 1 bottle each of the following wines: 2018 Sauvignon Blanc, 2015 Foretell Pinot Noir, 2015 Amore, 2016 Petite Sirah, 2015 Wurtele Vineyard Cabernet Sauvignon, 2011 Cabernet Franc - Retail Price - $380 / Special Price - $323 (Includes Shipping)
SANTA CLARA VALLEY
Based in the Silicon Valley, Jason and Janu Goelz produce traditional Bordeaux varieties for the limited JS releases as well as their Silicon Valley Wine Company "Tech Series" labels. Janu also has her own label Alara Cellars which combines wine and fashion.
Offer: Free shipping (FedEx ground only) on wine orders. 
LIVERMORE VALLEY
Established in 2014, McKahn Family Cellars crafts site-specific Rhône varietal wines. Taking advantage of the diverse terroirs of California, McKahn Family Cellars sources fruit from the Russian River Valley to the Napa Valley and from the Sierra Foothills to the Livermore Valley.
Offer: Complimentary shipping and additional discounts on purchases of 4 bottles or more
These are just some of the creative offerings from wineries. Check with your favorite winery to see what they are offering. If you prefer to shop from wine stores, we have a great list of online wine buying options for you to choose from. 
Allison Levine is the owner of Please The Palate, a boutique marketing and event-planning agency. Allison is Level 3 WSET Certified from the Wine & Spirits Education Trust, so she knows about way more than just wine tasting Santa Barbara. Allison is certified as an Italian Wine Specialist from the North American Sommelier Association and has a Master's Degree in International Communications with a focus on cross-cultural training from the American University School of International Service. As a freelance writer, she contributes to numerous publications while eating and drinking her way around the world. She is also the host of Wine Soundtrack Podcast 
Allison also writes for the Napa Valley Register and other outlets, in addition to her blog at Please The Palate; Twitter and Instagram @plsthepalate; Facebook: Please The Palate