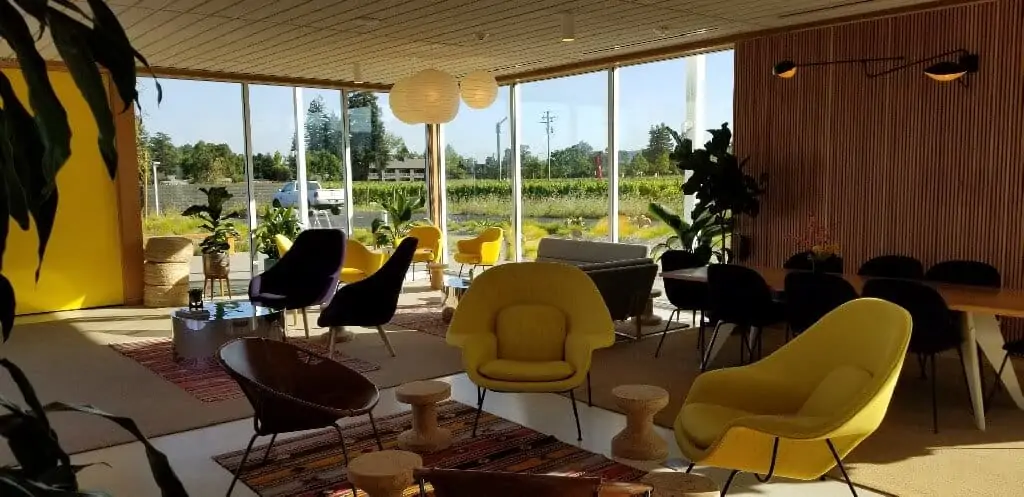 Exploring Downtown Napa – Where to Eat, Drink and Sleep
Napa Valley is 30 miles long and 5 miles wide. For decades, downtown Napa, Napa Valley's largest city, and the county seat, was bypassed for more upscale experiences in Yountville, St. Helena and Calistoga. But, over the last decade, the city of Napa has undergone a revitalization that has made it a destination of its own. There are hotels, restaurants and tasting rooms that line the streets that make downtown Napa an exciting place to visit and explore.
In the heart of downtown Napa is First Street Napa, a 325,000 square-foot development that covers three square blocks. It is home to retail stores, restaurants, and offices, as well as the 183-room boutique Archer Hotel Napa. At five stories, with an additional sixth-floor rooftop bar and pool, the Archer Hotel is the tallest building in Napa.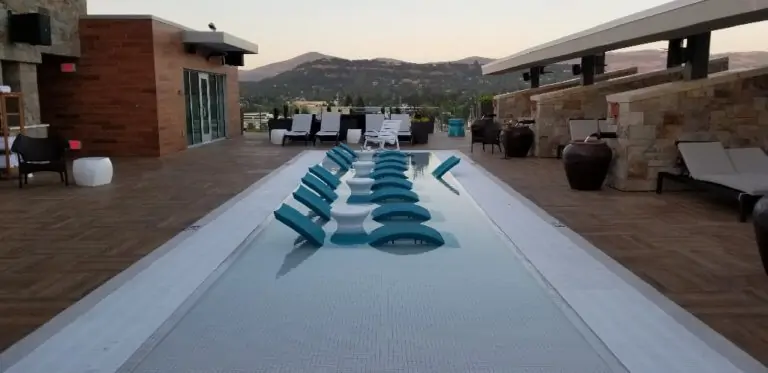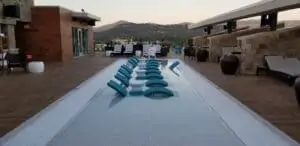 The Archer Hotel is a hip hotel with a large bar, lounge area and Charlie Palmer's Steakhouse in the lobby, as well as a stunning 3-D map of the entire Napa Valley running along one long wall. The rooms are spacious with all the modern amenities, including a wine cooler in the room to keep your daily purchases chilled. The rooftop offers captivating panoramic views of Napa Valley and you can relax by the fire pits and enjoy specialty cocktails. The shallow pool is more for sunbathing than swimming and the gym is also on the rooftop, so you can workout while looking out the window to a beautiful view.
The Archer Hotel is in a central location, making it easy to walk around to numerous restaurants, bars, and shops. But where to begin? There are so many good restaurants to chose from and here are a handful of my favorites:
Oxbow Public Market (610 1st Street, Napa)
Oxbow Public Market is a large marketplace that offers something for everyone. Located along the Napa River, you can sit and enjoy a meal there or take it to go. I always start my day out at Ritual Coffee at Oxbow. There is also Hog Island Oyster Bar, Gott's Roadside, Live Fire Pizza, Hudson Green & Goods, Eiko's Sushi at Oxbow (they also have a free-standing restaurant in downtown Napa) and more. Oxbow sells organic and sustainable fruits and vegetables, as well as other regional specialties, such as Napa olive oil, cheese, and chocolate.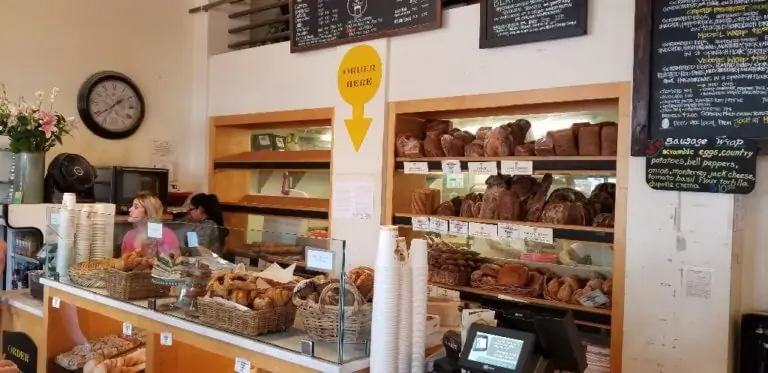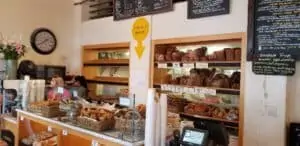 Located on the outside of Oxbow Public Market, The Model Bakery has been a part of Napa Valley for 90 years, with their original location on Main Street in St. Helena. Model Bakery is where the locals go for daily breakfast and lunch, which includes the artisan breads made with organic stone ground flours and pastries. If there is one thing not to miss, it is their English muffin, the same one featured on the Food Network and named Oprah's Favorite Things 2016. Almost every breakfast sandwich comes on one of these delectable English muffins.
The Fatted Calf
Next door to The Model Bakery is The Fatted Calf, a charcuterie and butcher shop. Fatted Calf works with small farmers and focuses on serving products that meet the highest quality and standards. At the Fatted Calf, you can purchase cuts of meat to go or order sandwiches and salads made with freshly sliced cuts for lunch.
Compline Wine Bar, Restaurant & Merchant (1300 1st Street #312, Napa)
Located outside the Archer Hotel, Compline is a wine bar, restaurant and wine retail shop in one. Founded by Sommelier Ryan Stetins and Master Sommelier Matt Stamp, Compline is a casual, inviting spot that is also professional and polished. The wine list offers local, as well as both domestic and international selections. Ninety percent of the retail wine offering is international selections and they all retail for under $35, except the Champagne. Compline offers a locally sourced menu by Chef Yancy Windsperger.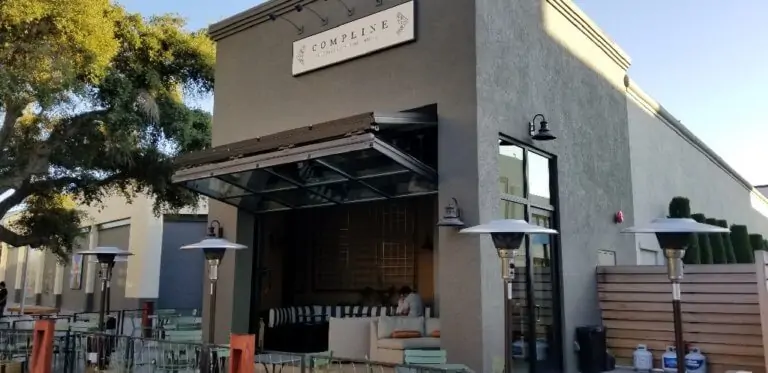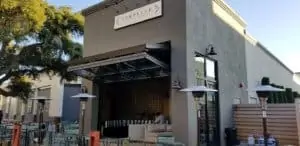 Tostone con pollo, poached egg and polenta, arancini and the burger are some of the tasty dishes you can enjoy. But, the one thing that you cannot miss is the duck fat fries, the best in the valley, with a glass of Champagne. Compline also offers wine classes, led by Master Sommelier Matt Stamp, designed for all levels of wine knowledge.
La Taberna (815 Main Street, Napa)
La Taberna is a popular modern Spanish tavern featuring a chalkboard menu of tapas and pintxos. The Latin-infused menu utilizes the all of the fresh, local ingredients available in California. While there are a few California wines on the list, La Taberna features a predominantly Spanish and Portuguese wine list. If you are tired from a day of wine tasting, check out the cider and beer offerings or perhaps have a glass of sherry or vermouth.
Zuzu (829 Main Street, Napa)
Owned by Mick Salyer, who also owns La Taberna, Zuzu is a Spanish-inspired restaurant that serves paella and tapas. Zuzu sources fruits, vegetables and meats from local farms and ranches, as well as from their own gardens in Napa. Like its sister restaurant, Zuzu has a predominately Spanish wine and beer list but you can always find California wines as well.
Torc (1140 Main Street, Napa)
Torc is a casual, high-energy restaurant owned by Chef Sean O'Toole and his wife Cynthia. An eclectic menu celebrating local producers and sourcing hyper-season ingredients, Torc offers contemporary American cuisine. Loved by locals, as well as tourists, it is not uncommon to see winemakers dining at Torc. As for drinking, Torc offers craft cocktails as well as a unique selection of wines by the glass that you will not likely see anywhere else.
Miminashi (821 Coombs Street, Napa)
Miminashi is a traditional Japanese izakaya restaurant in the middle of wine country. The minimalist décor allows you to focus on the food. There is sashimi, noodles, rice bowls and Teppanyaki. If you sit at the chefs' counter, you can watch them cure and cook the food over the woodfired grill. The wine list is succinct with diverse options of sparkling wines and white wines, such as Riesling and Gruner Veltliner, to pair with the food. Miminashi also offers 125 cocktails, presented in a Rolodex that you can flip through. Finish off your meal with the soft cream or you can order it at the soft cream takeout window at the front of the restaurant.
Cadet Wine & Beer Bar (930 Franklin Street, Napa)
Cadet Wine & Beer Bar is a popular local spot for young winemakers and growers. The feel is casual and rustic, and the wine selection is diverse, ranging from classic to adventurous. The menu changes often, but the focus is on celebrating wines from California and beyond that have unique philosophies and stories to tell. Cadet also offers a selection of beers and ciders, as well as charcuterie and cheese to wash it all down.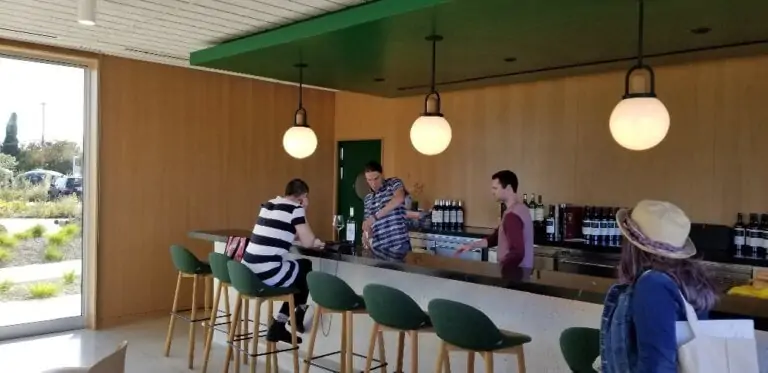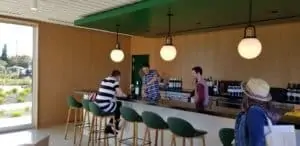 WINE TASTING IN DOWNTOWN NAPA
In addition to Compline Wine Bar, Restaurant and Merchant and Cadet Wine & Beer Bar, numerous tasting rooms have opened in downtown Napa. All within walking distance of each other, there is Outland, featuring the wines of POE, Forlorn Hope and Farella, Acumen Wine, Trahan Winery, Stonehedge Winery, JAM Cellars, Brown Downtown, Vermeil Wines and more.
Inside Oxbow Public Market, there is Cru @ The Annex where you can taste the wines paired with popcorn. And, there is also the Napa Valley Distillery, a family-owned micro-distillery featuring craft spirits highlighting locally grown ingredients.
Across the street from Oxbow is Feast It Forward's flagship studio. In addition to the design showroom, event space, cooking classes and retail store, Feast It Forward is home to a tasting collective made up of 18 premier vintners. Twice a month, the second and last Thursdays, is Vintner to Vinyl, where the featured vintners will select vinyl records that audibly translate their wines and enhance the tasting experience.
Five miles down the road from downtown Napa, The Village (850 Bordeaux Ave, Napa) recently opened. Located at Vista Collina, a145-room Tuscan-inspired resort, The Village is home to eight wine tasting rooms and one craft brewery tasting room. Wineries include Mi Sueño Winery, a boutique Mexican-American family-owned winery, Jayson by Pahlmayer, Luna Vineyards, Cornerstone Cellars and Trinitas Cellars. There is the Fivetown Grocery featuring fresh salads and sandwiches and local specialties and also The Village Food & Wine Center where hands-on cooking classes and other demonstrations take place. All of these spaces open out to a large community lawn where you can picnic and relax.
If you want the full winery experience while in downtown Napa, you will have to hop in a car or uber. Within the downtown Napa area, there are two wineries you will not want to miss.
Located in foothills of Mount George in the Coombsville AVA in Napa Valley, Palmaz is the tallest winery in the world. Visible to the eye are five levels but the winery is 18 stories deep, equivalent to three city blocks. Palmaz sits on 600 acres, with 64 acres planted to grapes, and the gravity-flow winery was built into the base of Mount George. Palmaz offers three private tours per day, led by a knowledgeable wine ambassador who will guide you from the fifth level above ground and down into several layers of the cave where you can see how the wines are made. The tasting culminates with a wine and food pairing tasting with five wines. The cost for the Palmaz tasting experience is $100 per person.
Owned by Kashy Khaledi, son of Darioush Khaledi, the owner of Darioush Winery, Ashes & Diamonds opened in Fall 2017. High-profile winemakers Steve Matthiasson and Diana Snowden Seysses collaborate to make classic, elegant, low-intervention California wines that represent the place and the vintage. The new winery is striking and unlike any others in the valley. The buildings are mostly stark white with porthole windows and a zig-zag roof. Bright yellow accent walls modern-midcentury furniture will make you feel like you have gone back in time to the 1960s. Tasting experiences range from $40 - $250, depending on if you want to taste four current releases, do a five-course seasonal lunch pairing or a private tour of the estate.
Downtown Napa has come alive and an entire weekend trip to Napa can be spent focusing on the downtown area as there is so much to explore.
About the author of this Downtown Napa guide;
Allison Levine is the owner of Please The Palate, a boutique marketing and event-planning agency. Allison is Level 3 WSET Certified from the Wine & Spirits Education Trust, so she knows about way more than just wine tasting Santa Barbara. Allison is certified as an Italian Wine Specialist from the North American Sommelier Association and has a Master's Degree in International Communications with a focus on cross-cultural training from the American University School of International Service. As a freelance writer, she contributes to numerous publications while eating and drinking her way around the world.
Allison also writes for the Napa Valley Register and other outlets, in addition to her blog at Please The Palate; Twitter and Instagram @plsthepalate; Facebook: Please The Palate