Review of Flaviar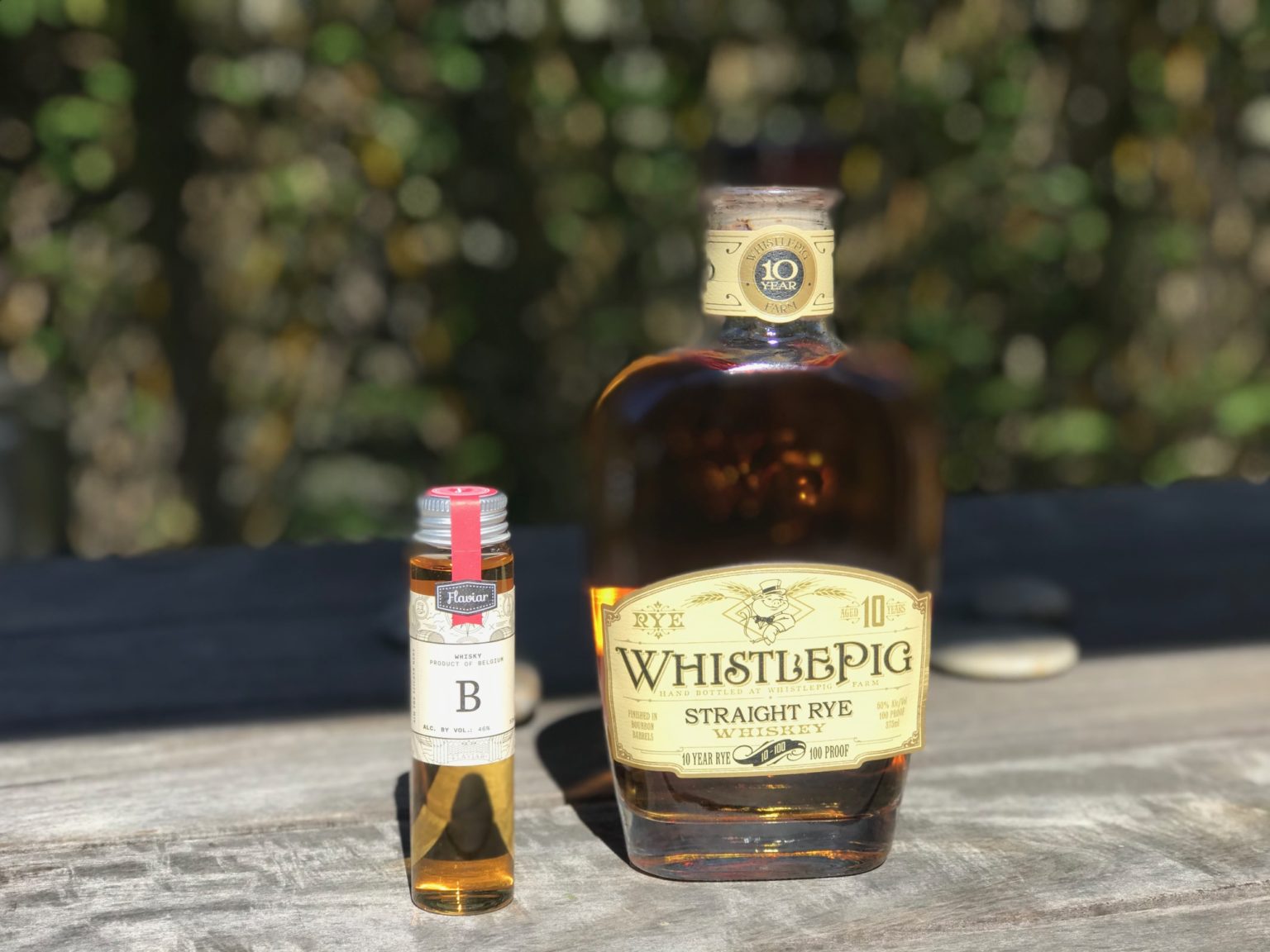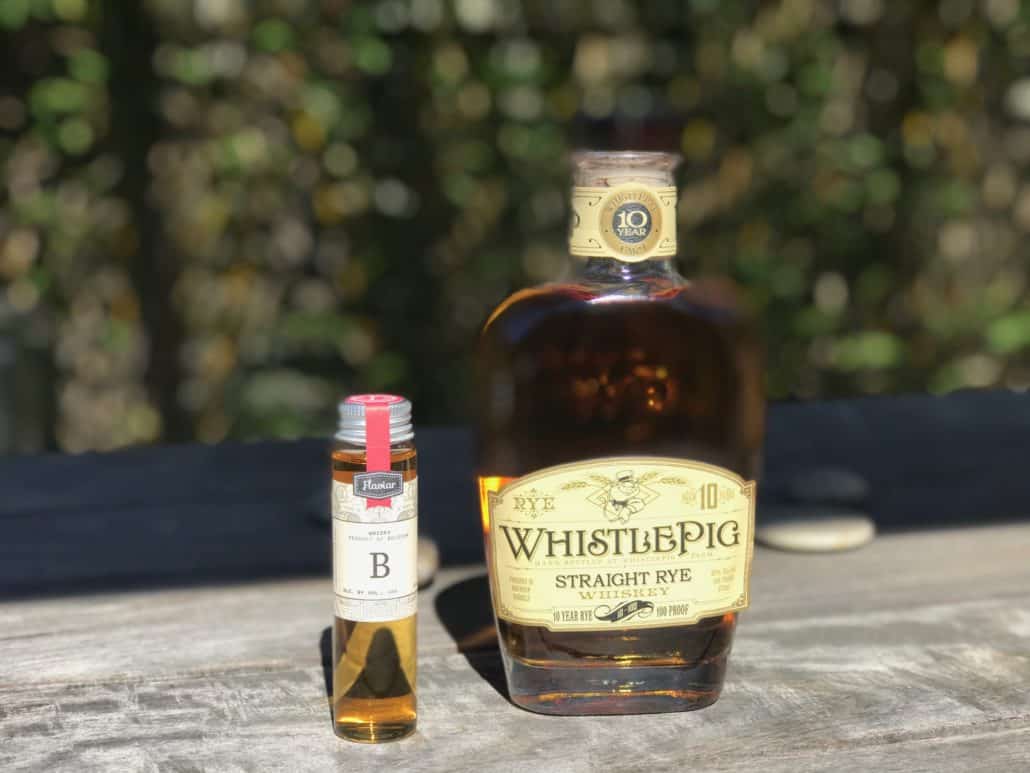 We decided it was time to publish a Flaviar review. This booze of the month club has truly separated itself from the competition. It currently tops our list of the best Whiskey of the month clubs. We wanted our readers to know how great it is to be a member of this club.
There is something special about getting a curated selection of your favorite liquor every month. Just consider the excitement when you get the box of booze, not to mention the pleasure later on. 
Assuming you have a taste for fine spirits, you've probably checked out several premium liquor subscription boxes. This time around, you're about to get an insider's view of the Flaviar whiskey club and everything it has to offer. 
Whether you're a spirit connoisseur or only just exploring the world of whisky clubs, you should have a clear understanding of whether Flaviar is for you by the end of this write-up.  
Click Here To Sign Up For Flaviar
Modern Day Speakeasy 
Flaviar has a clearly stated club philosophy – it aims to take your taste for liquor beyond the standard Johnny, Jack, and Jameson's. According to this ethos, 99% of all fine craft spirits are out of reach for the regular folks. And Flaviar is there to bridge the gap and open up a new world of possibilities. 
This sounds almost too good to be true, at least for those who are hearing it for the first time. But, how does it work in reality? 
First things first, Flaviar does not run like a discount liquor store and you don't get a full bottle unless you pay for it. It's not the cheapest subscription, and supposedly there is a waiting list (though it could very well be an attempt by the company to generate sales pressure). 
To give you an idea about the offer, Flaviar's collection includes bottles of Bunnahabhain Hogshead 733. It's a limited production single malt that retailed for about $360. Only 733 bottles were made, which are now virtually impossible to find, but you can find them at Flaviar. 
In addition, members also get tickets to Craft Spirits event in New York City and access to other limited edition bottles. 
How to Join Flaviar 
According to the people behind the club, Flaviar was an invitation-only club where would-be members had to wait for months for slots to open up. 
Be that as it may, this is how it works today. You'd enter your email address, fill out an online form, and wait to get invited. Are you excited about the air of exclusivity yet?
When you sign up, you'll notice that it's labeled "Get on the Waiting List." Click that and you will immediately receive a confirmation email that informs you how Flaviar accepts new members slowly. And that the wait has been cut from a matter of months to 3-5 days.
As mentioned, this could just be a marketing trick. What it does is give potential members a sense that they're entering a prestigious club for the select few. 
What's the Takeaway? 
Flaviar aims to help you make an educated choice when you purchase spirits. It helps you decide if a bottle is worth your money, especially when you are ready to spend extra on a bottle of premium spirit. 
As you might know, it's not easy to find a local liquor store that's eager to share the history behind an interesting label. And that's where Flaviar comes in. In addition to the liquor history, members can find trivia, videos, and nuances about a label's flavor profile and origin. 
Take the bottle of Bunnahabhain Hogshead 733 as an example. Its page starts off with an exciting tale of daredevils who set out to sea to explore the limits of their stamina. At the end of the journey, the boat was converted into two barrels for making the Bunnahabhain single malt. 
The club also claimed that your name will be credited in a movie about the adventure if you buy a bottle. Of course, you'll also find on the page detailed descriptions of the taste, strength, and collection-worthy features. 
Look at it this way. A subscription to Flaviar is like having a liquor expert at your disposal all the time. 
Flaviar Membership Cost
At the beginning of Flaviar, the subscription cost was $40 per month for five 1.5oz vials of whiskey per subscription box. At about $8 per shot, this taster pack costs about the same as going to a dive bar. 
How much does it cost per month to join Flaviar?
Nowadays, the cost to join Flaviar is either $31.67/month if you want to pay quarterly (you have the option not to renew after 3 months) or $25/month if you pay for one year.
Every quarter you receive one tasting box of three 1.5oz vials of spirits. You also receive one full-sized bottle. You can select the bottle and tasting box you want. 
Flaviar offers free shipping for one bottle or taster pack per month. 
Aside from the discount and an occasional deal, free shipping is one of the biggest perks. If you buy from an online store, you may have to hit a certain order size to qualify for free shipping. 
Click Here | Sign Up For Flaviar
Flaviar Tasting Boxes Explained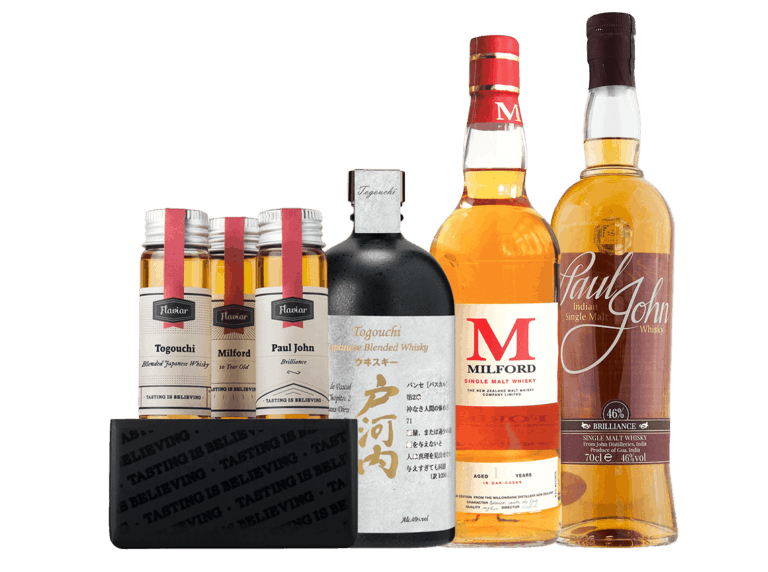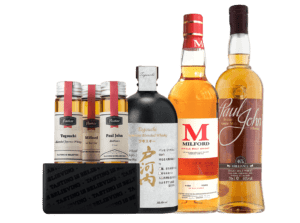 To give you a better understanding of the offer, the following sections describe in more detail the three most common liquor boxes. Note that this is just an example and the boxes that you receive might contain different vials of whiskey or bourbon. 
Welcome Box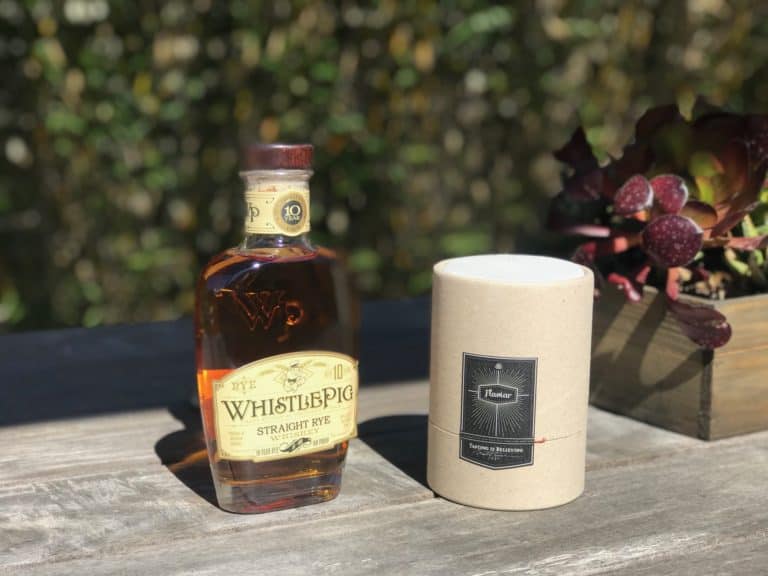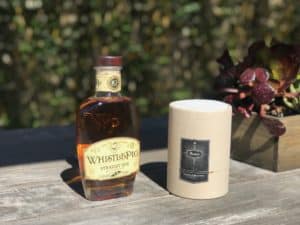 The welcome box may include vials of craft bourbon from smaller and more exclusive distilleries like Koval, Journeyman, and Few. You might be impressed to see that Flaviar goes the extra mile when it comes to packaging. 
The 1.5oz vials ship in a beautiful two-piece cardboard cylinder with individual cut-outs. The design, like a contemporary take on early 20th century labels, gives the entire package a touch of class and style. 
Liquor Box 1 
After you've given the bourbon selection a try, you may want to check out the Flaviar whiskey tasting box. You'll find that Flaviar has one of the largest collections of whiskey anywhere online. 
If you go for the blended whiskey box, you can perhaps look forward to comparing Japanese and Irish whiskeys. The box may include vials of Togouchi, Compass Box Scotch, and Roe & Co of Ireland. You can hardly go wrong with this if you like smoother whiskeys that offer a contrasting flavor profile to single malts or straight bourbons. 
Liquor Box 2
The next one on your list might be a box of experimental scotch. To entertain your imagination a little, it might include a blend of Scottish, American, and Canadian scotch by Huxley Rare Genius. You might also find Smoke Goats, which has a distinct note of sweet peat, or Boxing Hares, a hops-blended scotch. 
Here's the point. You are bound to find at least one experimental blend that excites your palate, which would make everything worth it. 
Things to Consider 
You are eligible for one free tasting box every three months. Instead of automatically shipped to you, you need to claim it on the website. To order more tasting boxes, the prices are $40 to $80 per box. 
This means that you'll be paying $12 to $35 for a single vial. It's up to you to judge whether the exclusivity is worth the money. You do get to choose the types of whiskey or bourbon that come with the box and treat yourself to a glass of Pappy Van Winkle on a special occasion.
As for full bottles, you can expect them to be 15 to 20% more expensive than the prices at other sites. For some, this is a major downside of Flaviar. As mentioned, this is not a discount store so you'll have to view the club/service as a whole and consider everything that comes with it. 
Specifically, you're paying for premium packaging, professional pages/descriptions for each label, and other club perks like access to distillery tours. Flaviar is also rolling out a number of clubs around the country for its members. These clubs will offer you a chance to taste different whiskeys with fellow club members in an exclusive members-only setting. 
Customer Services at Its Best 
With any exclusive whiskey or bourbon, understanding the nuances is a major part of the tasting experience. The liquor boxes feature individual taste cards and you will also get an email that tells you everything about the distiller. 
For example, if your box includes whiskey or scotch from Copper Fox distillery, you'll learn about its owner Rick Wasmund and his approach to the craft. In addition, special attention is paid to the origin and philosophy behind the label. This is a feature that we saw as a positive in our Flaviar review. 
Overall, this is like a virtual tour of the distillery, and it's always great to learn about the story behind the spirit. You might find yourself rereading the email or tasting card while sipping a particular whiskey/bourbon. 
And, if your taste runs across the spectrum, you'll cherish the opportunity to try different things and purchase a bottle only once in a while. 
Flaviar YouTube Channel
You'll be hard-pressed to find another liquor club with a YouTube channel that can rival Flaviar's. One look at the channel and you'll see that they have left no stone unturned. 
The channel features six categories designed to meet the expectations of even the most demanding members. Starting off with the Spirits of Innovation category, these videos showcase the craftsmen who are at the forefront of the distillery or bar industry. 
Moving on down, the channel's Boozy City Guides take you on an exciting journey around the world to explore the best of booze in iconic cities like New York, Los Angeles, or Mexico City. Not only that, but the videos also provide food pairing tips for hungry and thirsty travelers.
After that, there are United Nations of Booze and A Brief History of Booze. With these, you can learn all there is to know about the origin of liquor and the cultural differences that are reflected in how spirits are consumed. Finally, the rest of the categories are School of Spirits and Our Products. 
The videos under Our Products are self-explanatory, but you've got to check out School of Spirits, where you'll learn about the differences in maturing, aging, and finishing whiskey/bourbon. If you prefer more exotic liquors, there's a video about Japanese Shochu and Mexican pulque.  
Is Flaviar Really Worth the Price? 
When all is said done, it all depends on what you expect from a liquor club and your drinking habits. To answer the above question, let's have a quick recap of what we've learned during our Flaviar review. 
Benefits 
You can try before you buy a whole bottle. (Most other clubs don't offer test vials like Flaviar). 

You can create a themed tasting box to compare and contrast your favorite types of whiskey, bourbon, rum, etc. 

The variety of whiskey is hard to match anywhere else. 

Informative Flaviar taste cards, label/distillery pages, and YouTube channel. 

Special bottlings that are for Flaviar members only
Access to members-only events like blendings and tasting parties
Free access to distillery tasting rooms around the US
Downsides
Prices per bottle can be 20% higher than regular store prices. 

You are eligible for only one free shipping a month. 

The number of truly rare bottles and labels is somewhat limited. 
With this in mind, it's obvious that Flaviar could improve on a number of things. It would be great if the subscription was to return to monthly shipping and include a free mystery box. 
While the $10 discount on the purchase of a bottle upon sign-up is nice to have, it would make it more worthwhile to join if the membership comes with more discounts, perhaps even an across-the-board discount off the list prices, which are already higher than what you can get elsewhere. 
Finally, a wider selection of rare bottles would be a major upgrade, especially considering the fact that Flaviar seems to suggest in the beginning greater access to hard-to-find bottles than it actually offers. 
Cheers to Flaviar 
While you may come across certain Flaviar reviews that are quite negative, some going so far as to call the service a scam, the truth is that Flaviar is a club designed to cater to the needs of specific clientele. 
Flaviar bridges the gap that separates independent and exclusive distilleries to offer a taste of what's available in the industry. Furthermore, there are no strings attached, as you can cancel the subscription whenever you feel like it. 
Based on this review of Flaviar, you can probably tell how much we love this service. That's why we included it on our list of the best whiskey gifts and best whiskey of the month clubs.
If you have a love for whiskey or bourbon and a moderate drinking habit, Flaviar may be an excellent place for you to explore what's out there, beyond what you can find at the neighborhood bar or liquor store, until you find the perfect bottle.