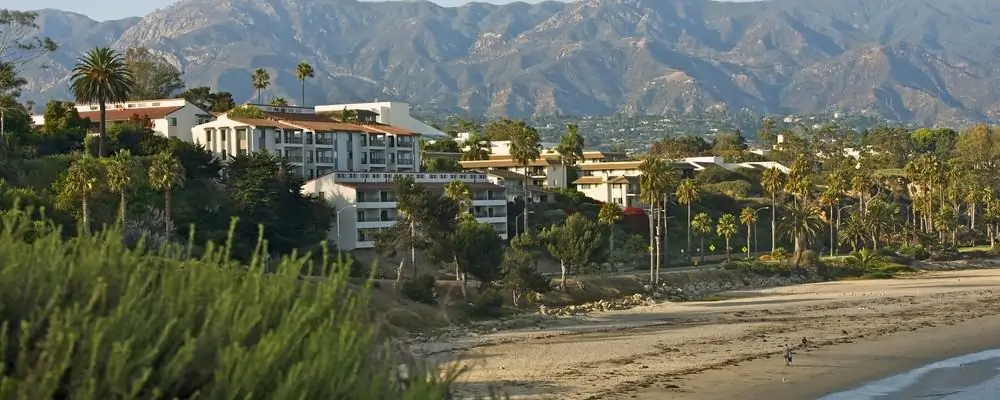 Our reporter spent 24 hours in the Funk Zone Santa Barbara. The Funk Zone neighborhood of Santa Barbara is a cluster of top-notch wine tasting rooms, restaurants, brewpubs, and a distillery. As you can imagine, a day in the Funk Zone is a tough assignment for any reporter. Thankfully, she survived and filed this report about the best Funk Zone wineries, restaurants, and pubs to visit.
Visting The Funk Zone Santa Barabara
Santa Barbara has long been known for its breathtaking views, shabby-chic beach culture, and venerable vineyards. Now, the County's best wines have a home away from the vines. What was once a corner of Santa Barbara zoned for ocean-oriented commercial use (marine industrial and manufacturing) is now the cradle of Santa Barbara's Urban Wine Trail and a corridor of oddball art galleries called the Funk Zone.
How Do You Get To The Funk Zone Santa Barbara
From Los Angeles, skip the traffic and take a relaxing two-hour tour up the coast on Amtrak. Get off the train at Santa Barbara's historic depot and walk across State Street. You are now in the Funk Zone. Spend the day sampling Santa Barbara's food, wine, and spirits, without ever having to get in your car. At the end of the day, you can crash in a nearby hotel or board a train home. The only problem with a day trip to the Funk Zone Santa Barbara -- it's just not long enough.
If trains aren't your thing, the Funk Zone can be reached by car, but be ready from some traffic. From points north, you will take the 101 South to the Garden St. exit in Santa Barbara. The exit puts you minutes from the Funk Zone. We suggest you find parking in a lot and then walk into the Funk Zone.
Coming from the SoCal, you should take the 101N and exit at 96B in Santa Barbara.
Santa Barbara also has a smallish airport that is about 30 mins north of the Funk Zone.
A Day In The Funk Zone Plan
Get started:
If you arrived in the Funk Zone early enough, we suggest you start the day at Helena Ave Bakery. The Green Eggs and Ham on brioche is the perfect way to prepare your body for the wine tasting that lies ahead. The bakery shares a space with the Santa Barbara Wine Collective. The SBWC features tastings from wineries that don't have their own tasting rooms in the Funk Zone. If you are lucky, they will be pouring wines from The Hilt or Jonata (sister winery to the famed cult winery Screaming Eagle).
When you finish breakfast (and a tasting), leave the SBWC and venture over to Anacapa Street. There are several tastings rooms located here. We suggest you enter the tasting room of Municipal Wine on Anacapa and you'll think you've been sent to the principal's office. But Dave Potter is no authoritarian administrator, he's the personable, bearded man behind the wine. When "Muni," as it's called by locals, opened its tasting room in 2010 it was a pioneer of the neighborhood's current oenological renaissance. Now, Potter's contributions to the Santa Barbara wine scene walk the line between high-craftsmanship and low pretension. His celebrated, straightforward offerings represent the best of Santa Barbara: rustic but refined. It's the perfect way to start your day.
Break for lunch: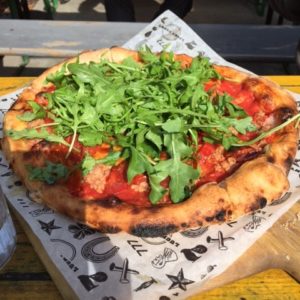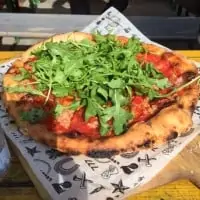 Time for sustenance or a caffeine pick-me-up between tastings! Stop by The Lucky Penny, The Lark's sister cafe, which boasts a wood-burning pizza oven and outdoor seating. Grab a coffee and baked goods to go or take a seat in the garden and dig into an aromatic Milpas pizza with chorizo, egg, potato, and cotija cheese or the pulled pork sandwich made with beer from adjacent Figueroa Mountain Brewery. It doesn't get much better than this!

Out of this world:
After you put away your lunch and a beer, it's time to keep wine tasting. A visit to the Area 5.1 Winery tasting room brings a welcome opportunity to kick back and relax (we know this day has been stressful so far). The winery's theme pays homage to Nevada's Area 51 restricted air force base that fueled mid-century extraterrestrial lore and excited decades of conspiracy theory. This
place doesn't take itself too seriously, as evidenced by the wine list's Top Secret File disclosure. All jokes aside, the winery offers respectable blends of Santa Barbara County's most popular varietals at a great price point. Sign up for the Classified Wine Club and receive 25-35% discounts and free tastings. This may be the funkiest of the Funk Zone Santa Barbara tasting rooms, so enjoy the ambiance.

Raise your spirits:
By now your palate may be too fatigued for a delicate wine. This is the perfect opportunity to head to Cutler's Artisan Spirits, for an intimate tasting at their Anacapa location. Though the tasting room may be small, what Cutler's lacks in space they make up for in quality. Taste through all four spirits and hear about the Cutler family's enthralling legacy of bootlegging and distilling during Prohibition. 33 Bourbon whiskey, a favorite of proprietor Ian Cutler, is aged six years and blended from 33 barrels, lending the smooth, balanced spirit its name. Pick up a bottle of Cutler's most popular selection, Grandma Tommie's Apple Pie -- a 40 proof liqueur of seven-times distilled vodka, apple juice, and spices. Sharing this dessert-like digestif with a gathering of friends feels positively patriotic.
Get your whirlwind tasting in early and walk it off just as the locals do: with a sunset stroll on the beach. Shoes not required.

The perfect end:
Santa Barbara has a thriving tourism industry to which many of its restaurants cater. The Independent, Santa Barbara's alt-weekly newspaper, gave The Lark the "Funk Zone Epicenter Award," for the way it has tethered the Urban Wine Trail by providing a centralized restaurant. The seasonal, gourmet fare is served at community tables, straddling an ambiance that is at once upscale and familial. Crispy brussels sprouts are contemporary and unique with Medjool dates, sesame, and lime. All of the veggies on this menu are fresh and well-executed, but the seafood and meat dishes are the true standouts. Executive chef Jason Paluska nails nose-to-tail dining with plates like smoked pork belly and bone marrow crusted beef cheeks. It's the ultimate end to your day as a Santa Barbara local. Reservations are highly recommended.
Where To Stay Near The Funk Zone
If you plan to stay for more than a day, or if your plans changed after several glasses of wine, don't worry. There are a number of very nice hotels in the area. There aren't many bargain options, but they can be reasonable if you are there during the right season.
We suggest you try to find a room at Hotel Californian if you want to be able to easily walk between your hotel and the tasting rooms. The Kimpton Canary Hotel is another nice option, it's a slightly longer walk, but that may be a good thing after all your eating and drinking!
Whether you stay the night or just for a day, we are sure you're going to love your visit to the Funk Zone Santa Barbara!