Sonoma Vineyards
The vineyards in the region are typically small and family owned. Eighty percent of growers have vineyards less than 100 acres, and 40% of growers have vineyards that are less than 20 acres. Chardonnay, Cabernet Sauvignon and Pinot Noir make up 62% of the grape acreage with Merlot, Zinfandel and Sauvignon Blanc rounding out the top six varieties. Because of the cooler growing region, grapes generally have longer "hang time" resulting in concentrated, fruit-forward wines with softer tannins.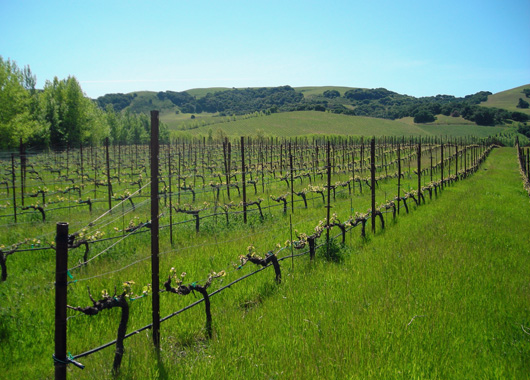 Los Carneros, looking west at Cline Vineyards
Sonoma has over 65,000 acres of vineyards grown in twelve distinct wine-growing districts.
Los Carneros District is a shared appellation with Napa Valley. It s close proximity to the cool influences of the San Francisco Bay create a perfect environment to grow Chardonnay and Pinot Noir as well as Merlot and Syrah. 8000 acres of vineyards and 22 wineries are located here.
Sonoma Valley's 14,000 acres of vineyards thrive in the confluence of warm daytime temperatures and the cooling airflows from the San Francisco Bay. Considered the birthplace of the California wine industry some of its oldest wineries reside here. Over 55 wineries produce a wide range of wines including Chardonnay, Pinot Noir, Cabernet Sauvignon, Merlot and Zinfandel.
 Click Here to Display Wineries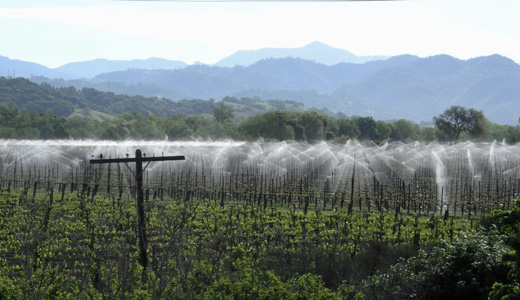 Alexander Valley looking east
Alexander Valley is home to Cabernet Sauvignon which thrives in the in the warm, dry, gravelly volcanic soils of the valley floor. Over 16,000 vineyard acres blanket the area with notable Chardonnay, Zinfandel, Merlot, and Sauvignon Blanc also grown. This long north – south region along highway 101 and highway 128 have dozens of exceptional wineries to explore.
Dry Creek Valley has nearly 10,000 acres of vineyards with spicy "old vine" Zinfandel being the best known varietal. The morning fog tempers the warm days. Sauvignon Blanc, Chardonnay, Chenin Blanc, Merlot, and Cabernet Sauvignon are also grown and made into distinctive wines. Almost 60 wineries produce wines here.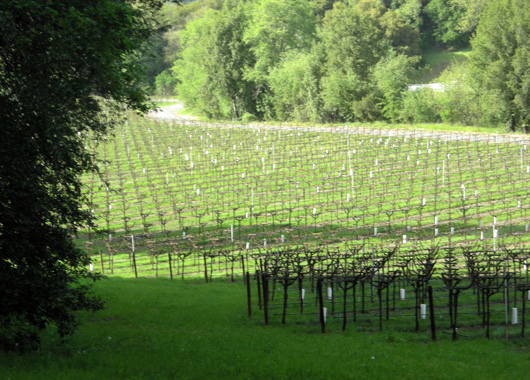 Vineyard on West Side Road, Russian River Valley
Russian River Valley vineyards include small family-owned farms and larger ranches. 16,000 acres of vineyards share the land with sheep, goats, cattle, apples, berries, and other animals and crops. The combination of well-drained soils, cooling fog and warm summer afternoons provide ideal growing conditions for Chardonnay and Pinot Noir, as well as Pinot Gris, Cabernet Sauvignon, and Zinfandel. Chalk Hill AVA and Green Valley AVA are sub-AVAs of this cool growing region. Seventy-five wineries are located here.
Chalk Hill AVA is just east of the town of Windsor and encompasses the northeast corner of the larger Russian River AVA. Five wineries can be found here on the western bench land slopes of the Mayacamas Mountains. The area is named for its white, volcanically-derived, chalky white ash soils. These soils and climate produce distinctive Chardonnay and Sauvignon Blanc. In the warmer upper hills vines are producing great Cabernet Sauvignon.
| | | |
| --- | --- | --- |
| | | |
| Marimar Winery Dog, Green Valley | | Christopher Creek Winery, Chalk Hill |
Green Valley AVA is noted as the coolest, foggiest region of the Russian River Valley. Chardonnay and Pinot Noir account for almost 95% of the 3800 acres of vines. The natural high acidity and citrus elements distinguish the areas Chardonnay, while Pinot Noir exhibits a dried-berry and slight herbaceous quality. There are over 100 growers and eight wineries in the region. The predominant soil here is called Goldridge—a fine sandy loam covering about 60% of the area. The well drained soil is a dark, yellowish, fine, sandy loam surface over a subsoil of golden yellow and fractured sandstone.
Bennett Valley AVA borders the city of Santa Rosa and is located between three mountainous peaks. In this small, cool appellation more than 30 growers farm 650 acres of Merlot, Chardonnay, Pinot Noir, Syrah, and other cool-climate grapes. The well-drained volcanic soils and fog-cooled climate create ideal growing conditions in this peaceful unspoiled valley. Less than a dozen wineries reside in the region.
Knights Valley AVA
is located in the far easternmost part of the region, distant from cool marine influences and therefore the warmest of the county's viticultural areas. Sauvignon Blanc flourishes here, exhibiting full fig and melon fruit flavors. Bordeaux Meritage varietals, Cabernets Sauvignon and Franc, Merlot, Malbec and Petit Verdot, also do very well showing cassis and tobacco, with cedar and hints of rich chocolate. Only a couple of wineries are found in this region.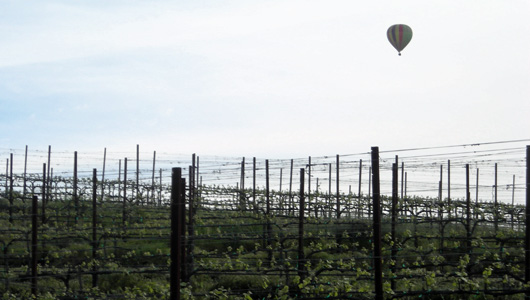 Early Morning Vineyard Tour
Rockpile AVA
 is in the northwestern corner of Sonoma County, on stark, rocky ridgelines overlooking Lake Sonoma. At 800 foot elevation, Rockpile is known for the intense, highly defined red wines grown between its rugged rock outcroppings. Vineyards of Zinfandel, Petite Sirah, Syrah and Cabernet Sauvignon struggle in the thin, demanding soils producing memorable wines.
Sonoma Coast AVA
is the largest in size (750 square miles) but is the least planted. It hugs the Pacific coast from Petaluma in the south to north of Jenner. A small handful of wineries and a few hundred acres of hardy cool weather grapes can be found here. Chardonnays can have a toasted hazelnut character and Pinot Noirs are often silky with black-cherry fruit and sandalwood spice.
Sonoma Mountain AVA
rises above the town of Glen Ellen at the western edge of the Valley of the Moon. There are isolated patches of high-altitude, steep-sloped vineyards up the eastern side of 2,463-foot Sonoma Mountain. These vineyards fall within the larger Sonoma Valley AVA but because of the areas elevation, fog free morning sun and its eastern exposures it is entitled to use the more specific designation of the Sonoma Mountain AVA. Powerful and elegant Cabernet Sauvignon is prized on the well drained mountain slopes producing wines with intense fruit flavors of black currant, cassis, blackberry and violets. Sauvignon Blanc, Semillon, Chardonnay, Pinot Noir and Zinfandel are also grown.