Stella Rosa Black
I bought this wine and couldn't bring myself to drink and review it. Something about the packaging just turned me off. I'm still not sure what exactly. Perhaps my inner wine snob was prejudging it based on the low price point and gaudy bottle.
You'll find Stella Rosa wines on the shelves of many mass retailers. The brand competes in the sub $12 bottle market. This low price tag is obviously attractive to many, but it can also give some the impression that they are of lower quality.
I decided to put my preconceived notions aside and finally cracked open this bottle. You can read the results below.
Appearance
The wine is advertised as "black" and the notes on the bottle say the wine inside will reveal a "deep, dark color". I thought it looked red and not that dark a red. The edges were tinged purple as is typical of young wines.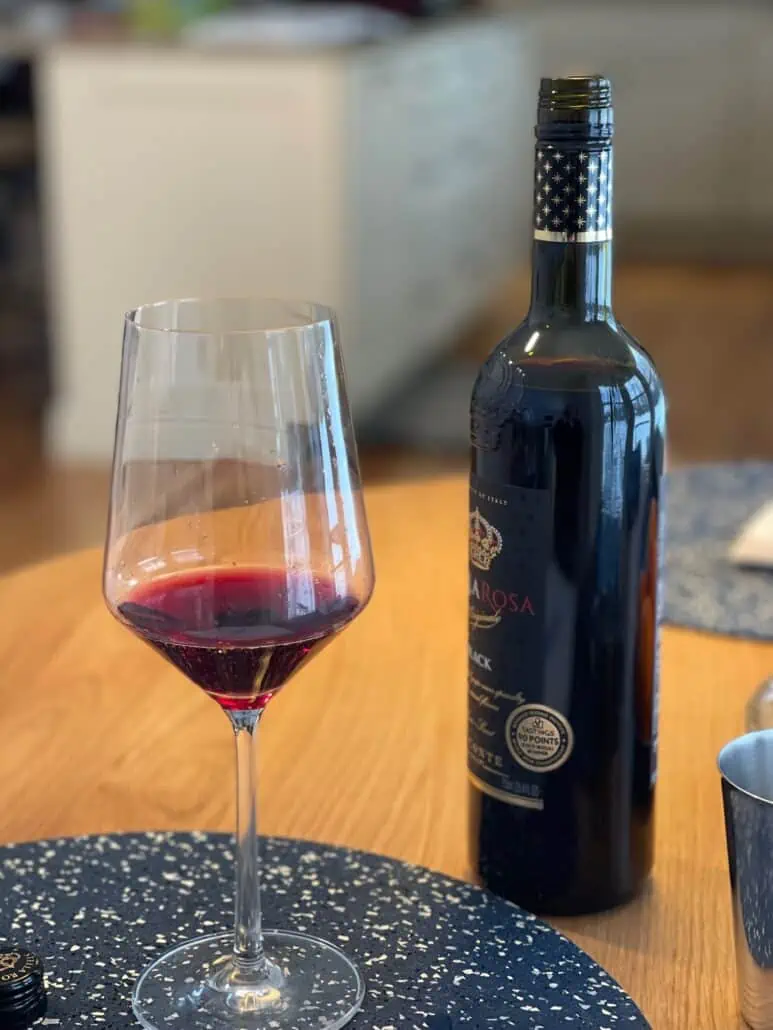 Aroma
I was a little caught off guard by the aroma. It has a kind of medicinal/all-purpose cleaner scent. I found it unpleasant. There was maybe a little vanilla in there and a bit of some industrial raspberry odor.
Taste
I actually found the taste pleasant. It's light, bubbly, sweet, and fruity. I could see myself enjoying this wine if it was very cold and I needed a refreshing drink. There is a little bit of a cranberry flavor that is acidic and enjoyable.
I would say this would fit more in the hard soda category than in the wine category. There is nothing wrong with that.
Mouthfeel and Tannins
It's light. The alcohol content is quite low. I didn't detect any tannins.
Finish
The taste lingers and it's kind of nice. There isn't any complexity really. It's a straight
Overall Opinion of Stella Rosa Black
It's a simple and not-so-great version of a sparkling Italian red. You would be better off buying a semi-sweet Lambrusco if you can get your hands on one.
Here is a nice one on wine.com that is only $13.99 a bottle and definitely better than the Stella Rosa Black.
Better Choice
Molo 8 Lambrusco Mantovano
Intense ruby red. The bouquet is persistent and fragrant with hints of black cherries and wild berries. On the palate the wine is aromatic, fruity and pleasantly sweet.
Ideal for cheese, ham, salami, pork or cold cuts and most dishes.

We earn a commission if you make a purchase, at no additional cost to you.
If you are looking for a cheap and sweet Italian wine, Stella Rosa Black might be for you. It's not good quality but it does the job if you need something to cool off with. Just don't expect too much from it.
All in all, I wouldn't recommend this wine if you are looking for an excellent red. I also wouldn't turn down a glass if it was handed to me.
Suggested Food Pairing
Sweet wine generally pairs well with spicy foods. You could match this up with some spicy Thai food or an Indian dish.