The Best CBD Infused Coffee
So what is CBD coffee?
If you've been passing by coffee shops downtown recently, you may have noticed a new type of coffee on display. It's a bit more expensive than the regular varieties and has a few letters in its name which, if you're not familiar with cannabidiol, you could mistake for a brand name.
It's CBD coffee, or most people's favorite drink infused with cannabidiol, a cannabis compound with proven health benefits. More than boosting your focus, CBD infused coffee can help induce a state of calm and reduce stress.
CBD coffee promises you the caffeine effect of coffee without the jitters, even if you drink more than one cup. Learn more about CBD in coffee and discover how to choose the best CBD coffee.
Click here to learn about other great drinks with CBD in them. 
CBD Oil in Coffee?!
CBD is a non-psychoactive compound of the cannabis or marijuana plant. Diluted with a carrier oil such as coconut oil, it can be used to relieve pain and induce a state of relaxation. Available in pharmacies and online, this oil is usually put into drinks or held under the tongue.
Putting CBD oil in your coffee could also help to relax you. For some, it can even reduce anxiety and depression. But an even better way of savoring this mix is CBD infused coffee.
Cannabinol-infused coffee tries to capitalize on CBD's relaxing properties and also tap into its possible antioxidative effect. While the synergy between coffee and CBD hasn't yet been extensively studied, many people who drink CBD infused coffee report that they feel refreshed without the usual tension or nervousness that caffeine induces. Doesn't that sound nice?
Why Not All CBD Coffee Is Equal
The effects of CBD depend on its dose. If there's not enough cannabinol in your cup of coffee, you won't see any noticeable effect. That said, there's no consensus on how much CBD needs to be in a cup of coffee for you to experience the beneficial results. Some people may react differently to different doses.
It's also important to make the distinction between CBD infused coffee, in which cannabidiol extracts are mixed with coffee beans, and pouring CBD oil in coffee. If you have CBD oil at home, you can put it into any coffee. However, CBD infused coffee may facilitate cannabidiol absorption.
Also, when you buy your own CBD coffee and make it at home, you have more control over how much cannabidiol goes into every cup. You can check the effects against the dose on the label and make your coffee stronger as needed.
When you buy this type of coffee in a cafe, you just can't be 100% sure how much CBD goes into your cup.
Click here to find the best places to buy CBD online.
The Best CBD Infused Coffee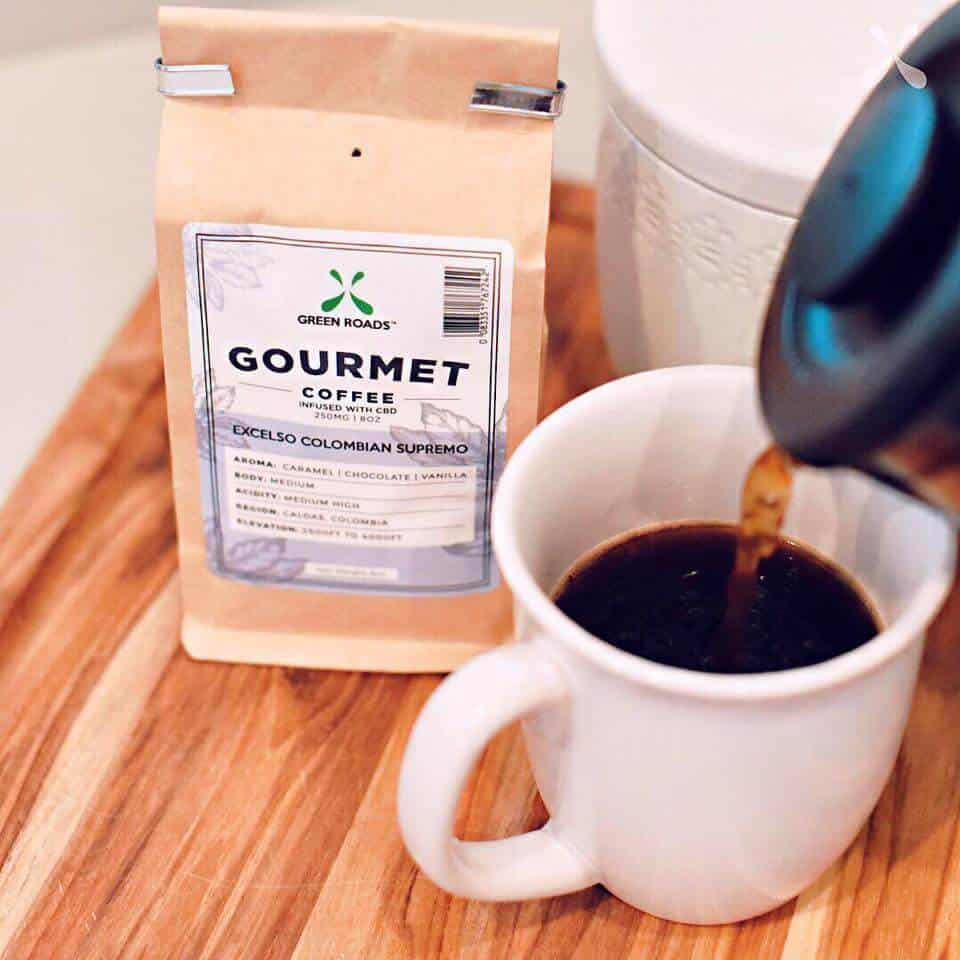 If you're looking for a CBD infused coffee that can help you start your morning feeling refreshed, Green Roads is an inspired choice. The pharmaceutical-grade cannabidiol in this Colombian coffee comes from US-grown hemp. The rich and invigorating taste is well balanced by the delicate profile and the subtle caramel aroma.
Green Roads Coffee is formulated by a licensed pharmacist and can be used to treat endocannabinoid system imbalances, including Clinical Endocannabinoid Deficiency. The recommended dose is two tablespoons per 6 oz of water, for a total of around 30 mg of CBD per cup. You can start there and adjust the dose as needed based on the effects you're seeing.
The 8 oz bag contains a total of 250 mg CBD or approximately 15.6 mg of CBD per tablespoon. Green Roads sells 2 oz bags and 16 oz bags as well.
Green Roads coffee with CBD you should try:
The Best CBD Coldbrew Coffee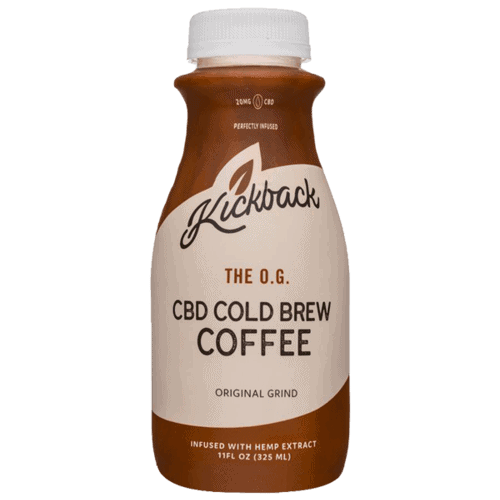 CBD cold brew coffee is another way to drink CBD infused coffee, and KickBack is one of the brands that have got this just right judging from online reviews. Apart from a variety of low-acid coffee bags with different roasts and organic flavors, KickBack also offers an interesting blend of organic single-origin coffee with water-soluble CBD in a BPA-free, recyclable package.
KickBack Coldbrew CBD coffee uses organically-extracted, lab-tested cannabidiol. You get 20 mg of CBD per 11 fl. oz bottle. Also, you get to choose between several organic aromas, including cashew milk & agave nectar and coconut milk & date syrup. There's no extra sweetener or other ingredients.
Just so you know, 8 oz bags contain around 90 to 120 mg of active cannabidiol, which should be enough for the "functional chill" which KickBack promises to deliver whenever you need it, with the added benefit of a richly-tasting organic coffee, of course.
If you haven't tried CBD cold brew coffee, KickBack's a great starting point. Among their interesting range of products, you may well end up finding your next favorite drink.
KickBack Coldbrew Coffees you may want to try:
Final Thoughts
Whether you choose to put CBD oil in coffee or go for CBD cold brew coffee, remember that you may have to experiment with different doses to get the best results. Start with the manufacturer's recommended dose and see how your body responds to it. Increase or decrease it as needed.
CBD with your coffee could help you get into a zen-like state whether you drink it early in the morning, before your day starts, or later in the day, after work. But since it's useful to know how much CBD you take in with every cup, it's important to choose brands that tell you exactly how much CBD their coffee contains.
At the same time, you don't want to compromise the quality of your coffee just to get the cannabidiol effect. The good news is that brands like Green Roads and KickBack help you enjoy the positive effects of CBD while drinking some of the most delicious organic coffee around.