Why should you care about finding the best wine openers? Opening wine is easy enough. You can do it with a sword, a shoe, or even a car key. Some of those options may be fun to try, but why not just choose the right tool for the job?
What Makes A Wine Opener The Best 
A great wine opener should allow you to easily remove the cork without splitting it, pushing it into the wine bottle, or hurting your hand in the process.
We looked for wine openers that were comfortable to use. That usually means a smooth surface to grasp that is thick enough to hold without having to squeeze your hand too much. The worm (the part that gets inserted into the cork) should be made of metal and not plastic. The opener should fit standard-size wine bottles.
We like openers that include foil cutters, but that's a matter of preference.
What Kinds Of Wine Openers Are There
There are many different wine opener designs. That makes sense when you considered the first wine bottle was opened around 6,000BC. Humans have been coming up with unique ways to get at the good stuff ever since.
Here is a quick list of the most common wine openers. You can use this list to help decide which are the best wine openers for you.
Waiter's Key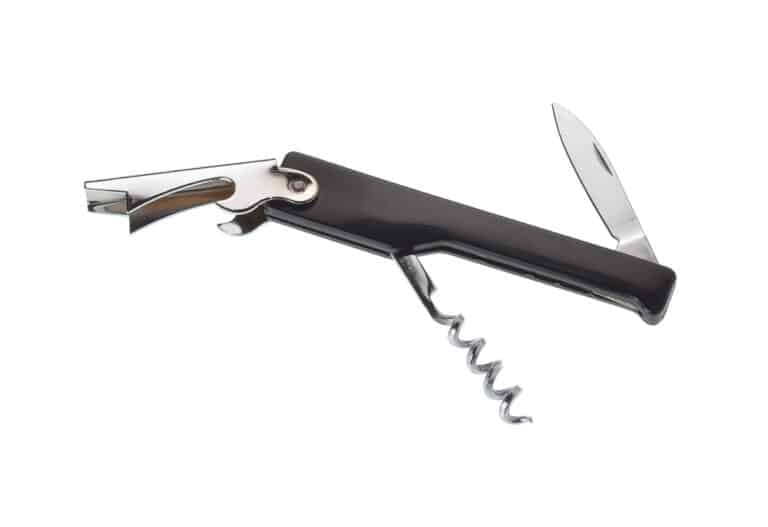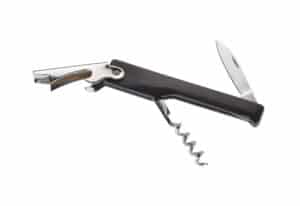 This simple wine opener is easy to carry. It's also functional because it includes both a foil cutter and the worm (the twisted metal piece that goes into the cork. These wine openers are favored by sommeliers. They are sometimes called sommelier knives.
The waiter's key takes a little getting used to. You may break a few corks before getting the hang of it.
Who are these the best wine openers for?: This is the perfect wine opener for anyone who needs to conveniently store a wine opener in their pocket. That's why you will see these at almost every restaurant that serves wine. These are also great to take to the beach, on a hike, or really any occasion where you drink wine on the go.
Click here to see our favorite waiter's key openers
Winged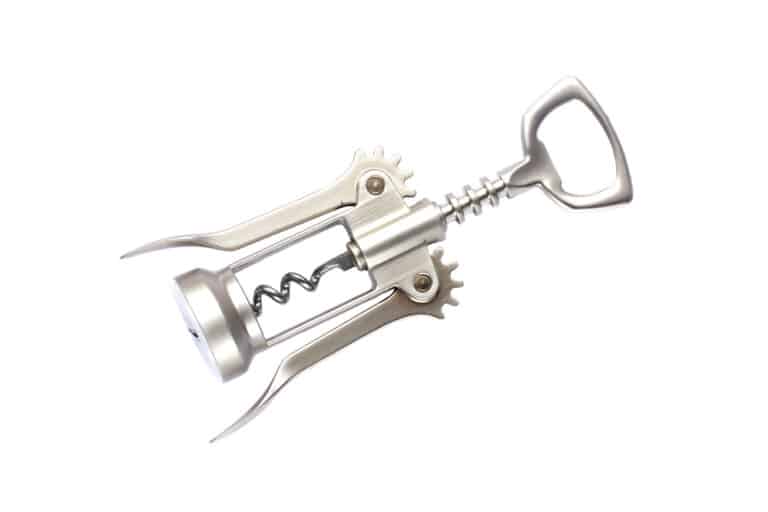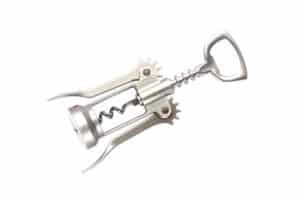 The winged corkscrew has been around since the 1930s. We find these very easy to use. This is probably the most affordable and easy-to-use model of a wine opener. You twist the worm down into the cork and then push down on the two side levers to extract the cork.
Who are these the best wine openers for?: The winged wine openers are less convenient to carry but they are easier to use. If you open wine at home most of the time, these are affordable and convenient.
Twin-Pronged Puller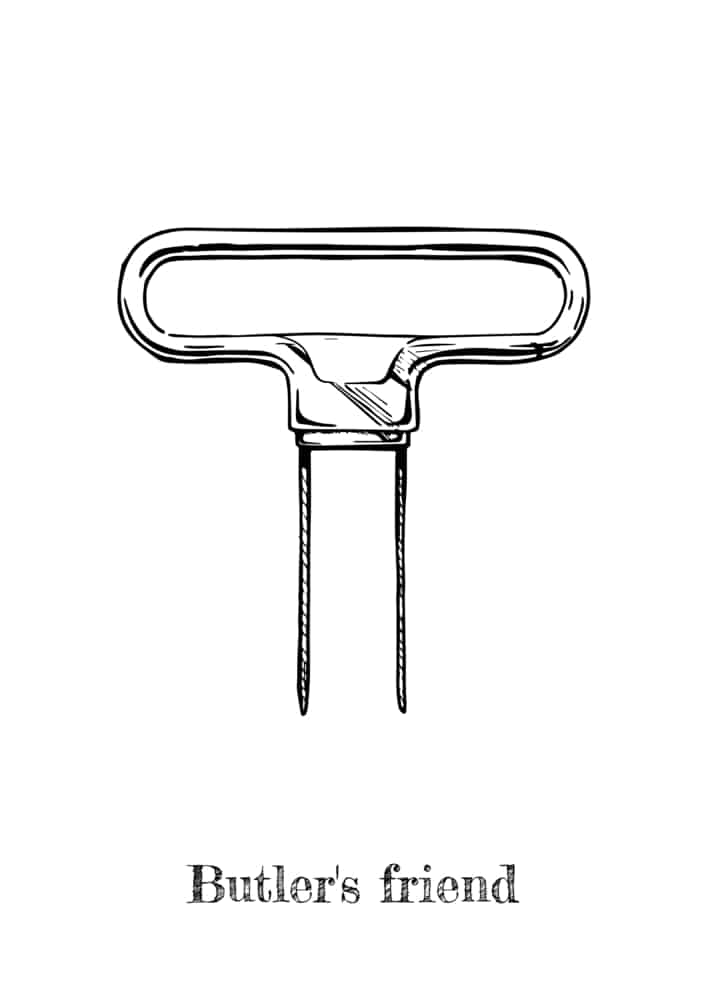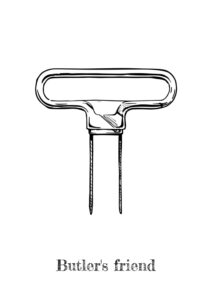 The twin-pronged puller, also known as a Butler's friend, is made of two metal blades and a handle. This design is good for removing old corks that may not be fully intact. It's also nice to have when you break a cork and need to get part of it out of the bottle.
Who are these the best wine openers for?: You may want to have one of these on hand if you open a lot of older bottles or have trouble with broken corks.
Click here to see our favorite Butler's Friend wine opener
Lever Style Corkscrew
The lever corkscrew is the least convenient to carry but the quickest to operate. You push the worm down into the cork and then pull up.
Who are these the best wine openers for?:  This is a great gadget for anyone who opens a lot of bottles at once. If you like hosting large parties or events where you need to open multiple bottles, the lever corkscrew is a huge time saver.
When you are looking for the best wine opener, the type of opener comes down to personal preference and the scope of your wine opening needs. A sommelier in a busy restaurant is going to have different requirements than someone who drinks a bottle a few times a month.
The Best Wine Openers You Can Buy In 2022:
Premium Waiters Corkscrew: $18.95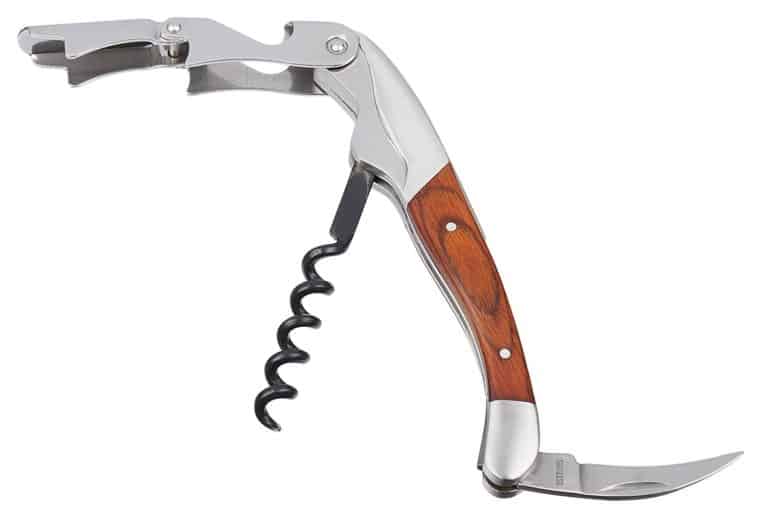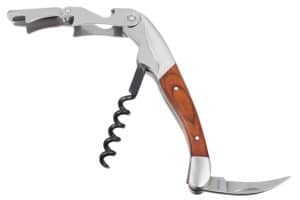 Simple, easy to master, compact, and inexpensive, the waiter's friend is the most efficient way to remove a cork from a bottle of wine. Period. Smooth Dragon makes models with a Teflon-coated helix that slides smoothly into all types of corks. No squeaky sound effects or stubborn resistance. The double hinge makes it easy to leverage even with the helix deeply embedded into the cork. The foil cutter works brilliantly. Use it tabletop or in hand. Boom. Done.
Click Here To See Current Prices
OXO Steel Vertical Lever Corkscrew: $44.95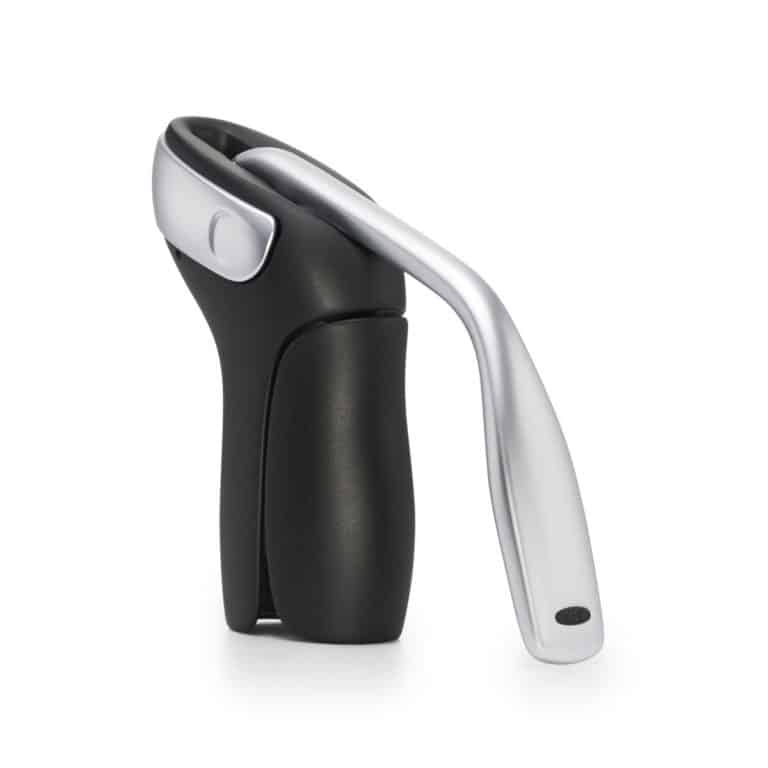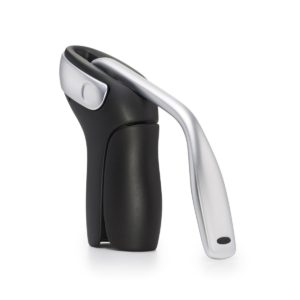 Quick and foolproof, the OXO vertical lever is a smooth, two-motion breeze. Put the wine opener over the bottleneck, lift up the handle, squeeze your hand, and pull the lever down. Up comes the cork. The non-stick screw works beautifully with all types of corks. A removable foil cutter is stored right on the device, which comes with a replacement screw, just in case.
If you are looking for a beautiful gift. consider a high-end lever wine opener like the one here.
Click Here To See Current Price | Best Wine Opener
Brabantia Classic Corkscrew in Matte Steel: $14.88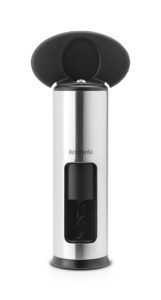 Handsome and efficient, this corkscrew is an easy turn with good design. The top of the device cleverly houses a foil cutter in the handle. Set on top of the bottleneck, then simply turn as the helix dives deeper into the cork, continuing to turn as the helix pulls the cork smoothly and effortlessly. Voila!
Click Here To See Current Prices | Best Wine Openers
Uncle Viner Electric Automatic Wine Opener Kit: $31.95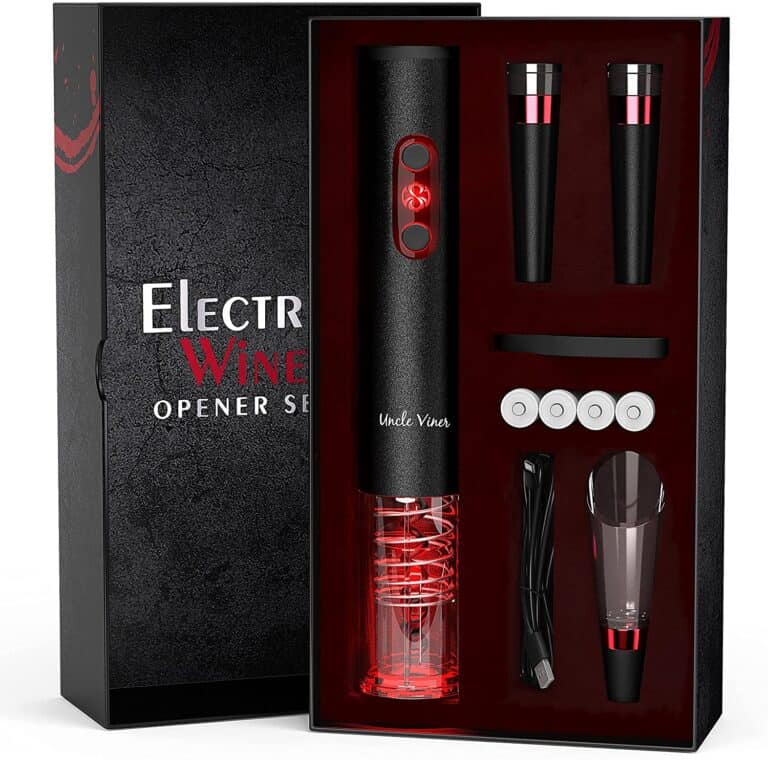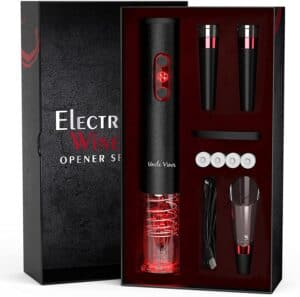 Foil cutter? Check. Charging station? Check. Vacuum wine stoppers? Got 'em. Mood lighting? Wait. What?
Well, it's pretty cool and is easy to find in the dark. It also pulls the cork at the touch of a button. Better yet, after the cork is out, another touch and it pops the cork back out, right into your hand. No twisting, just a simple pushbutton move.
Click Here For Current Prices | Best Wine Openers
Oster Cordless Electric Wine Bottle Opener with Foil Cutter: $17.99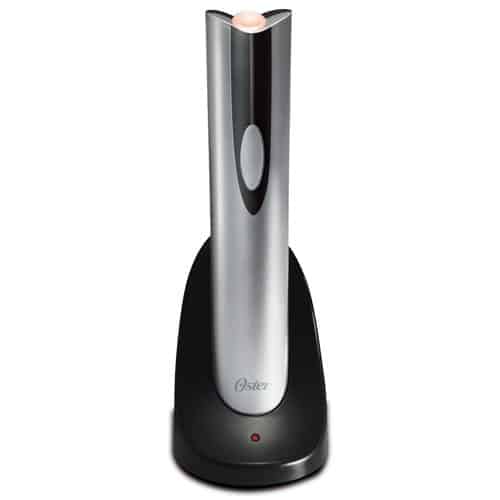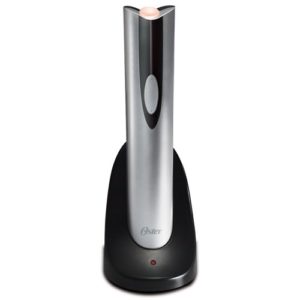 Cordless and electric, this handy gadget uncorks bottles in seconds, opening up to 30 bottles on each charge. With a chic design and recharging base, it also comes with a foil cutter and frustration-free packaging. Thank you, Oster!
Click Here For Current Prices | Best Wine Opener
The Durand: $145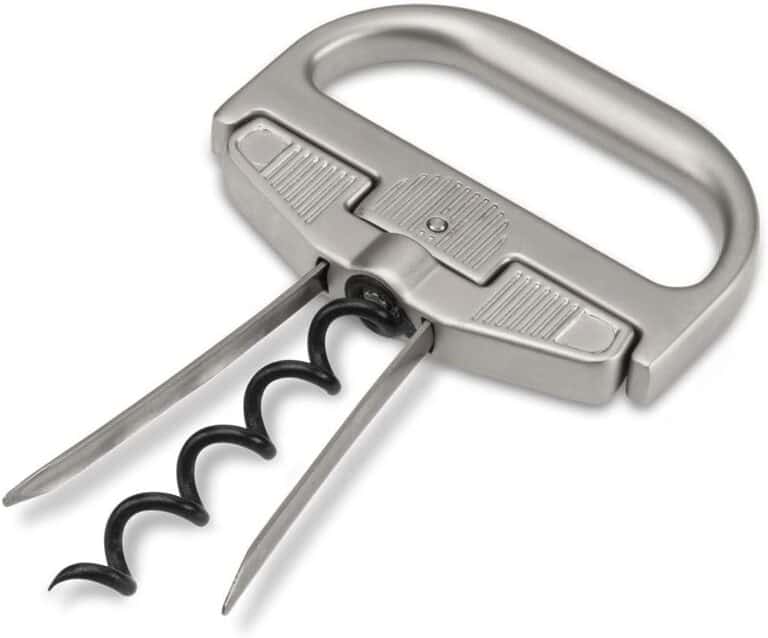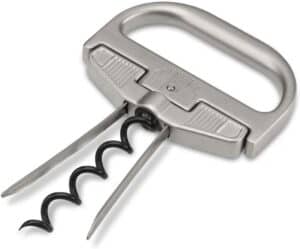 This is the ultimate opener for wine collectors. The Durand can remove fragile and damaged corks without ruining your wine by keeping the cork whole and intact on the way out. While this may not be the best option for daily opening, it's great to have one on hand for those really difficult bottles.
Click here to order The Durand
P-Type Titanium Series Corkscrew: $1000+

Bond. James Bond. If that's you, this is your wine opener. Code 38 presents an upscale version of the waiter's friend called Stealth. Making no compromises when it comes to design and materials, this one is light and strong. This cork is made of titanium and stainless alloys. Modular construction enables owners to change out replacement blades as improved designs arrive, and fine-tune the helix to adjust the spring action to personal preference. Resilient to impacts, with a locking blade mechanism, this is the ultimate in elegant wine openers. You can learn more about it here.
Conclusion
The classic waiter's corkscrew is the best way to remove a cork. It takes a little bit of practice, but once you master it, there is no going back. If you don't want to take the time to practice or you just love gadgets, there are some great options for electric wine bottle openers that are very affordable. For entertaining, when you are opening lots of bottles at once, the rabbit-style wine openers will make the job easier and quicker.
We hope you enjoyed our list of the best wine openers. Please consider our lists of the best wine coolers and best wine aerators if you are looking to buy those soon. We also have a list of the best gifts for wine lovers you should check out.