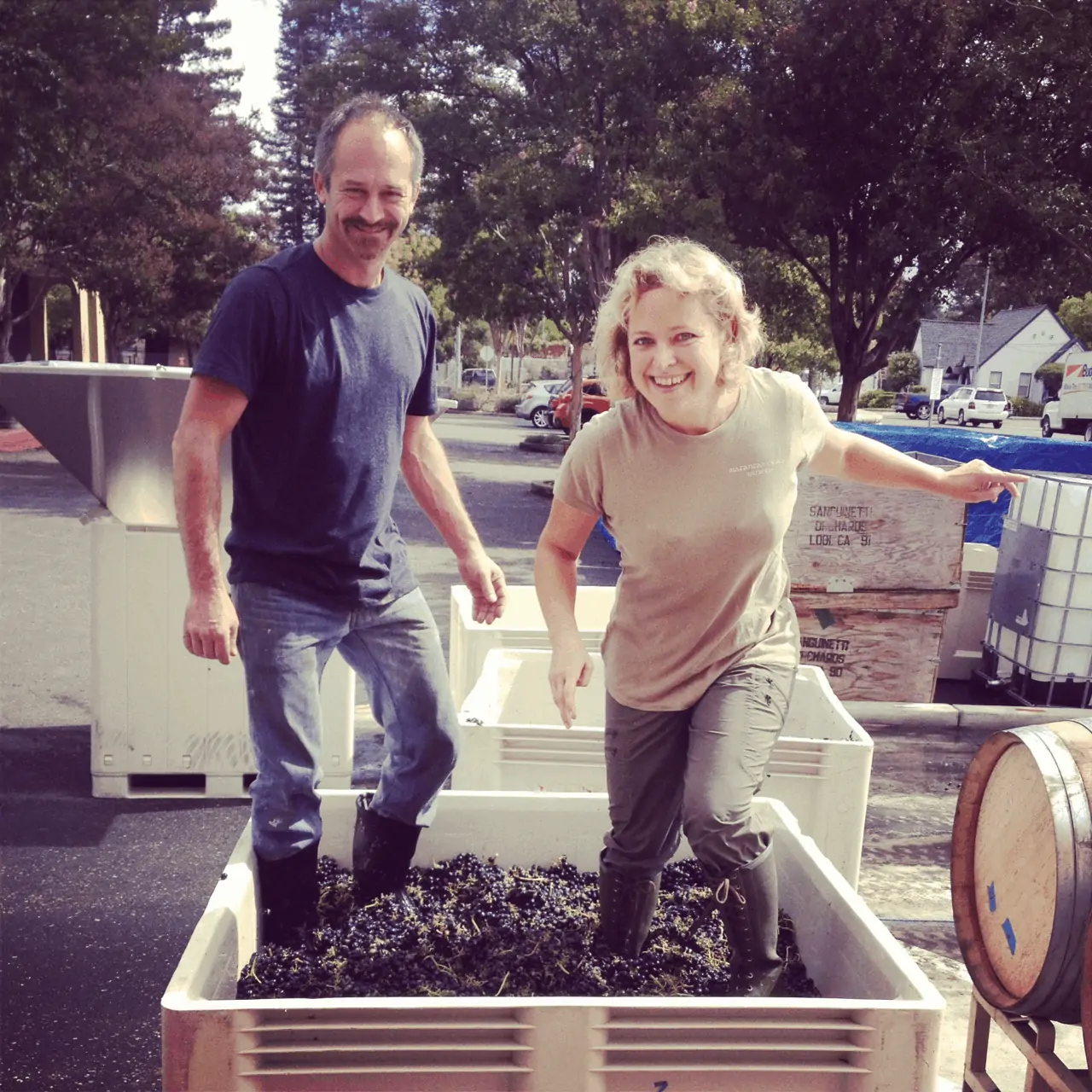 Meet William Allen and Karen Daenen of Two Shepherds 
From Yolo County and Mendocino to Dry Creek Valley and Russian River Valley to Lodi, if there is an organically farmed vineyard in a cool climate growing old vines or lesser-known grape varieties, William Allen and Karen Daenen will seek it out. Known as the "insane master of small lots", William will make 15 different wines each vintage. Specializing primarily in Rhone varieties, Two Shepherds produces wines from Grenache, Carignan, Cinsault, Pinot Meunier, Mourvèdre, Syrah, Grenache Blanc, Vermentino, Picpoul, and Viognier, some familiar grape varieties and some lesser-known but all quite delicious. 
William Allen created Two Shepherds in 2010. That same year he purchased a run-down two-acre property in Sonoma. William's partner, Karen Daenen, joined Two Shepherds in 2015. They rebuilt the house on the two-acre property, planted a garden, and added a high-density planting of Grenache Gris and Grenache. They also own a miniature donkey (Dolce), a baby miniature donkey (Luna), two Nigerian dwarf goats, two dogs, and a cat.   
Two Shepherds uses a minimal intervention approach in winemaking. Use of native yeast, no additions other than minimal S02, neutral barrel fermentation and aging, whole cluster, and unfined, unfiltered production are core philosophies of Two Shepherds. Two Shepherds produces 2500+ cases per year but each lot of wine ranges from 25-200 cases. 
What made you choose the region you are in to make wine?
We source from various regions. We work with varieties that are not widely planted, so it is about finding vineyards that offer these varieties that are farmed organically in a climate that can provide the flavor profile we are looking for.
Is there something specific that you love about the region you are in?
Weather-wise it is the foggy mornings, afternoon heat, and cool evenings. But more holistically, we love the community spirit across the wine & food world in Sonoma.
What is your favorite wine variety? Why?
We do not have a favorite. We make about 10 different wine varieties, so that would be like asking someone to pick their favorite child!
Is there a wine variety that intrigues you? Have you worked with it or do you have plans to?
There are many that intrigue us! Recently, Counoise and Gamay are on the top of the list. We have not worked with them yet, but if an organically farmed option would be available, we would definitely be interested!
What are you drinking right now?
Bubbles!
What was the moment or experience that piqued your interest in wine?
The spirit of adventure and discovery: traveling to wine regions, meeting small family winemakers, and the experience of continually learning and tasting something new.
If you were not making wine, what would you be doing?
Figuring out a way to live by the beach!
As a winery, how do you typically reach your customers? What are you doing to increase DTC sales outside the tasting room? 
We use the typical vehicles (email, social media, website). While Instagram drives the most engagement, old fashioned email typically drives the most sales interest.
In the "new normal" of the COVID world, how are you doing? How are you adapting? What is working for you?
We have been very fortunate that our DTC has been strong, fueled by some new wine releases (Bucking Luna! [Sparkling Cinsault in a Can]) and strong online sales.  
What is the one tip you would give the average wine buyer about finding great value wines?
Find a local wine shop and strike up a conversation with the people that work there. Having a conversation will give the best way to discover what you like and what you may enjoy!
Allison Levine is the owner of Please The Palate, a boutique marketing and event-planning agency. Allison is Level 3 WSET Certified from the Wine & Spirits Education Trust and is certified as an Italian Wine Specialist from the North American Sommelier Association. She also has a Master's Degree in International Communications with a focus on cross-cultural training from the American University School of International Service. As a freelance writer, she contributes to numerous publications, including California Winery Advisor and the Napa Valley Register, while eating and drinking her way around the world. She is also the host of the Wine Soundtrack podcast. You can find additional content on her blog at Please The Palate; Twitter and Instagram @plsthepalate; Facebook: Please The Palate