The Best Wine Dispensers
It is worth knowing about the best wine dispensers if you are a true wine lover. You know that each bottle you open is precious!
Once you open a bottle of wine, you have around 3-5 days to enjoy it, depending on its quality. After that, the wine starts going bad and taking on an unpleasant vinegar taste. Whether you're a casual drinker or a true wino, you certainly want to avoid this.
Moreover, you want to find a convenient way of pouring your precious wine without spilling it. The best way to achieve both is to look for the best wine dispensers money can buy.
But with so many options out there, how do you know which one is right for you?
Well, we're here to help you. We've selected some of the best wine dispensers currently available, so take a look at our top picks.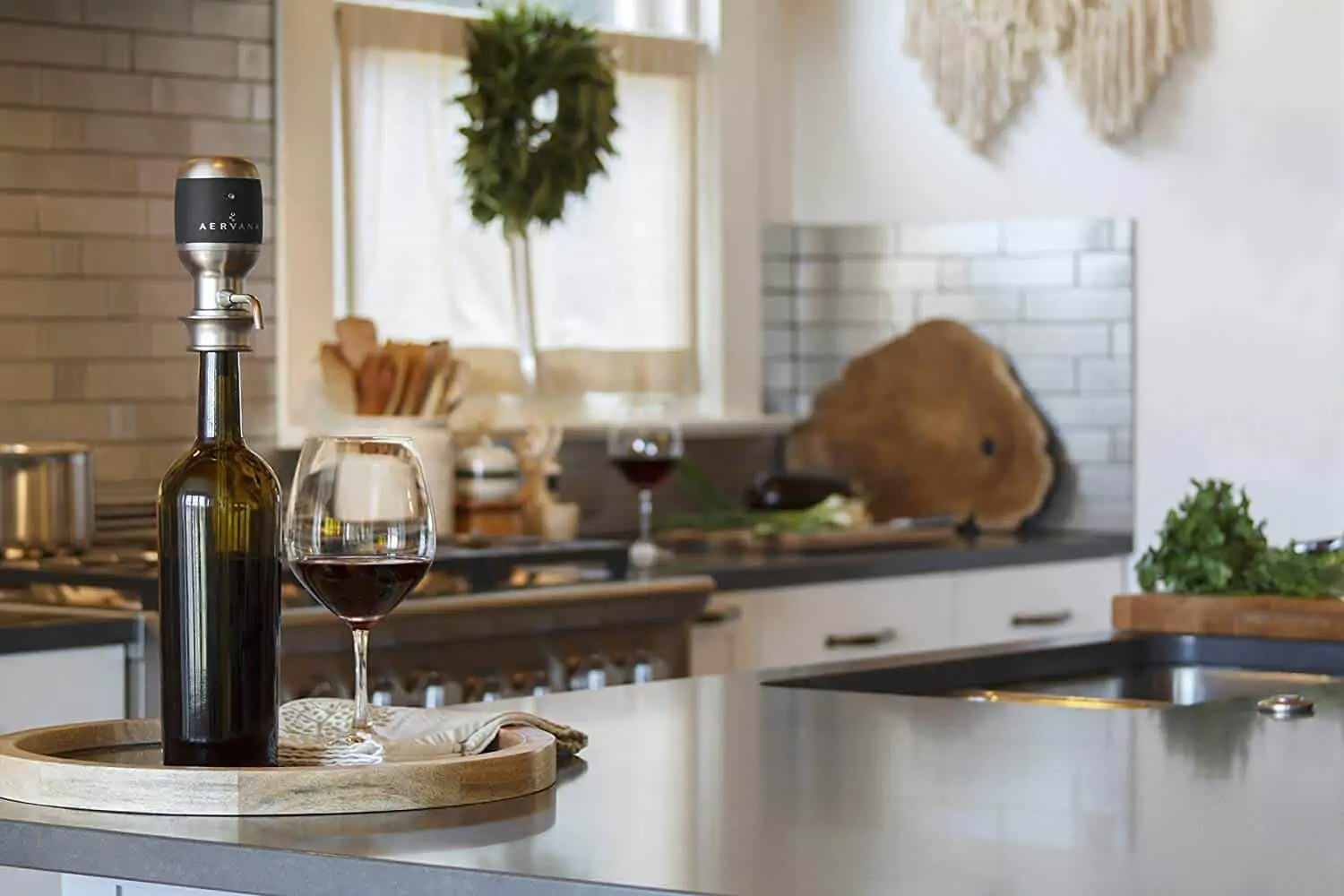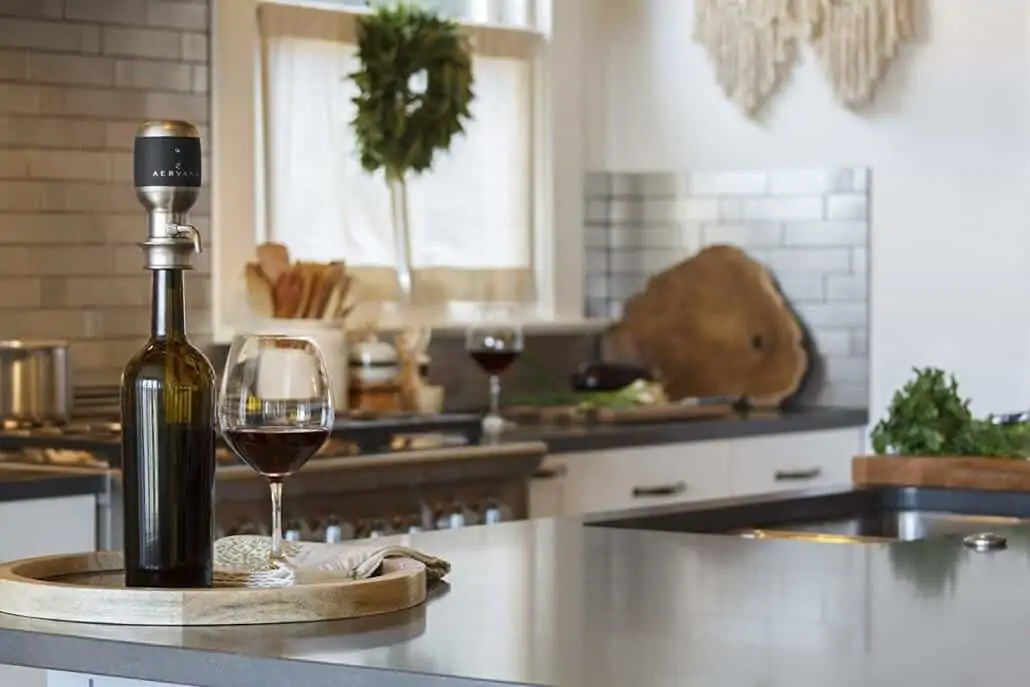 If you're looking for an inexpensive wine dispenser and aerator, Aervana has a great option for you. The MV6-1 wine dispenser will preserve the rich taste of your wine and dispense it in one touch.
It infuses air into the bottle while dispensing, which provides the wine with the oxygen necessary for preservation. It works perfectly with red wines as well as with some whites such as Bordeaux and Burgundy.
If you're a fan of Malbec or Pinot Noir, bear in mind that you might not achieve the best aeration. Of course, you still get to enjoy the convenience of dispensing them without the hassle. You can also avoid getting any wine sediment in your glass because this is the only wine dispenser specifically designed to keep sediment out.
One reason we love this is wine dispenser is the one-touch electric mechanism packed in a stylish body. Not only does it make pouring wine easy, but will look great on your table.
Click Here | Order The Aervana Wine Dispenser
Click here if you want to learn more about Aervana's solution.
Boxxle has made one of the best box wine dispensers you can find right now. If you're into boxed wines, this appliance can be a perfect addition to your kitchen.
It can hold up to 3 liters of wine, and keep it fresh for up to six weeks from the moment you open it. It's great for anyone who doesn't serve wine only at parties but wants to enjoy it by the glass any day of the week.
Thanks to its unique technology that applies pressure from below, the dispenser ensures that you don't waste a single drop of your favorite wine. Pouring wine is quick and easy due to the dispenser's design, so you can enjoy a fresh glass of wine in no time.
Even if boxed wine isn't your thing, you can still use this appliance. You do have to buy a separate kit though. If you do, you'll be able to pour any bottle into the dispenser, so that you don't have to sacrifice quality for convenience.
Click here if you want to see more details on the Boxxle wine dispenser.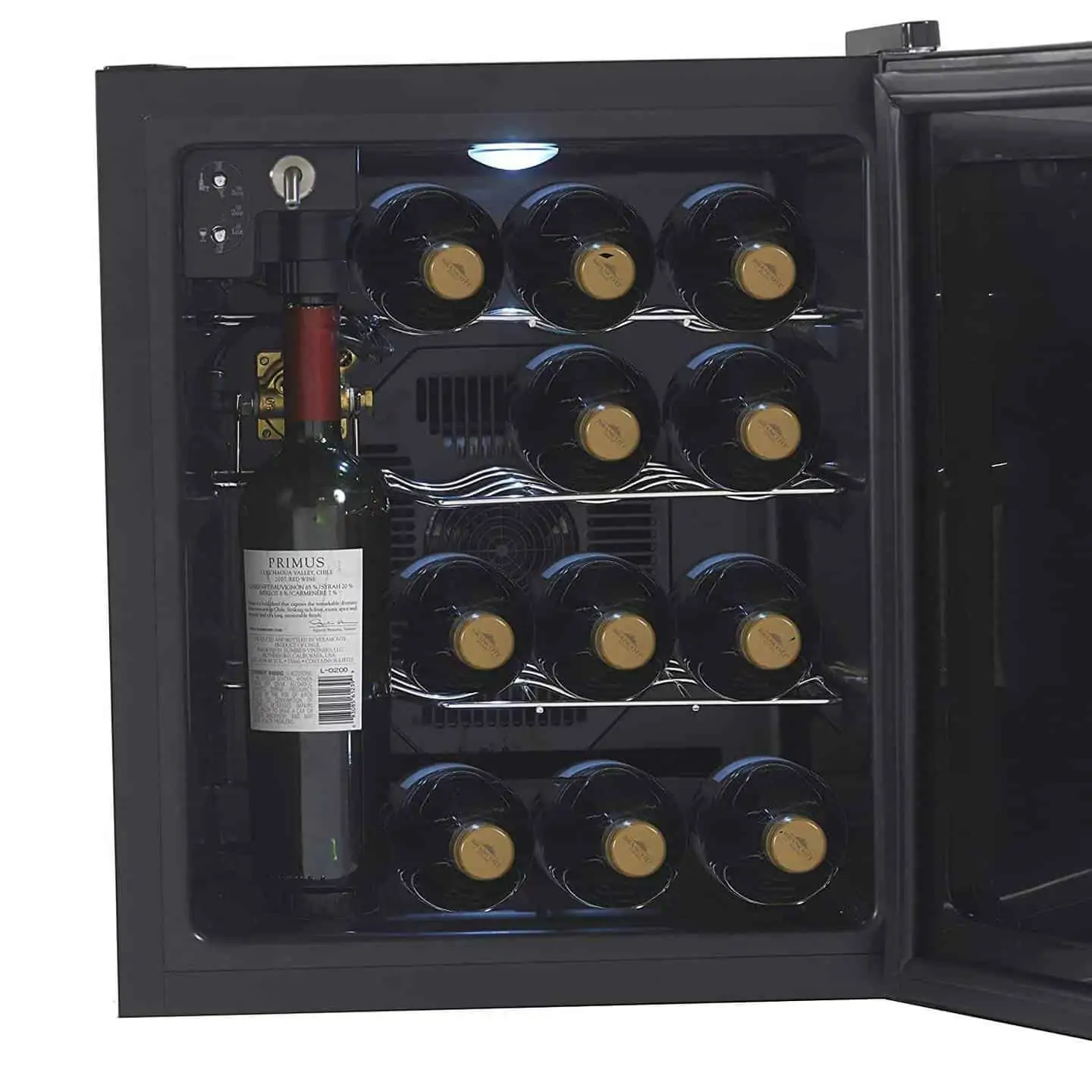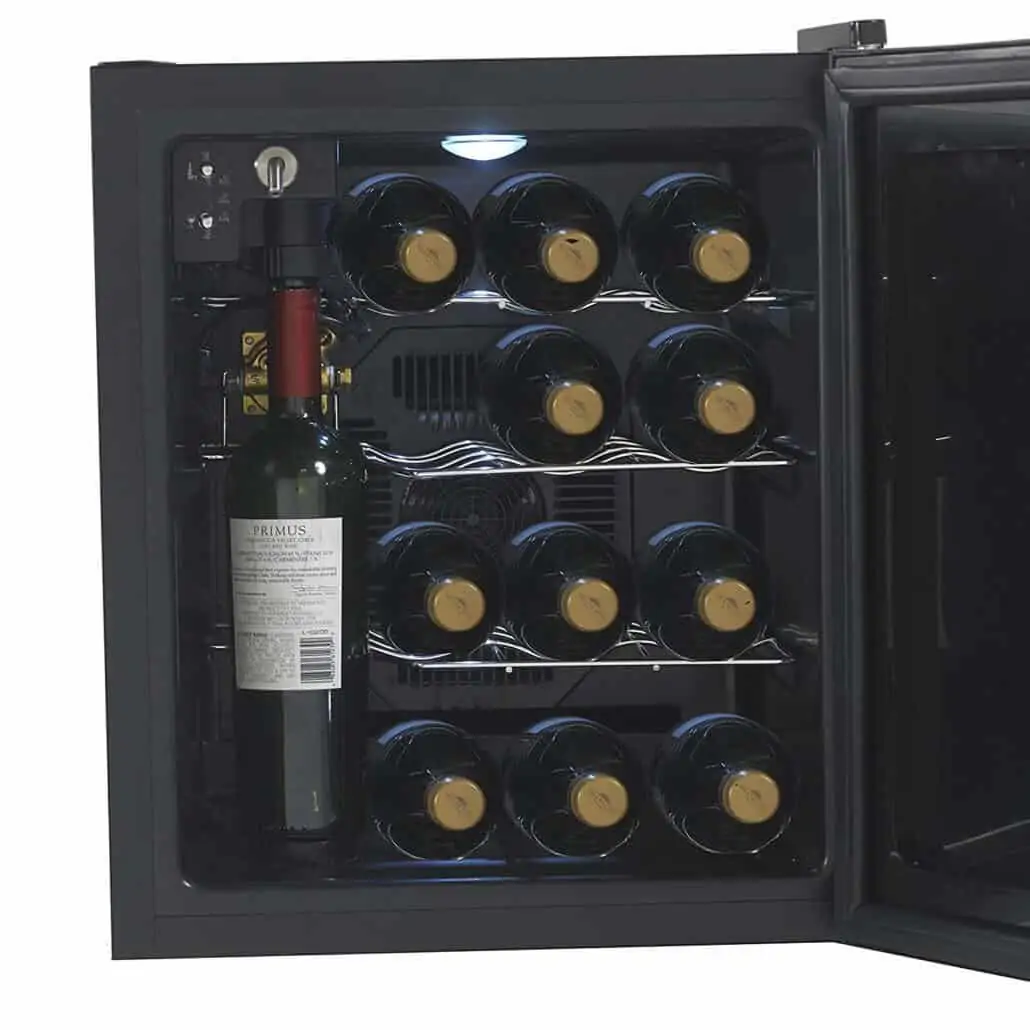 If you're looking for an all-in-one appliance that will let you get the most out of each bottle of wine, this can be a great solution.
You can store 13 bottles of wine, preserve their taste, and keep them cool and fresh for a long time. When you need a glass, all you have to do is press a button and a predetermined amount of wine will be poured.
The device uses argon gas cartridges to preserve your wine. It works for both red and white wine, so you can enjoy the rich taste of all of your favorite bottles. Your wine will be kept cool within a temperature range of 45-64 °F – you can always see the temperature on the LCD screen.
The cooling system is also very quiet and keeps vibration to a minimum, so you practically won't notice it's there. And if you're into various types of wine that come in different bottle shapes and sizes, the height adjuster will make sure you can preserve and dispense all of them.
Of course, all these features come at a price. If you choose this appliance, you'll have to splurge a bit. If money is no issue, this can be the right solution for you.
Click here if you want to learn more about it.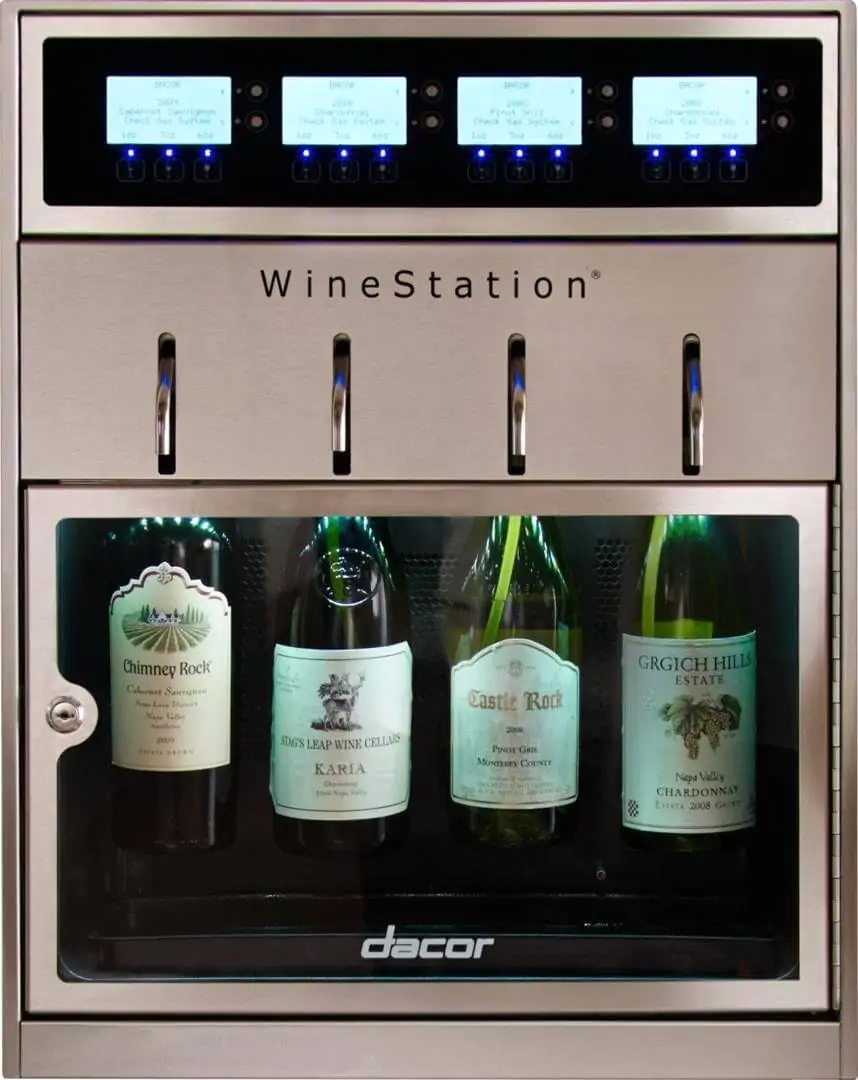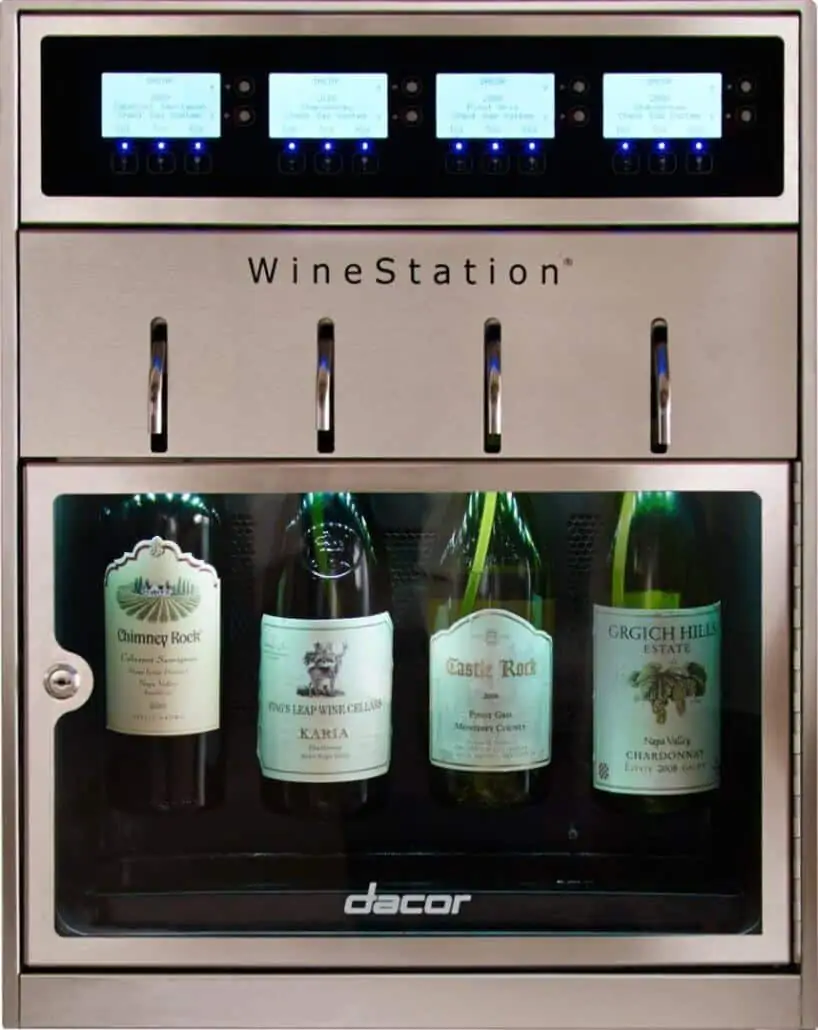 First off, this is more suitable for commercial use than for the home. But if you can afford it, and love wine, this would be pretty amazing to have in your kitchen or bar area.
The Wine Station is by far the best wine dispenser on our list. You can preserve four open bottles for up to 60 days. The argon gas preservation system and thermo-electric cooling system create an ideal environment for wine even after opening.
The system pumps wine out of the CleanPour heads directly from the bottle. The wine only passes from the bottle to the head. The system is easy to clean and doesn't require any flushing.
There are digital controls for each wine. You can display the name and vintage of each bottle in the system. You can also lock the system so only you can activate the wine dispenser.
The electronic controls allow you to dispense a measured amount of wine each time. You can set it to whatever amount you prefer to drink. If you are serving wine by the glass in a restaurant, you can control the amount your bartender pours.
For home use, this wine dispenser fits comfortably on the countertop or you can have it build into your cabinetry for a finished look.
Click Here | Learn More About The WineStation Dispenser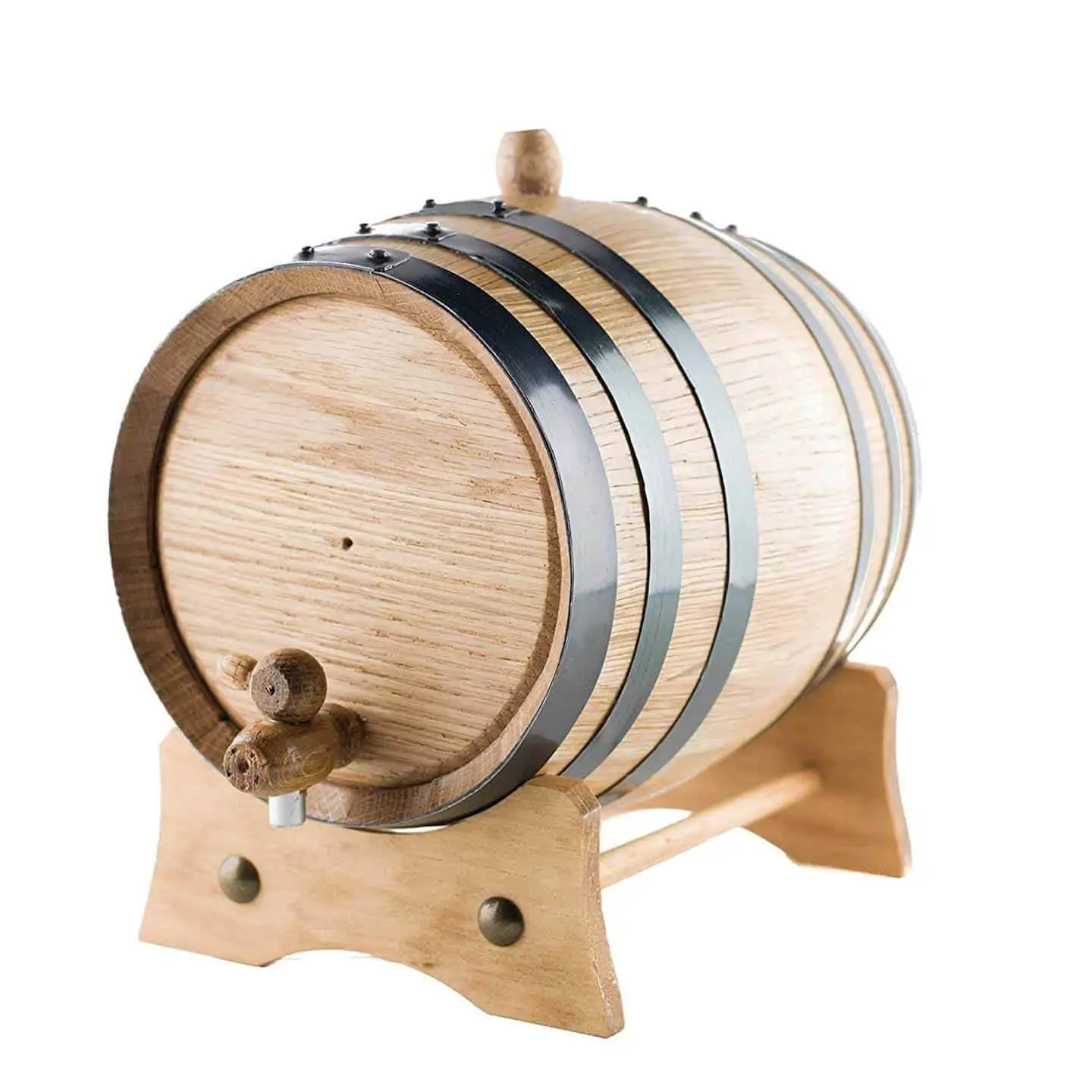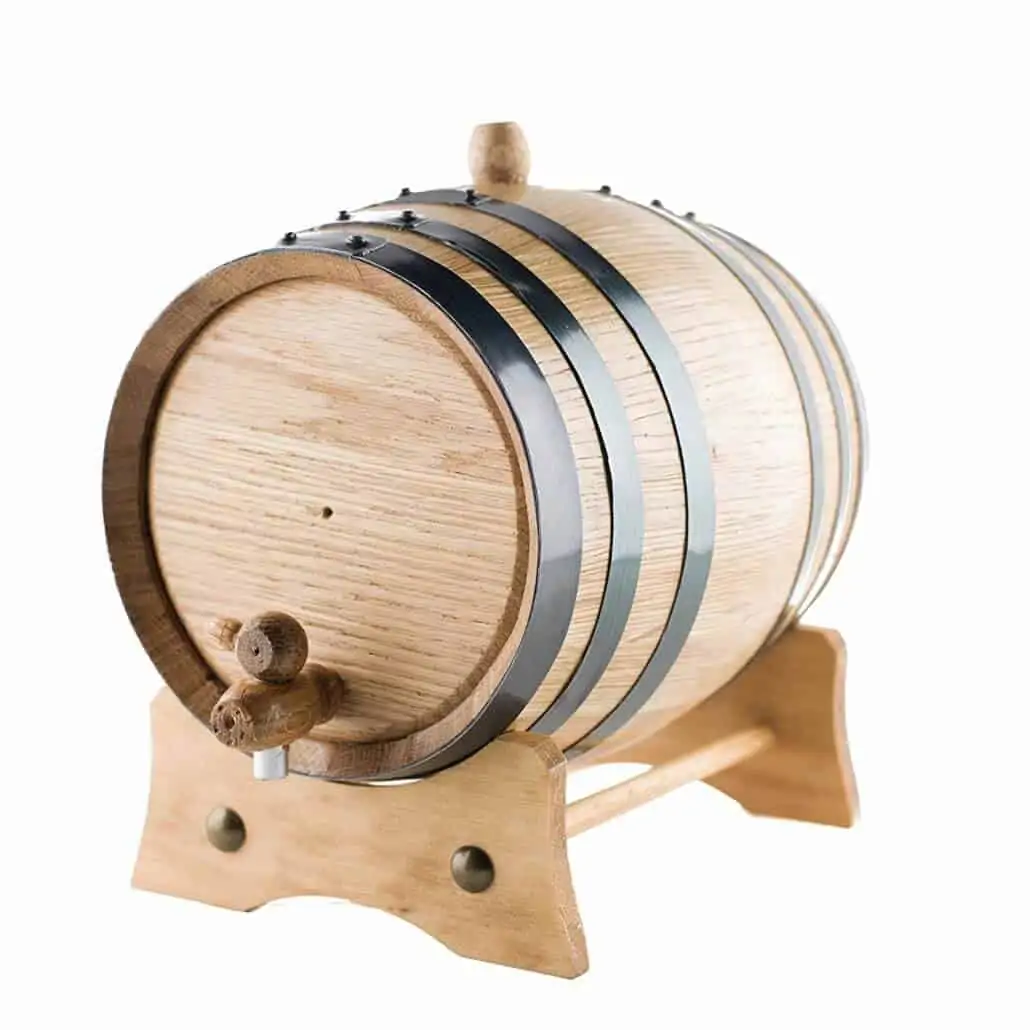 Many wine enthusiasts don't enjoy the drink just for its taste. If you're among those who want to experience the full rustic vibe that surrounds fine wines, oak barrel dispensers can be a perfect solution.
Oak barrels are ideal for storing wines since they have the enzymes and trace elements that preserve their taste. You can pour up to 5l of wine into this one, ensuring that the wine will only taste better with time.
Of course, this dispenser is about more than just convenience and taste preservation. Its unique design will add a touch of refinement to your home and can become one of the most eye-catching appliances you own. It comes with a wood stand that enhances the rustic design and is just great for home use and events alike.
Another great thing about this dispenser is its versatility. Aside from wine, you can pour pretty much any other drink in it and serve them all with ease. All of this comes at a price that's more than fair, so it's worth considering this interesting product.
Click here | learn more about this oak barrel dispenser
Wrapping up
As you can see, there's a wine dispenser for pretty much everyone. Wine dispensers come in all kinds of styles and have a variety of features, so you can find the design and functions that serve your needs the best. Many options are also quite affordable, but you can always go for a top-notch dispenser if you're willing to spend more.
While browsing through the best wine dispensers, the most important things to consider are your budget, intended use, and the types of wine you enjoy the most. Once you can answer all of these questions, you'll be one step closer to finding the device that will keep your wines fresh and provide the convenience you need.