The Sierra Foothills wine region is growing in the number of wineries and the quality of wine just keeps getting better.  The Sierra wineries from the Fair Play and Apple Hill wineries in El Dorado County, the Shenandoah Valley in Amador County and the Murphys wineries in Calaveras County all have a small town feel, with numerous wineries producing multiple varietals...
+ More
The Sierra Foothills wine region is growing in the number of wineries and the quality of wine just keeps getting better.  The Sierra wineries from the Fair Play and Apple Hill wineries in El Dorado County, the Shenandoah Valley in Amador County and the Murphys wineries in Calaveras County all have a small town feel, with numerous wineries producing multiple varietals. 
The Sierra Foothills region is vast, so it is best to start out small. Pick an area that sounds interesting and focus on it for a few days. You will get a better feel for the wines in that region and you will have an excuse to keep coming back to explore new areas!
El Dorado County – Sierra Foothills Wine Country
The most northern of the three counties, situated in east-central California, has picturesque rolling hills and mountainous terrain. The history of El Dorado can be seen taking a scenic drive through the countryside. Crops are scattered throughout the three wine regions in the county; Apple Hill region, Pleasant Valley and Fair Play.
Located in the heart of El Dorado is Miraflores Vineyards, planted in 1998 by owner Victor Alvarez. The first vintage was in 2003 followed by tasting room opening in 2007. The high elevation of 2,500-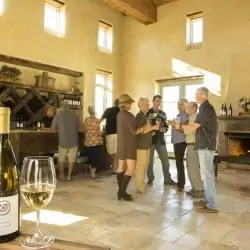 3,000 feet, cool nights by air descending from higher elevations and well-drained granitic soils make for a unique terrain.
"Miraflores is unique in its Mediterranean design coupled with antiquities of the historical Sierra Foothills," Matricia Haigood, Tasting Room and Events Manager, said.
The zinfandels are their flagship wines which have consistently received high scores from Wine Spectator and Wine Enthusiast. The latest wine it has produced is the Mission 1853. It is using grapes from the historical Mission Vineyard (planted in 1853), the oldest known continuously
producing vineyard in the United States.
Patrons can try the handcrafted wines of Miraflores any day of the week on the hilltop at 2120 Four Springs Trail in Placerville from10 a.m. to 5 p.m. For more information call (530) 647-8505 or visit mirafloreswinery.com.
At 2615 in altitude, Mount Aukum Winery is perched on top the hill sub-appellation of Fair Play at 6781 Tower Road in Somerset. A region infamous for Zinfandel, is now gaining a name for the cultivation of Rhone and Italian varietals as well as Bordeaux blends.
Aukum winery opened in May of 2014. The flagship wines include Petite Sirah, deep in color, a full flavored big red. The tasting room offers good wines with great views of the area. It is open daily from 11 a.m. to 5 p.m. For further details call (530) 620-1675 or search mountaukum.com.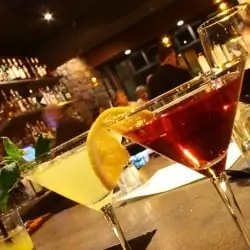 After a long day of tasting, travelers can enjoy a meal at The Independent Restaurant and Bar, smack dab in the middle of Placerville on 629 Main Street. Whether one is in the mood for a Classic Independent Burger or a Balsamic Rosemary Lamb Rack, it is prepared full of flavor. The full bar and modern casual atmosphere can set the tone for any occasion. For reservations call (530) 344-7645.
A full day of fun deserves a good night rest at a conveniently located historic hotel just down Main Street. The Cary House has been in operation since 1857. The Cary House is located on 300 Main Street. To book a room call (530) 622-4271.
Amador County Wine Country
Amador County's grape-growing and winemaking history goes back to the mid 1800s, when the Gold Rush was on and the demand for drink was high. European settlers eventually planted vineyards in the rocky rich soils throughout the Sierra Foothills. Zinfandel was cultivated and thrived in the warm climate.
At one time over 100 wineries operated in this area. After booms and busts, the area emerged once again as a wine-growing region in the 1970s, when many of the 100-plus-year-old vineyards were resurrected.
Around the tiny settlement of Plymouth is the largest concentration of wineries in the Sierra Foothills AVA, with numerous small family operations nestled along scenic back roads. Unpretentious hospitality in a picturesque rural wooded setting greets visitors year-round.
It's warm during the growing season – reaching up to 100 degrees in the summer – but cools down in the evenings, as breezes spill down from the Sierras and temperatures drop 30 to 35 degrees. This brisk cooling helps the grapes retain the acidity essential to balanced wines.
The elevation of Amador Vineyards ranges from 250 feet in the western foothills to 2,900 feet in the east. The soils are primarily sandy clay loam derived from decomposed granite. With 36 to 38 inches of annual rainfall, most growers dry-farm their vineyards, resulting in crop yields of around four tons per acre. Many vineyards are grown organically without the use of synthetic pesticides, herbicides or fertilizers.
Amador County has over 2,700 acres in grapes, 1,700 of which are planted to Zinfandel. There are a half-dozen vineyards with 100-plus-year-old vines still producing fruit that is highly sought after by winemakers and consumers. The area also grows Rhône and Italian varietals, including Syrah, Viognier, Barbera and Sangiovese.
There are more than 35 wineries that have wine tasting rooms in Amador so it might take a couple trips to fully experience its wines. The majority of Amador wineries are located in the northern part of the county in the Shenandoah Valley near Plymouth.  Turning on Shenandoah Road from Plymouth, the first winery to stumble across is Young's Vineyard.  This winery offers premium red wines including its Barbera and Cabernet Sauvignon which are the flagship wines here. Opening in 1995, perched at 1200 feet elevation, the wines are fruit forward and made in small batches. Owner Annette Young says the winery is known for its beautiful grounds.
The tasting room is open Thursday through Monday 11a.m. to 4 p.m., on Saturday it opens at 10 a.m. and Sunday at 10:30 a.m. It is located at 10120 Shenandoah Road in Plymouth. For more information call (209) 245-3005 or email youngsvineyard@aol.com.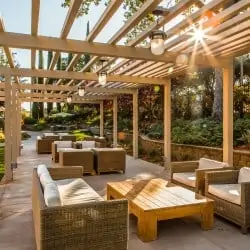 Renwood Winery, located at12225 Steiner Road in Plymouth, is also surrounded by the rolling hills and rushing streams of Amador. It was established in 1993. The winery specializes in Zinfandel, producing limited production single vineyard Zinfandels, Rhone and Italian varietal wines. The winemaker Joe Shebl makes a limited production zin blend; combined with his top zinfandels.
The tasting room is open every day from11 a.m. to 6 p.m. It offers a private tasting experience that can accommodate eight to 22 guests with a 72 hour advanced reservation based on availability as well as a winery tour and tasting that can accommodate two to 75 guests. The private tasting lasts an hour and costs $10 per person and the tour and tasting costs $15. To make a reservation call the tasting room at (800) 348-8466 or email info@renwood.com.
Travelers can dine and stay at The Imperial Hotel which is conveniently located just minutes from more than 30 wineries at 14202 Old Highway 49. The restored historic hotel is in the heart of Amador City with a locally acclaimed restaurant and full bar. Dating back from 1879, the historic Imperial Hotel offers casual fine dining indoor or on its patio. The family-owned and operated hotel offers organic, locally grown produce, fresh meats and sustainably harvested fish and seafood. To book a room call (209) 267-9172 or email info@imperialamador.com.
Calaveras County Wine Country
Continuing on Highway 49 South, wine lovers can enjoy dozens of wineries located in Calaveras County. The gold rush town still maintains its historic charm where years ago Mark Twain's branded his infamous "The Jumping Frog of Calaveras County." Frog jumping contests still take place but much more is offered to visitors.
The quaint small town of Murphys is known for its red varietals but wineries offer a wide selection of both red and white. Cabernet Sauvignon, Chardonnay, and Zinfandel were planted in the early 1970s, now reaching over 1000 acres of grapes grown locally.

Ironstone Vineyards offers visitors wine tours to get a feel of its history and surroundings, as well as a variety of wines including its number one selling wine its' Obsession Symphony, a mix between Muscat of Alexandria and Grenache Gris that thrives in the mineral-rich soils of the area. It is also known for its Old Vine Zinfandel and Cabernet Franc.
The tasting room is located at 1894 Six Mile Road in Murphys and is open daily from 11 a.m. to 5 p.m. For more information visit ironstonevineyards.com or call (209) 728-1251.
After visiting Ironstone, head to Main Street in downtown Murphys where a variety of wineries and restaurants which can be found in walking distance including Firewood, located at 420 Main Street, offering tacos, burgers, beer pizza and more. Call (209) 728-3248 for further menu options.
A hop, skip and a jump away is Twisted Oak's Tasting Room at 363 Main Street which is open weekends and most weekdays until 5:30pm. Twisted Oak features fine wines made from Spanish and Rhone varietals grown in the Sierra foothills, which include Tempranillo, Syrah, and Grenache. It also has a tasting room in nearby Vallecito which is open every day until 5:30pm. Visit twistedoak.com for more information.
Murphys California Bed and Breakfast, Courtwood Inn in Calaveras County located at 2081 Ponderosa Way offers guests a relaxing stay in its custom cedar log home inn as well as has wine tours on certain dates. The three night wine tasting event features local award winning winemakers classes and a five course wine pairing dinner at Irish Winery.  Go to courtwoodwinetours.com/wine-camp.htm for further details. Stay and wine tour packages are available at CourtwoodInn.com or by calling (209) 728-8686.
Shenandoah and Fiddletown – Sierra Foothills Wine Regions
The California Shenandoah Valley AVA and Fiddletown AVA are sub-appellations within Amador, each with unique characteristics that influence the vineyards.
California Shenandoah Valley AVA was named by settlers from the East in tribute to Virginia's Shenandoah River Valley. The AVA, which spreads into portions of Amador and El Dorado Counties, encompasses 13,000 acres; just over 2,000 acres are under vine, and 26 wineries are in operation. Vineyards are planted at elevations of around 1,800 feet on mostly granite-based Sierra-Ahwanee soil. The dominant vegetation throughout the area is mainly grassland and 100-year-old oak trees. The wineries make rich Zinfandel wine with classic aromas of cherry, raspberry, pepper and spice. Sauvignon Blanc, Cabernet Sauvignon, Chardonnay, Sangiovese, Syrah and other Rhone and Italian varietals are also produced.
Fiddletown AVA has less than 1,000 acres planted on the region's southern and western hills. This area's altitude ranges from 1,500 to about 2,500 feet, which makes it cooler than the nearby Shenandoah Valley. As a result, grapes tend to develop with more elegant fruit character and lower sugars. The appellation is responsible for about 20% of Amador's production, growing predominantly Zinfandel, Sauvignon Blanc and Rhone varietals. At present no wineries are located here.
↑ Less