An Introduction to the Monterey Wineries
Written by award-winning wine blogger Jill Barth
I've wanted to visit Monterey County, California ever since my husband golfed there a decade ago and returned gushing about the stunning beauty. It was in every sentence he shared: the place is just so darn gorgeous…Big Sur, Pebble Beach, Carmel-by-the-Sea, all breathtaking...
+ More
An Introduction to the Monterey Wineries
Written by award-winning wine blogger Jill Barth
I've wanted to visit Monterey County, California ever since my husband golfed there a decade ago and returned gushing about the stunning beauty. It was in every sentence he shared: the place is just so darn gorgeous…Big Sur, Pebble Beach, Carmel-by-the-Sea, all breathtaking. Not only that, it is a place rich in experience and that includes the wine experience.
Meet Monterey
Monterey is part of California's Central Coast and occupies space situated just north of the Monterey Bay and extends running southward to Paso Robles. The Monterey AVA runs a broad scope, pretty much the full stretch of Monterey County. Within the region, there are eight other specific AVAs including Santa Lucia Highlands, Arroyo Seco, San Lucas, Hames Valley, Chalone, Carmel Valley, San Antonio Valley, and San Bernabe. This generous area is home to a variety of soils, topographies, and climates. Consider the Monterey Bay a guidepost; vineyards in close proximity to the cool waters (underneath which lies the Blue Grand Canyon, a deep, cold underwater crevasse) experience the chilling effect of fog and marine breezes. Vineyards further away from open up to warmer (even hot) days that are tempered by a cool-off from Pacific nights. Planted with over 40,000 acres of vineyards, Monterey is the largest producer of Chardonnay in the United States.
How to Get to the Monterey Wineries
Arrive in Monterey from either San Francisco or Los Angeles (Monterey is situated between these cities) via a drive along scenic Highway 101, to experience one of our nation's most gorgeous road trips. This stretch of coastline is a migration path for a number of whale species as well as home to many delightful towns and vistas. For more expedient transport, consider flying directly into Monterey Regional Airport. Other options include San Jose International Airport (one hour from the Monterey Peninsula) and San Francisco International Airport (two hours from the Monterey Peninsula). What's interesting about the region is, though it is expansive, it is possible to visit a large number of in-town tasting rooms in the village of Monterey or Carmel-by-the-Sea.
A Quaint Village Experience
A Monterey must is A Taste of Monterey. Wines from 85 local wineries are available at this ocean-view shop, tasting room, and bistro on historic Cannery Row. Because many of the vineyards are in remote spots, "urban" tasting rooms are common and A Taste of Monterey is a fabulous orientation to the wine and local foods of the area. And, that view! (Check out their website for a live webcam to get a hint.)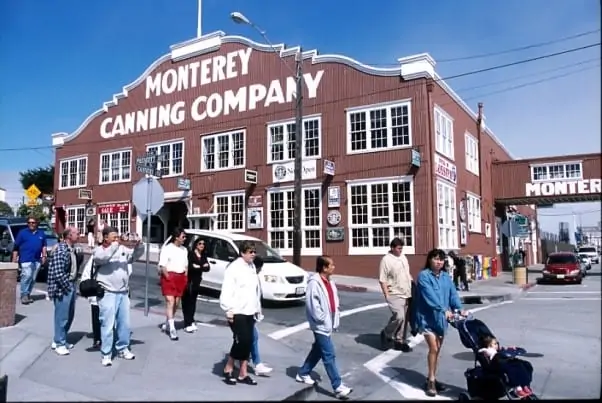 Carmel-by-the-Sea, a flâneur's delight, is home to 18 tasting rooms representing local wineries cuddled up with superb local restaurants, galleries, and inns. The local chamber of commerce offers The Wine Walk-by-the-Sea, a self-paced walking tour that includes tastings at up to nine rooms. The walk offers a chance to taste some precisely local, hard-to-find, family-made bottles. Highlights include Wrath Wines, a small-production shop inspired by archeology, science, art…a mix of creativity and exactitude. Wrath wines source from their vineyards in and around the Santa Lucia Highlands AVA, all of which are sustainably farmed and some are biodynamic. Another treasure is Taste Morgan, the tasting room for award-winning Morgan Winery. Morgan's vineyards grow in the Santa Lucia Highlands AVA and are managed sustainably and in some instances organically. This dedicated husbandry has resulted in wines of high-acclaim. Another stop is the tasting room for Galante Vineyards, which also offers a rental studio apartment for overnight guests. For a tour of their winery and ranch, book in advance and also ask to have a picnic setting arranged for your group; bring your own picnic and purchase a few bottles of Galante wines to pair with your meal.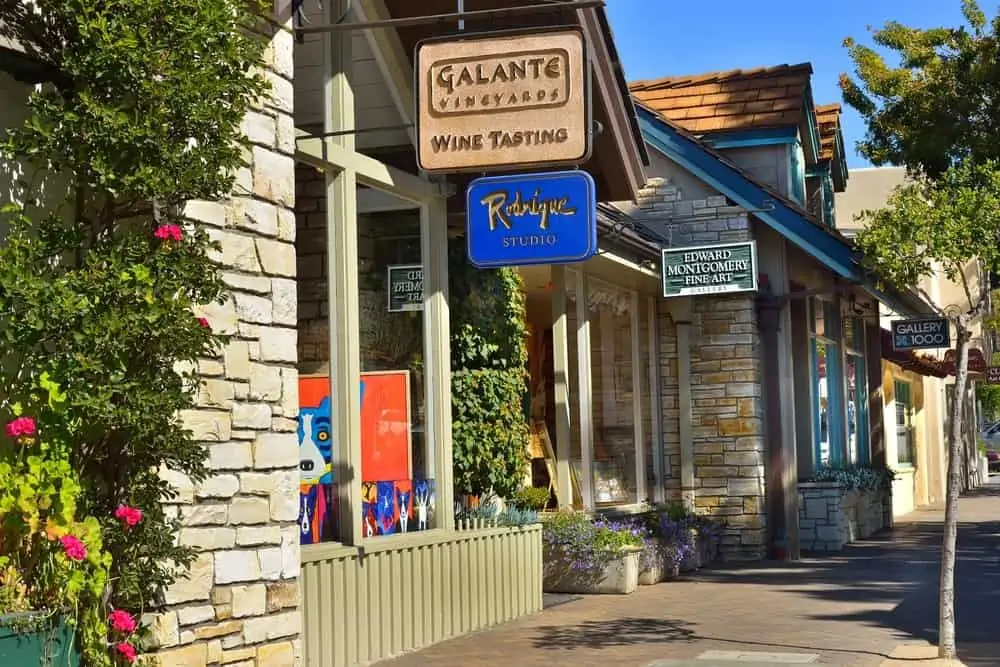 On the Monterey Wine Trail
For a drive through wine country, situate yourself on either the Carmel Valley Wine Trail or the River Road Wine Trail. Many vineyards thrive in a mountainous setting with a variety of soils and microclimates, and the diversity becomes apparent along the wine trails. While on the Carmel Valley Wine Trail, consider a stop at Bernardus in Carmel Valley village, where visitors can experience flights of Pinot Noir and Chardonnay in the tasting room or on the patio. Another consideration: book a night or meal at Bernardus Lodge for luxurious wine country surroundings. The wine list at on-site restaurant Lucia features not only Bernardus wines but also an impressive global selection. A visit to the tasting room at Holman Ranch offers a taste of Carmel Valley with flights or wines by the glass. Also, try their hand-harvested olive oil from their 100 estate-grown Tuscan varietal olive trees.
The River Road Wine Trail explores another part of the area, the Salinas River Valley. Don't miss globally-recognized Hahn Family Wines for a tasting or tour, including an option for the Estate Vineyard ATV Adventure, which includes a "chauffeured" buzz on an ATV through the property. Another locally-loved spot, Pessagno Winery, features both a tasting room in Salinas and the Roadhouse Wine Bar in Monterey. They also have an on-site property for overnight guests, The Highlands House at Passango Winery, available through Air B&B.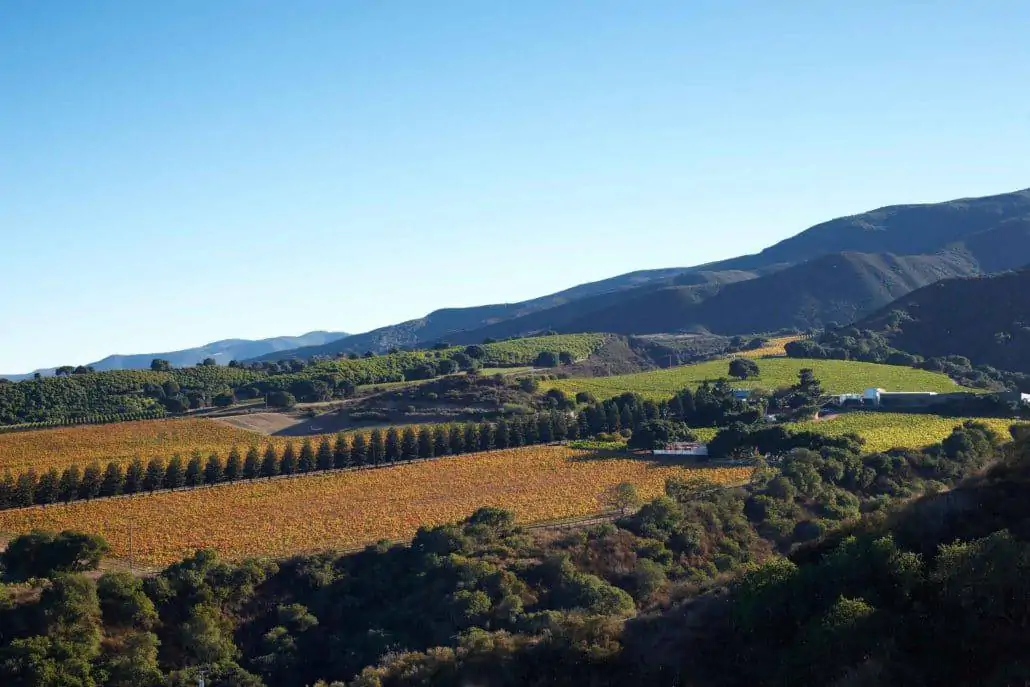 Bold and Beautiful
Monterey County's riches may seem overwhelming; there is so much this region has to offer. In this incredible space of nature's bounty and diversity, the villages and winemakers offer simplicity in their welcome. With concentrated spots full of tasting, dining, lodging, and shopping opportunities, time is left to meander and observe. Enjoy the wineries, history, and culture at a leisurely pace and find moments to fill with adventure. A visit into town as well as a drive along the coast or one of the area's wine trails opens up the wonderful world of Monterey!
Monterey Wine Country's AVAs (official wine-growing regions)
Written by California Winery Advisor Staff
Monterey AVA encompasses the 84 miles long Salinas Valley and portions of Carmel Valley. It opens onto Monterey Bay where cooling fog rolls in between the Santa Lucia and Gabilan mountain ranges. In the north maximum average daytime temperatures stay under 70 degrees most of the year. Sixty miles to the south, it is 10 to 15 degrees warmer. The Monterey wineries take advantage of this by growing a wide variety of grape varieties to flourish including Riesling, Cabernet Sauvignon, Chenin Blanc, Zinfandel, Pinot Noir, Sauvignon Blanc, Pinot Blanc, and the most widely planted grape, Chardonnay. The valley would be arid if not for the irrigation from the Salinas River. Rainfall is less than 14 inches annually and the soil is generally sandy.
Carmel Valley AVA is a mountainous and rugged territory with less than 300 acres planted. The wineries here have planted this area with the red Bordeaux varietals, Cabernet Sauvignon and Merlot. Above the marine influences, the region is distinctly warmer than the northern parts of the Salinas Valley. High elevations and steep slopes with well-drained granite terraces yield rich and flavorful fruit. There are a number of Monterey wineries here including Chateau Julien, the eclectic Chateau Sinnet, Bernardus Winery, and the unique Georis Winery. There are over 20 Monterey wineries in this AVA.
Santa Lucia Highlands vineyards are planted on the southeast along the alluvial terraces of the Santa Lucia mountain range. Well-drained granite soils and shelter from the Pacific Ocean by the Santa Lucia Mountains create a well-defined growing region. Cool morning fog and afternoon breezes make for a long growing season. Vineyards are at elevations of 40 feet up to as high as 1,200 feet. Nearly half of the 2,300 acres are dedicated to Chardonnay. The wines are balanced with intense fruit, an elegant structure, and a mineral-laden acidic backbone. Cabernet Sauvignon, Merlot, Pinot Blanc, Pinot Noir, and white Riesling are also grown. Check out these Monterey wineries in the Santa Lucia Highlands, San Saba Vineyards, Hahn Estate, and Paraiso Vineyards.
Chalone AVA has fewer than 300 acres, predominately Chardonnay, Pinot Blanc, and Pinot Noir vines- the oldest producing vines in the county. The region stretches across the borders of Monterey and San Benito counties on the eastern hillsides of Salinas Valley. Near the Pinnacles National Monument and at 1,800 feet elevation, vineyards sit above the fog line. Daytime temperatures in the summer reach over 90 degrees but are balanced by the cool nighttime air. Chalone's soil consists of decomposed granite with moderate amounts of clay and limestone that can impart a distinct mineral character to the grapes. Chalone Vineyards is located here near the Pinnacles National Monument.
Arroyo Seco AVA is in the center of the Salinas Valley on the western edge. It extends from a narrow steep canyon to the valley floor. Zinfandel and red Bordeaux grape varieties prosper at the warmer mouth of the canyon while the valley floor is planted with Chardonnay and Riesling. Gravelly, sandy loam soil promotes excellent drainage. The three to four-inch stones dubbed, "Greenfield Potato", store and release heat from the day, keeping the evening air warm. Scheid Vineyards is a large producer here with a tasting room just off the highway.
San Bernabe Vineyard AVA is one of the largest vineyards in the world, encompassing nearly 8,000 acres, planted with 20 varieties. The gentle rolling carpet of vines is located just west of King City in the southern part of the Salinas Valley. The planted acreage is divided into more than 130 distinct blocks. The vineyard produces tremendous amounts of Barbera, Cabernet Sauvignon, Chardonnay, Gewürztraminer, Lagrein, Merlot, Pinot Noir, Sauvignon Blanc, Syrah, White Riesling, and Valdiguié.
San Lucas AVA is located at the southernmost end of the Salinas Valley between King City and San Ardo. Eight-thousand acres of vineyards are planted on alluvial fans and terraces at elevations ranging from 500 to 1,200 feet. Chardonnay, Cabernet Sauvignon, Merlot and Sauvignon Blanc are planted on the combination of diatomaceous shale and sandstone. The average high temperatures during the summertime can reach well over 90 degrees while annual rainfall averages 12 inches.
Hames Valley is just north of Paso Robles at elevations of 500 to 800 feet. Temperatures over 90 degrees are not uncommon in the summer. In the evening, cool air from Monterey Bay creates dramatic swings in temperature. Cabernet Sauvignon and Merlot are the predominant grapes grown. Alvarehlo, Souzao, Tinta Cao, and Touriga Nacional are also grown and are the traditional varieties used in making port.
San Antonio Valley AVA. There are 20 growers with 800 acres of vines growing in this warm bowl-shaped valley, but only a small handful of wineries. This warm highland valley, with elevations of up to 1300 feet, enjoys sunny, dry days and evenings cooled by breezes from the Pacific Ocean. Early morning fog from Lake San Antonio cool the vineyards. The historic Mission San Antonio de Padua is located here and is thought to be one of the first places in California where grapes were planted. Its gravelly loam and clay soil produce exceptional Bordeaux and Rhone varietals, such as Cabernet Sauvignon, Merlot, Cabernet Franc, and Syrah.
More Monterey Winery Resources
Here is a link to the regional association of Monterey Wineries https://montereywines.org/
A history of winemaking in Monterey
More information on the Monterey AVAs and the types of grapes grown here
Monterey Winery Fast Facts
Chardonnay is the most planted wine grape in the Monterey AVA. Monterey grows the most Chardonnay in the state of California
There are over 18 Monterey wineries in Carmel By The Sea
Grapes were planted in the Santa Lucia Highlands well before any Monterey wineries were around. The missionaries planted grapes as far back as 179o's.
Cabernet Sauvignon and Merlot grapes make up more than 70% of the wine grapes grown by Monterey wineries in the Carmel Valley.
↑ Less