The Best Mendocino Wineries To Visit
In Mendocino County, California the idea of green living isn't just an idea. It is a place that has managed to keep a wooly and authentic balance between the growth of cultivated things and the growth of natural things. The best Mendocino wineries respect this balance...
+ More
The Best Mendocino Wineries To Visit
In Mendocino County, California the idea of green living isn't just an idea. It is a place that has managed to keep a wooly and authentic balance between the growth of cultivated things and the growth of natural things. The best Mendocino wineries respect this balance.
Thriving in Mendocino
Head north out of Sonoma County and enter the world of Mendocino (Mendo-SEE-No), loaded with charm and tranquility. Mendocino County is about three hours from San Francisco, Oakland, or Sacramento, and two hours from Santa Rosa.
The coastline, river valleys, and coniferous forest share resources with the area's 570 vineyards. Most are family-owned, cultivating a median vineyard size of 14 acres. Orchards, organic vegetables and fruits, cattle, sheep, buffalo, and llamas are other Mendocino residents. Microclimates thrive to support the growth of Pinot Noir, Cabernet Sauvignon, Zinfandel, Merlot, and Syrah for red wines. Chardonnay and Sauvignon Blanc represent the predominant white wine grapes. Mendocino County is home to ten AVA regions (Mendocino AVA, Anderson Valley, Yorkville Highlands, McDowell Valley, Potter Valley, Redwood Valley, Dos Rios, Covelo, Mendocino Ridge, and America's smallest AVA, Cole Ranch) and two "super regions", Mendocino County and North Coast. Sanel and Ukiah Valleys await their AVA status.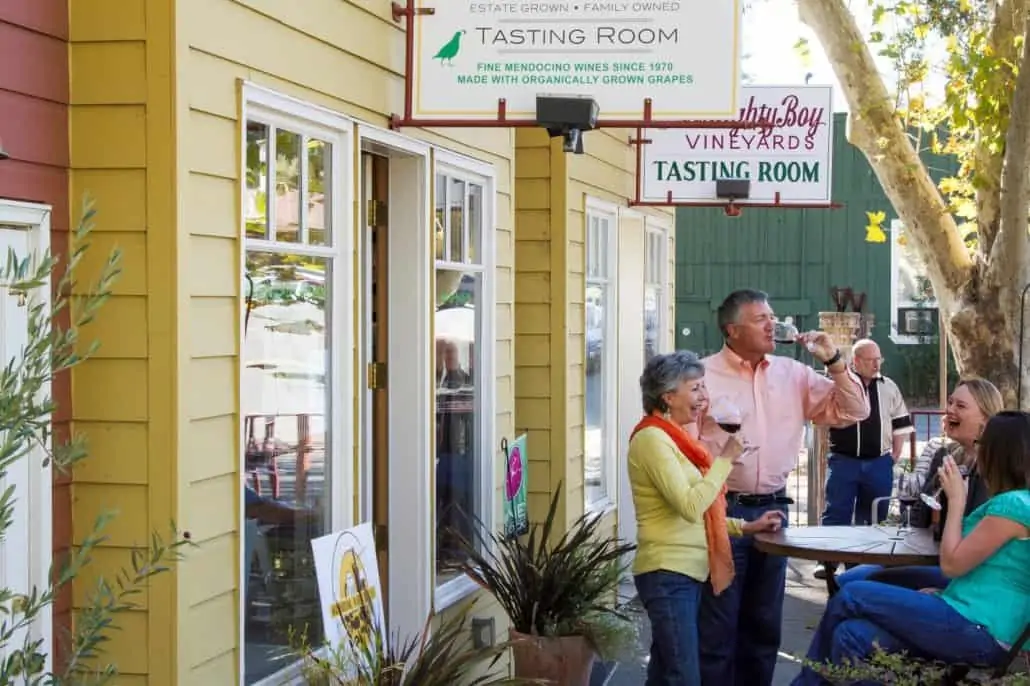 A wine-tasting vacation to Mendocino's best wineries provides replenishment, vitality, and enlightenment. This is a place of multi-generational farmers who consider the land itself an ancestor and they take pristine responsibility for its stewardship. According to Mendocino County Wine & Winegrapes 690 acres of Mendocino vineyard are Demeter Certified Biodynamic® and 3950 acres of vineyard are certified organic. 32,000 acres of land are certified Fish Friendly; the Fish Friendly Farming Environmental Certification Program is run by the California Land Stewardship Institute and guides vineyard owners to maintain or introduce practices encouraging cool, clear, clean fresh water for fish and marine wildlife.
Visitors to Mendocino wine country find that there are several segments of the region where tasting rooms are gathered in close proximity. While there are vineyards in each AVA, tasting rooms can be found primarily along Route 128 and Highway 101, as they extend northward out of Sonoma County. The notable exception is Pacific Star Winery, the only coastal winery in Mendocino with a view to proving it!
Anderson Valley
The Anderson Valley AVA, home to some of the best Mendocino wineries is finding new warmth in the global spotlight for top-quality Pinot Noir and Alsatian varietals and well as three methode champenoise sparkling houses. These thrive in the cool coastal climate of the valley, which benefits from warm sunny days and cool foggy nights. Anderson Valley is also a favorite for visitors, with over a dozen tasting rooms located conveniently along Route 128 as it passes from Navarro in the north to Boonville in the south.
In Anderson Valley check out:
Toulouse Vineyards and Winery is located on a winding drive through characteristic forest and vineyards. Pets are welcome, the view is outstanding and the atmosphere is tastefully fun.
Family-owned Navarro Vineyards sells most of its wine directly through their tasting room. To experience it, schedule a one-hour tour of the vineyards and winery and a tasting of their award-winning Pinot Noir Méthode à l'Ancienne.
Goldeneye Vineyards (part of the Duckhorn Wine Company Group) welcomes visitors to their farmhouse tasting room and back yard, with several tasting experiences including the Elevated Tasting and Vineyard Picnic Basket.
Roederer Estate creates bubbly wine in the tradition of their 200-year-old French roots. Visitors love the view, which can be embellished by a patio picnic.
The nearby Hendy Woods and State Park is the protected home of two groves of towering Redwoods. According to the park, some of its trees may be more than 300 feet tall and 1,000 years old.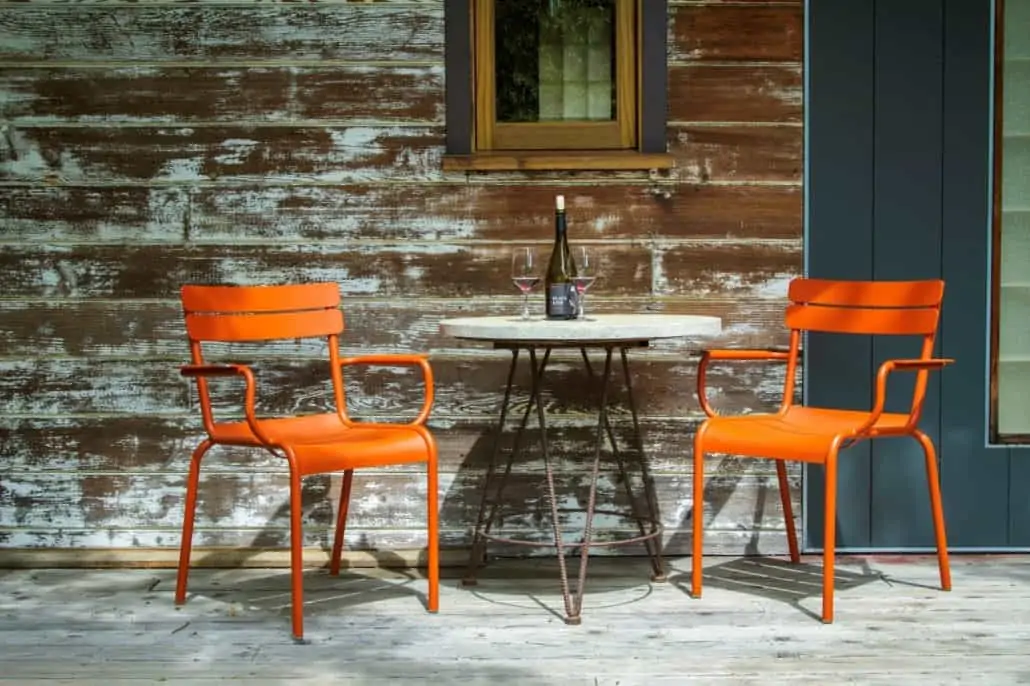 Book an overnight stay at The Madrones, which has several tasteful and luxurious options for overnight accommodation, as well as on-site tasting rooms and a restaurant. For brunch, locals and visitors love The Bewildered Pig in Philo, where the emphasis is on locally sourced ingredients. The Booneville Hotel calls itself a Modern Roadhouse in Anderson Valley, but expect more refinement than the name implies. Book a room, dinner, or visit on a summer Sunday afternoon when they break out the festivities for their oyster bar and paella special.
Yorkville Highlands, Ukiah, and Redwood Valley
Continuing on Route 128 is the bucolic Yorkville Highlands, where most of the vineyards are small, hillside parcels. Meyer Family Cellars welcomes visitors of all ages, making it a great stop for the family to play a game of bocce or hit the children's play area. Don't miss their tawny port! Maple Creek Winery and sister company Artevino is owned and operated by artist Tom Rodrigues who creates the labels for each of his wines. "Enter as strangers and leave as friends." is the motto at Maple Creek.
Northeast of Yorkville Highlands, Ukiah – a region in the process of achieving AVA status – extends along the Russian River and Highway 101. This is a rapidly growing area that is home to Wine Enthusiast's 2016 American Winery of the Year and one of the best Mendocino wineries: Bonterra Organic Vineyards. Bonterra doesn't have a tasting room or space for public visits, but the presence of this recognized estate illustrates the value of organic farming in the area.
Fetzer, Bonterra's parent company, runs a socially and environmentally responsible practice including a CarbonNeutral® certification. (Find their wines in Fort Bragg at North Coast Brewing which has committed to sustainable practices for 20 years.)
Parducci Cellars has been making wine for over 80 years, helping them establish their claim to be the oldest winery in Mendocino County as well as the first American winery certified as carbon neutral.  Enjoy a tour or a visit to their tasting room in addition to several special events including the Parducci Crush Rush 5k each year in October.
I personally love the Graziano Family of Wines. They run a tasting room in small-town Hopland where you can sample some of my favorite releases, particularly their Saint Gregory line of Burgundian wines, mainly Pinot Noirs.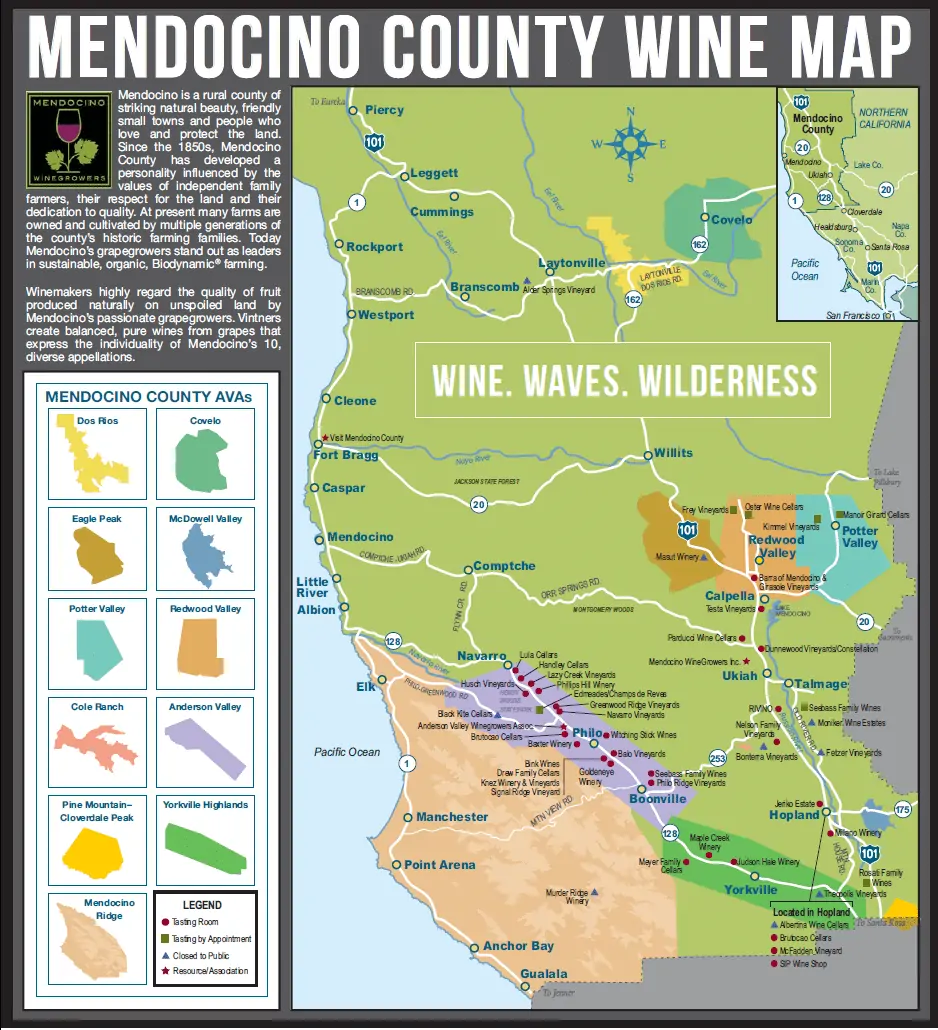 Redwood Valley is the northwestern-most AVA in the county and is one of the best spots for the cultivation of cool-climate varietals. There are few tasting rooms in the area, but it is important to mention Frey Vineyards, the first organic winery in the U.S. and the first producer of American biodynamic wine. Frey's tasting room is located at the winery, which is making efforts to become carbon neutral. Onsite farming, beekeeping, and solar power are included in the collection of practices aimed at maintaining Mendocino's wild natural balance. Frey is a great example of what the best Mendocino wineries can achieve.
Some notes on a visit to Mendocino wine country
Before a visit to Mendocino, make a few phone calls or reservations. Utilize the Visit Mendocino website for listings and contact information. There are, in fact, several tasting rooms that are open by appointment only. It never hurts to call ahead to book a tasting, tour, or picnic. Many tasting rooms charge a fee, but visitors accustomed to Napa Valley pricing will be pleasantly surprised. Most charge less than $10, and the average is closer to around $6.
While I've listed The Madrone's and The Booneville Hotel as guest-recommended places to stay, there are a number of small B&Bs as well as rental properties, including several retreat centers, farm stays, and eco-lodges. This is further evidence that Mendocino is a unique and refreshing natural spot: unprocessed and disconnected in all the right ways!
Deep Dive into Mendocino Wine Country AVAs
Mendocino County is a sparsely populated and enchanting place, offering a majestic coastline with charming, rustic villages, tranquil river valleys, ancient stands of redwoods, and a diverse and remarkable range of wines and wineries.
Mendocino is home to many California red wine varieties, including Zinfandel, Syrah, Petite Sirah, Carignan, Charbono, and Grenache. In Mendocino's cooler regions you can find Pinot Noir, Chardonnay, and Gewurztraminer grapes as well as plantings of Pinot Gris, Sauvignon Blanc, Riesling, Muscat, Cabernet Sauvignon, and Merlot. With only 60 wineries in the region, 80 percent or more of the fruit leaves the county and is made into wine elsewhere.
The terrain of the county is mountainous with 60% of the county covered with coniferous forests. Many microclimates exist which contribute to the area's distinctive appellations. Annual rainfall ranges from 19 inches to as much as 70 inches. The county has warm summers with hot dry days and temperatures over 90 degrees. Nights are cool with temperatures dropping to the mid-40's.
Ten of the area's wine-growing regions have been designated as American Viticultural Appellations (AVA). Sanel and Ukiah Valleys are both waiting on their AVA status.
Anderson Valley is one of California's coolest growing areas and is noted for sparkling wine, Riesling, Chardonnay Pinot noir, and Gewürztraminer. The northwest end of the valley, near Philo, is very cool and often foggy. The warmer southeast end of the Valley, near Boonville, is planted with Cabernet Sauvignon and Sauvignon Blanc. The sun-exposed ridges grow fine Zinfandel, Cabernet Sauvignon, and Merlot. Over a dozen wineries are open to visitors.
Yorkville Highlands straddles Highway 128 and is just south of Anderson Valley growing Sauvignon Blanc, Cabernet Sauvignon, and Merlot. The bucolic rural area is a bit warmer and has rocky soil with good drainage forcing vines to dig deep for water. The result is low-vigor vines that yield concentrated fruit. Three good wineries with tasting rooms are located here.
Mendocino Ridges is to the west of Anderson Valley and continues to the coast including elevations above 1200 feet. Only 75 acres of vines and no wineries are located in this remote rugged area.
Cole Ranch is the smallest AVA in the United States with just 60 acres of Cabernet Sauvignon, Merlot, and Riesling grapes. Located at elevations from 1,400 to 1,600 feet between Sanel Valley and Anderson Valley, Cole Ranch is owned by the Sterling family who owns Esterlina Winery in nearby Philo.
Sanel Valley is not yet recognized as an AVA. It is located around the small town of Hopland on the Russian River. Sauvignon Blanc, Chardonnay, and Cabernet Sauvignon are generally found growing on the flat river plains. A few wineries can be seen from the highway that welcomes visitors.
McDowell Valley is a tiny, high-sloping benchland that sits up to 1,000 feet above sea level and is a small sub-region within the Sanel Valley. It specializes in Rhone varietals including Grenache, Syrah Marsanne, and Viognier as well as Zinfandel. The reds can be big, bold, and flavorful.
Ukiah Valley is Mendocino's largest growing area and extends along the Russian River and Highway 101. Cabernet Sauvignon and Zinfandel grow on the higher benchlands above the Russian River with Chardonnay and Sauvignon Blanc grown on the river plain. The region is currently being considered as a separate AVA.
Redwood Valley is slightly cooler than the nearby Ukiah Valley and has a varied rolling terrain. Chardonnay and Sauvignon Blanc along with Zinfandel, Petite Sirah and Cabernet Sauvignon are the dominant grapes. Fewer than a dozen wineries reside here with many requiring appointments to taste.
Potter Valley, northeast of Ukiah, and directly east of Redwood Valley is at the headwaters of the Russian River's East Fork. The valley is at about 1,000 feet elevation and has cooler nighttime temperatures. Sauvignon Blanc, Chardonnay, and Riesling grapes grow well though no wineries are located here.
↑ Less