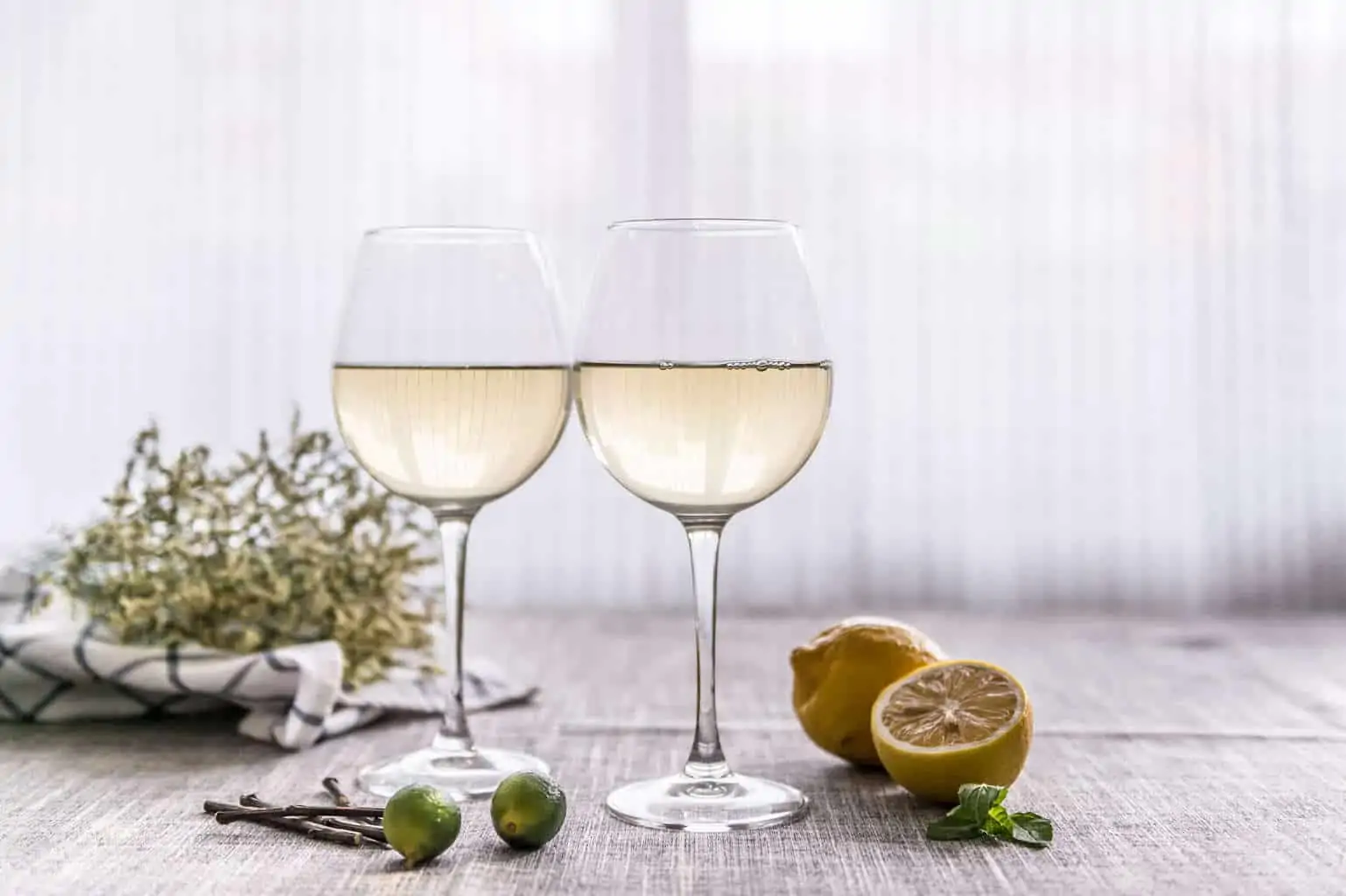 Selecting The Best Wine Glasses for Every Occasion
So why should you search for the best wine glasses? Every wine connoisseur knows that the right wine glass contributes to the wine tasting experience. And in some cases, a wine glass is so much more than just a glass. It can enhance the taste and smell of wine and make you appreciate the wine all the more. Whether it's a birthday party, an intimate dinner for two, or a large wine-tasting event, there are wine glasses for every occasion.
Wine glasses come in different styles and materials so you should have a better understanding of each variant. The first thing any wine glass buyer should understand is that the shape of a wine glass is purposeful. Different wine characteristics will be enhanced by the shape of the glass!
The following wine glass buying guide will provide all the necessary information for you to choose the wine glasses that fit your needs.
As an Amazon Associate, I earn from qualifying purchases of items like wine glasses
Wine Glass Type Basics
First, let's start with a brief overview of the wine glass. It's important to know the wine glass "parts" before diving into the various wine glass types.
The Foot - This is the base of the glass. This sits at the end of the stem. Unless you are using a stemless glass.
The Stem - The long tapered piece of glass that extends from the bowl to the foot of the glass. This is where you hold the glass.
The Bowl - This is where the good stuff goes. The bowl is the rounded opening that holds your wine.
The Rim - This is the top of the bowl. This is where your mouth contacts the wine glass and the wine. The quality of the rim can make a huge difference in your enjoyment of your wine.
Premium Wine Glasses
Want an easy solution to your wine glass needs? Just buy a set of these wine glasses and be done!
Once you buy a nice set of premium wine glasses you can stop reading this article!
The best way to enjoy wine is with a premium set of glasses. These glasses feature construction, design, and materials that elevate the flavors of your wine.  Every aspect of a premium wine glass is meticulously crafted to add to your experience.
When it comes to materials, the best premium wine glasses are usually made of crystal. However, premium stemware of glass is also worth considering. Experienced glassblowers have the ability to produce wine glasses that match the elegance and feel of crystal stemware. In addition, the maintenance of premium glass stemware is a bit easier compared to the crystal variety. Unlike crystal, glass stemware is dishwasher-ready.
There are more than a few companies that produce premium stemware and a bunch of purchasing options. Usually, these wine glasses come in even sets of two, four, or six glasses, but you can purchase any number you need. It would be perfect to have at least two sets of four glasses, one set each for white and red wine, but we are going to make it even easier.
Click the video below to find out why this is such a useful wine glass.
Ok, if you are someone who needs a deeper dive before deciding what to buy, keep reading.
Wine Glass Styles
If you consider yourself as an aspiring wine connoisseur, you should know all there is about different wine glass styles. Basically, there is a special wine glass for almost all types of wine available today. The style of the glass is designed to deliver all of the aromas of the wine in every sip. The different styles can be generally categorized by the type of wine they are designed to hold.
Red Wine Glasses
The standard red wine glass is tall and has a full-size bowl with a tapered top. This glass is perfect for Bordeaux, Merlot, Cabernet, and similar wines. Burgundy and Pinot glasses have a wider bowl and are not as tall as the standard glasses. Shiraz glasses are the tallest of them all and feature a characteristic tapered top. On the other hand, Port glasses are small and much shorter than other wine glasses (to be revisited in a bit).
Each of one these glasses will direct the aroma and the wine to different parts of your palate/nose. That will help you enjoy the specific qualities of the varietal you are drinking. That is assuming you've picked out a nice bottle of wine!
White Wine Glasses
Chardonnay glasses are very similar to Cabernet stemware except somewhat smaller. Pinot Grigio and Sauvignon Blanc stemware is short and features a smaller bowl than Chardonnay glasses. The smaller bowl allows the acidity of the wine to come to life. If you come across short wide-bowled glasses, these are the ones for White Burgundy and Montrachet.
Burgundy Wine Glasses
Burgundy wine glasses have a sleek profile with a sizable bowl that brings all of the subtle Burgundy flavors together. These glasses feature a slim tall stem and a wider bowl compared to Bordeaux glasses. The reason for the tall stem is so that you can easily swirl the wine.
Swirling provides a sufficient amount of air to bring to life all the flavor nuances of Burgundy wines. The Burgundy taste starts at the tip of your tongue and spreads throughout the mouth. These glasses feature a thin lip to further enhance your drinking experience. It keeps the wine close to your tongue and makes drinking from these glasses a breeze.
This glass may look familiar to some of you. Click here for our top choice.
Bordeaux Wine Glasses
Unlike Burgundy wine glasses, Bordeaux glasses are designed to send the wine to the back of your mouth. Bordeaux stemware is the tallest of all wine glasses and sports a very small bowl. They are also suitable for Cabernet and Merlot - full-bodied wines that can benefit from the tall stem and small bowl. We feel the Bordeaux style are the best wine glasses for general use if you don't own a universal wine glass.
Sipping from these glasses sends the wine to the back of your mouth for an explosion of flavors. What's more, Bordeaux wine glasses accent all the palatable aromas without making the wine taste bitter. These glasses are also quite suitable for young wines that haven't reached a mature aroma.
For a perfect Bordeaux wine glass, please click this link.
Dessert Wine Glasses
Dessert wine glasses are designed to accent the flavors of dessert wines. These glasses are generally much smaller. They have a short stem and narrow bowl and rim. Each design element brings the dessert wine aroma one step closer to your mouth and nose.
Wines like Port, Marsala, or Orange Muscat are generally very sweet and contain higher alcohol content. This is why they are perfectly suitable for use with small glasses. The small size and narrow rim direct the wine to the back of your mouth to avoid the overwhelming sweetness. And the small size also lets you consume just the right amount of sweet wine in a single glass to prevent overwhelming your other senses.
Besides selecting the right glass, the general advice would be to go for a wine that is a bit sweeter than your dessert. And don't worry if your hands warm the dessert wine because they are supposed to. It is another thing that brings out all the flavors of dessert wine.
To see our choice for a perfect dessert wine glass, click on this link.
Other Wine Glasses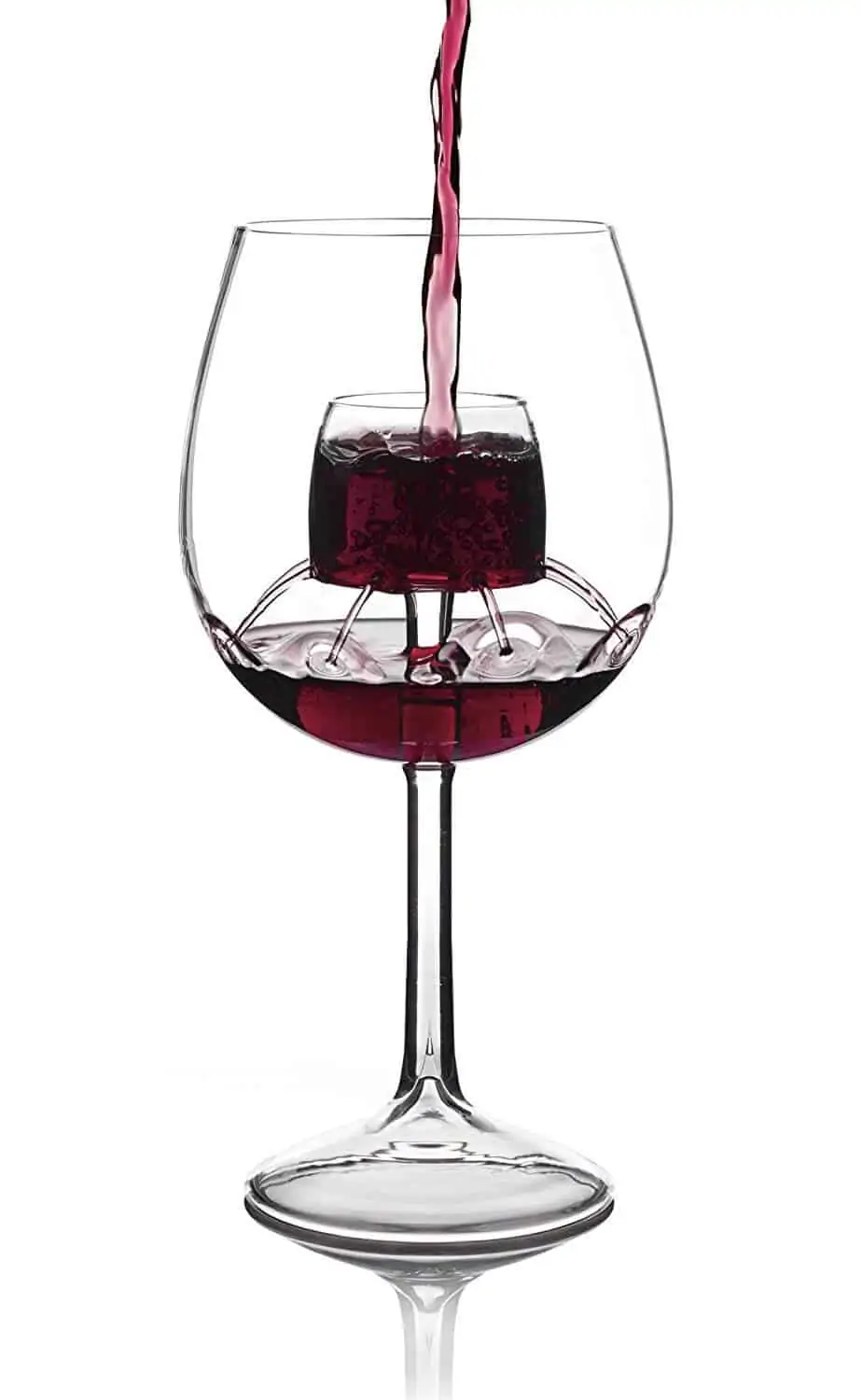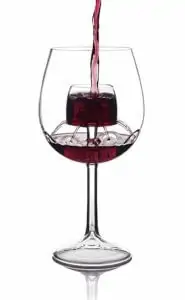 Besides the wine glass styles listed above, there are also balloon, flute, stemless, and aerating wine glasses.
This article will deal with stemless glasses in a separate section, but balloon, flute, and aerating glasses each feature a specific purpose. Flute glasses are tall and skinny which makes them the best wine glasses for bubbly wines, while balloon glasses are the most versatile ones. The aerating ones, however, allow you to drink wine straight from the glass without aerating it first.
High-end Wine Glasses
Most hardcore wine connoisseurs want a set of wine glasses that can match their high-end wine collection. There are a few European glassmakers that provide outstanding quality and durability. But you also can't go wrong with US glassmakers since the quality of their wine glasses is on par with the European varieties.
Every high-end wine glass should have a certain set of features, regardless of the maker or brand. Top-of-the-line wine glasses are usually made of lead-free crystal. These glasses should be laser-cut to ensure uniform rims and stems. In addition,  high-end wine glasses need to have some kind of protective coating to preserve the clarity of the crystal and prevent shattering and chipping.
However, you won't go wrong even if you choose a crystal set that contains some percentage of lead. Besides, there is also high-end stemware that is made entirely of glass. When it comes to these glasses, they are usually blown from a special type of glass to ensure their durability and wine-tasting properties.
To see our choice for high-end wine glasses, please click on this link.
Are Expensive Wine Glasses Worth It?
Although there is no prescribed rule, it is only logical that you shouldn't drink expensive wines from cheap wine glasses. In addition, the higher price usually means better glass or crystal quality and consequently more wine aromas. A set of expensive wine glasses from a renowned manufacturer may last you a lifetime if the glasses are properly stored and if you are not too clumsy.
There are a few characteristics that separate expensive wine glasses from all the others. You may even assume these high-end characteristics. Namely, expensive wine glasses should be almost paper-thin yet strong enough to withstand prolonged use. On top of that, most expensive wine glasses are extremely lightweight when empty and they can hold just the right amount of wine. When you hold the stem of an expensive wine glass, it feels perfectly balanced in your hand.
Wine Glasses By Material Type
There are a few different materials used to produce wine glasses. The most expensive wine glasses are made using crystal. The unique properties of crystal help to enhance the wine-drinking experience. The ultra-thin lip of the crystal wine glass perfectly directs the wine to the optimal part of your mouth. But crystal wine glasses can be expensive and difficult to maintain. These are the best wine glasses for special occasions because they are thin and elegant.
Blown glass is the most common material used to make wine glasses. These wine glasses are less likely to break, but they are as elegant as crystal. Plastic wine glasses have their uses. If you are going to be outside, near a pool or you have young children, plastic wine glasses are a nice alternative. We go into more detail and provide some good options for each of these wine glass types below.
Crystal Wine Glasses
Whether for Burgundy, Bordeaux, dessert, or any other wine, you may want to aim for crystal wine glasses. Traditionally, crystal wine glasses have been the go-to option for all respectable wine connoisseurs for the material's ability to bring out the best flavors and aromas from a wine.
These wine glasses usually contain a certain level of lead oxide, though some premium crystal wine glasses are completely lead-free. Either way, the material has a much stronger structure compared to regular glasses so it is easier to create intricate designs on crystal glasses. If you take a look at a crystal wine glass under a microscope, you will see that the crystals are very coarse.
The coarse crystalline structure affects the aroma of the wine in these glasses. The different smells and textures of the wine hit you with all the seduction when you swirl it in a crystal wine glass. However, the one downside of crystal wine glasses is that they shouldn't be washed in a dishwasher.
Plastic Wine Glasses
Plastic wine glasses are affordable and quite durable, and they have recently gained a lot of following especially among the younger crowds. To be honest, they do not provide exactly the same wine tasting experience as their crystal or glass counterparts. But top-notch plastic wine glasses don't look and feel cheap either.
Nowadays, there are a lot of plastic blends that can be perfectly suitable for wine glasses. In most cases, these wine glasses are shatterproof, unbreakable, and dishwasher safe. Plastic wine glasses are great for large outdoor parties and events, where it would be asking for trouble to use your high-end wine glass set. However, if you go for more expensive plastic wine glasses, they won't look out of place at a fancy dinner table either.
You can see our plastic wine glass choice, click here.
What is the best brand of wine glasses?
Making wine glasses can be an art if done with care. There are a few global wine glass manufacturers who elevate their wine glass production to an art form. We will cover those top wine glass brands here.
Riedel Wine Glasses
The Riedel name is synonymous with wine glass quality and bowl shape innovation. The company pays special attention to the shape because they believe a wine glass is a tool that delivers the wine's message. Riedel backs each of it distinct glass shape with scientific explanations.
These wine glasses are designed to deliver the best of the four sensations that come with each wine. The company's stemware ensures you are getting the bouquet, texture, flavor, and finish characteristic to each vintage. The Riedel wine glass shape is also made to accent the characteristics of each grape variety.
What's more, Riedel has the longest history of exclusive glassmaking in the world. The first set of Riedel luxury glassware came out in the late 17th century and the company has been the leading authority ever since.
To add a Riedel set to your collection of wine accessories, go to this page.
Schott Zwiesel Wine Glasses
This German glassmaker is known for its extraordinary attention to detail in the manufacturing process. With over 140 years of experience crafting premium quality crystal products. They are the maker of our favorite general-purpose wine glass. You can see that glass here.
Schott Zwiesel continues to innovate despite its long history. They offer a line of products made of Tritan Crystal Glass. This is an elegant yet durable material that allows them to produce razor-thin glass that can withstand some rough handling.
They produce a line of both traditional and stemless wine glasses along with decanters and specialty glasses.
Gabriel-Glas
Gabriel-Glas takes a different approach to the wine glass market. Where many companies produce a wide range of sizes and qualities, Gabriel-Glas only makes two. This has allowed them to perfect the design of their all-purpose wine glasses. We love the idea of universal wine glasses as long as they live up to their promise. Gabriel-Glas has done that.
The StandArt and the Gold Edition share a similar design. A broad bowl that tapers up to the rim. This allows your wine to get lots of air contact and then directs the aroma to your nose. The Gold Edition is the more elegant of the two with the StandArt playing the role of wine glass workhorse. These are the best wine glasses for anyone who wants to own only one style of glass.
You can purchase the Gabriel-Glas glasses by clicking here.
Alternative Wine Glasses
Some of the top wine glasses fill a special need. Whether you a looking for a glass to go poolside, recyclable wine glasses for a party, or just a glass that will not break in the sink, there are some great choices out there. Some of these glasses may even fit the bill as your go-to weeknight drinking glass. We enjoy having a set of indestructible stemless glasses around for just that purpose because they are easy to clean and store.
Stemless Wine Glasses
Some diehard wine connoisseurs believe that stemless wine glasses belong only in sorority houses, but this is far from the truth. These glasses have become very popular recently because of their versatility and unique aesthetic appeal. In addition, without the stem, there are fewer chances for these glasses to break. It means you don't have to be extra careful especially after a glass or two of your favorite Bordeaux.
But there are some potential downsides that you should be aware of. As the name suggests, these wine glasses come without a stem so you will have to hold them by the bowl. But holding the bowl can warm your wine - the thing to avoid if you desire the best taste and aroma. Therefore, it is advisable to hold stemless wine glasses near the rim, preferably with your thumb and index finger only.
For the best stemless wine glasses, follow this link.
Unbreakable Wine Glasses
Unbreakable wine glasses have recently become quite popular. The technological breakthrough in super-resistant materials has allowed these glasses to be more available than ever before. The most common materials for unbreakable glasses are plastic and glass.
Plastic unbreakable glasses are also one of the most budget-friendly options. They are great if you'd like to organize large parties without worrying that something will happen to your stemware. These glasses also come in any imaginable shape, size, and color to suit your specific wine preference.
On the other hand, the glass in unbreakable wine glasses is actually not glass. In most cases, it is a special type of copolyester that is closer to acrylic than crystal or glass. But this doesn't mean that these wine glasses are inferior in terms of style or usability. They can fit your dining table as well as the poolside.
For more information about unbreakable wine glasses, click here.
You can see a list of the best wine tumblers here.
Disposable Wine Glasses
Disposable wine glasses are quite versatile and convenient. They are usually made of inferior plastics to the ones used in unbreakable wine glasses. These glasses also come in a variety of shapes and sizes, which makes them perfect for any occasion.
They are an excellent solution for birthday parties, festivals, and other occasions that involve a lot of people. There are eco-friendly disposable wine glasses that are easily recyclable and perhaps made of recycled materials.
Admittedly, these glasses don't provide the connoisseur wine experience but they serve their intended purpose really well.
To learn more about the best disposable wine glasses, follow this link.
Where to Buy The Best Wine Glasses
If you're on the lookout for a set of the best wine glasses, finding the right place to purchase it could be a bit challenging. There are a lot of options online and offline, but the final choice usually depends on your needs. If you need more than a few wine glasses for your up-and-coming party, getting some budget-friendly ones online might be fine.
But wowing your guests with premium wine glasses takes some careful research and a premium budget. Luckily, there are at least a couple of renowned glassmakers that can take your order online and even provide advice about which glasses to buy. You can also pay a visit to your local wine accessories store to get a better feel for the high-end glasses that you have in mind.
Either way, asking around a little pays off in the long run and there are a bunch of online communities that are a treasure trove of useful information.
A Very Brief History Of Wine "Glass" Types
Wine drinking is not a new thing. Archaeologists believe our ancestors were enjoying the benefits of wine as far back as 8000 B.C. That's a long, long time. The first wine lovers most likely consumed their wine from earthenware bowls. There has been a lot of innovation since then. Different styles and designs proliferated as wine drinking spread across the globe. Each culture created unique ways to get their wine from the storage vessels into their mouths. Local traditions and religious beliefs impacted the designs. This innovation continues to this day. More wine is consumed now than at any other time in history. The wine glass industry is keeping up with the demands of savvier wine drinkers through constant improvements in the quality of glasses.
Conclusion
Since there are so many different wine glass options, choosing just the right one might not be that easy. In most cases, a wine connoisseur would select a wine glass set according to individual needs and preferences.
However, it is always useful to stay informed about all of the available options. You should remember that a quality wine glass set can take your wine tasting experience to another level. If you are a true connoisseur, consider investing in the best wine glasses to match your wine collection. Are you buying wine glasses as a gift? Check out our list of great gifts for wine lovers.
As a reminder, you can simply click this link for the number one wine glass for all occasions and wine types.