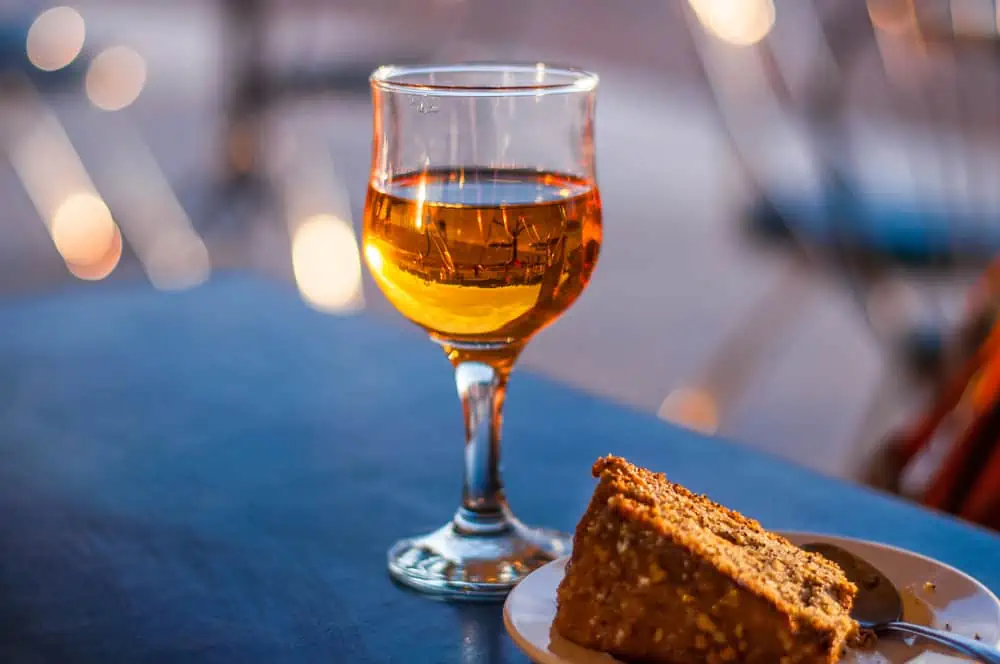 Hey there, fellow wine explorer! Ever found yourself drowning in an ocean of dry wines, casting longing glances at that mysterious island known as dessert wines? Well, buckle up, my friend! We're about to embark on a sweet adventure.
Dessert Wines: The Sweet Spot of the Wine World
Now, dessert wines, they're like the unsung heroes of the wine world. Often overshadowed by their dry cousins, they wait in the wings for their time in the spotlight. These sweethearts get their charm from a halted fermentation process, which leaves a bunch of residual sugar behind. Served in cutesy little glasses, every sip is an explosion of flavor. It's like having your cake and drinking it too!
A World of Sweetness: Global Dessert Wines
From the sun-baked vineyards of France to Germany's frosty vines, dessert wines are making a name for themselves all over the globe. Take the French Sauternes, for example. It's like liquid gold, dripping with honeyed richness. Then there's Germany's Eiswein, made from grapes that have braved the winter chill, offering a unique icy sweetness that's as cool as a cucumber. Don't forget about Hungary's Tokaji Aszú, Italy's Vin Santo, and Spain's Pedro Ximénez Sherry - each bringing its own regional flair to the dessert wine party.
Here is a quick list of popular dessert wines for easy reference.
Sauternes (France): Ah, this sweet white wine from Bordeaux, France is like liquid gold! It has a complex aroma of honey, tropical fruits, and a unique 'moldy' touch called botrytis (which adds some serious complexity, trust me). And when you take a sip, it's like a burst of vibrant sweetness perfectly balanced by a zing of fresh acidity.
Eiswein (Germany): Picture this - frozen grapes turned into a dessert wine that'll blow your mind! It's got intense aromas of dried fruit, citrus, and honey. And here's the kicker - it's lusciously sweet but surprises you with a crisp, clean finish thanks to its high acidity. Who knew opposites could attract so deliciously?
Tokaji Aszú (Hungary): Let's take a trip to the Tokaj-Hegyalja region for this one. A rich golden color and aromas that'll make your nose tingle - think apricot, honey, and spice. But wait, there's more! It has a distinctive sweetness balanced by a streak of vibrant acidity. It's a flavor rollercoaster you've gotta try!
Vin Santo (Italy): Ah, the traditional Tuscan wine that's like a sip of history. It's got a deep amber hue and a bouquet that'll make your taste buds dance - dried fruits, almonds, and honey, oh my! Take a sip, and you'll be treated to a perfect harmony of sweetness and acidity, with a hint of nuttiness. It's like a symphony in a glass!
Pedro Ximénez Sherry (Spain): Brace yourself for sweetness overload, my friend. This one's known as one of the sweetest wines in the world. It's got a dark, syrupy appearance and an aroma that'll make you weak in the knees - raisins, figs, and molasses, oh là là! And when you taste it, get ready for a burst of intense sweetness with flavors of dried fruits and caramel. It's like a dessert in a glass!
Port (Portugal): Now let's head to the Douro Valley in northern Portugal for a fortified wine that's a dessert classic. It's rich, sweet, and heavy, with flavors that'll make your taste buds go wild - from red fruits and chocolate to nuts and caramel, depending on the style. And here's a fun fact: its high alcohol content (around 20%) comes from adding neutral grape spirit, which stops fermentation and leaves some sugar behind. Whether it's Ruby, Tawny, or Vintage, a glass of Port is the perfect grand finale to any meal. Cheers to that!
Sweet or Super Sweet: The Sugar Levels
Dessert wines come in all levels of sweetness, from "just a hint" to "holy moly, that's sweet!" Semi-sweet wines like German Spätlese are like the introverts at a party, subtle and balanced, making them easy to pair with a variety of bites. On the other side of the spectrum, we have the life-of-the-party kind of sweet wines like Trockenbeerenauslese or Sauternes. These guys are all about the sugar rush, offering a rich, syrupy experience with complex flavors that'll have your taste buds doing the cha-cha.
Here's a list of the different sweetness levels in wine, including the amount of residual sugar, starting with dry table wines and getting progressively sweeter.
Dry Wines (0-4 grams/liter): These wines have virtually no residual sugar. They're the result of a fermentation process that consumes almost all the sugar. Some examples include Brut Champagne and Italian Pinot Grigio.
Off-Dry Wines (4-12 grams/liter): Off-dry wines have a hint of sweetness. They're not bone-dry, but they're not overtly sweet either. Think German Riesling or French Vouvray.
Medium-Sweet Wines (12-45 grams/liter): These wines definitely lean towards the sweeter side. They're perfect for those who like their wines with a noticeable sugar kick. Try a Moscato d'Asti or a Gewürztraminer.
Sweet Wines (45-120 grams/liter): Sweet wines are, as the name suggests, sweet. These wines have stopped fermentation early, leaving a good deal of sugar behind. Classic examples include Sauternes and Tokaji Aszú.
Very Sweet Wines (120+ grams/liter): Very sweet wines are the kings of the sugar hill. They're often dessert wines like Trockenbeerenauslese or Ice Wine, and their sugar content can be sky-high, delivering a sugar rush with every sip.
Pairing Dessert Wines: A Sweet Symphony
Pairing dessert wines might sound as tricky as juggling flaming swords, but it's actually a piece of cake (pun intended). Here's a golden nugget of wisdom: your wine should be at least as sweet as your dessert. So, a lemon tart might bully a subtly sweet Riesling, but it'll be love at first sip with a robust Sauternes.
Here are a few classic sweet wine-pairing ideas for you to try.
Sauternes and Foie Gras: This iconic French pairing is a match made in heaven. The intensely rich, creamy, and fatty flavors of the foie gras are beautifully balanced by the acidity of the Sauternes. The wine cuts through the richness of the dish, while its own honeyed sweetness complements the savory foie gras.
Port and Blue Cheese: The bold, sweet, and fruity taste of Port wines from Portugal marries remarkably well with the strong, salty flavors of blue cheese. The sweetness of the Port offsets the saltiness of the cheese, creating a harmonious, irresistible balance of flavors.
Tawny Port and Caramel Desserts: Tawny Port, with its nutty, caramel, and dried fruit flavors, pairs perfectly with caramel-based desserts. The caramel's rich, buttery sweetness complements the Port's complex, layered sweetness.
Moscato d'Asti and Fresh Fruit: The light, fruity, and slightly fizzy Moscato d'Asti is an ideal match for fresh fruits. The wine's sweetness and acidity bring out the natural sweetness of the fruits, making for a refreshing and light dessert option.
Pedro Ximénez Sherry and Chocolate Desserts: The dark, rich, raisiny sweetness of Pedro Ximénez Sherry harmonizes brilliantly with the deep flavors of dark chocolate desserts. It's like a symphony of flavors, with the wine and chocolate enhancing each other's sweetness and richness.
Pairing Dessert Wines With Cheese
Cheese and dessert wine are a classic duo that can offer an exquisite gastronomic experience when paired correctly.
First up, we have Sauternes and Roquefort. The strong, tangy flavors of Roquefort, a blue cheese, are perfectly offset by Sauternes's sweet, full-bodied notes. This pairing creates a delightful contrast that's sure to please the palate.
Secondly, consider pairing Tawny Port with Aged Cheddar. The nutty notes and inherent sweetness of Tawny Port complement the sharp, robust flavors of an aged Cheddar, creating a harmonious interplay between sweet and savory.
Lastly, try coupling Tokaji Aszú with Gorgonzola. The honeyed sweetness of Tokaji Aszú provides a wonderful counterpoint to the creamy, slightly pungent Gorgonzola, impressing even the most discerning cheese lovers.
Each of these pairings brings together the unique characteristics of the wine and cheese, resulting in a symphony of flavors that's greater than the sum of its parts.
Storing and Aging Dessert Wines
Dessert wines, with their high sugar and alcohol content, are known for their longevity and are often well-suited to aging. Some can evolve and improve for decades if stored properly, while others are best enjoyed soon after purchase.
Aging Dessert Wines
The aging potential of a dessert wine varies based on its type and vintage. For instance, a well-made Sauternes or a Vintage Port can age beautifully over several decades, developing complex flavors and aromas that make them worth the wait. As these wines age, their sweetness mellows, making way for various secondary flavors and aromas like honey, nuts, and dried fruits. On the other hand, lighter, fruit-forward wines like Moscato d'Asti are best enjoyed while they are young and vibrant, typically within a couple of years of the vintage.
Storing Dessert Wines
Proper storage is crucial for maintaining the quality of your dessert wines over time. You can still store your dessert wines effectively if you don't have a wine cellar. Choose a cool location (ideally around 55°F/13°C), dark, and free from temperature fluctuations and strong odors. Wines should be stored on their sides to keep the cork moist, which prevents it from drying out and allowing air to seep into the bottle.
Remember, aging wine is not a guarantee of improvement but a change in character. Some people might prefer the fresh, fruity characteristics of a young dessert wine, while others might appreciate the complexity that comes with age. Ultimately, the best time to open your bottle is a matter of personal preference.
Conclusion
So, there you have it, my friend - a no-nonsense guide to the sweet life of dessert wines. With this knowledge up your sleeve, you're ready to dive into this sugar-coated world, armed with confidence and a spoon for the sugar. So, ready to satisfy that sweet tooth? Dive right in! Your taste buds are in for a treat.