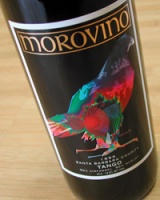 Visit six wine tasting stops starting at the historic school house of Salisbury Vineyards and ending at Morovino just a few steps from the beach. In between you will enjoy the wines of Kelsey Vineyards & Winery, Alapay Winery, Wood Winery and the Avila Wine & Roasting Company. These wineries and tasting rooms are all within 5 minutes of each other.
For more to do in Avila Beach check out Visit Avila Beach.com.
Morovino Winery – Wine, food, family and friends is the philosophy at this lively Avila Beach tasting room. Try their Italian varietals and their Syrah & Petite Syrah blend – Tango.