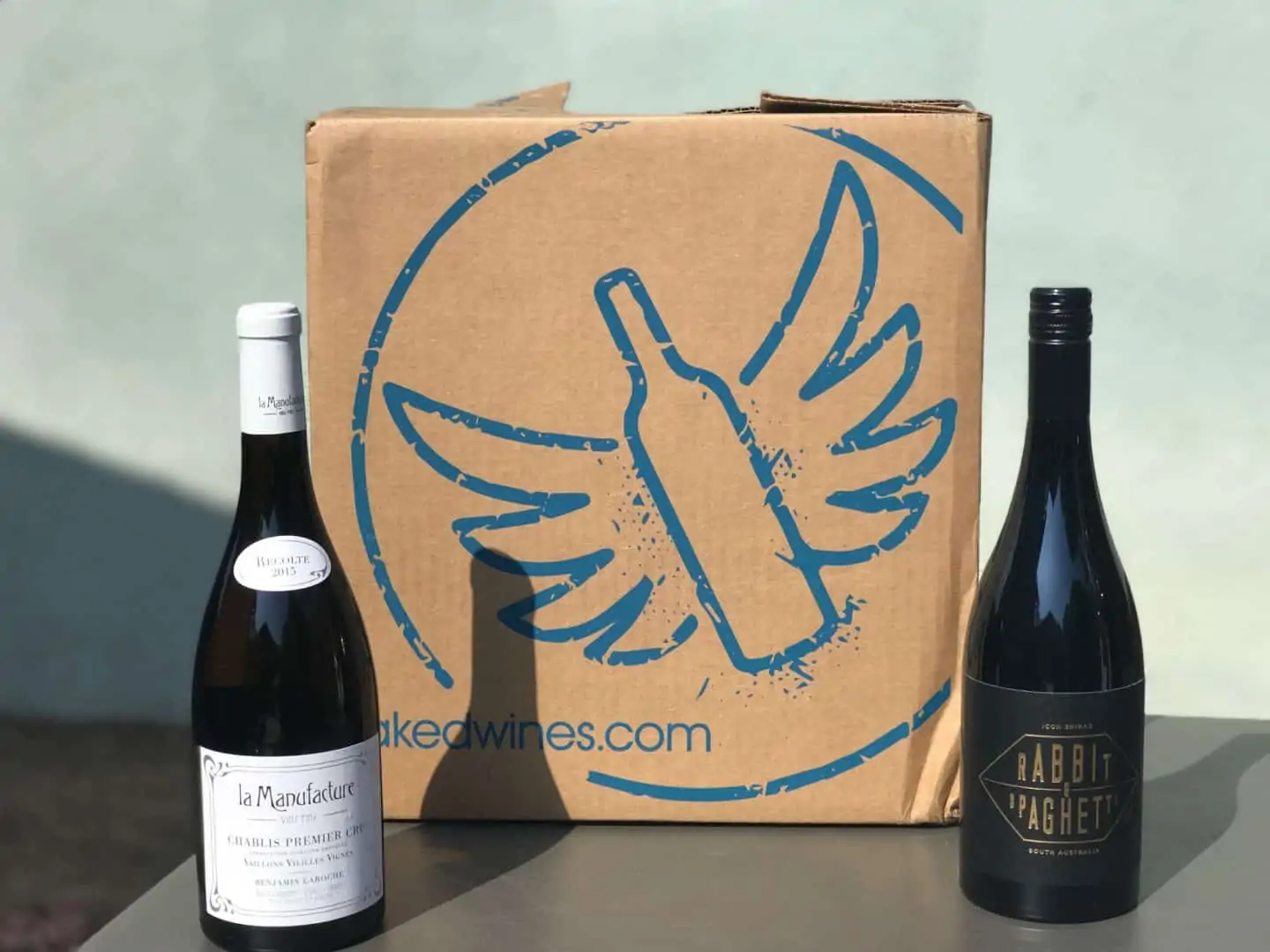 Nakedwines.com Review
We put together one of the more thorough Nakewines.com reviews (the wine club famous for giving away $100 vouchers) by testing the service ourselves and reading public reviews. We came away with a good feel for this wine club's positives and areas for improvement.
For more than 10 years now, Nakedwines.com Wine Club has been the go-to place to get premium wines from independent winemakers at reasonable prices. This online vendor uses a straightforward crowdfunding principle to support independent labels and bring their wines to your table.
There are two ways to purchase wine from Nakedwines.com's online store. You can use it like any other online retailer – select a bottle, pay the list price, and expect it to be at your doorstep in no time. Or you can become a Nakedwines.com Angel, which comes with some special perks that are well worth the money.
But before we delve deeper into our Nakedwines.com review and the benefits of becoming an Angel, let's briefly take a look at the company's history.
[note] This review of Nakedwines.com contains affiliate links, which means that if you click on one of the product links and decide you love what they have to offer, we will be compensated.
How It All Started
In 2008, Rowan Gormley set his eyes on bringing more variety to the highly-competitive wine business. At the same time, the aim was to cut out the middleman (wine wholesalers and retailers) and deliver premium vintages at a fraction of the price you'd pay with some other vendors. 
Fast forward 11 years and Nakedwines.com has invested more than $31 million into indie winemakers from all over the world. Aside from thousands of regular customers, the club has amassed over 200,000 Angels. This allows the company to buy the entire vintage of select small wineries.
Nakedwines.com Review - The Pricing
To join Nakedwines.com as an Angel, you need to apply via their website, which puts you on a waiting list. At the time of this writing, the waiting list has been subscribed to the max, but remain positive. The Angels are approved quickly. You will be at the top of the list in a flash. We made sure to clarify this before writing our Nakedwines.com review. 
But once you get accepted, you pay a $40 monthly fee that goes directly to the Nakedwines.com investment pool. The company utilizes the money to support/reinvest it into the winemakers, but there's more. The money from your Angels piggybank can be used for wine orders. In a way, it's like having a special bank account for wine.
On top of that, you get about 50% savings on every purchase, special deals, freebies, access to exclusive wines, etc. For example, there is a free bottle if you order a case every month. Plus, you receive invitations to exclusive tastings.
Purchasing Options
Angels member or not, you get to choose the wines, cases, and winemakers when you make your purchase. Here's what is available:
Wines

- In this section, you can refine the search by wine type and also view the highest-rated vintages. This is also the place to buy gifts such as the Finishing Touches 6-Pack, the Suitcase Full of Wine, or gift certificates that might be worth one or several bottles ($10, $20, $50, and $100).

Cases - As for the cases, there's you can go for red, rosé, white, or mixed. Of course, you can make your own and the sizes range from a half-case to the full 12 bottles. Angels can make substantial savings per case (up to 95%) and the shipping is included in the list price. Click here to save $100 on your first order.
Winemakers

- This is one of the sections that makes Naked Wines stand out. You get a social network-like list of winemakers with the ratings, reviews, and the number of followers included. The wine selection appears on the right, and you can learn more about the specific vintage when you click on the wine.
Note: One issue with the pricing that we found in our Nakedwines.com review is that  Angels get special prices on all the offers except for gift certificates.
Nakedwines.com - The Service
As a potential Angel member, you want to know what kind of value and service you can expect for your money. First of all, Naked Wines charges you only for the wines you like. There is a 100% money-back guarantee if anything goes wrong with the wine you receive. If you read some of the Nakedwines.com reviews online, you'll see that the company is very serious about this guarantee.
Once you starting trying the wines you receive from Nakedwines,  leave a like on the wines you enjoy. This helps the company determine which wines to send you next.
If you aren't tech-savvy, you can always call Nakedwines.com and make your order with some help from their customer service.
As for the shipping cost, it varies based on your location and the purchase price. For example, the shipping is included for orders that exceed $100, unless you live in AK, NJ, and HI. The New Jersey shipping rate is set at $19.99 flat, Hawaii is $70, and Alaska shipping costs $130.
The deliveries usually take 2 to 6 workdays and someone of age needs to receive and sign for the package. Should you want to cancel an order, contact Nakedwines.com by phone to get more information. We tried this out as part of researching our Nakedwines.com review. We found that the staff is very responsive. As you might know, some states have specific laws on handling wine so it might not be possible to cancel.
Nakedwines.com - The Winemakers
As part of our Nakedwines.com review, we wanted to look at the winemakers they are funding. Remember, Nakedwines.com operates like a crowdfunding platform for small production winemakers.
The stories behind the winemakers are varied and interesting. You have some who started as farmers and want to make their own wine. Others worked for years for wineries and now want to go out on their own. Naked wines made their dreams possible in every case.
Here are a few of the winemakers who have benefited from this system:
Rob McNeil
Rob has been crafting sparkling wines in California since the birth of the industry. He's worked at a number of notable bubbly houses like Piper-Sonoma and Mumm. Now he is out on his own. He's able to translate his expertise into affordable bottles of high-end bubbly because of this wine club.
Odine Chattan
Odine is a long time fixture in North Coast wineries. She's made wine for Ridge and Cline among others. She's worked alongside some of the absolute legends of California wine and now she's able to go out on her own.
We love that these winemakers are able to live their dream because of the wine angels. The relationship between the winemakers and the members of Nakedwines.com is unique because of the way the system works. The winemakers feel connected to the members and there is a lot of interaction between members and winemakers. This makes Nakedwines.com feel like a big wine-loving family.
Nakedwines.com - The Selection
With more than 400 wines from 120 winemakers, it's hard to choose just a few. The following belong to the highest-rated category with a 90% or higher rating. Not that the price always means quality, but we've also decided to feature bottles that are over $15 in our Nakedwines.com review (the normal price).
Matt Parish Cabernet Sauvignon Napa 2017


95% of the people who drank this bold Napa Cab from Matt Parrish said they would buy it again. It has a classic high-quality Cab profile with dark cherry leading the way. It is well-balanced with a nice amount of tannin and acidity to provide structure. The secondary flavors of oak and vanilla make for a nicely complex wine to enjoy with a steak.
Derek Rohlffs Santa Lucia Highlands Rose 2018
For some, rosé is an acquired taste, but Santa Lucia Highlands is bound to make you fall in love with it. This wine offers an explosion of refreshing aromas of strawberries with a distinct creamy finish. It matches any al fresco dining and can be the perfect choice for a romantic picnic.
The Marlborough Sauvignon Blanc comes from one of Nakedwines.com's top wineries in New Zealand. This white gem gives you an abundance of citrusy aromas which make it a perfect match for seafood on summer evenings.
These are just some of the highlights from the Nakedwines.com offer. Click here to explore more of their top-rated selection.
Is Nakedwines.com a good wine club?
Any wine connoisseur will cherish the world of top-notch indie wine this vendor provides. Even if you go only for the best vintages from the Napa Valley or Burgundy, Nakedwines.com is bound to introduce you to some of the most promising newcomers. You can see from the positive Nakedwines.com reviews that they do a great job selecting their winery partners.
Nakedwines.com Vs. Winery Wine Clubs
Some people ask us if it is better to join a wine club like Nakedwines.com or sign up directly with a winery they enjoy. We believe there is value in both. If you live close to a winery you love, they may offer benefits like pickup parties, free tastings, and special release wines that aren't generally available. Those offerings on top of wine you already enjoy make it worthwhile to sign up for a winery wine club.
If you don't live within comfortable driving distance, wine clubs like Nakedwines.com are probably a better value. Nakedwines gives you access to a much wider range of wines. If one winery has a down year, you can still find great wines through their club. You can also explore wines from around the world. There is a better chance you will find new wines you love through a club like this.
What Is A Wine Voucher
A wine voucher from Nakedwines.com entitles you to $100 off your first order of wine. You must select $160 or more of wine and a minimum of six bottles. When you place your order, the voucher will reduce your cost by $100.
The voucher has created some headaches for people trying to buy wine from Nakedwines.com because not all states allow for promotions on alcohol. That means you cannot use the $100 wine voucher if you live in any of these states: Alabama, Arkansas, Delaware, Hawaii, Indiana, Kentucky, Michigan, Missouri, Mississippi, New Jersey, Ohio, Rhode Island, South Dakota, Texas, and Utah.
You may only use the voucher once and you must be a new customer. According to the terms and conditions on Nakedwines.com, you do not need to sign up as a regular member in order to use the voucher.
Nakedwines.com offers the wine voucher because they want you to become a regular member and a Naked Angel. We explain what a Naked Angel is below.
Claim Your $100 Wine Voucher By Clicking This Link
What is A Naked Angel
You are designated as a Naked Angel when you agree to deposit $40 per month into your Nakedwines.com account. This money is used to support the small production winemakers who sell wine on Nakedwines.com. Your monthly deposits accrue in your account until you decide to purchase wine.
Naked Angels receive preferred discounts on wine purchased through Nakedwines.com. You can receive up to 60% off the list price.
You can cancel your Naked Angeles membership at any time by calling Nakedwines.com or by visiting your account page on the website.
In Wine, There is Truth
When all is said and done, our review of Nakedwines.com determined they are among the best online vendors. This is due to the exceptional wine selection, competitive prices, and great service. Being a member of Nakedwines.com gives you a chance to excite your taste buds. You have access to wines you are unlikely to find at your local store.
In addition, you get a Nakedwines.com coupon code as a first-time customer for more amazing savings. With the code, you can purchase an entire case for just a fraction of the list price, so make sure to check it out.