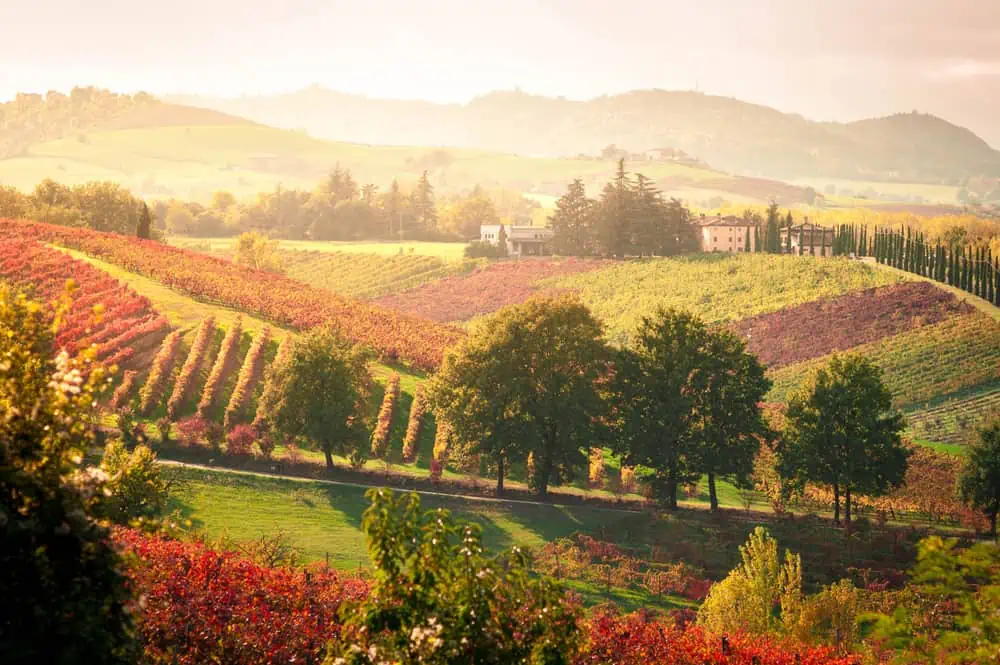 Oh my, let me tell you about the glorious Lambrusco from Emilia-Romagna, Italy!
Where is Lambrusco Wine From
This sparkling red wine is made from a family of Italian red grapes that have been around since the Bronze Age. The varieties range from dry to sweet and come in colors from light red to deep purple.
What Do Lambrusco Wines Taste Like
The best ones are typically made in a frizzante (lightly bubbly) style and are low in alcohol. You'll taste fruit-forward flavors of berries with some floral notes, depending on the variety.
Lambrusco wines have a unique flavor profile that sets them apart from other popular wines. However, some people compare the taste of Lambrusco to Beaujolais or light-bodied reds like Pinot Noir or Gamay. This is because Lambrusco shares similar fruity and acidic characteristics with these wines. But it's important to note that Lambrusco has its own distinct flavor profile due to the specific grape varieties used and the winemaking techniques employed.
Are Lambursco Wines Aged In Oak
Lambrusco wines are typically not aged in oak. They are usually made to be consumed young and fresh, so they can maintain their fruity and vibrant flavors. However, some Lambrusco producers may experiment with aging their wines in oak barrels for a short period to add depth and complexity to the wine. But this is not a common practice for this type of wine.
Details Of The Lambrusco Grape
The Lambrusco grapes are most closely related to the Primitivo grapes of Italy, as well as some other varietals like Corvina and Negra.
The Lambrusco grape is highly adaptable and takes well to the hillsides and plains of northern Italy.
There are over 60 known varieties used for making wine but only four protected DOC regions in Emilia-Romagna and one in Lombardy. Each region produces its unique flavor profile based on soil type and growing conditions.
What To Buy
If you want to try some Lambrusco yourself, I recommend looking for Lambrusco Grasparossa di Castelvetro for a lively yet structured wine or Lambrusco di Sorbara for bright acidity with crisp fruitiness.
Salamino di Santa Croce is also lovely when blended with other wines for an off-dry or sweet option.
And don't forget about Lambrusco Reggiano - this sparkling red can be made from different mixtures of Lambrusco grapes giving it a unique flavor every time.
Wineries That Make Great Lambrusco Wines
Some wineries that are famous for producing world-class Lambrusco wines include:
Cleto Chiarli
Cantina della Volta
Paltrinieri
In terms of recent vintages that have received high ratings from wine critics, the 2021 Cleto Chiarli "Vecchia Modena" Lambrusco di Sorbara Secco was rated 90 points by Vinous.
Top Lambrusco
Cleto Chiarli Lambrusco di Sorbara Vecchia Modena 2021
Winemaker's notes: Deep rosé color, with clear fragrances of strawberry and brushwood. Its taste is fresh, pervasive, mineral, and at the same time velvety and surprisingly pleasant. Dynamic.
Pair with pasta, tortellini, boiled meat and typical cuisine from Modena.

We earn a commission if you make a purchase, at no additional cost to you.
Additionally, the 2021 Paltrinieri "Radice" Lambrusco di Sorbara Secco was given a score of 95 points by Wine Enthusiast.
Wonderful Lambrusco
Cantina Paltrinieri Radice Lambrusco di Sorbara 2021
Winemakers Notes: Salmon pink with very fine and persistent perlage, slightly cloudy due to the presence of the residue of refermentation (base). Citrus notes of grapefruit, wild strawberry, floral hints of wild rose on the nose. fresh on the palate with marked acidity that recalls pomegranate and green apple peel. Great flavor, balance and persistence.
Serve as an aperitif, or with fried fish, raw fish , tuna, salmon, tortellini in broth, cured meats, fried dumplings and crescentine. It is almost a white with a red structure.

We earn a commission if you make a purchase, at no additional cost to you.
These are just a few examples of highly rated Lambrusco wines in recent years, but there are many other excellent producers and vintages to explore as well!
Cheers to trying new wines!