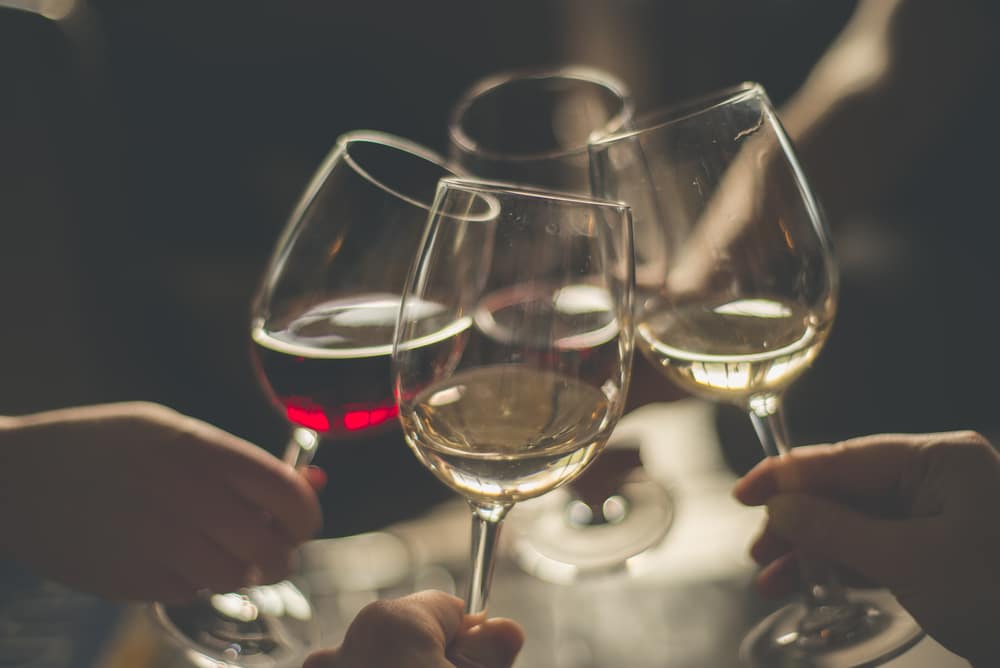 Fellow wine lovers, it's no doubt that our very favorite beverage is amazing in its ability to help us relax and rest after a long day, allowing us to enjoy a more refined experience among all of the daily chaos. What's even more amazing is our consistent ability to completely and absolutely butcher the names of what we're actually drinking, in complete contrast to the unavoidably classy aura of just sitting there and drinking the wine. To be fair, we can't all be linguists, and seeing how the wine world encompasses… well, the entire world, you're bound to come across a quaff or two that are out of your comfort zone when it comes to languages.
Don't worry, though! With the help of our little listicle, you'll never find yourself nervously sweating in front of that intimidating wine list, knowing which one you came here for in the first place but actively avoiding it in exchange for something else just so you don't make a fool of yourself. Don't deny it, we've all been there.
Mumble under your chin no more, as once you invest a few minutes into our list your aura will be brimming with sheer confidence, making the saw-muh-LYAY the one that breaks into a cold sweat. That's how you pronounce sommelier by the way; get it right from now on.
1. Brut
We're starting off real simple for now; you'll want to say this as BROOT if you like being correct. Brut is a dry sparkling wine you might see listed as brut natural or extra brut, meaning that there's no sugar added, perfect for the healthy individual watching out for that sugar intake.
2. Chianti
KEE-AHN-TEE would be the right pronunciation for this wine high in acidity and tannins. Chianti is very surprisingly actually from the Chianti region where it's produced, a great fun fact to share after you impress your date with your pronunciation knowledge.
3. Cabernet Sauvignon
KAB-ER-NAY SOH-VIN-YOHN is yet another wine with particularly high levels of acidity and tannins. If you're big on ribs, be sure to practice enunciating this one, because you'll be saying it a lot.
 4. Moscato
Simply say MOHS-KAA-TOH. Moscato is a super sweet wine that might tempt people to make an uncalled for "weakling" joke at the drinker on account of it having low levels of alcohol, but don't do it. Moscato is great when paired with very spicy food and strong flavors. Just goes to show that living on the edge takes a multitude of forms.
5. Pinot Noir
PEE-NOH NWAR would be correct. Produced from red grapes, mostly in France, a bottle of Pinot is perfect for things like braised duck breast. And, yes, the first syllable is indeed pronounced with a long "e" – bonus points if you didn't giggle reading that.
6. Sangiovese
SAN-JOE-VEH-SE is the right way to pronounce the name of this dark, acidic wine. The more linguistically inclined readers may have guessed that Italy is the country of origin, which is where this vino is drunk the most in their famous Chianti wines.
7. Sauvignon Blanc
If you're into white meats, such as chicken or turkey, pork chops or fish, you should practice saying SOH-VIN-YOHN BLAHNGK. That, or keep to ribs and KAB-ER-NAY SOH-VIN-YOHN. Or both, whichever floats your boat.
8. Rioja
REE-OH-HAH is a fruity wine from Spain, and it works insanely well with savory foods if you're unsure what to order with it at the restaurant. So, if you're still not quite clear about how to go pronouncing this sweet nectar of the gods, order some lamb cutlets, ask the sommelier for recommendations, and make sure to nod knowledgeably when they mention Rioja.
9. Syrah
You'll want to say it as SIH-RAH, not sarah as some do. You might be able to cover up your shameful mistake if there's a Sarah nearby, but otherwise, watch out for this one.
10. Viognier
This lovely white wine is widely known for its rich floral aromas and signature peach flavor. If you like what you hear, pronounce it as VEE-ON-YAY when ordering.
11. Bordeaux
You'd be amazed at how many people manage to mispronounce this one. It's not BOR-DOX, it is BOR-DOH. X always marks the spot – in this case, the spot where you stop reading the letters.
Since you can pronounce it now, you may as well get the best wine glasses to enjoy it!
12. Chablis
The correct pronunciation would be SHA-BLEE, sort of like you started off frowning but then broke into a smile. Kind of like you might do drinking a glass of it on a bad day.
13. Champagne
You've already been getting this one right, but it doesn't hurt repeating. Let's say it together SHAWM-PINE. You can use it as a litmus test to differentiate true wine lovers from posers. If they drink it but can't say it right if their life depended on it, they'd probably be better off drinking tap water.
14. Muscadet
Like many French words that find their way into English, this one is also butchered on a regular basis. Here's a nickel's worth of free advice – if you see -ET at a word's end, chances are it's pronounced -AY. So, we'd pronounce this one MUSS-KA-DAY. Hey, you've been following our advice up until this point, so why stop now?
15. Montepulciano D'abruzzo
MON-TAE-PUL-CHEE-AN-NOH DAH-BRUTE-SO would be correct. It's a mouthful, but you're bound to come off as particularly fancy should you manage this one right.
Conclusion
That's the end of our little speech guide. After soaking in this valuable knowledge, never again will you come off as the type that just brutally binges on wine on a day off for the sake of it, but a classy individual respectful of the beverage they're enjoying. There's nothing out there worse than hoping and trying to sound like a wine expert while simultaneously missing the wine names completely.
We hope that you've had fun reading through our little listicle and that it'll prove helpful somewhere along the line. If you feel we've missed out on something particularly funny or have an anecdote to share with the rest of our readers, feel free to do so down in the comments. Until next time – bottoms up