"How often do you cook with one ingredient?", asked Jason Haas of Tablas Creek when I asked him his thoughts on single-varietal wines versus wine blends.
Some regions in the world, such as Burgundy, Barolo, and Ribera del Duero, are known for single-varietal wines. In other regions, such as Bordeaux, Rioja, and the Southern Rhône, they are known for their blends. One is not better than the other. Single-varietal wines express the grape variety and the terroir it comes from. But a wine blend balances the different characteristics of each grape to enhance the aromas, color, texture, body, or finish of a wine.
Wine blends are part of the tradition in many regions where it has been done for generations. The famous wines of Chateauneuf-du-Pape are blends made up of as many as thirteen grape varieties. Blends allow for consistency in difficult years. Blends enable balancing the qualities of different grapes. And, in many places, such as in the Southern Rhône, blending is a required law in the wine production of the region.
The grape varieties that originate from the Rhône Valley are all grapes that complement each other. Grenache, Syrah, and Mourvèdre are commonly blended to make a "GSM". Roussanne, Marsanne, Viognier, and Grenache Blanc are combined for white blends.
In California, there are no laws that require that certain regions blend grapes varieties or that certain grapes must be blended. But history and tradition show that Rhône grape varieties work well together.
Thanks to Tablas Creek and Jason's father Robert Haas, Rhône varieties thrive in Paso Robles. In partnership with Château de Beaucastel in Chateauneuf-du-Pape, Tablas Creek began in the early 1990s to plant Rhône varieties in Paso Robles that were sourced from France. And since 2003, they have imported all fourteen Rhône grapes from France and they are all now planted at Tablas Creek, and elsewhere.
Today Paso Robles is considered to be the epicenter of California Rhône grapes production. And while we are seeing many bottlings of single-varietal Grenache, Syrah, Grenache Blanc, Roussanne, and Viognier, as well as Carignan, Cinsault, Mourvedre, Clairette Blanc, and Picpoul, most producers are also blending these grapes together.
Five Paso Robles producers shared what they love about making Rhone blends and how the grape varieties complement each other.
Tablas Creek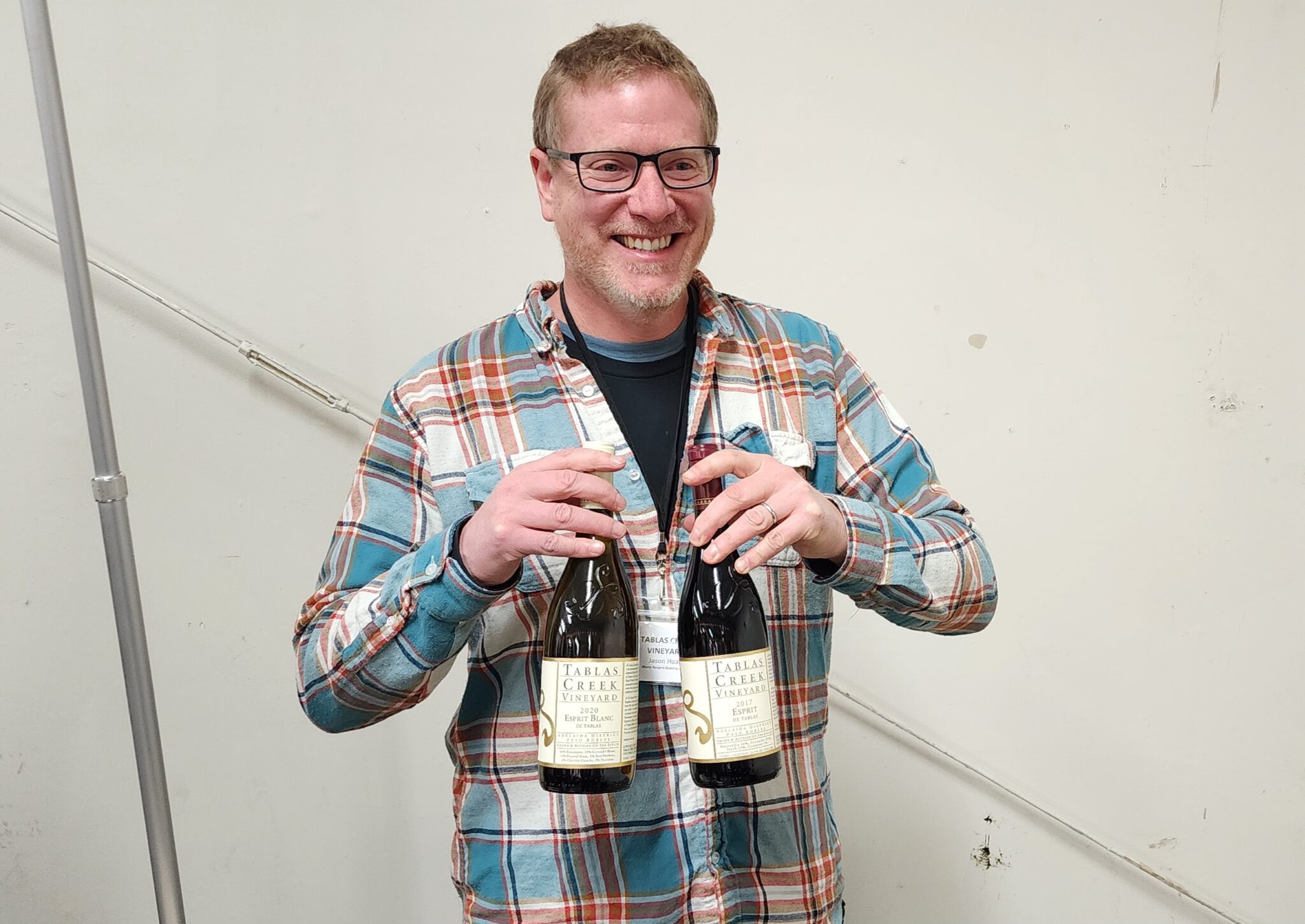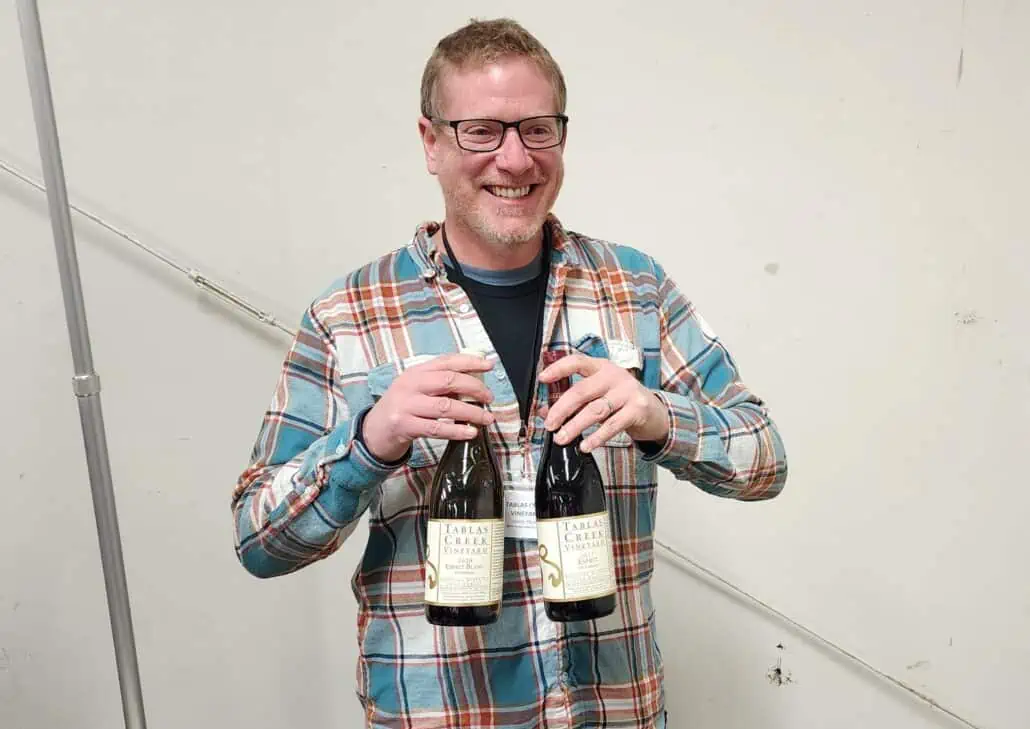 According to Jason Haas of Tablas Creek, "the vast majority of varietal blends allow you to show off what you love about those grapes without having to live with the weaknesses of the varieties." Depending on the vintage, Tablas Creek will bottle four to ten single-varietal wines each year. But the predominance of what they produce are blends. Tablas Creek produces three tiers. There are Cote de Tablas wines which are blends from estate fruit. There are Patelin de Tablas wines which are blends that are sourced from 8-10 Paso Robles Rhône-style vineyards, most planted with cuttings from the Tablas Creek nursery. And there are Espirit de Tablas wines.
Espirit de Tablas wines are the flagship blends from the top 15%-20% of the estate-grown lots each vintage. The 2020 Esprit de Tablas Blanc is made with all six legal Chateauneuf-du-Pape grapes. It is 46% Roussanne, 28% Grenache Blanc, 14% Picpoul Blanc, 5% Bourboulenc, 4% Clairette Blanche, and 3% Picardan. Jason describes Roussanne as "the base note" as it gives the wine richness and texture, and the other grapes provide the high notes.
The 2017 Espirit de Tablas is a Mourvèdre dominant red wine with additions of the best lots of Grenache, Syrah, and Counoise. Jason explained that the Mourvedre gives the wine the earthy, meaty, sweet spice notes; Grenache is the fruit, acid, and pepper spice notes; Syrah is the black fruit, minerality, and savory notes, as well as adds color to the wine; Counoise adds brambly wildness to the wine.
Click here to order a Tablas Creek Rhone Blend
MAHA / Villa Creek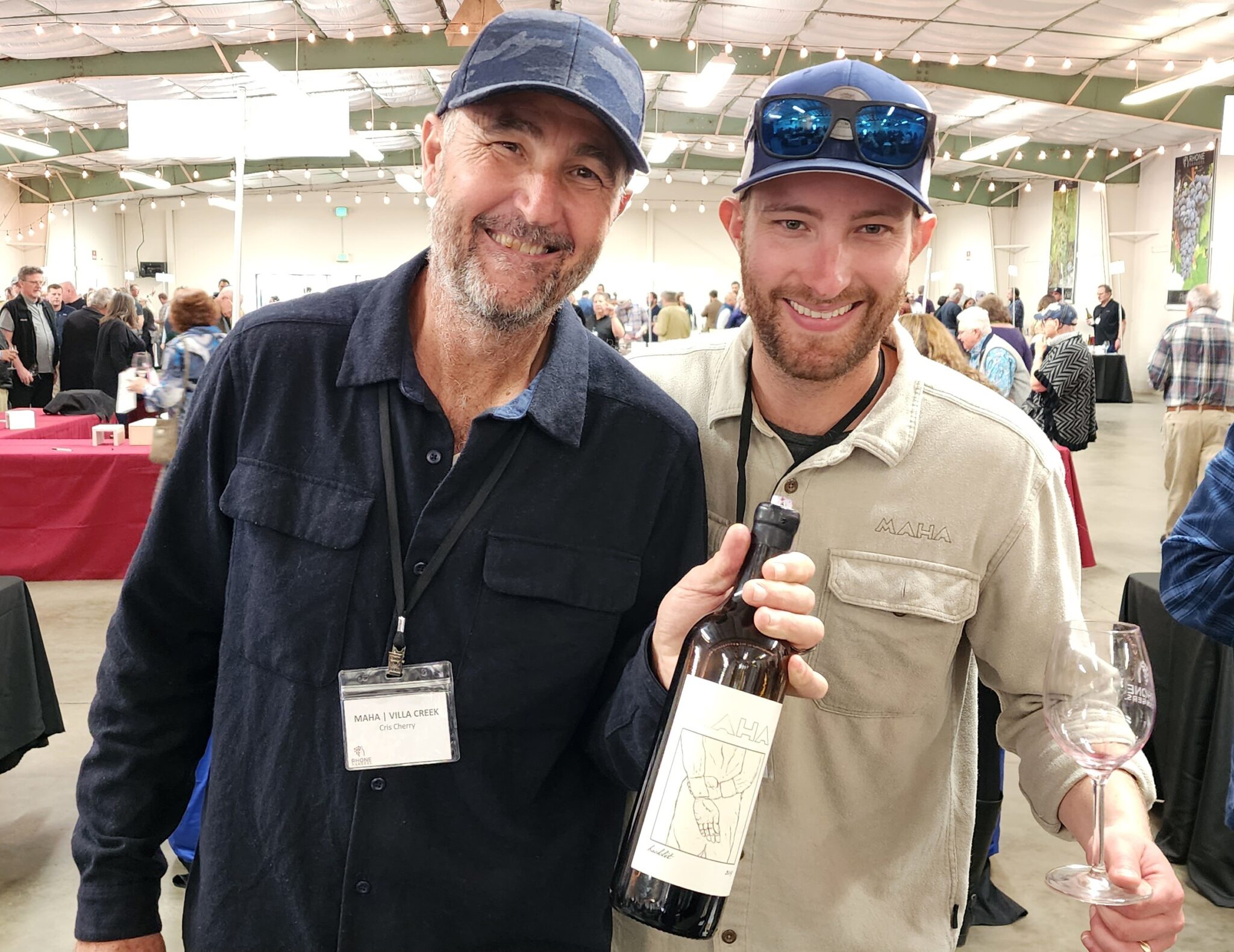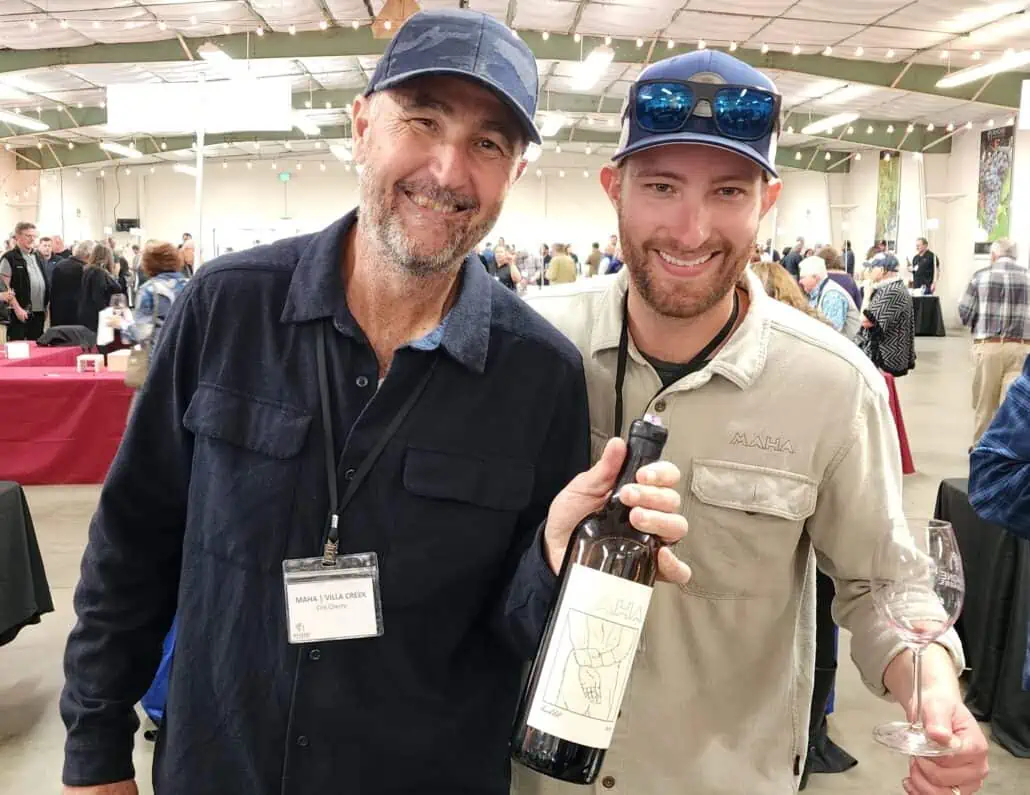 According to owner and winemaker Chris Cherry, with blends "the sum is greater than the parts." He added, "It is like when you cook, you don't just use salt or garlic or lemon, you use all of them." For the 2019 Understory, Chris mixes two of his favorite grapes Grenache and Mourvèdre with Carignan which adds a savory and rustic floral note to the wine.
Click here to order wine from Villa Creek
Thacher Winery & Vineyard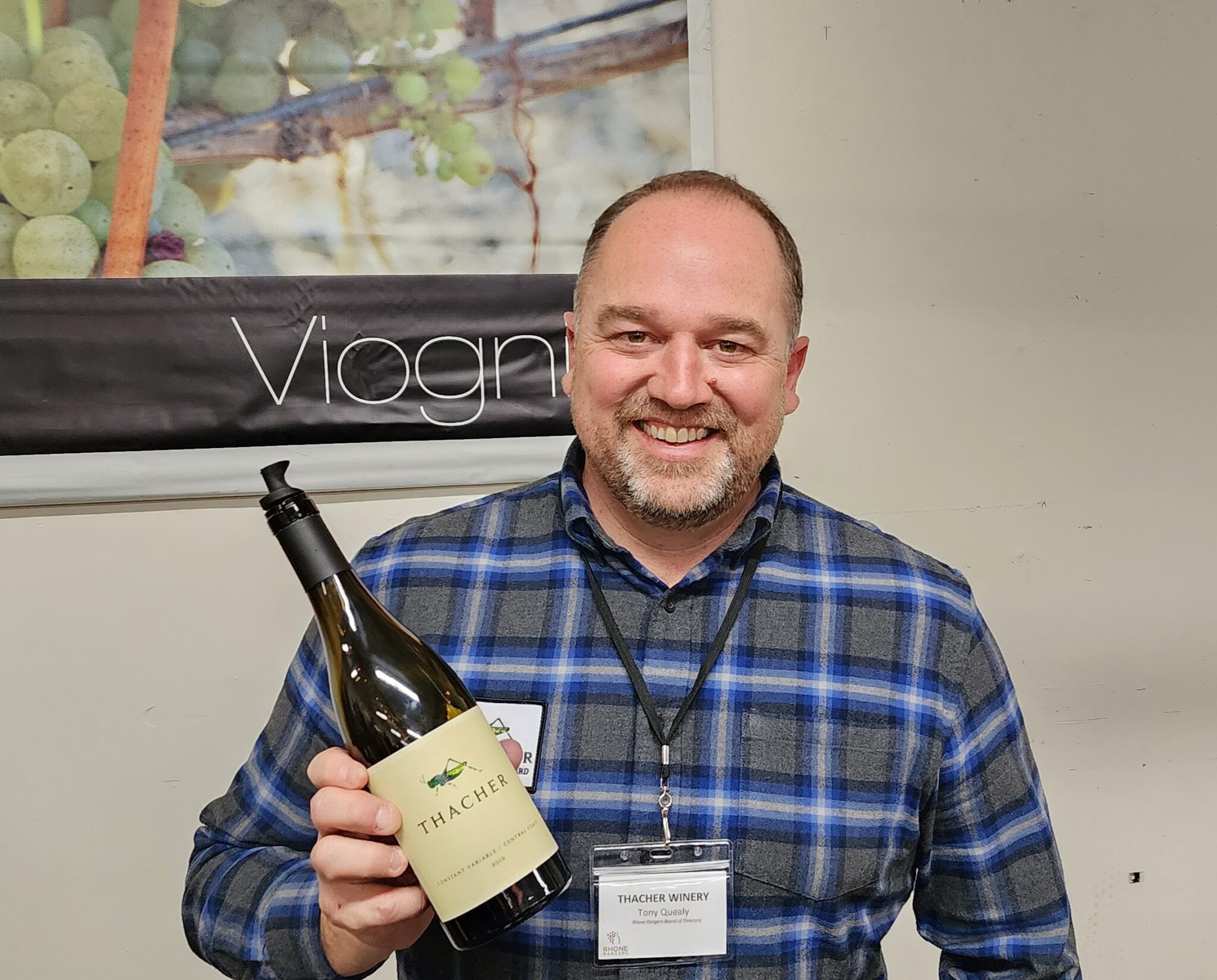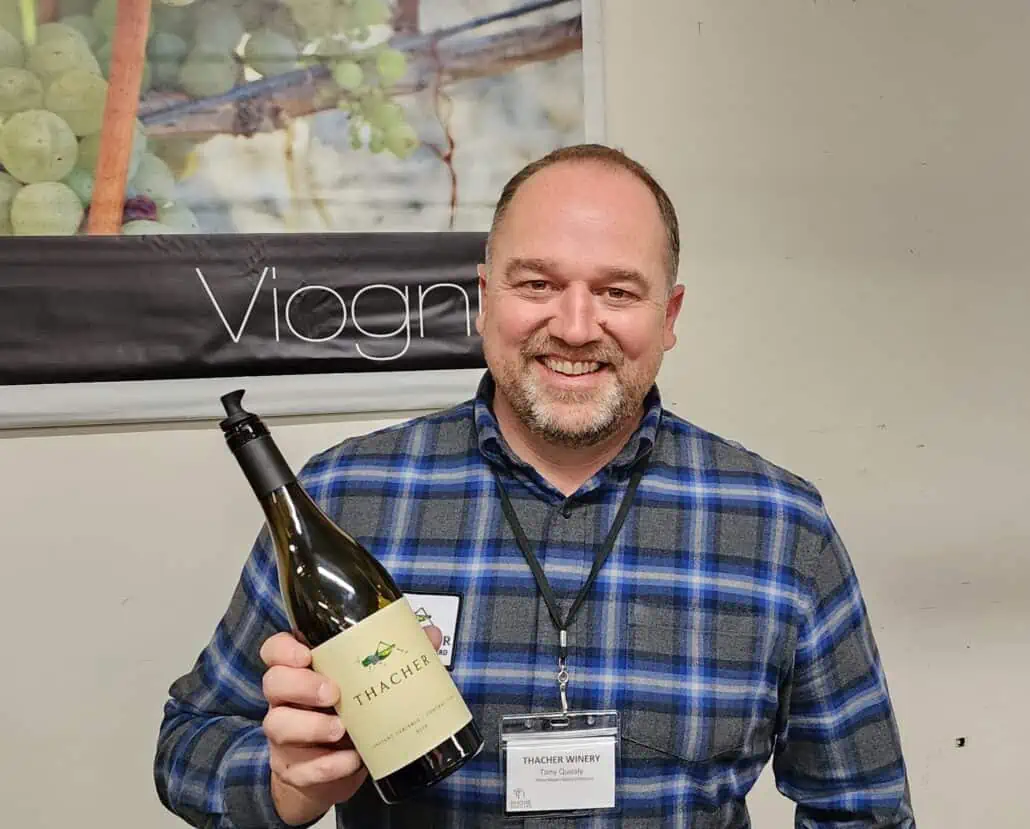 Thacher Winery produces more than 30 different wines and most of the bottlings are blends. Tony Quealy, General Manager at Thacher Winery, explained that "a single variety is what the vineyard gives you. A blend is the artistic expression of the winemaker."
The 2019 Constant Variable is a GSM (Grenache, Syrah, Mourvèdre) plus more. Tony described that the Grenache is the fruit and gives the front palate explosion; Syrah is the backbone that gives the wine color and structure; Mourvèdre is the middle palate; Cinsault is the brightness; Counoise lifts the Grenache; Viognier is co-fermented with the Syrah for a touch of floral notes.
Click here to order Thacher Wines
Stilson Cellars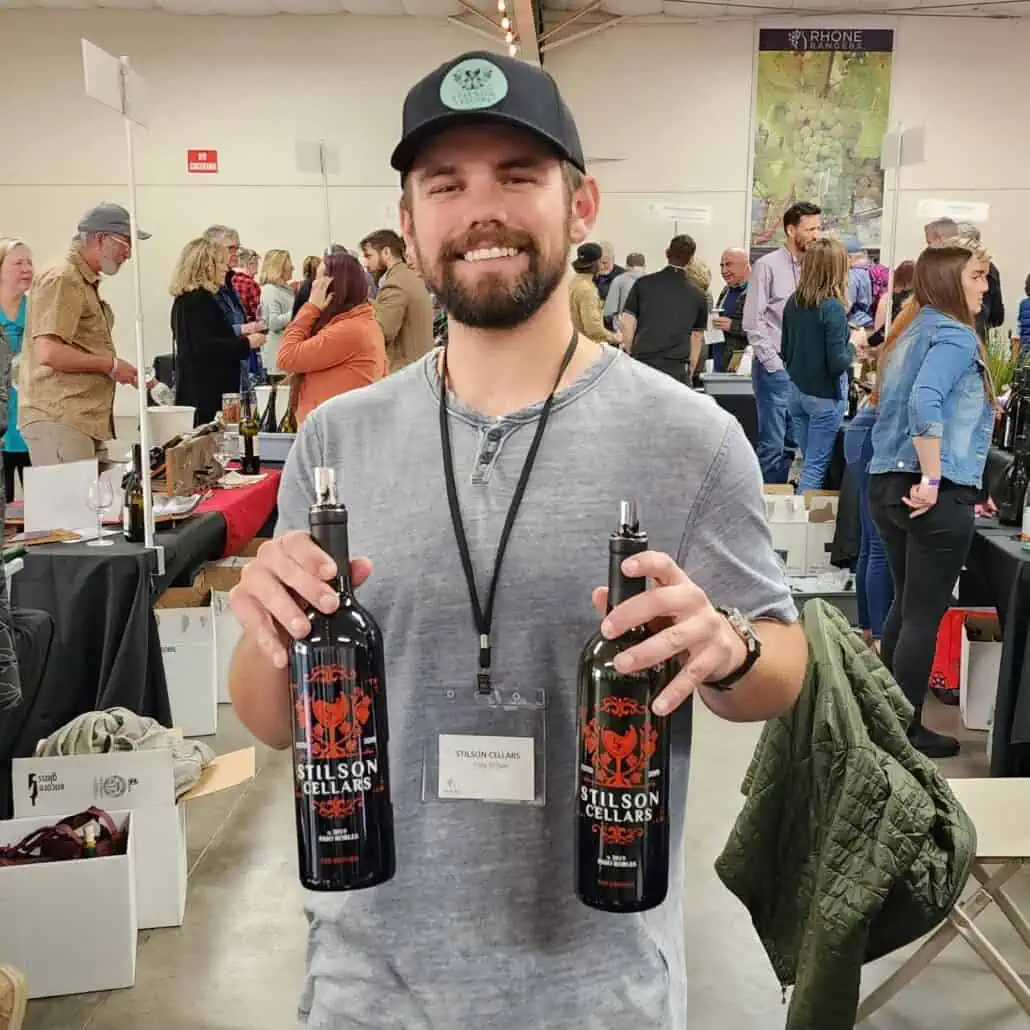 Owner and winemaker Cole Stilson described blends as "like making a Frankenstein." He continued by saying, "one grape may be high in acidity; another is low in acidity. You find the best thing in each varietal and then put them together." The Return 2019 is a seamless blend of 42% Mourvèdre, 38% Grenache, and 20% Syrah. Their Mourvèdre is a lighter-bodied wine that adds lightness, as well as spice on the finish.
Click here to order wine from Stilson Cellars
Copia Winery
"What one varietal has in spades, another does not," explained Copia Winery owner Anita Sahi. "One grape can be inky, deep, and rich, but lacking in tannins, another grape can have less color but be aromatic with tannins. Blends afford the opportunity for ultimate balance."
The 2019 SGM is a Syrah-driven wine that is made up of 45% Syrah, 29% Grenache, and 26% Mourvèdre. The blue and black fruit notes come from the Syrah, the herbal, floral, and acidic lift come from the Grenache, and the Mourvèdre offers an added life. The result is an elegant, balanced, and layered wine.
Click here to order Copia wines
Conclusion
With so many Rhone grapes growing in Paso Robles, there are many more Rhone blends to discover.
About the author:
Allison Levine is the owner of Please The Palate, a boutique marketing and event-planning agency. Allison is Level 3 WSET Certified from the Wine & Spirits Education Trust and is certified as an Italian Wine Specialist from the North American Sommelier Association. She also has a Master's Degree in International Communications with a focus on cross-cultural training from the American University School of International Service. As a freelance writer, she contributes to numerous publications, including California Winery Advisor and the Napa Valley Register, while eating and drinking her way around the world. She is also the host of the Wine Soundtrack podcast. You can find additional content on her blog at Please The Palate; Twitter and Instagram @plsthepalate; Facebook: Please The Palate