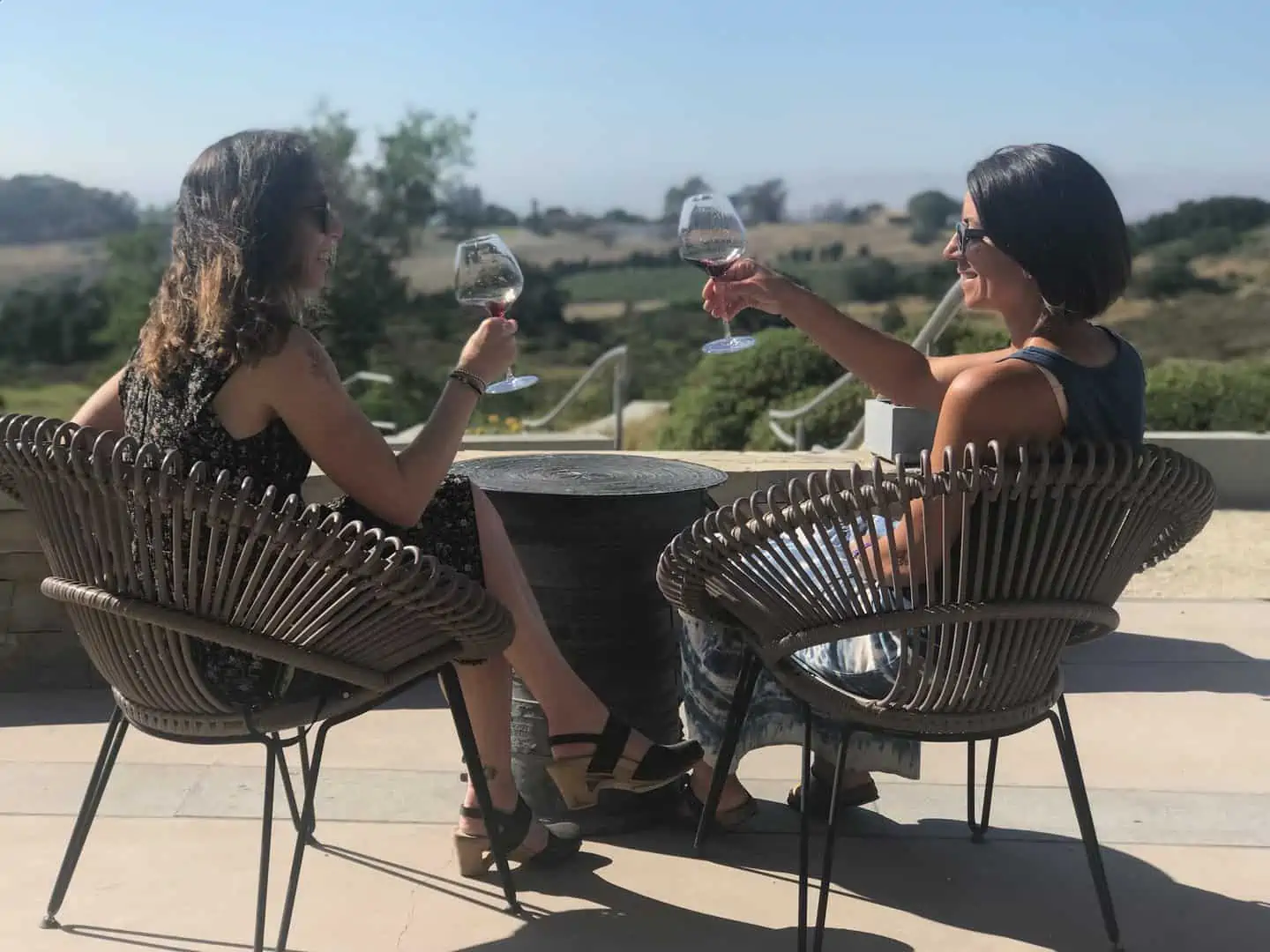 VIP EXPERIENCES AND BIG DISCOUNTS 
So why do we love the Priority Wine Pass?
The Pass is simply the easiest way to save on wine tasting in California. Stop chasing coupons and downloading apps. One of the best things about the Pass is you get all of your savings in one convenient place.
[note that this post contains affiliate links. See our disclosures at the bottom of the post for more info]
At A Glance: Top Priority Wine Pass Services
So how does this wine pass work? Show your card at any of the over 400 wineries that accept the pass and save. Many of the wine tasting discounts are two for one. That means you and your tasting partner only pay for one tasting. If the winery usually charges $25 per tasting, you save $25.
Why would you ever pay full price again? Click here and remember to enter the code CWA15 to get your special discount!
The Priority Wine Pass makes a great gift!
What Makes the Priority Pass a Great Value?
Most couples visit 5 wineries on a wine tasting trip. The average winery charges $15 - 25 per tasting. The wine pass will save you $75 to $125 on one trip to wine country.
The pass costs 39.99 when you use our savings code CWA15. The math is easy. Now imagine the savings if you go wine tasting for two days!
Just think, you can visit the same wineries without the Wine  Pass and pay twice as much. These are the same wines, and with the pass, you pay half as much.
---
Did you know that the Priority Pass team can plan out and reserve your wine-tasting trip?
Not sure where the best wineries are? The Priority Pass team members are experts when it comes to planning. Let them do the hard work. Click here to learn about this time-saving upgrade.
How Many Wine Passes Will I Need?
You just need one wine pass per couple, but they make great gifts, so order a few!
Where Can I Taste?
There are over 400 wineries that accept the pass and the list continues to grow. There are also hotel partners that offer great deals in wine country. Top tour companies are also offering specials to wine pass holders.
Does The Pass Offer Other Savings?
Exclusive Tasting Experiences: Cave tours, VIP tours, Unique food pairings, additional pours -  are part of the Wine Pass experience.
FREE tastings that aren't published anywhere!  Certain wineries can't advertise. You will not see the winery's offers anywhere - except when you have the Pass.
Hotel Specials:  Get discounts on some of the top hotels in Napa, Sonoma, and other major wine regions in California. Hotels include the Meritage Resort, Baccara Santa Barbara, and others.
Discounted transportation: It's smart to hire someone to drive you when you are visiting the wineries. With the Pass, you can get discounts on car services, often enough to cover the cost of the card. Save even more by having them drive you to the wineries that accept the Priority Pass!
Does The Priority Wine Pass Organize Group Tasting Tours?
Taking a large group (10+) to Napa or Sonoma can be daunting. Some wineries actively try to discourage large groups. Other wineries are happy to cater to bigger groups because they are set up to provide a great experience.
The wine tour experts at the Priority Wine Pass know which wineries are right for large groups. They will arrange the entire experience for you and provide nice savings.
Click here to learn more about tasting tours for groups of 10 or more.
Where Can I Order the Pass?
Visit www.prioritywinepass.com and enter the code CWA15 to order the pass. You can print out a pass or show it to the winery on your phone to start saving instantly.
Why Are You Promoting the Pass? Do you Make Money on It?
We think the pass is the best way to save money when you go wine tasting. So while we do get a small compensation when you purchase a pass, we would never ask you to sign up for something unless we really believed in it. The Priority Wine Pass simply works if you are looking to save money. You get to select from over 200 great wineries and it's as simple as showing them your pass.
Wine Pass Testimonials from TripAdvisor:
For what it is worth, I have the pass and have used it in Santa Ynez, Paso Robles, Napa, and Sonoma. If you do some research, you can get the pass from $20 to $40, do not pay the $200 retail. It has paid for itself many times over.
Use the concierge service, it is great. On our last trip to Napa, I asked them to set up an itinerary for our 3 days, and I only wanted to visit low production, 7500 or fewer cases, wineries. They sent me a great daily itinerary with both wineries that except the pass and some that didn't. They used their personal knowledge and set me up with the actual owners and vintners of these very low production wineries and we found some gems we would have never been to if we did not ask for their help.
I just renewed the card for another year so yes I think it is worth it!