Apothic Wine Overview
This wine hits you in the face with a pungent sugary vanilla and berry aroma. It is surprisingly powerful for a wine that sells for under $12. We recommend this wine for drinkers who want to enjoy common red wine fruit profiles but prefer sweet beverages.
Here is a quick list of the pros and cons
Pros:
Strong fruity aroma
Sweet on the palate (if you want sweet red)
Lower ABV than most reds
Affordable
Cons:
The unnatural aroma when first opened
Thin mouthfeel
Unbalanced (too acidic)
The finish is long but too acidic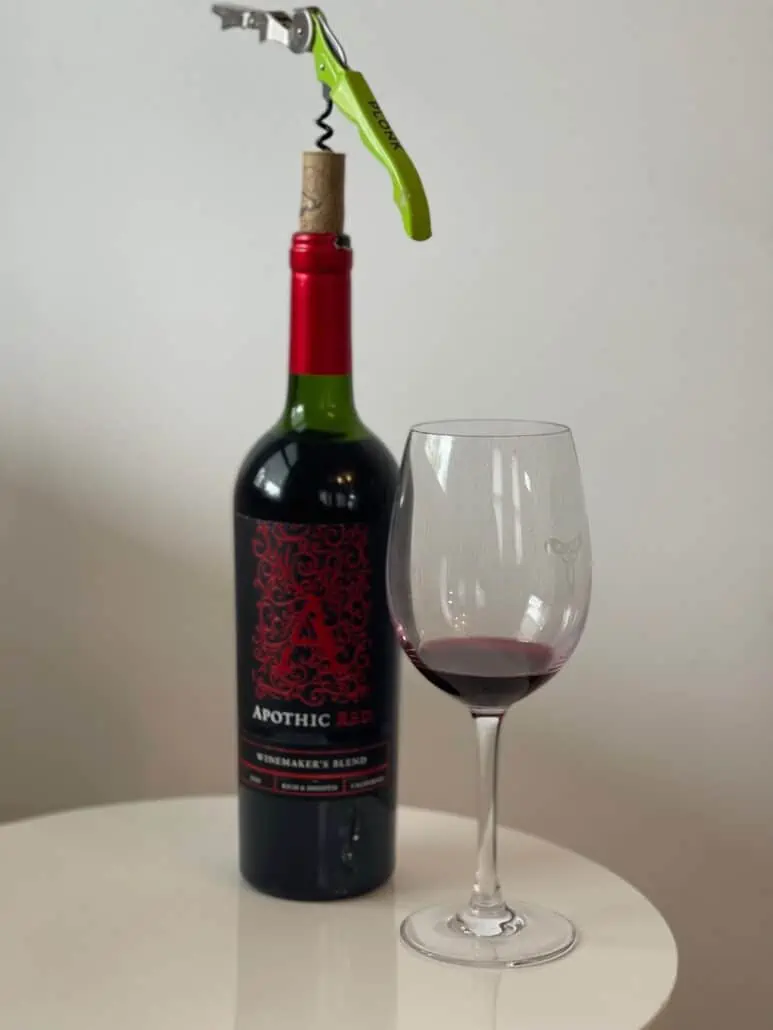 A More Detailed Review
Appearance
The wine is dark red with a brownish red around the rim. This typically means the wine is slightly oxidized. Oxidation is a sign of age. Younger wines typically have a more purple ring vs. brown.
Aroma
The initial aroma comes at you with all the subtlety of a New York taxi driver. The red berries and sweet vanilla are pronounced. I found the scent a little off-putting at first. There is a medicinal or industrial tinge to it.
As the wine sat, the aroma changed to more of a baked blueberry pie scent. There is also a hint of pine that comes along with the vanilla.
Taste
The wine tastes sweet. I believe this is actually a dry wine, but the sweetness in the aroma is so intense it influences the palate.
There is an excess of acid that takes away from the pleasant sweetness.
Mouthfeel and Tannins
There isn't much weight to the mouthfeel. The wine has a relatively low ABV (13.5) for red wine. This leaves it slightly more watery than a typical full-bodied red.
There were no noticeable tannins.
Finish
The finish is long. I felt the excess acidity made the finish less enjoyable.
Overall Opinion of Apothic Red Winemakers Blend
This is a good wine if you are looking for a sweet red that isn't loaded with sugar. I realize there are a lot of people who are used to exceptionally sweet drinks. This wine would be a good entry point for you.
Apothic wines are generally at great price points if you are looking for affordable quality wines.
Suggested Food Pairing
I'd recommend pairing it with grilled meats such as steak or pork chop, hearty pasta dishes like lasagna or ravioli, rich stews, and roasts, or robust cheese boards.
The Apothic Wines Brand
Apothic Wines are incredibly popular. They have done a great job filling the demand for affordable red wine blends. Their eye-catching bottle designs and air of mystery resonate with wine buyers.
There are many red blend options under the Apothic brand. We decided to review the Apothic winemakers blend.