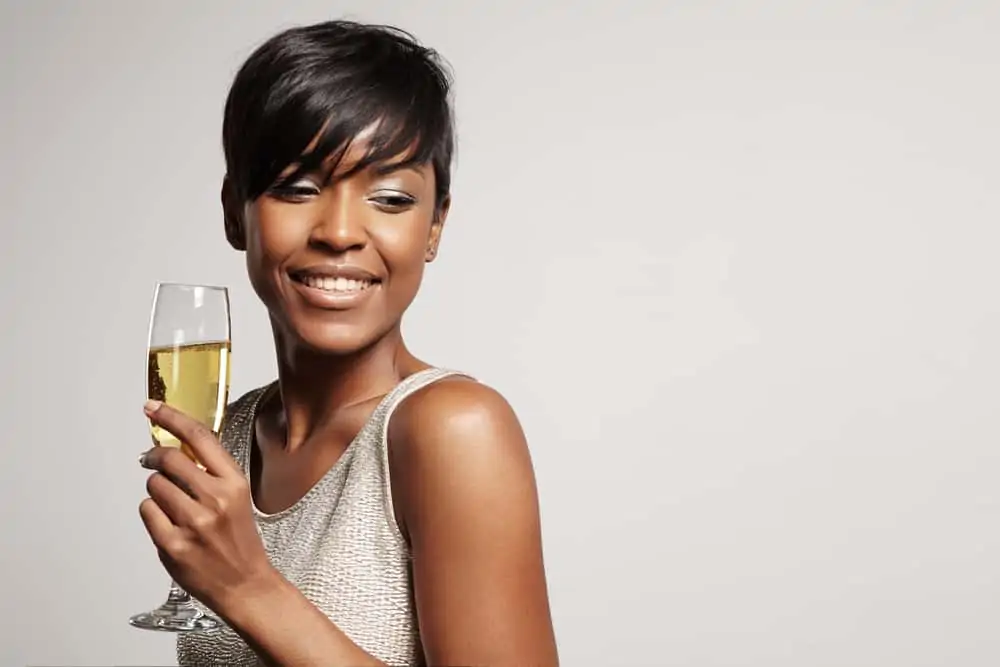 The Best Champagne Clubs
There are plenty of reasons to join a champagne or sparkling wine club. Champagne can make any special occasion more memorable. You pour a glass of bubbly to raise a toast to your loved ones. Giving someone a bottle of champagne is the best way to say "thank you" or "congratulations".
If you never want to run out of high-quality champagne, consider becoming a member of a champagne of the month club. These clubs make champagne delivery as sophisticated as the drink itself. They give you the chance to sample champagne vintages from across the globe, and the bottles are brought right to your doorstep. You can also learn about the finest sparkling wines in the world.
But there are many clubs to choose from. To help you find the right option for you, we've selected the best champagne clubs you can join. If you decide a champagne wine club isn't your thing, check out our list of the 25 best wine subscription boxes and join a still wine club. 
Please note that this post may contain affiliate links. If you purchase one of the top champagne clubs through an affiliate link, we will be compensated.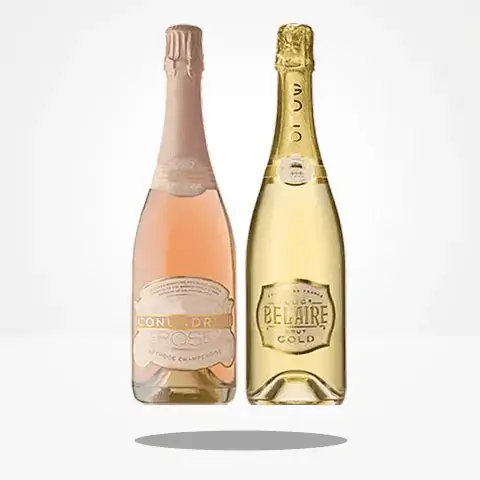 Cellars Wine Club is one of the most respected champagne and wine clubs in the country. For the last 20 years, they've served the needs of fine wine enthusiasts looking for something new. With the Sparkling Club, you can receive some of their most exquisite bottles of sparkling wine, delivered to you at a fair price.
For $59/month, CWC will send you a pair of hand-selected sparkling wines. Most commonly, you'll receive bottles of white sparklers, with occasional red and rosé vintages as well. There are no additional costs, as CWC takes care of the shipping fee.
This club is a good choice for people who are hesitant about subscribing, as they don't ask you to commit to anything right away. You can choose the number of shipments you want, as well as the starting month and the frequency of their deliveries.
If you're not satisfied, you can also change your preferences, delay delivery, or cancel your subscription with ease. You won't be tied by any kind of obligation, and you don't need to worry about membership fees.
Click Here | Sign Up For Cellars Champagne Club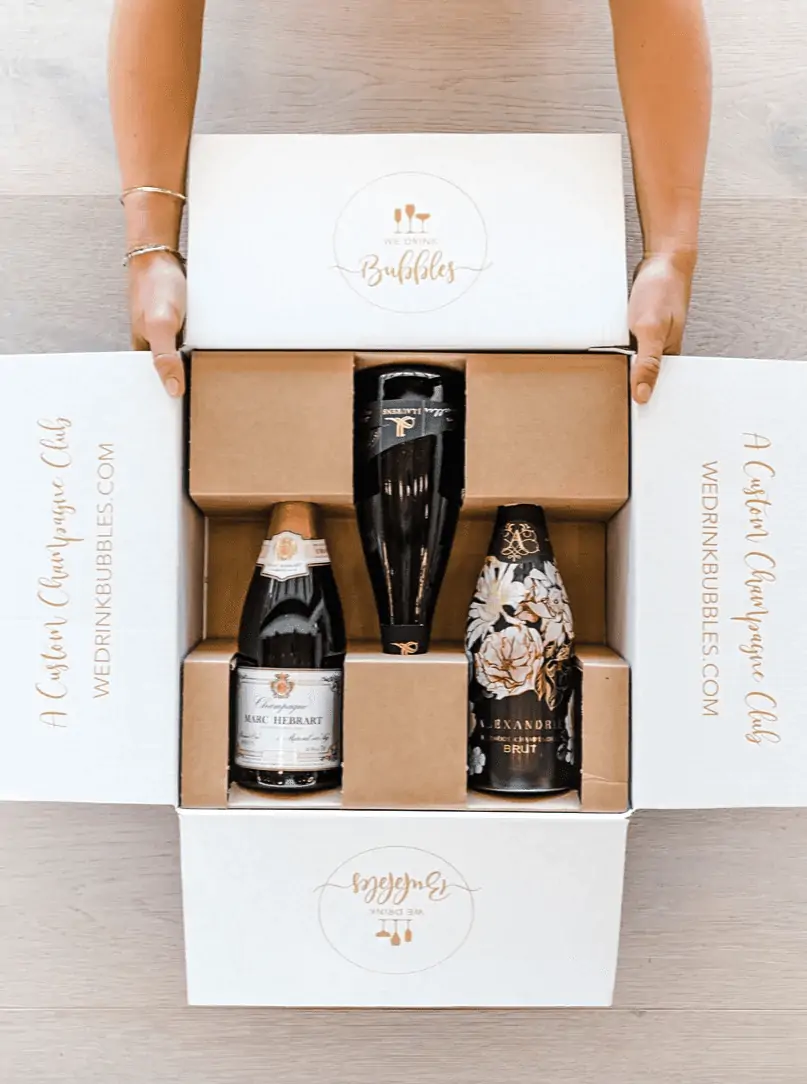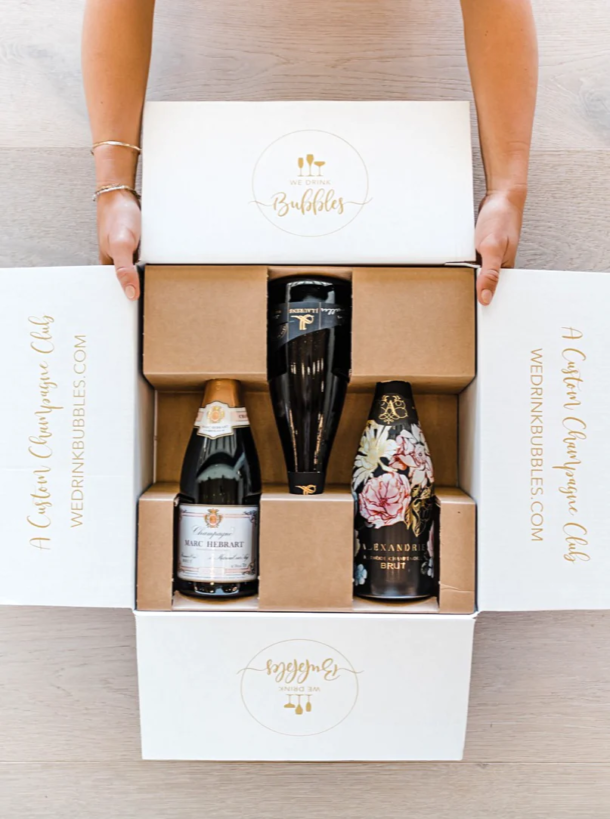 Imagine hiring a personal assistant who happens to know the world of sparkling from top to bottom. Then, each month, that person scours the planet to find you the absolute best bubbles and sends them to your door. That's what joining the We Drink Bubbles sparkling wine subscription service is like.
With We Drink Bubbles, you can set up a custom sparkling wine program that fits your needs. You decide if you want a box of three bottles every month, every two months, or quarterly. You can cancel at any time.
This is the best champagne club for the adventurous drinker. They will scout out and send sparkling wine from boutique producers all over the world.
Click Here | Sign Up For We Drink Bubbles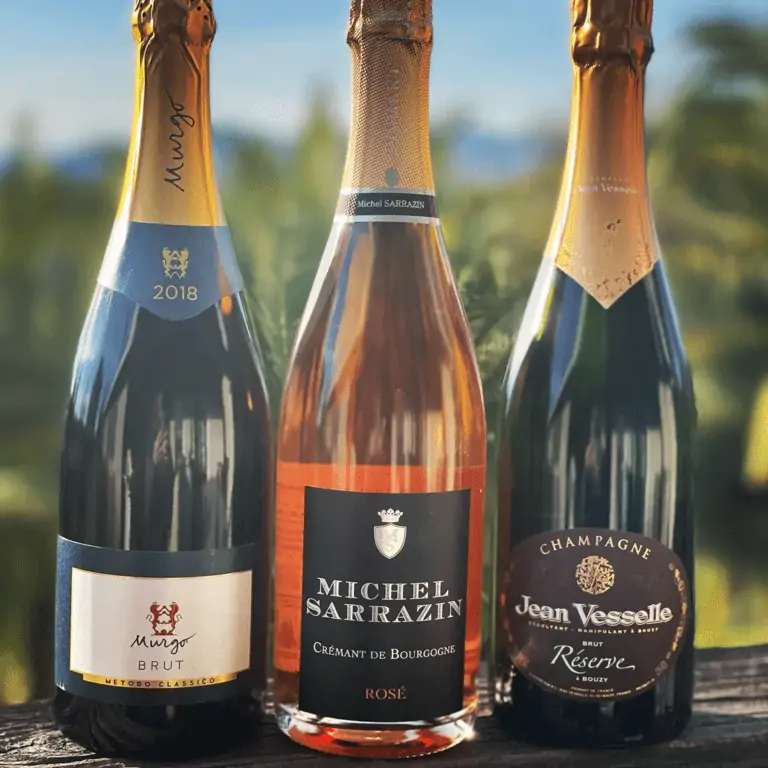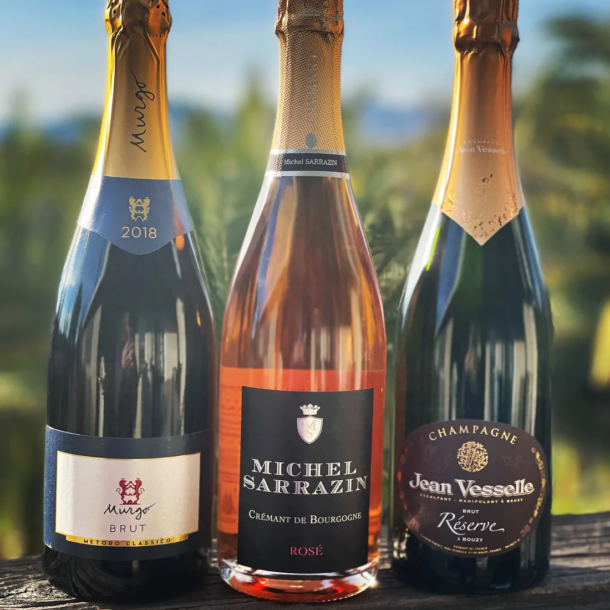 Pour Me is a wonderful wine and champagne club. The club's owner is also the primary wine curator. Fortunately, she has a good palate and finds some really nice sparkling wine.
Our shipments have included some really interesting bottles of bubbly.
A bottle of Murgo Brut Metodo Classico was stunning. This sparkling wine from Sicily is made from grapes grown in the shadow of the active volcano Mt. Aetna. The light golden color, fine bubbles, and red apple aroma made this a favorite.
We feel the Pour Me champagne and sparkling wine club has a bright future.
Click here to sign up for one of the best champagne clubs we've found.
If you're a true enthusiast and you're willing to spend a great deal of money on fine champagne, consider Henri's Reserve sparkling wine of the month club. Each month, you can get two bottles of luxurious artisanal champagne for the price of $1740/year (~ $145 per shipment).
You can also choose the bi-monthly or quarterly options, with the per-shipment price being the same. The club offers pre-pay and pay-as-you-go options, which give you total control over your membership. Once you join, you get 10% off for future purchases.
Henri's Reserve promises to deliver only the finest champagnes, favored by elite critics and world-class restaurants. If this sounds appealing, this club might be the right one for you.
Unfortunately, not everyone can have access to Henri's Reserve Champagne Club. For now, membership is available only in the continental US, excluding Utah and the Dakotas.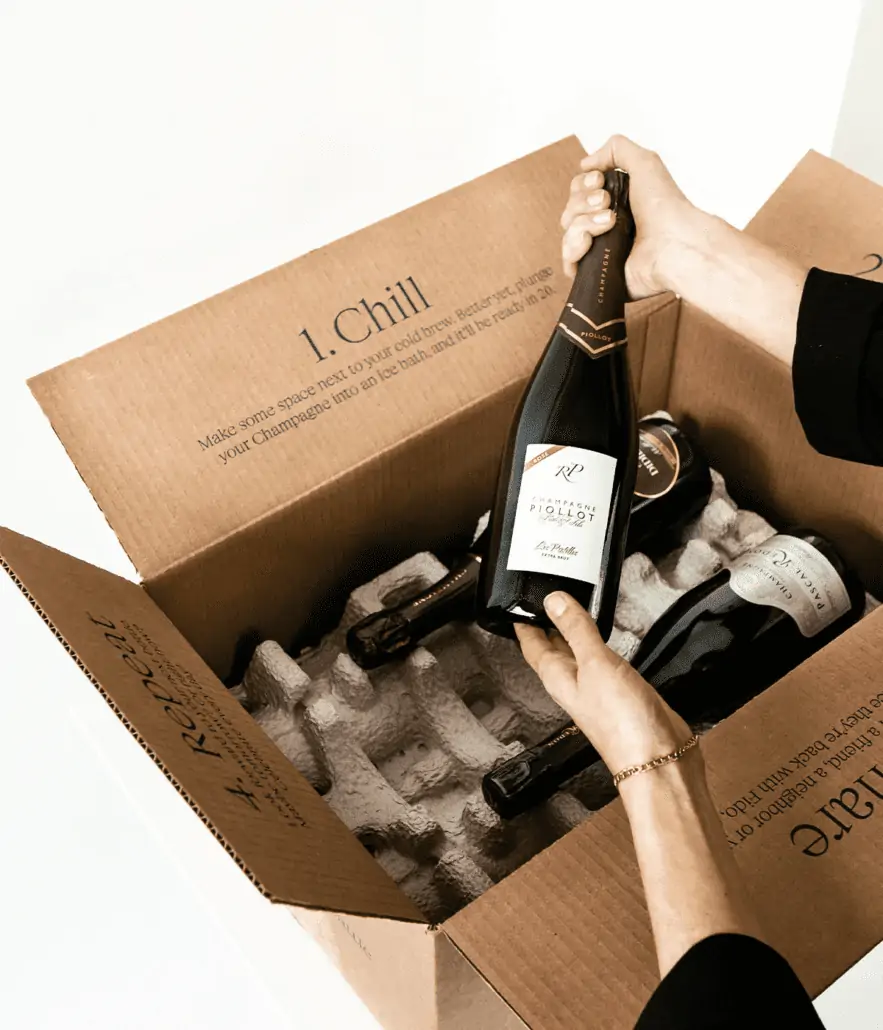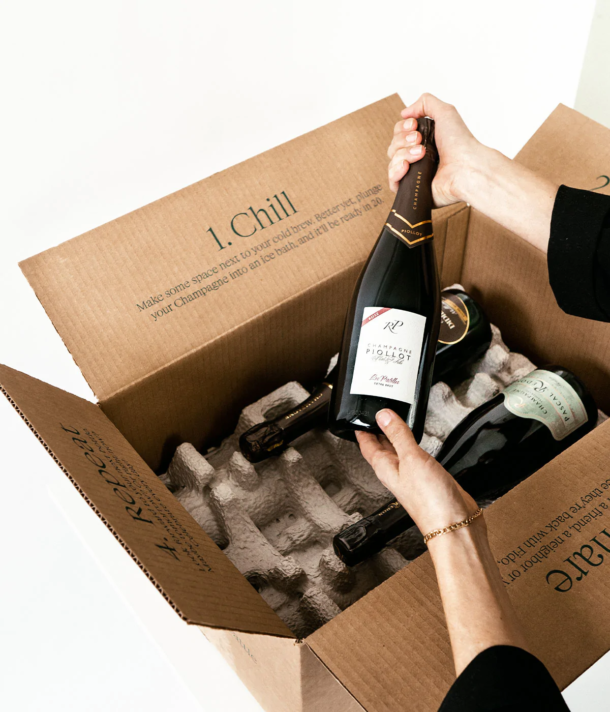 This is another premium champagne club that goes out of its way to meet the needs of even the most discerning champagne lovers. Upon signing up, you get to fill out a tasting survey. Fat Cork then uses your input to curate your quarterly delivery.
You can choose between three, four, or six bottles, at a price of $199, $249, and $349 per delivery respectively. Keep in mind that the three-bottle option doesn't include shipping expenses, which are $9.95 per shipment.
In addition, each shipment is a treasure trove of information about the quarterly tasting theme. You can learn more about each hand-selected bottle, which is something every true sparkling wine enthusiast will enjoy. As an added bonus, you'll get invited to Fat Cork's tasting parties in Seattle, where you can meet fellow champagne lovers.
Even though the price is a bit high, Fat Cork's commitment is impressive, and it makes the club worth taking into consideration. Should you wish to cancel your membership, you can do so whenever you want without any obligations.
Get the Glasses Ready
Each of these clubs brings something different to the table, and none of them will let you down. Whether you want to mark important moments or celebrate the small things in life, a membership can make every event richer with a bottle or two of exquisite champagne.
Aside from getting to taste the finest champagne money can buy, you'll learn a lot about your favorite sparkling wines. So if champagne is more than a drink to you, and you want to truly appreciate the work that goes into it, joining a club can be the perfect way to do it.
Champagne Clubs That Have Gone Flat
We will keep a list here of Sparkling Wine clubs that we used to feature. You can check these out if you want additional options. We no longer feature these clubs because we found new clubs we liked better or they appear to be closing.
Vinley Market Bubbles & Rosé Wine Club
Each Vinley Market Bubbles & Rosé Wine Club member receives artisanal champagne of the finest quality in its price range. Compared to some of our other options, we can safely say that this club is a friend to your wallet.
For $59/month, you'll receive two bottles of premium sparkling wine that Vinley Market's sommeliers carefully selected from a wide spectrum of choices. Vinley Market is passionate about over-delivering for the price, which is why their club found its way into many people's cellars.
In addition to the sparkling wine, each shipment will include more information about the vintages, as well as the history of the winery that made them. You'll get to learn what makes each of their choices special, so you can share your knowledge with fellow wine and champagne lovers.