Finding The Best Wine Coolers
Is it time to buy a wine refrigerator? It's common knowledge that improper storage conditions will negatively affect your wine. Unfortunately, not all wine lovers have the space or the means to invest in a wine cellar, leaving them needing to find another solution – a wine cooler. But finding the best wine cooler can be an overwhelming task.
We turned to Reviews.com to help us find the best solution. They spent six weeks reviewing 151 wine coolers to find the best ones that will protect your collection and easily keep all types of wine at the right serving temperature. They consulted with experts, including sommeliers, wine cellar consultants, and wine buyers. They scoured through user reviews and articles and even personally tested them to analyze wine fridge temperatures, essential features, and design layout.
We are going to get right to a few of our top choices. If you want to dig deeper into how to select the best wine refrigerator, keep reading below for our top wine cooler selections.
[note] This post about the best wine coolers contains affiliate links, which means that if you click on one of the product links and decide you love what they have to offer, we will be compensated.
The Top Wine Cooler Options
If you're looking for a dual-zone wine cooler that can be set up as freestanding or built-in, the Ca' Lefort Dual Zone Wine Cooler/Fridge is one of the best. The cooler sports two compartments that allow you to cool white wine and red wine separately. The temperature for the two zones can be managed individually. This wine fridge can store up to 46 bottles.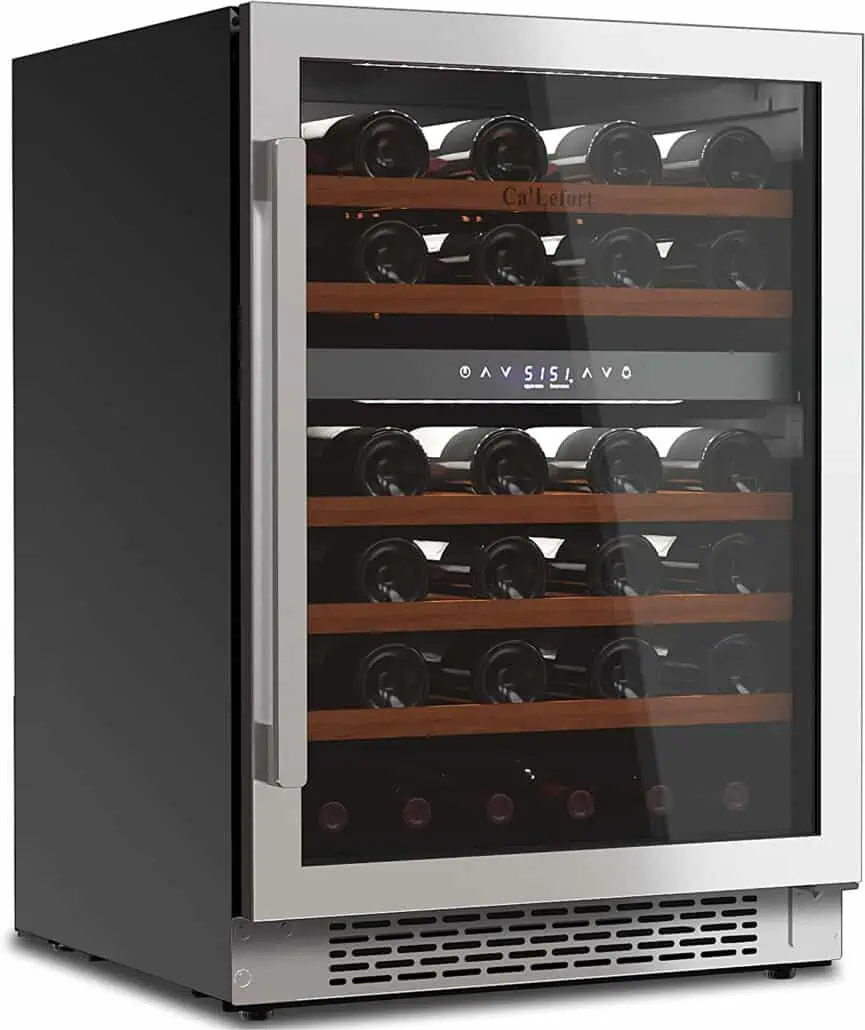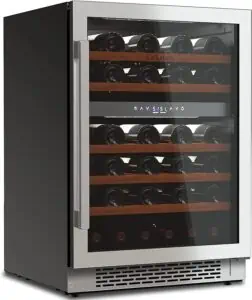 The top shelves handle 16 bottles of white wine, with attractive wooden racks that slide in and out. Cool your whites to ideal serving temperatures between 40 - 50 degrees.
The bottom shelf can hold up to 30 bottles of red wine and keep them at a cellar temperature of between 50 to 66 degrees.
You can place this wine cooler in any room in the house because it is freestanding. It can also serve as a built-in unit under your counter.
The compressor cooling system means it is very quiet. This is a perfect wine fridge for smaller apartments or houses that lack a lot of under-counter space.
Pros:
Runs very quiet
Temperature tests showed very precise cooling in both zones
Easy operation of lights and temperature settings
Cons:
The wood racks can stick when you pull them out
The wood gives off a strong odor
Click here to order on the Ca'Lefort website.
We also like the EdgeStar CWR531SZ 24 Inch Wide 53 Bottle Built-In Wine Cooler. It's a single-zone option in a large-sized wine refrigerator. You can fit 53 bottles in it. The ratings are solid for this unit and it's a great option if you don't think a dual-zone wine cooler is important.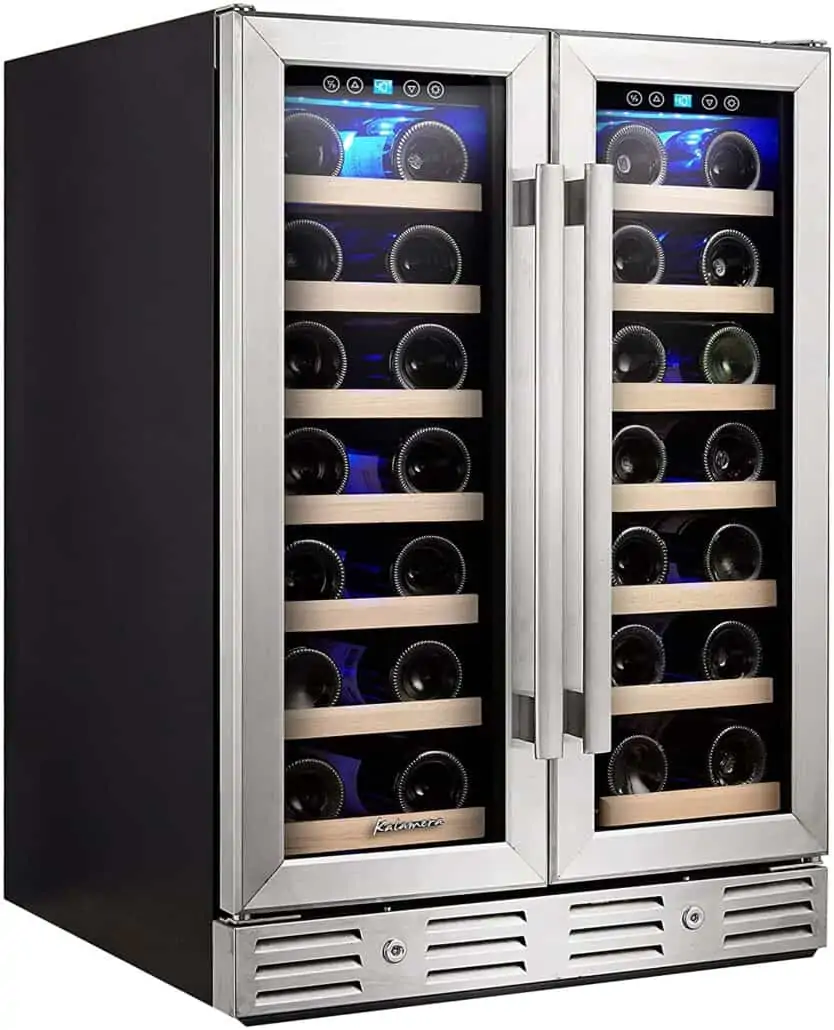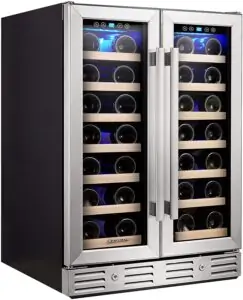 The Kalamera 40 Bottle Wine Fridge is another great solution for storing wine under your kitchen counter or bar area. Kalamera is one of the most consistent brands of wine refrigerators. This model features french doors, and a digital temperature control, and is very quiet. Buyers reported the units were well protected for shipping and that the unit works great right out of the box.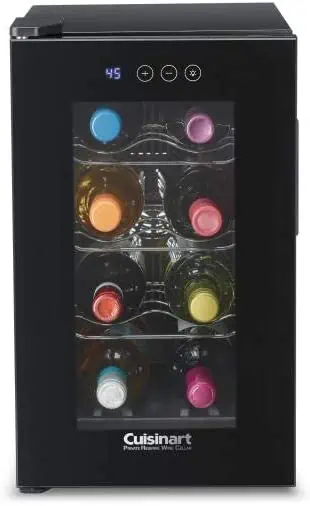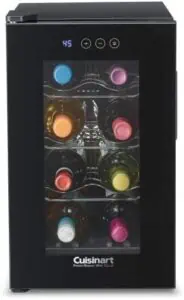 For a smaller capacity, the Cuisinart 8 Bottle Wine Cooler is an excellent choice. The single-zone cooler has the feature to choose between Celsius and Fahrenheit with a switch to control the light inside the cooler and an attractive stainless steel door. Remember, that since this is a smaller unit, it cannot handle larger bottles of wine.
Here are things to consider when you do your own research
Compressor or Thermo-electric
Wine coolers are powered by either compressors or thermoelectric cooling. Compressor wine coolers use refrigerant to cool the wines; these coolers are also louder and heavier but powerful, overall. On the other hand, thermoelectric wine coolers are quieter and lighter. However, these coolers have a more difficult time getting and staying cool.
Freestanding Units Need Breathing Room
Freestanding wine coolers tend to overheat if their backs are pressed against a wall or nestled beneath a counter; this is due to their exhaust fans being located in the back. If their exhausts are blocked, they tend to overheat, which in turn affects their internal temperatures and ability to operate. Make sure to find a decent space with adequate circulation for your cooler to operate.
They Don't Last Forever
Inexpensive units tend to last a few years, with most of them coming with one-year warranties. If you have a decent collection of wines, look into investing in a quality unit that will last longer but remember that these are just as more expensive.
Style Is Also Important
Given that it is going to be another appliance in your kitchen, look for stylish wine coolers to complement your space. Coolers come in a multitude of sizes, finishes and modern displays. A wine cooler's visual appeal is just as important as its features.
What is the Best Cooler for You?
If you prefer red over white or white over red, a single zone cooler is perfect. However, if you like both types, a dual-zone model is ideal for keeping the two kinds in separate but optimal conditions.
If you plan on keeping this cooler in a warmer or un-air-conditioned room, a compressor model is the best way to go. Thermoelectric models tend to work better in cooler and stable conditions.
And finally, read the manual to properly store your cooler. Most coolers do not have a front exhaust; they have one in the back. These models need to be placed accordingly with ample space to breathe.
To read their full review of the best wine coolers, you can check out reviews.com.
Great Thermoelectric or Compressor Wine Refrigerator Choices
Wine refrigerators are either thermoelectric or compressor cooled. Which is the best? It depends on your individual needs. To select which works for you, consider the following points.
The best thermoelectric wine coolers are quieter, with less vibration than condenser units. They are generally smaller in size, limited by the technology. Operating on the Peltier effect that transfers heat from inside to outside the unit, there are no moving parts save for the fan. That means less mechanical wear and tear. Using no coolants or refrigerants, they are easier on the environment and weigh less than compressor units, but require more clearance to operate efficiently. Ambient air temperature can affect performance, making them unsuitable for areas with extremely hot temperatures.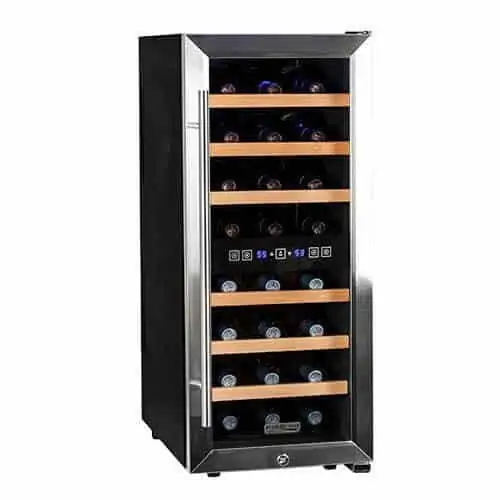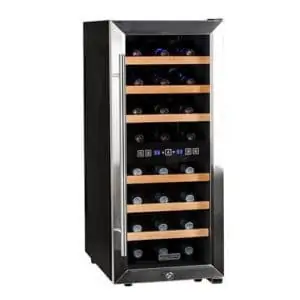 For the best thermoelectric wine cooler, look to Koldfront's 24-bottle freestanding dual-zone model. With safety lock and tempered glass, Koldfront also makes an 18 and a 32 bottle version that is among the best freestanding wine coolers available. NutriChef's 12-bottle countertop thermoelectric model is a good choice for small spaces, with an efficient touchscreen that adjusts the temperature without opening the door, and an advanced cooling system to hush its operation. The New Air 32-bottle version, available in stainless steel or cool black exterior is another good option that offers storage between 46° and 66° F.
The best compressor wine coolers will chill your wine to a lower temperature than thermoelectric units, regardless of the ambient air temperature. They also operate well in smaller spaces but can handle very large refrigeration tasks with ease. Heavier and noisier than thermoelectric, they also tend to last longer but generally cost less to operate, depending on how often and how long the door opens.
Regarding how fast a unit will cool your wine to ideal temps, some studies favor thermoelectric models while others give the nod to compressors. The answer? It depends. The size of the fridge, the number of bottles in the fridge, the bottle temperature before chilling, and the ambient air temperature all have an effect on how long it takes to chill a bottle to its ideal drinking temperature.
Single vs. Dual Zone Cooling
Unless you are dead set on drinking only either red or white varietals, a dual-zone model makes good sense. While temperatures vary within 3-5° of the digital setting in most coolers, that can be used to advantage by placing reds furthest from the fan, where it is warmer, and placing whites closest.
Ideal wine storage temps hover around 55° to 59° F. The best dual zone wine coolers will chill anywhere from 40° to 65°F, accommodating almost every oenophile's preference. Wine Enthusiast's 32-bottle dual zone freestanding cooler stacks the zones for a taller, slimmer cabinet with a door that blacks out the white wine section to eliminate UV damage. EdgeStar's 32-bottle unit puts the dual zones side by side with separate doors and features pretty LED lighting. For a small 12-bottle fridge, Haier's black beauty with curved smoked glass doors does two zones with style, making the most of its small size.
One of the best options for single-zone cooling comes from Allavina's Cascina 34-bottle fridge. Sporting clean and compact design with wooden shelving, the unit has storage space at the bottom to accommodate oversized bottles.
For larger wine collections, the AKDY 58-bottle freestanding single zone wine cooler gets the nod for its wood shelving, temperature range from 40° to 66° F, and easy temperature adjustment. Looking for a single zone fridge that will fit on a countertop? MagicChef makes a compact, stylish black, 12-bottle single-zone thermoelectric fridge that gets great reviews.
"Freestanding" or "Free-Standing," These Wine Fridges Perform
Custom, built-in cellars can run up a fairly expensive construction tab. If you're looking to actually build a cellar, there are excellent resources with extensive knowledge that will complete the task. Take a peek at Wine Cellar Innovations to indulge your imagination with an interactive design plan that lets you preview various custom looks. If you're not quite ready to carve out a cave, these freestanding models offer the best wine storage available per bottle for your premium wines.
For larger collections, the Kalamera 73-bottle Dual Zone wine cooler is stylishly designed with tempered dual glass doors, beechwood racks, advanced cooling tech that minimizes vibration and noise, and a design that provides even airflow for more accurate temperature control throughout.
Mid-range, the Allavino Flexcount 56-bottle dual-zone fridge boasts smooth glide shelving, powerful, energy-saving, cutting-edge technology, and front venting that make it an indispensable choice.
If you're looking for the best freestanding wine cellars for smaller spaces, NutriChef has a 12-bottle countertop fridge that combines both form and function. Beautiful LED lighting, ultra-quiet thermoelectric cooling, and a 1-year warranty make this a top choice.
The Best Large Capacity Wine Refrigerators
The best large capacity wine refrigerator will offer a number of options, often allowing the unit to be either built-in or freestanding. If you are considering a built-in unit, look for front venting and reversible door hinges.
The best large wine fridge might just also be the best freestanding wine cooler. The Allavino 172-bottle dual-zone fridge is front venting and can be ordered with either a right or left hinge, and claims to store more diverse sizes of bottles than any other wine refrigerator. Metal shelving with smooth ball bearings tracks movement nicely. The chic black cabinet and all black interior give it a cutting-edge look that matches its technology.
The Smith & Hanks 166 bottle model runs a close second to the Allavino. A single-zone model, it is perfect for dedicated red or white enthusiasts out there, working as a freestanding plug-and-play unit or tucked into cabinetry. It also comes with a full one-year warranty and a limited three-year warranty, an unusual perk with these products.
If you really want to go big, built-in is the way to go with one of the best large wine coolers on the market. The Edgestar 242-bottle built-in, side-by-side wine cellar. Digitally controlled between 41° and 65°, the tinted glass doors, LED lighting, rubber bushing noise reduction, auto defrost, security lock, and wood-trimmed wire shelving give this French-door looking pair of chillers an impressive list of top features.
Wine Coolers For Oversized Bottles and Unusual Shapes
If you're thinking big in relation to the individual bottle size, there's a fridge for that. The Wine Enthusiast Cellar Deluxe Oversize Wine Refrigerator accommodates big California reds, Champagnes, and even 1.5-liter magnums. With space for 25 oversize bottles, this thoughtful fridge has a top row presentation shelf that shows off the labels without opening the door. LED display and digital touchscreen controls offer 40° to 66° storage.
Looking for something a little more compact? For the ultimate small space wine fridge, consider the ultra-cute 6-bottle Dometic chiller or the Igloo 6-bottle glass door wine cooler.
For that tiny, vertical space? Edgestar's got your back with a super narrow, 7-bottle slim fit built-in that will knock your socks off with its stainless frame, handle, tinted UV resistant glass, digital control panel, blue LED lighting, high-efficiency operation, front venting, and temperature control between 40° and 65° F. Modern, sophisticated, and slips right into those hard to fit spaces, it is a high-performance surprise.
California Energy Commission Approved Wine Refrigerators
If you're shopping in and shipping to the Golden State, you'll need one of the wine refrigerators approved by the California Energy Commission that meet the CEC's Appliance Energy Regulations. Look no further to discover where to buy a California wine cooler. All of the NewAir models are wine fridge California style ready.
Based in CA, NewAir offers a full line of designs that range from small countertop units to large freestanding models and superstar built-ins. The Streamline 21-bottle dual-zone thermoelectric model features quiet, vibration-free operation, 44° to 66° F temperature range, door-mounted digital display, cool blue LED lighting, and adjustable wire shelving. The New Air Premier Gold 160-bottle dual-zone features gold LED lighting with a dimming option, smooth glide adjustable wood shelving, and easy load extension. New Air also offers built-in options like the black stainless steel 46-bottle model with dual-zone cooling, wood shelving, and blue LED lighting.
Frigidaire makes an approved line of wine fridges, including a 38-bottle, two-zone cooler with wooden shelving, 41° to 54° F white storage and 55° to 64° F red storage, and easy-to-read LED digital precision temperature control.
Uncertain about the California wine refrigerator regulations? The details of the latest efficiency standards can be found on the energy commission website. If you're a California resident, make sure to check with your supplier to see that the refrigerator you're buying is compliant or shipping may be denied.
Outdoor Wine Refrigerators
If you live in California, or anywhere else where the sun is usually shining, you'd probably like to put some of your wine collection close to your fabulous outdoor kitchen. You will want an outdoor-rated wine cooler.  For poolside entertaining, consider the Vinotemp 41-bottle indoor/outdoor wine cooler.
The model is designed as a built-in, with front vent and reversible swing door, 41° to 72° temperature selection, and Bio-Blue LED lighting that isn't just nice aesthetically but also reduces problematic bacteria and mold.  Electrical Testing Lab and CEC approved, it is the perfect outdoor wine fridge choice.
The design of your outdoor kitchen or entertaining area can have an impact on the best wine fridge for you. If there is significant overhead cover from a roof, you may have a wider range of wine cooler options available to you. If the wine fridge is going to be exposed directly to any rain or strong sun, you have a limited set of options to choose from.
The Bottom Line When Buying A Wine Refrigerator
The best wine cooler does its job without a lot of fussing and fretting, keeping wine cool, stable, away from heat, light, and any disruption of their aging nap. The models presented here all have favorable wine cooler reviews to eliminate non-performers.
After deciding on the size, placement, and cooling type, all you have to do is pick the winner. How do you do that? Compare features, pick your favorites, then calculate the price per bottle for each option. Divide the fridge price by the number of bottles that fit in it to reveal which is the right choice for your collection, then get ready to enjoy the perfect sip.
Do you already have a large collection of bottles? Are you planning to buy wines by the case? You may want to consider a wine cellar. If this is the case, we have you covered. You can read all about our favorite wine cellar cooling units and the best wood wine racks to get you started!
Most importantly, we want you to store your wine in the proper environment so you can get the most out of it.