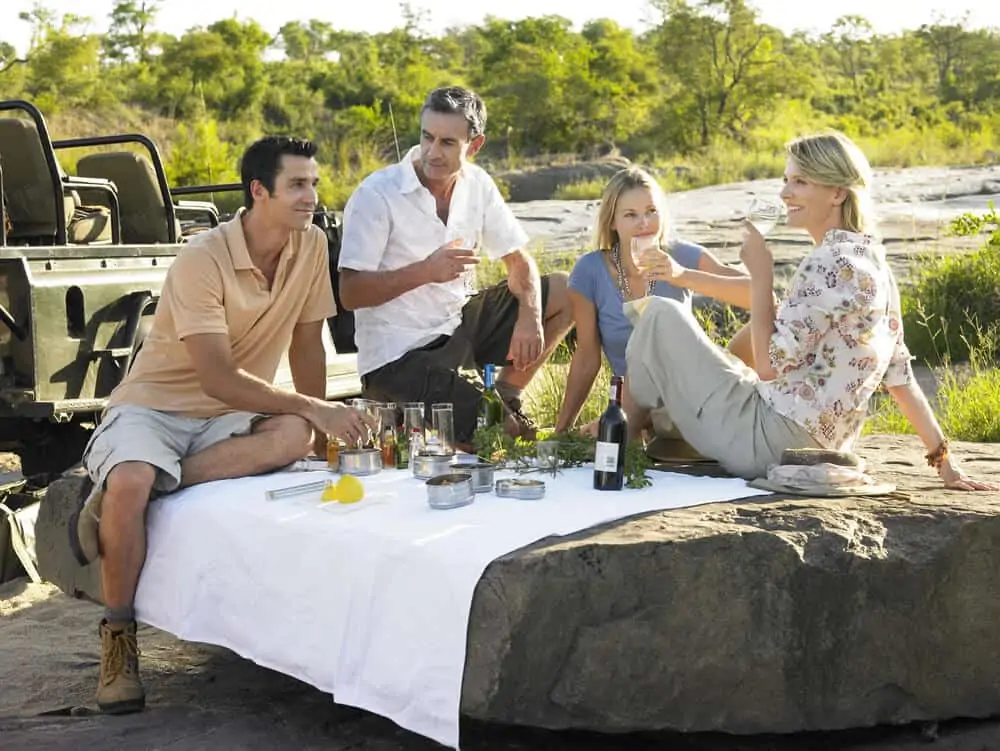 The Five Best Wine Travel Bags
As any oenophile will be quick to point out, sitting back in your favorite chair and sipping on a glass of exquisite wine is one of the finer things in life. But, there is no rule stating you can only enjoy your wine collection within the comfort of your home. Sometimes, traveling with wine is the perfect way to appreciate this sublime beverage even more.
Perhaps you'll take a bottle over to a friend's house. Maybe you'll go out of town on a picnic and want to bring a bottle or two with you. You may even need to transport your wine over longer distances. For example, wine tours are one of the best ways to indulge in your love of this drink. And visiting a region famous for its wine without bringing back as many samples as you possibly can is a downright shame.
In all of these instances, wine travel bags can be a tremendous help. As you know, transporting any liquids is, at best, a tricky prospect. There is always the fear the bottle will get damaged, and the last thing you want is for that delicious wine to end up spilled all over your luggage. Fortunately, the following five products can give you peace of mind whenever you want to take to the road with your wine.
Some Considerations When Choosing Wine Travel Bags
If you enjoy both wine and traveling, you're far from the only one with such a penchant. As a result, not only are there quite a few wine travel bags out there for you to choose from, but there are also different types to consider. When making the choice, here are a few things to keep in mind.
Protection
A specialized suitcase with a hard shell and padded interior will provide outstanding protection for your bottles. But it is also yet another separate bag you need to carry with you. And you don't always need that much protection – sometimes a wine tote made of fabric will be more appropriate. Or, you may want something which fits into your other bags. Our list will cover all of these.
Purpose
Will you keep your wine at hand or will it be in checked baggage? Also, you need to decide if you want the bag to have the ability to insulate. Wine carriers like these are perfect for when you're carrying wine that is served chilled and you plan to drink it right away, but this won't always be the case. So you need to decide on these things, and a few others, in order to pick the perfect product.
Capacity
Finally, you should also bear in mind the number of bottles you plan to transport. Bigger bags are not always better as they take up more room which is often at a premium when traveling.
Our Picks
As mentioned, there are different types of these travel bags out there, made to answer different needs. Our list reflects this. As such, the first bag we'll describe isn't inherently better than the ones that come after. They are all different, and your specific needs will dictate which one will be the best for you. But they are all fine choices.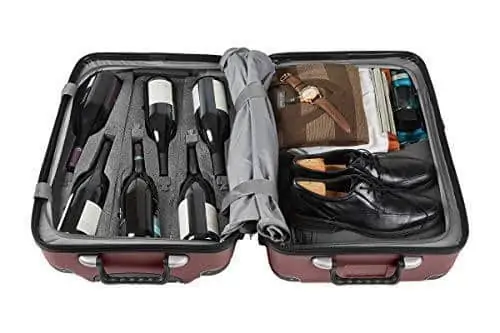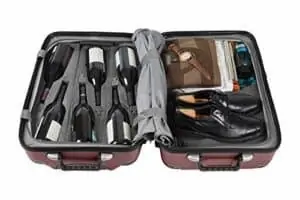 Starting off our list is certainly the most robust product of the five. This sturdy suitcase is ideal for when you plan to do some long-distance traveling with wine. The shell and the foam inserts provide excellent protection, and your bottles will be nestled in safely.
Not only that, but the Grande 05 is also versatile. At most, it can hold 12 bottles. But you can reduce this by removing some of the inserts. That way, you can make space for other belongings. It comes with wheels and a telescoping handle to make it easier to move around and a lock to boost security.
Click here | learn more about what we believe is the best wine suitcase you can get.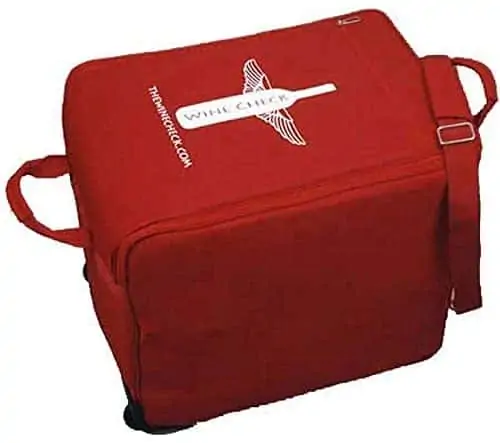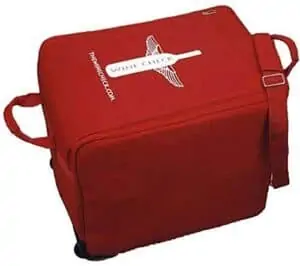 This product was made with air travel in mind. With it, you can fly with up to six bottles using the appropriate shipper box. Or if you don't plan on flying but need more capacity, you can use a different insert to pack 12 bottles.
A  handle and wheels allow you to transport it easily and since it's made of ballistic nylon, you can fold it if you remove all the inserts. That makes it easy to store when you aren't using it. It's also light, so you can easily fold up the empty bag and bring it on your trip.
Regardless of whether you're bringing your wine on a plane or using some other mode of transportation, this is one of the best wine travel bags to have.
Click here to check out the details.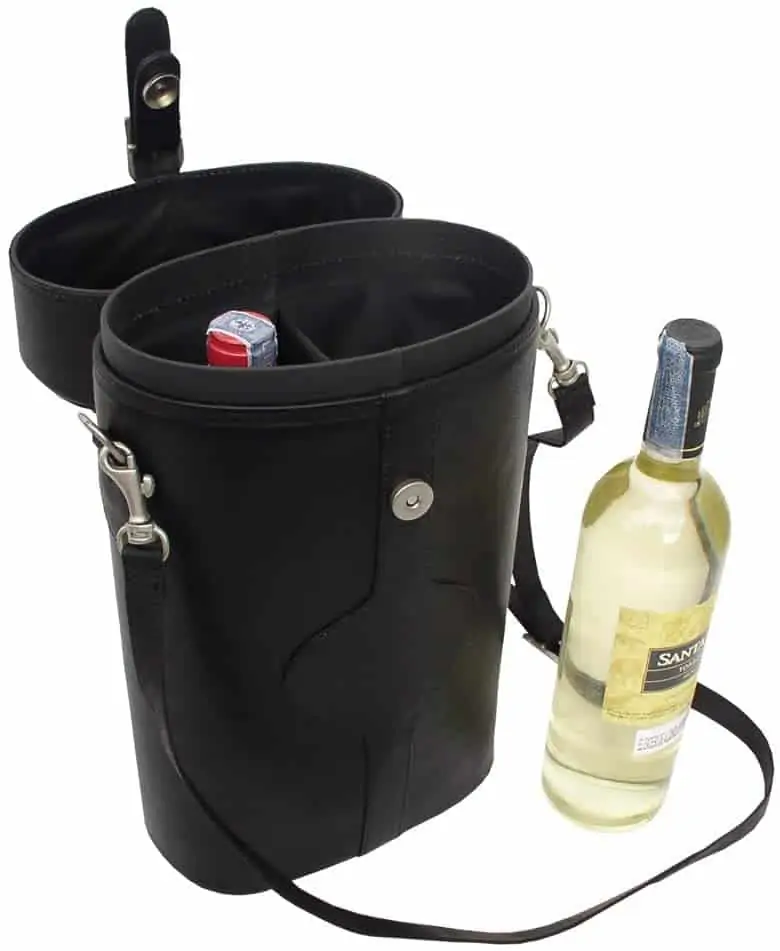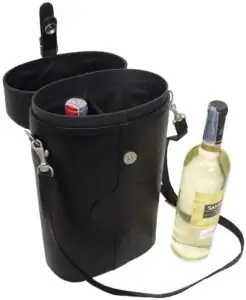 This wine travel bag brings more style and durability than most. This two-bottle carrier is made from full-grain leather that will age beautifully over years of use. The two wine bottle compartments are lined to trap any spills and protect the leather exterior. There is a magnetic snap to keep it firmly shut.
We love this bag for bringing wine with us to dinner or on a trip to the park. It's easily the nicest-looking wine carrier we've found so far.
Click here to see a current price.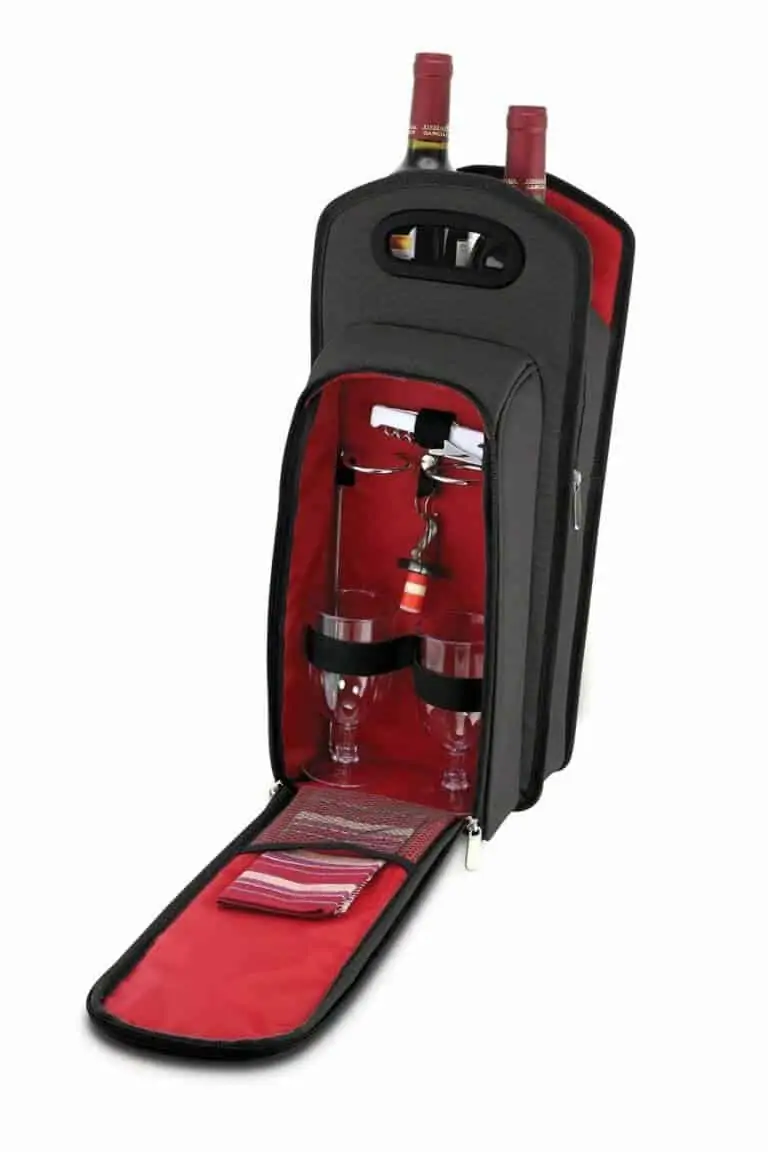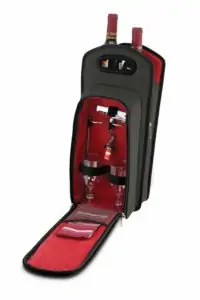 As you can tell by the name, this product is perfect for when you want to enjoy a day outdoors and bring some wine to make the occasion even more special. The set comes with several handy accessories. It includes two acrylic wine glasses, two wine stakes, napkins, a wine opener, and a bottle stopper. That means all you have to do is choose the wine and you are ready for a beautiful day of drinking wine in nature. You may want to bring a few wine glass covers with you!
Speaking of wine. This wine travel bag holds two bottles, and the storage compartment for them is insulated. This means your picnic can last for hours while the wine says at the right temperature for drinking.
Click Here | Find Out More About This Great Wine Travel Bag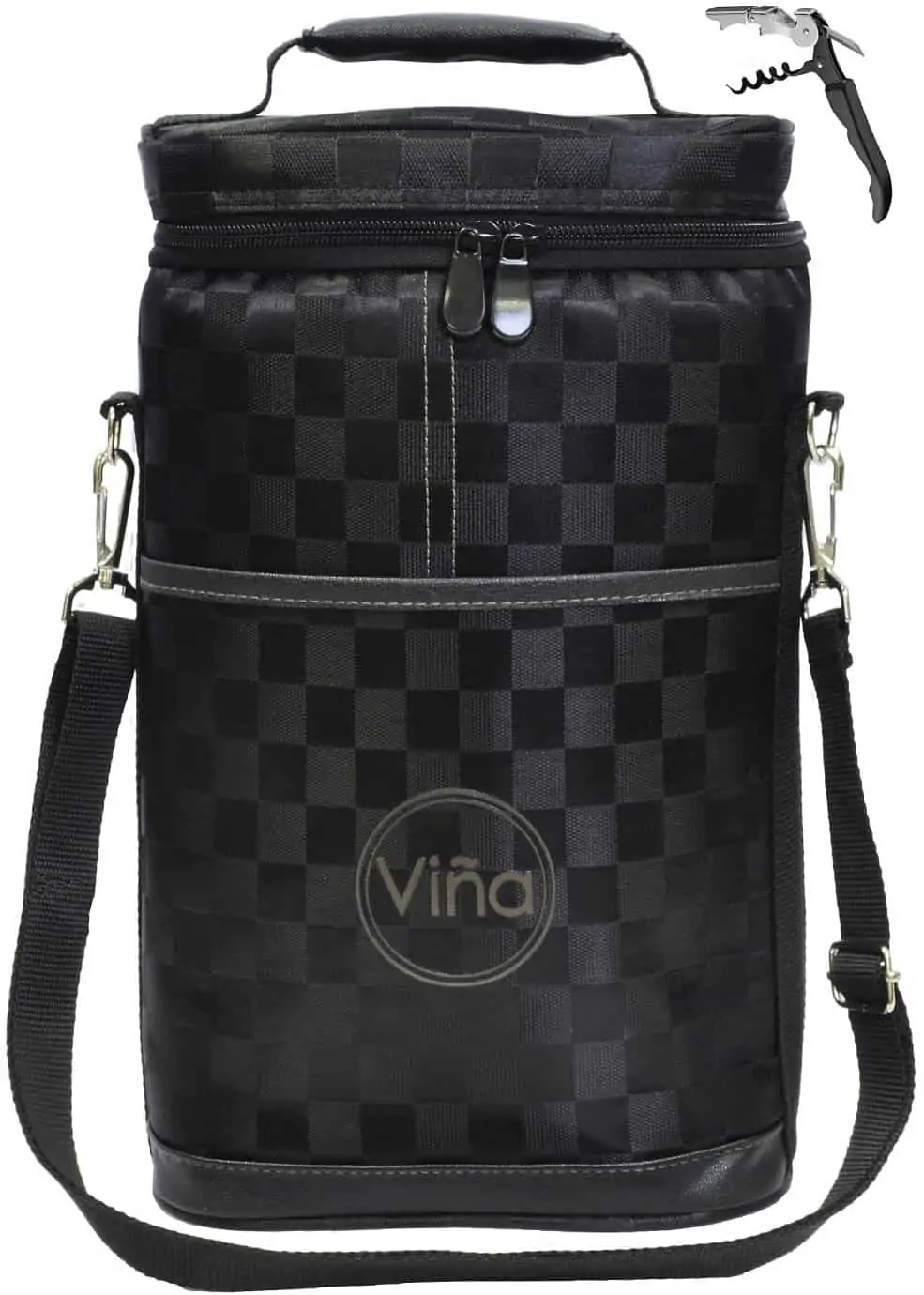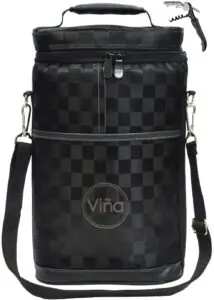 This wine tote is an amazingly practical product. It comes with dividers to prevent the bottles from getting damaged and allows you to easily bring your two favorite wines with you thanks to an adjustable shoulder strap and a strong handle.
There is also a front pocket that can hold a few assorted items. A final and very important note is that this wine carrier is insulated, providing temperature control.
As a matter of fact, we think this is the best-insulated wine carrier of this type out there, and you can.
Click here | Discover A Great Way To Travel With Wine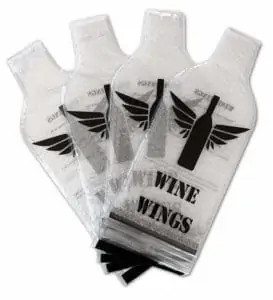 Earlier, we mentioned that some wine travel bags fit inside your regular baggage, and this is what we had in mind. You could best describe this product as a wine protector. A sturdy plastic skin and a layer of bubble wrap help protect your bottle from breakage, and the seals ensure there will be no leaks even if the worst does end up happening.
Of course, it cannot quite match the level of protection offered by our more robust picks, but it is also by far the most compact. When you are not in a position to carry a dedicated wine bag, Wine Wings provide the ideal alternative.
Click Here | See our favorite wine travel protector
Conclusion
The enjoyment of your wine collection should not be solely reserved for the confines of your home. Bring some bottles with you and spread the joy. Alternatively, expand your collection rapidly by safely bringing back a few bottles whenever the road takes you away from home.
These wine travel bags are all products you can depend on. There is no one winner because they all excel in slightly different circumstances. So, pick whichever suits you (that may be more than one), and rest easy knowing your wine is as safe as it can be.