Where are the best California Cabernet Sauvignon wines coming from? There are so many great Cabs produced in California in a given year that's it's often hard to choose an annual "best of". We wanted something that would last a little longer than a one-year list of the best California Cabs. We went looking for consistency. We wanted to know which California wineries make the best Cabernet Sauvignon wines year after year.
We came up with a list for you that represents our favorite Cabernet Sauvignon winemakers in the state. Of course, there may be fluctuations in who the hot winemaker is next year or the year after, but we know we can rely on these ten California wineries whenever we are out looking for a bottle of the top California Cabernet Sauvignon or a Bordeaux blend.
This isn't a list of the flashiest or most expensive Cab producers. If you are more interested in the California Cult Cabernet Sauvignon producers follow the link.
Our List Of The Best California Cabernet Sauvignon Producers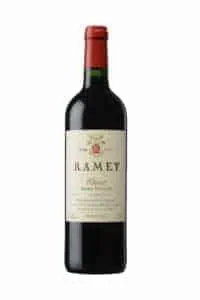 Ramey Wine Cellars
David Ramey is one of the most influential names in California winemaking—and one of the most opinionated voices! All of his wines—from his single-vineyard Chardonnays to his cool-climate Syrahs—are stunning and quintessentially California.  His ability shines in his California Cabernets, as well: the Annum Cabernet Sauvignon is a bold and spicy special occasion wine, but for my money, the consistency of the Ramey Claret makes it one of my go-to's.  The 2015 Claret (the name comes from the old English term for Bordeaux wine) is sourced from Napa, Mendocino, and Russian River, and is 72% Cabernet Sauvignon, 20% Merlot, and a touch of Malbec, Syrah, and Petit Verdot.
Click Here to buy some of the best California Cabernet Sauvignon available.
If a winery is successful and they only produce Cabernet Sauvignon, then you can bet they probably make some of the best around.  Example A: Diamond Creek.  Founded in 1968, Diamond Creek is a legendary Napa Cab producer.  Their five vineyards—you may have heard of Volcanic Hill, Red Rock Terrace, or Gravelly Meadow—are located near Calistoga, and highlight the micro-climates of the region. Their ability to rely on consistently great fruit is one reason they make some of the best California Cabernet Sauvignon year after year.
Buy Diamond Creek Cabernet Sauvignon Here
Dominus Estate
Ever heard of a little wine called Château Pétrus? Pétrus is a monster in the world of fine wine and arguably the most important winery in Pomerol, Bordeaux.  For 38 years it was directed by one Christian Moueix—who now produces Dominus Estate out of Napa Valley.  Bringing old-world sensibility to the new world, Moueix makes the flagship Dominus and its little brother, Napanook—both are consistently delicious while showcasing the unique character of each vintage. When you are looking for a winery that consistently makes the best California Cabernet-Sauvignon-based wines, you can't do much better than this.
Click Here to buy great California Cabernet Sauvignon wine
Focused on cool-climate California Cabernet Sauvignon, Coho is widely respected for both producing world-class wines and protecting the environment in which they are grown.  Named after Coho Salmon, Coho produces a Napa Valley-appellation Cabernet Sauvignon, sourced from Diamond Mountain, Yountville, and Coombsville, that is suitable both aged and enjoyed upon release.
You can order a bottle from this top California Cabernet Sauvignon winery here.
High up in the Santa Cruz Mountains sits the Ridge Monte Bello Estate, where a wine of the same name is produced from historic California vineyards.  Ridge produces a variety of wines, many utilizing old-vine Zinfandel and blending techniques.  Arguably their most important wine, though, the Monte Bello, is a Cabernet Sauvignon-based blend—one you may have heard of for its famed performance in the 1976 "Judgement of Paris" competition.  The wine that was entered into the competition was the 1971 vintage—but right up to the current vintage the Monte Bello remains one of the best Cabernet Sauvignon blends out of California.  Ridge also makes an Estate Cabernet Sauvignon at a more approachable price point.
Click Here for big discounts on Ridge wine
Another historic Napa producer, Heitz Cellar was founded in 1961 and has three generations of the Heitz family involved at the winery.  In 1966, Joe Heitz produced a Cabernet Sauvignon from Martha's Vineyard that was so distinctive they added the name of the vineyard to the label—making it the first vineyard-designated wine in Napa Valley.  Over 60 years later this, as well as their Napa Valley Cabernet Sauvignon, are still ranked among the best terroir-driven Cabs in Napa.
Click here to order a bottle of one of the best California Cabernet Sauvignons
In a sea of Napa Cabs, Laurel Glen stands out. Founded in 1968, their Estate Cabernet is from Sonoma Mountain. While current vintages are still stunning, this wine ages beautifully and the winery does a great job of holding back vintages to be released at a later time. Try to find an older vintage of one of the best California Cabernet Sauvignons. We know you will be happy you did.
Click here to order a bottle or two
O'Shaughnessy Estate
Naturally fermented and bottled unfined and unfiltered, the O'Shaughnessy wines are amongst the silkiest and supple Cabernets in Napa. Each year I am astounded by how winemaker Sean Capiaux crafts wine that is so rich, almost sweet, chocolatey, succulent, with incredibly ripe tannins—that is yet somehow well-balanced. I have called this the Amarone of Cabs and meant it fully as a compliment. O'Shaughnessy Estate produces Cabernet Sauvignon from Napa Valley, Howell Mountain, and Mt. Veeder.
Check here to see if NapaCabs.com has a bottle in stock.
Conclusion
We hope you enjoyed our list of the best and most consistent California Cabernet Sauvignon producers. As with any list of this nature, there are sure to be disagreements and personal preferences. The number and the variety of wineries making Cabernet Sauvignon in California are impressive. If you think a winery should be added to our list, let us know.