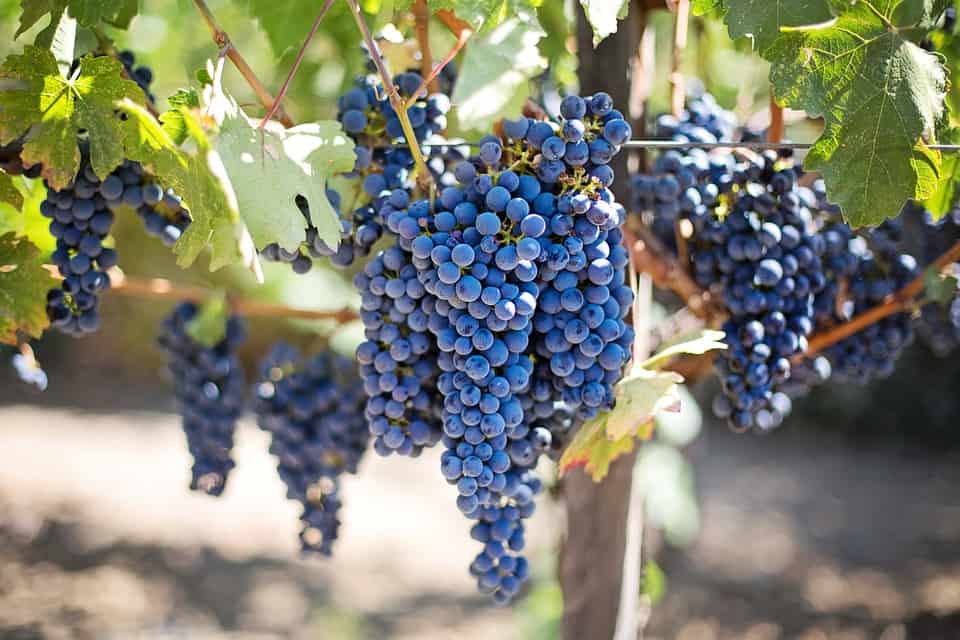 California Cabernet Sauvignon
Rich and rewarding, big red sips built from noble Cabernet Sauvignon grapes are acknowledged as some of the finest wines in the world. California Cabernet Sauvignon is prized all over the world but has yet to claim to status. Most wine lovers agree the best of the bunch comes from France. This magical grape is nourished by the terroir of the left bank of the Gironde Estuary in the Bordeaux wine region. This product of southwestern France commands high praise and top prices.
Cabernet Sauvignon's Origins
A natural cross between Cabernet Franc and Sauvignon Blanc grapes that occurred in the 17th century established this easy growing, tough-skinned variety in France's Médoc appellation, finding favor with cold hardiness, late bud break, and October harvest.
Where it All Started | Old World Taste the Terroir
Old World Cabernet Sauvignon wines from Bordeaux are known for sharp tannins and high acidity. They offer an herbal, light floral taste, frequently breathing earthy aromas of tobacco, graphite, licorice, and green pepper.
Raised in a cool European climate with limited sun and sparse limestone and clay soils, the exceptional grapes in the Bordeaux region struggle every day they are on the vine, earning their brix numbers through a slow process that leads to about 12.5 percent alcohol by volume from even the ripest fruit.
Unlike California Cabernet, these pretty, plum-colored wines from the Old World can prove harsh early on due to aggressive tannins, but tame themselves beautifully after several years in the cellar. It is common to store these wines for at least five years, with top-shelf bottles often improving with 10 to 20-year rest or longer.
From the 200 elite Cru Bourgeois Chateaux and Estate vineyards to the 40 Artisan Cru growers, joined by dozens of small cooperatives and many private vineyards, labels bearing the Bordeaux location reward each pour with subtle depth. Note that French labels present the location as opposed to the grape variety, so knowing the Bordeaux vineyards is key to good selection.
Old World wines usually appear as a blend of Cabernet Sauvignon with Cabernet Franc, Merlot, or Petit Verdot, filling in each vintage's weakness with lovely combinations that contribute to a full-bodied wine with a long, pleasant finish.
California Cabernet Sauvignon: Smooth and Round
As the Cabernet Sauvignon grape migrated to warmer growing regions sprinkled across Australia, Italy, Chile, the US, South Africa, and Argentina, the vines expanded their resume, smoothing tannins and lowering acidity.
Enjoying well-nourished, alluvial, loamy soils, grapes that are grown in New World vineyards ripen earlier. They are typically ready for an August harvest. The California Cabernet Sauvignon is known for showing deep, opaque red in the glass, often flashed with strikes of blue-violet. Richly textured with an alcohol level around 13.5 to 15 percent. These warmer weather versions deliver mature, dark fruit flavors like blackberry, cassis, and plum, with additional cocoa, black pepper, and tobacco notes.
Robust growth encouraged by the warmer climate owns a rounder, friendlier tannin profile on a much shorter timeline than that of Old World counterparts. The California Cabernet Sauvignon becomes highly drinkable just a few years from bottling.
Like most New World Cabernet Sauvignon the wines from California have a jammier kiss with a full-bodied, fruit-forward pour that has become a global favorite.
Tradition and History
Developing from a natural cross, Cabernet Sauvignon picked up on the best traits of both parents. The grape's thick skins are both protective and full of tannins that transfer to the wine as it spends time on the lees, in contact with skins, seeds, and sometimes stems. A small grape with a 1 to 12 ratio of seeds to fruit, also known as pip to pulp, the grape's high phenolic and tannic properties are legendary.
In early days, Bordeaux winemakers turned hunters for a three-week period while the grapes macerated, allowing time to grab all the gusto from the process. Farmers discovered that less time on the lees lightened the tannic load, resulting in wines that required less aging, but also reduced flavor and aroma. The practice of barrel aging in oak served to soften tannins while adding flavor. Playing with the size of the barrels, adjusting the wood-to-wine ratio as well as the tautness of the wood grain, allowed winemakers additional tools to fine tune the final product. Blending continues to fill in the gaps from lean years, resulting in reliably high-quality wines.
Old World Flavors and Aromas
Green herbs, Violets, Blackberry, Black Cherry, Black Currant, Asparagus, Green Olive, Pimento, Pepper
California Cabernet Sauvignon Flavors and Aromas
Cassis/Black Currant, Plum, Black Cherry, Chocolate, Jammy Fruits, Pepper, Earth, Oak, Eucalyptus (Australia)
Oak Aging Flavors and Aromas
Vanilla, coconut, oak, toasted bread
Bottle Aging Flavors and Aromas
Earth, Leather, Musk, Cedar 
Alcohol Level
Old World usually around 12.5 percent, New World 13.5 percent and above
Storing/Serving Temperature
Store at 55 degrees F, serve at 60 to 65 degrees F 
Acidity
Old World, higher and sharper; New World, lower and smoother
AKA
Petit Vidure, Vidure, Petit Cabernet, Sauvignon Rouge, Bouchet, Bouche, Petit Bouche, Uva Francese, New World wines made in the tradition of Bordeaux are called Meritage
Top Label Suggestions, Old World
Chateau Lafite Rothschild Bordeaux
Top Label Suggestions, New World
Beaulieu Vineyard Georges de Latour Private Reserve
Robert Craig Cellars Mt. Veeder
High-Value Wines from Emerging Regions
Errazuriz Cabernet Sauvignon Max Reserva, Aconcagua, Chile
Quilceda Creek Galatzine Vineyard, Washington State, USA
Robert Oatley Finisterre, Australia
Balnaves, Australia
Gretzky, Churchand Vine, or Laughing Stock, Okanagan Valley, Canada
Food Pairings
Spices: Bay Leaf, Thyme, Garlic, Black Pepper, Clove
Vegetables: Carrots, Bell Peppers, Onion, Cabbage, Potatoes
Main Courses: Beef, Duck, Lamb, Wild Game, Heavily Spiced Dishes, Salads topped with Beef or Red Meats
Cheese: Goat, Blue, Gruyere, Gorgonzola,
Sauces: Tomato-Based, Balsamic, Mushroom
Soups: French Onion, Heirloom Tomato,
Avoid: Teriyaki, Sweet BBQ sauces, some chocolates and desserts, delicate dishes or sauces that will be overshadowed by the wine profile.
California Cabernet Sauvignon Sources:
http://www.jancisrobinson.com/learn/grape-varieties/red/cabernet-sauvignon
http://winegrapes.org/wg/wp-content/uploads/2013/08/CabernetSauvignonPedigreeDiagram.pdf
http://www.thewinecellarinsider.com/wine-topics/wine-educational-questions/grapes-for-wine-making-flavor-characteristics-explained/cabernet-sauvignon-flavors-character-and-history/
http://www.winespectator.com/webfeature/show/id/Varietal-Characteristics_1001