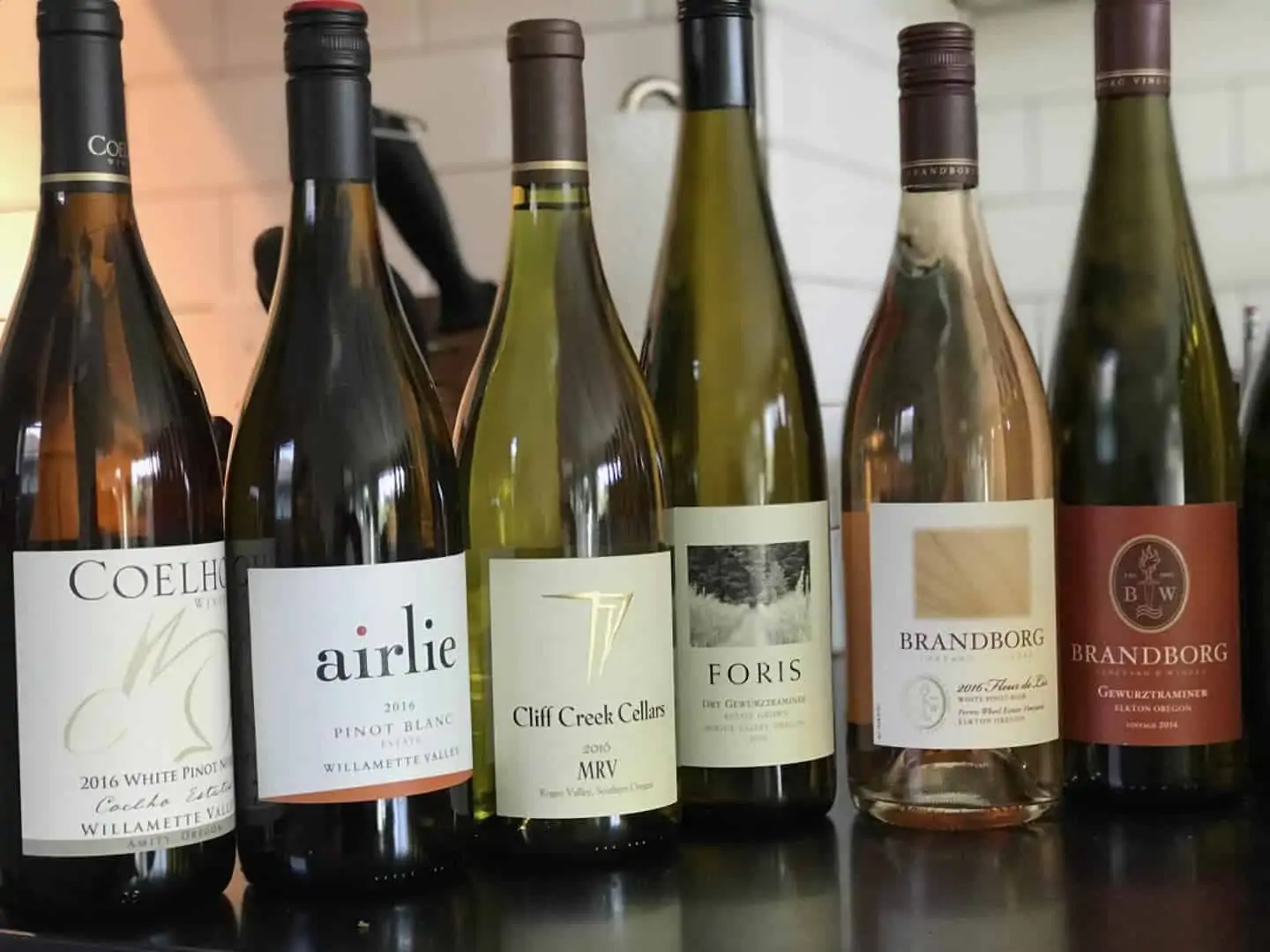 I want you to expand your Oregon white wine appreciation and enjoyment beyond Chardonnay. Oregon is producing a wide range of delicious whites from a number of lesser know white varietals. You can't do much better for great value than these alternative Oregon whites.
Oregon's wine country is often compared to Burgundy; the two regions sit at the same latitude and both produce excellent Pinot Noir and Chardonnay.  Beyond these ubiquitous varietals, though, there is a plethora of white wines, often aromatic, being produced in Oregon.  I will always adore Oregon Pinot Noir and Chardonnay, but to me, the experimentation with white grapes is one of the most exciting aspects of wine production in Oregon right now.  Let's look at a few examples:
Gewürztraminer
Usually seen in Alsace or Germany, Gewürztraminer is an über-aromatic varietal full of flavors of lychee, potpourri, ginger, and spice.  Gewürztraminer can be made in styles from dry to cloyingly sweet, and an off-dry style is very common.  Oregon makes some stunning dry examples, though, that make this wine a little more refreshing and drinkable. Even a dry Gewürztraminer will come off as a bit sweet due to the incredible aromatics. Foris winery makes a delicately perfumed dry Gewürz that is perfect with Asian food.
Shop for Oregon Gewürztraminer here
White Pinot Noir
This is a confusing category.  Yes, Pinot Noir is a black grape (hence "noir").  Yes, Pinot Blanc (literally "white Pinot") is a white mutation of this grape.  But that is not what white Pinot Noir refers to.  In France, some examples exist of a more-recent mutation creating actual vines of "white Pinot Noir" (but not Pinot Blanc—got it?) (see: Henri Gouges).  But that is not what we are talking about here either.  In fact, the white Pinot Noirs made in Oregon are simply Pinot Noir made without skin contact—but they're not rosé (got it??).
Usually picked even earlier than the grapes which make rosé, which are in turn usually picked earlier than the grapes which make red Pinot Noir, the grapes for white Pinot Noir are pressed and allowed no time on the skins—as the skins are where the color comes from.  And voilà, white Pinot Noir! Try St. Innocent's "Oeil de Perdrix", or "Eye of the Partridge", referring to the pale salmon color of the wine.
Other great examples of this style of Oregon white wine from the state's most famous grapes include Fleur De Lis from Brandborg winery in Elkton Oregon. This nicely balanced White Pinot Noir features citrus flavors and a bit of green apple.
Müller Thurgau
Another aromatic white variety hailing from Germany, Müller Thurgau is, in fact, a Riesling cross and is Germany's second-most planted grape variety—though we certainly don't see much of it here in the US.  Müller is a grape that retains many of the intensely aromatic qualities of Riesling but with a mellower vibe—still achieving fruit-cocktail complexity and bouquet-like prettiness.  Anne Amie makes a dry Müller Thurgau with vines first planted in 1979—the result is a bright kumquat and limeade flavor which would be lovely with Mexican salsa. Airlie also makes a wonderful version that is a perfect accompaniment to spicy foods.
Arneis
Usually seen in the Piedmont region of Italy, Arneis wines are impossibly pretty and delicate.  White peach, honeysuckle, and lemon curd with a clean, light finish are hallmarks of this varietal.  There are very few plantings of Arneis outside of Italy, but Ponzi Vineyards in Oregon makes a bright, quince-ey example from vines planted in 1990. This is an Oregon white wine variety that is worth seeking out.
Grüner Veltliner
Austrian Grüner has exploded in popularity in recent years, and while it is still uncommon to see plantings outside of Austria, a few have followed the trend and have begun working with Grüner in places like Oregon.  Grüner is a bit of a chameleon, but in Oregon, a light, spritzy, dry style tends to dominate.  The classic white pepper and celery salt flavors plus a zippy citrus quality are present in Raptor Ridge's example from the Chehalem Mountains, making this a perfect wine to enjoy on the Oregon Coast on a sunny day.
There is a really fun way to experience Oregon Grüner Veltliner. Kramer Vineyards makes a sparkling version called Celebrate. This is a perfect summer sparkler. It's bursting with flavors of lemon and peach. It has a nice long finish with pronounced peach. A refreshing wine with surprising complexity.
Shop For Oregon Grüner Veltliner here
Riesling
Riesling is actually a fairly common varietal in Oregon, with most examples being dry or off-dry.  A classic example is the Brooks "Ara" Riesling, which is dry and filled with spice, orange blossom, and nuts with a hint of petrol winking at the classic German style.
Viognier
Most would argue that the best Viognier comes from the Rhone Valley, France.  While many plantings of Viognier exist outside of France, especially in California, the grape's natural tendency to lose acidity and gain alcohol can make it often flabby or overripe.  Oregon's cool climate is perfect to balance this and add some freshness to its Viognier.  The Penner-Ash is one of my all-time favorites, managing to balance richness and creaminess with a vibrant, non-cloying finish.
Pinot Blanc
Another varietal known for its use in Alsace, France, the Pinot Blanc character can be hard to nail down (this is one of my least favorite wines to get in a blind tasting).  In Oregon, they are made almost universally dry, light, and crisp.  Clean and often mineral-driven, the aromatics will be mellow and delicate, balancing green apple and melon with soft white flowers.  Adelsheim were one of the first to make a Pinot Blanc in Oregon and continue to do so today.
Shop For Oregon Pinot Blanc Here
Albariño
Most well-known examples of Albariño come from the Rias Baixas region of Spain, however more and more plantings are cropping up in places like California and Oregon.  Traditional Albariño will have a peachy floral aroma and wet-stone minerality—those from the cool-climate of Oregon will also often have a zesty lime character and a lightness on the palate.  Try J. Scott Cellars Albariño for a classic example.
Conclusion | Enjoy Oregon White Wine
I hope you will consider trying some Oregon white wine that isn't Chardonnay soon. As you can see, there are a number of interesting varietals and plenty of great producers. We find the traditionally cold climate varietals like Gewürztraminer to be the best of the alternative Oregon white wines, but you should feel confident sampling a bottle of any of the varietals we mention. Especially if you stick to the wineries we suggest. Enjoy!