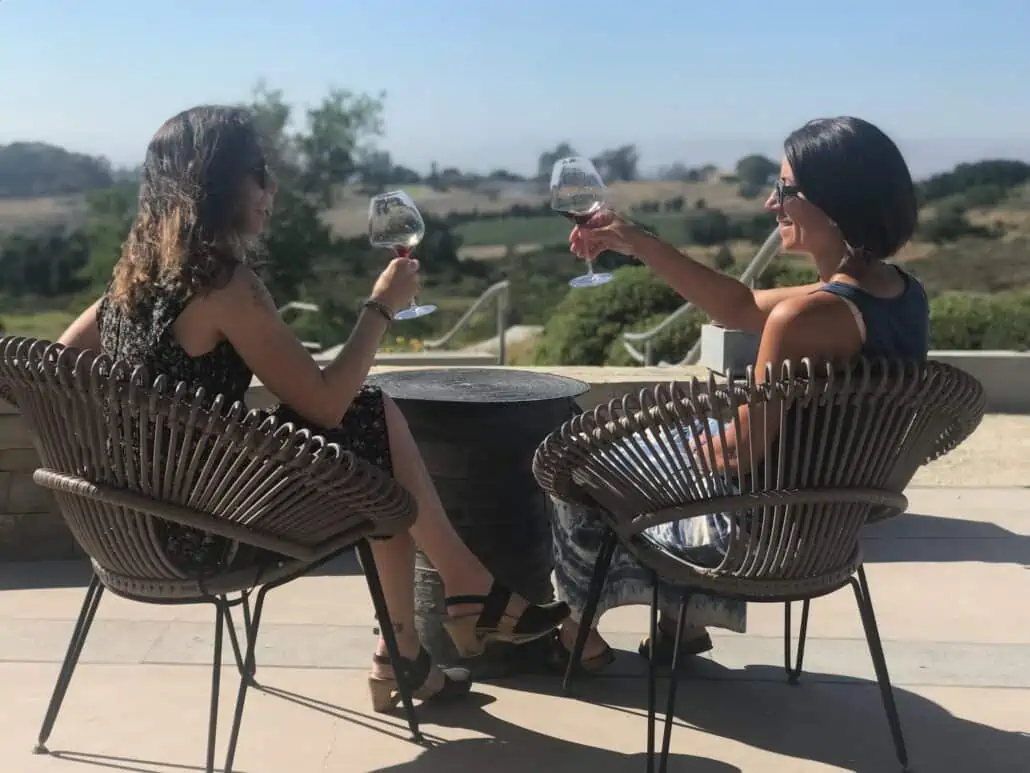 So, you're planning a trip to Santa Barbara. That's exciting! First, you will want to know the best Santa Barbara wineries to visit.
There are roughly 200+ wineries in Santa Barbara County. Many of them are excellent, but there is no chance you can visit all of them on one or two trips. We want to make your planning more manageable by sharing 10 of our favorite Santa Barbara wineries for first-time visitors.
We set out to create a list that will appeal to a wide range of wine lovers. We hope this list can act as a starting point as you build a tasting itinerary. You may want to pick a few from this list and then consult our "off the beaten path" wineries and our best winery deals list.
Please note that most wineries either require or strongly suggest you make a reservation for tasting. There are still opportunities to walk in at certain wineries, but you should make at least a few reservations before you visit.
We visit every winery that we list, so we feel confident about making recommendations. We understand that some people will disagree with our selections. Please let us know on our Facebook page or by email if you disagree and why. This will help us when we update our list next year.
If you are planning to spend a few days in Santa Barbara, click to see our list of the best Santa Barbara wine-country hotels.
This winery is located on the northern fringe of the Santa Barbara wine region. This places it off the beaten path for most Santa Barbara wine travelers, but it's well worth the drive.
The vineyards benefit from the unique terroir of the Santa Maria Valley. Cool coastal breezes slow the ripening of the Pinot Noir and Chardonnay grapes planted on the property. This leads to complex wines that showcase a nice balance of acidity.
The winery tasting room and grounds are beautiful. They've made the modern architecture blend perfectly with the landscape. The hilltop perch allows for sweeping views of the vineyards and valley. You can find a number of comfortable spots to enjoy your wine while relaxing with fellow wine lovers.
Presqu'ile has some unique benefits for wine club members. They host concerts and there is a member-only type tasting area. We recommend looking into the wine club if you live in the area.
We consider this winery a must-visit.
This winery tasting room needs to be on any top ten list because of its great design. Walking into Saarloos and Sons feels like you've been invited over to the neighbor's house. That's assuming your neighbors have really cool houses and endless bottles of amazing wine.
The tasting room features a fireplace, two nice-sized tasting bars, and a little bakery section that sells cupcakes. There's also a lovely patio in front that's perfect for soaking up some sun while you taste.
Saarloos offers a wide range of varietals to taste. Their wines are on the pricey side. They range from the mid-twenty dollar range to over $300. Want to buy a whole barrel of wine? That's $10,000! Ask to taste their port wine when you visit.
The Fess Parker brand is evident throughout Santa Barbara wine country. Fess starred on TV as Davey Crocket and Daniel Boone in the 1950s and '60s. He purchased land in Santa Barbara with the thought of owning cattle and planting some grapes. That vision turned into a full-scale winery and a thriving family business.
The Fess Parker winery is located on Foxen Trail. This beautiful wine trail runs over rolling hills, through endless vineyards, and past the iconic California Oak trees. The winery sits amongst all this beauty. There are large lawns and beautiful patios where you can sip wine and enjoy your surroundings.
Fess Parker is leading the way in Santa Barbara with unique wine-tasting experiences. They have a number of options for private seated tastings and food pairings. These tastings are both fun and educational.
The owners of Municipal Winemakers focus on making the wine-tasting experience as unpretentious as possible. The whole scene fits very well in the urban yet beachy environment of the Santa Barbara waterfront. The transformed former dive shop couldn't be further from the stuffy tasting salons of Napa. This is a flip-flops and tank tops kind of tasting room.
Don't let the casual vibe fool you. You can find serious quality wines here at a reasonable price point. Their wines have been described as joyous and that fits with the overall atmosphere here.
Bridlewood is what many of us imagine when we think of wine tasting. This big and beautiful estate is located a short drive from the center of Los Olivos in the Sant Ynez valley.
The grounds are immaculate. From the moment you enter through the front gate and drive up the tree-lined entry, you know this is going to be a special experience. The mission-style winery sits up on a small hill and is fronted by an expansive lawn. The large tasting room gets crowded on the weekends, but they always are well staffed and even with the crowds the service is excellent.
This is a great spot for a picnic. Bring a lunch, buy a bottle of wine and take in the beauty of the grounds.
Bridlewood offers wines that you can only taste or buy at the winery. These are focused on Santa Barbara County appellations. They include some top-notch Syrahs, Rhone Blends, and Pinot Noirs from local vineyards. These are not the Bridlewood wines you see at local supermarkets. Make sure you have space in your wine carrier to bring a few of these bottles home!
Click Here | Reserve Your Tasting At Bridlewood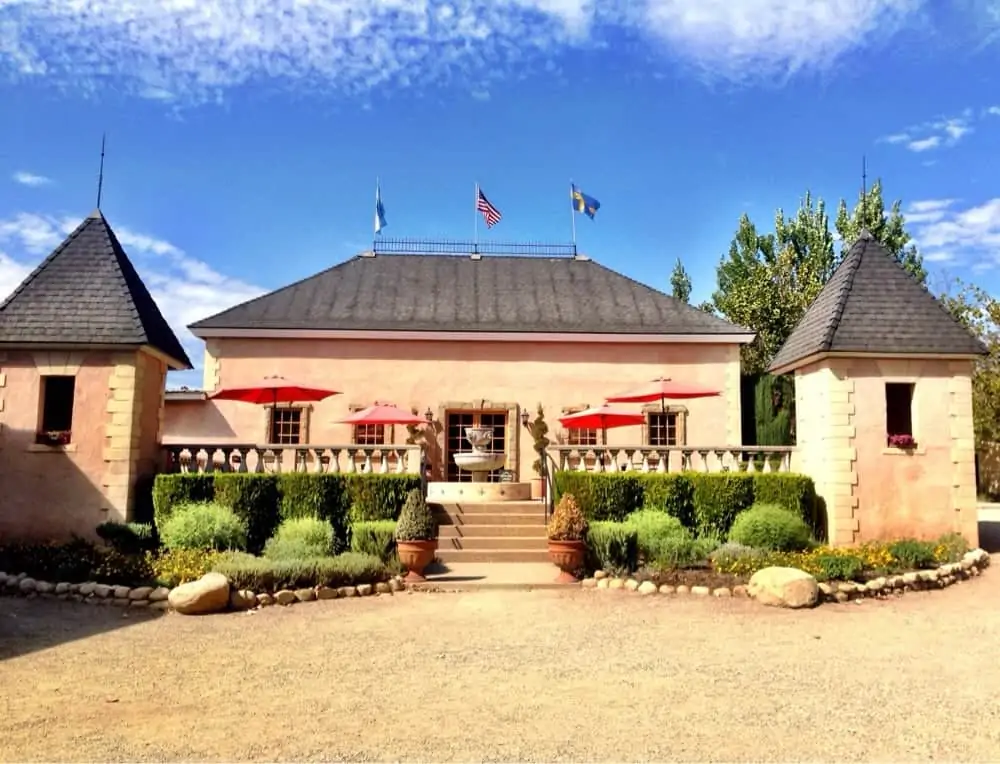 Close by Bridlewood is Brander winery. Despite the proximity, these wineries feel worlds apart. Brander transports you to the "old world" with both their tasting room and their wines.
The tasting area is adorned with artwork. It has a comfortable and inviting atmosphere. There is a shaded deck and a courtyard with tables for picnicking.
While the grounds are nice, the real reason to visit Brander is the Sauvignon Blanc and the Cabernet Sauvignon. The Brander family has been on a quest to create the perfect Sav Blanc since the mid-seventies. They may never reach perfection, but they are awfully close!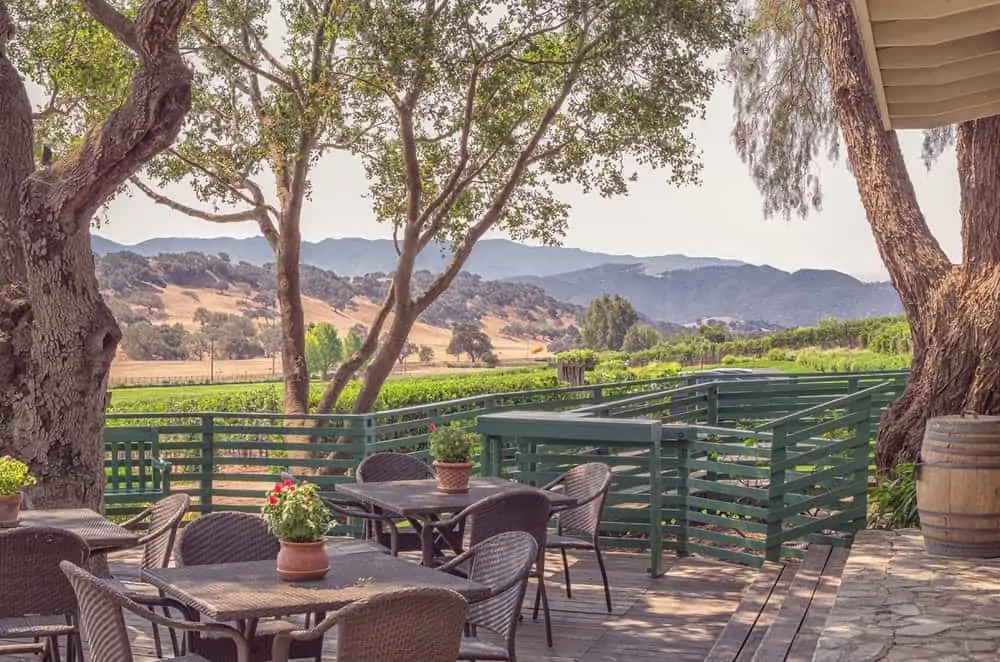 The drive to the Rusack tasting room is part of the fun. As you travel these twisting country roads, you are treated to vistas featuring idyllic rural life. There are stacked stone walls marking off fields of cows and alpacas. There are rusting hulks of farm equipment from bygone eras. And there are rolling waves of vines that stretch out in all directions.
Once you arrive at the winery, we suggest you find a spot on their massive deck. You are treated to some of the same views from here and you get the added benefit of enjoying a bottle of wine while taking it all in. We recommend a bottle of their highly acclaimed Pinot Noir or Syrah.
You could easily spend the better part of your day at Sunstone Winery. The spacious grounds are dotted with comfortable areas to sit and reflect on the wine you are drinking. There is a large lawn that is perfect for spreading out with your family or friends and enjoying lunch or a cheese plate. Want to get out of the sun, you can taste in the stone barrel-aging cave. Looking to treat yourself, ask for the recently introduced brownie and wine pairing.
There is a distinctly old-world vibe at Sunstone. This extends from their winery grounds and buildings to their wines. Sunstone features a wide range of varietals for you to choose from. This makes it fun for groups with varying tastes.
If you are looking for something really special, consider a stay at the Sunstone Villa. This stunning estate can be rented out for small gatherings or family events. The Villa sleeps up to 10 people. You can arrange for a private chef on site. What a way to enjoy Santa Barbara wine country!
Margerum's wine-tasting room is located in the City of Santa Barbara's Presidio neighborhood next to the celebrated Wine Cask restaurant in the El Paseo complex. This small tasting room has an inviting atmosphere and a fun staff. This is also the place to find some of the best wine in Santa Barbara County.
Doug Margerum has a rich history in the Santa Barbara food and wine scene. He has been influential in the movement toward growing and producing Rhone varietal wines and blends. His wines are recognized around the world for their quality and they regularly receive over 90 pts from major wine publications.
This is a great place to sample wine before an early dinner at the Wine Cask!
Foxen has two great tasting rooms for you to visit. We are partial to the historic "shack", but both spaces offer a great experience for wine travelers. Foxen has a reputation for making high-quality white wines, but they produce some fantastic reds as well. Make sure you go for a tasting at both locations. They offer different tasting flights at the "shack" and the main winery tasting room.
The staff at the Foxen tasting rooms really sets them apart. They are friendly and engaging. We love finding tasting room hosts that really understand wine. The Foxen winery does a great job finding and training its staff.
We were traveling through Lompoc when a winery manager told us we had to go for a tasting at Brick Barn Estate. We weren't familiar with this winery even though we'd passed by it several times. The winery and tasting room can be easy to miss as you cruise down the busy road between Buellton and Lompoc. We're glad someone pointed out our mistake because this is one of the most beautiful wineries in Santa Barbara County.
Brick Barn Estates is housed in a former Arabian horse ranch. Horses were bred and trained amongst the beautiful rolling hills that surround the estate. Now you will see acre after acre of vines. The former "barn" is now a gorgeous winery and tasting room with a Mediterranean feel. There is a comfortable patio for tasting that is surrounded by mature oak trees that add grandeur to the whole experience.
Anyone who loves white wine will be delighted here. Brick Barn has one of the best white wine-tasting lineups in Santa Barbara.  Vermentino, Grenache Blanc, Viognier, and Albarino are all on the menu. That's a dream come true for serious white lovers. And there is a very solid Chardonnay to round out your tasting.