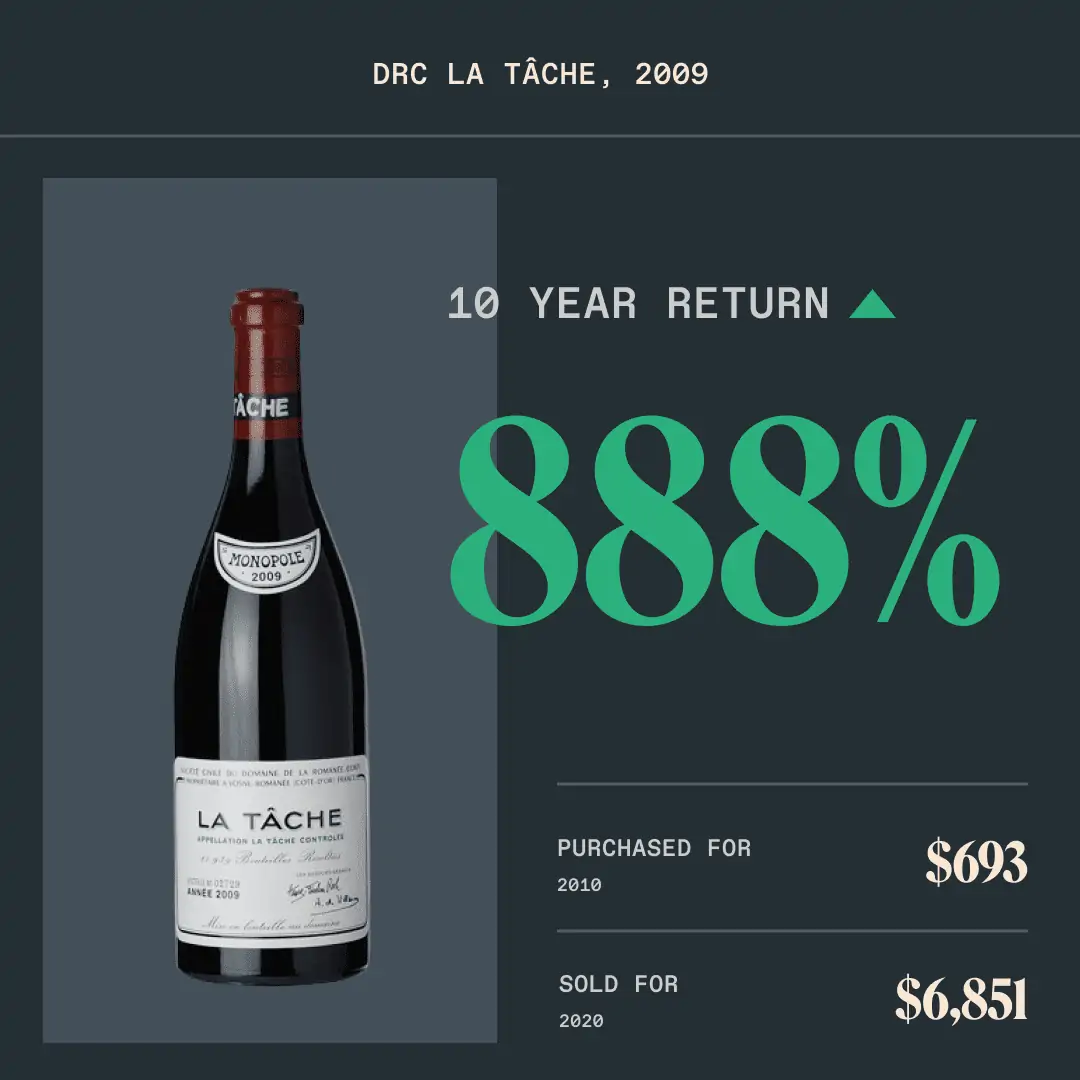 We are often asked what Vinovest does. The following is an in-depth overview of what Vinovest is and what it can do for investors. Please note that we are not offering investment advice.
Fine wine is drawing a lot of interest as an alternative to traditional investments. New avenues for investing like wine NFTs are bringing more attention from non-traditional buyers. Investors are looking for easy and reliable ways to access this market. Platforms like Vinovest lower the barrier of entry into the wine investment market. It is no longer just for the wealthy and connected.
In the past, you would have had to be an expert in the industry and have a large storage facility to invest in wine. However, with Vinovest, you can add fine wine to your investment portfolio without the requirement of expertise or an extensive cellar.
The company buys, stores, and eventually sells the wine for you, taking the headache and added expenses out of the equation.
Read our Vinovest review so that you can decide if it's the right investment avenue for you.
Vinovest Explained
Wine has historically performed better than the S&P 500 and other alternative assets over different periods. Its consistent returns over the years have also helped investors diversify their stock portfolios. However, to get the best possible returns, you'll need to have the proper connections to acquire the finest quality wines as they are not available at your local grocery store.
You will also need sommelier-level expertise to find an excellent investment-grade wine out of the thousands of bottles produced every year.
This is where Vinovest comes in.
You can invest in fine wines through Vinovest, an online platform that lets users put money in the beverage without having to buy and store the product themselves. Its goal is to advise investors on investment-grade wine, authenticate it, keep it and sell it when it has appreciated in value.
Although Vinovest handles the physical bottles, a buyer interested in sampling their product can have a bottle or two sent their way.
After extensive research on the ultra-rich asset classes, Anthony Zhang and Brent Akamine founded the company in 2019. One of their passions is fine wine, so they decided to create a platform that solves the logistics of storing and investing in this category.
The company prides itself on offering regular people the opportunity to invest in a market that has typically been reserved for the wealthy. This Vinovest review shows that the platform lives up to its promise.
What Vinovest Offers
Vinovest is an investment platform that enables people to invest in wine without the need to incur additional storage costs. Through its experts, Vinovest identifies which wines will appreciate and purchases them. It also manages its subscriptions and purchases to provide wine to investors below-retail prices.
Becoming an investor with the platform means that you own the bottles but the company stores and resells them for you. There are many different wines on the market, but Vinovest helps determine which wines are worth investment.
Vinovest has three different investment plans, each providing you with a varying range of access to the fine wine market. These categories are:
Standard
The entry-level program requires a minimum of $1,000 and involves acquiring wines picked by an algorithm. You can still get access to top-quality wines stored in the Vinovest network of warehouses. The program has an annual management fee of 2.85%.
Premium
You need to invest a minimum of $50,000 to qualify for this program. With this level, you will have access to a dedicated advisor and custom options added to those provided by the algorithm. The annual management fee is 2.5%.
Grand Cru
If you're willing to put $250,000 into Vinovest, you can get exclusive access to rare wines and an advisory council, including winemakers and master sommeliers. At 2.25% Grand Cru costs the least annual management fee.
With Vinovest, you can sell your assigned bottles at any time. Once you are ready to offload them, the company handles the sale on your behalf. Generally, most wines are held for around two to three years, but you can keep yours for as long as you like. However, it's not recommended to store your bottles for longer than 20 years.
You can also have your wines shipped to you. It's essential to note that most of Vinovest's storage facilities are in Europe, so shipments to the United States will incur various customs charges. You could also be subject to capital gains tax if you sell the wine at a profit. Also, note that a liquidation fee is charged if you choose to sell your wine within 60 days of initial purchase.
Our comprehensive Vinovest review identifies these factors as the pros and cons of the investment platform.
| | |
| --- | --- |
| Pros | Cons |
| ·        Expert advice on investment-grade wine | ·        Minimum investment of $1,000 |
| ·        Wines are purchased at below-market value | ·        Dedicated advisor only available at $50,000 level |
| ·        Access to fine wines not readily available in the market | ·        It takes two to four weeks to liquidate |
| ·        Wine is authenticated, stored, and sold for you | ·        Annual management fee of up to 2.85% |
| ·        Bottles are protected by insurance cover | ·        3% liquidation penalty if you sell wine within 60 days of purchase |
| ·        Expected returns of 12.4% | |
How Vinovest Works
If you decide to invest in wine through Vinovest, you must familiarize yourself with a few steps. Understanding how the platform works will help you decide whether the platform is right for you.
Select and Buy Bottles of Wine
With AI-driven investment models and Master Sommeliers, Vinovest aims to create personalized wine-based investment strategies that consider your risk tolerance and investment goals. These tools help you pick the right investment-grade wines for your portfolio.
Get The Best Wholesale Price
Through a network of international wine exchanges and fine wine merchants, Vinovest searches for the best offers, allowing you to buy your selected wine at a lower price. The purchasing process takes about two to three weeks.
Wine Authentication
Before buying, Vinovest checks the history of the wine and its origin to ensure that it is authentic. This step protects you from receiving counterfeit bottles that are all too common on the market.
Wine Storage
Wine storage is vital to ensure that your bottles are kept in pristine condition. Vinovest bonded warehouses are equipped with the necessary equipment to transport and store your wines efficiently.
Receive a Bottle of Wine
If you're interested in getting a taste of the wine in your collection, you can order one from Vinovest. They'll take care of all logistics, including transportation and insurance.
Sell Your Wine
You can sell wine from your portfolio at any time. With Vinovest, you can connect with an international market of wine buyers and investors to get the highest possible price for your wine.
Vinovest keeps track of the price of wine in your portfolio and will usually sell it a few points away from the estimated sale price. Sales take two to three weeks to complete.
Who Can Invest With Vinovest?
To open a Vinovest account, you must have attained the legal drinking age in the U.S., which is 21 years. The platform may also require proof of identity in the form of a valid driver's license or state I.D.
You will also need to have a minimum of $1,000 to deposit with the company. Vinovest accepts checks, credit cards, bank transfers, wire transfers, and even cryptocurrency.
Generally, Vinovest works well for people with a moderate to high-risk tolerance. Before investing, make sure that you thoroughly consider your goals and risk appetite.
What Vinovest Gets Right
When putting money in an investment platform, it helps to have a certain level of trust in the company you are giving your hard-earned funds. Let's look at what Vinovest gets right about wine investing.
Solid Performance
The Liv-ex (London International Vintners Exchange) Fine Wine 100 index, the most sought-after index for fine wines, has historically outperformed the S&P 500. The last two decades have seen the fine wine index rise by over 270%. The products that Vinovest invests in can bring in excellent returns.
Managed Portfolio
Vinovest is a full-service investment firm that provides investors with various options for managing their wine portfolios. You don't have to be a wine expert to build an impressive wine investment portfolio through the platform.
No Storage Hassles
One of the most significant barriers to fine wine investing is the need for a massive wine cellar. With Vinovest, you don't have to worry about this. The company has secured bonded warehouses near fine wine regions, where they store your investment wine. If you are a fan of the British royal family, you will be delighted to know that the royals store their wine in the same facilities as Vinovest.
Insurance Cover
Vinovest provides a comprehensive insurance cover for your wine to protect you against damage.
Access to Market
Wine is typically not a liquid asset. However, with Vinovest, you can convert your investment into cash easily as the company has access to a global network of wine buyers.
Online Trading of Wine Futures
The company lets users pick the best wines from all around the world. Vinovest also has an AI-powered platform that allows users to make money with wine futures, an investment aspect usually only available to insiders.
Protection From the Stock Market
Wine has little correlation with the stock market. This makes wine assets excellent in protecting against a market crash.
Ownership of Assets
Unlike traditional fractional investing platforms, Vinovest lets you directly own wine. And unlike with shares, you own the actual bottle of wine and can even have it shipped to you.
You can rest easy knowing that Vinovest goes the extra mile to ensure that you not only get access to the best wines at the best prices but that secure storage is available for your products.