About This Winery
Saltonstall Estate was founded in 1998 in a part of Sonoma County which has both the climate and the soils that can produce the finest quality world class wine grapes and olive oils. The gentle slopes of the orchard hills
+ More
Saltonstall Estate was founded in 1998 in a part of Sonoma County which has both the climate and the soils that can produce the finest quality world class wine grapes and olive oils.
The gentle slopes of the orchard hills are cooled by the sea breezes and the summer fog which burns off mid-day. These phenomena keep our Frantoio, Leccino, Pendolino and Maurino olive trees cool during the hot summer days which allows for the slow maturation of the fruit. Delay in ripening gives nature time to form the polyphenols and anti-oxidants which give both the unique spicy flavor and life enhancing benefits to our oil.

Saltonstall Estate has been growing premium wine grapes for over a decade and now offers a limited amount of hand-crafted classic Pinot Noir and traditionally made sparkling wine – available at our estate, online and at selected retailers.
Our Pinot Noir and sparkling wine, are examples of fine hand made, Sonoma County wines. Our small production from our estate fruit makes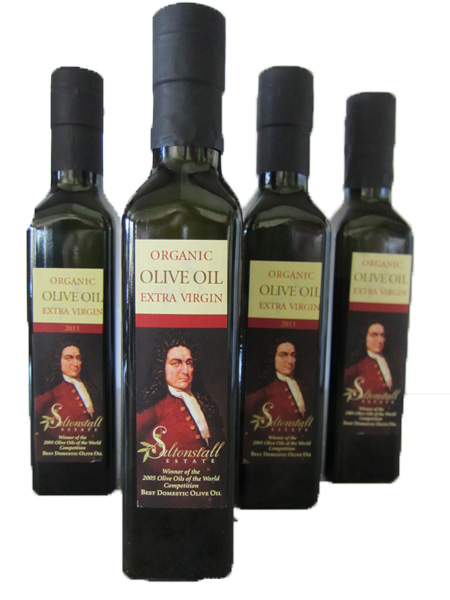 Saltonstall wine a treat to enjoy with your favorite meal or celebration. Saltonstall Pinot Noir is a rich, flavorful wine with soft tannins and moderate oak. Made to pair well with food from our Sonoma County vineyards.
Our goal is to produce and supply the healthiest olive oil available in the US which has the highest percentages of monounsaturated fats, anti-oxidants and polyphenols which olive oil can contain. The gold medal for taste we have been awarded at the Los Angeles County Fair proves that the health enhancing qualities of olive oil are also those components which give it it's prize winning taste.
Please call and stop by for a visit.
↑ Less
---
Winery Information
Hours:
Open Saturday from 10am to 4pm -Please call in advance
Fees:
Complimentary Wine and Olive Oil Tasting
Price Range:
$20 to $39
Established:
1998
Vineyards:
40 acre vineyard; 10 acre Olives on 170 acre ranch
Production:
Less than 500 cases
Tour Info:
Beautiful open ranch property with walking trails along lake.
Unique Amenities:
Ranch estate with sheep, chickens, dogs and cats.
Winery Dog:
Snowball (sheepdog) & Gurdy (Border Collie)
Winery URL:
http://www.saltonstallestate.com/
---
Ambiances
Casual & Relaxed
Family Run
Kid Friendly
Off the Beaten Path
Wine Types
Estate Grown Wines
Pinot Noir
Sparkling Wines
---
Winery Map
---
Rate This Winery
Please login or register to use this feature.
---
Reviews