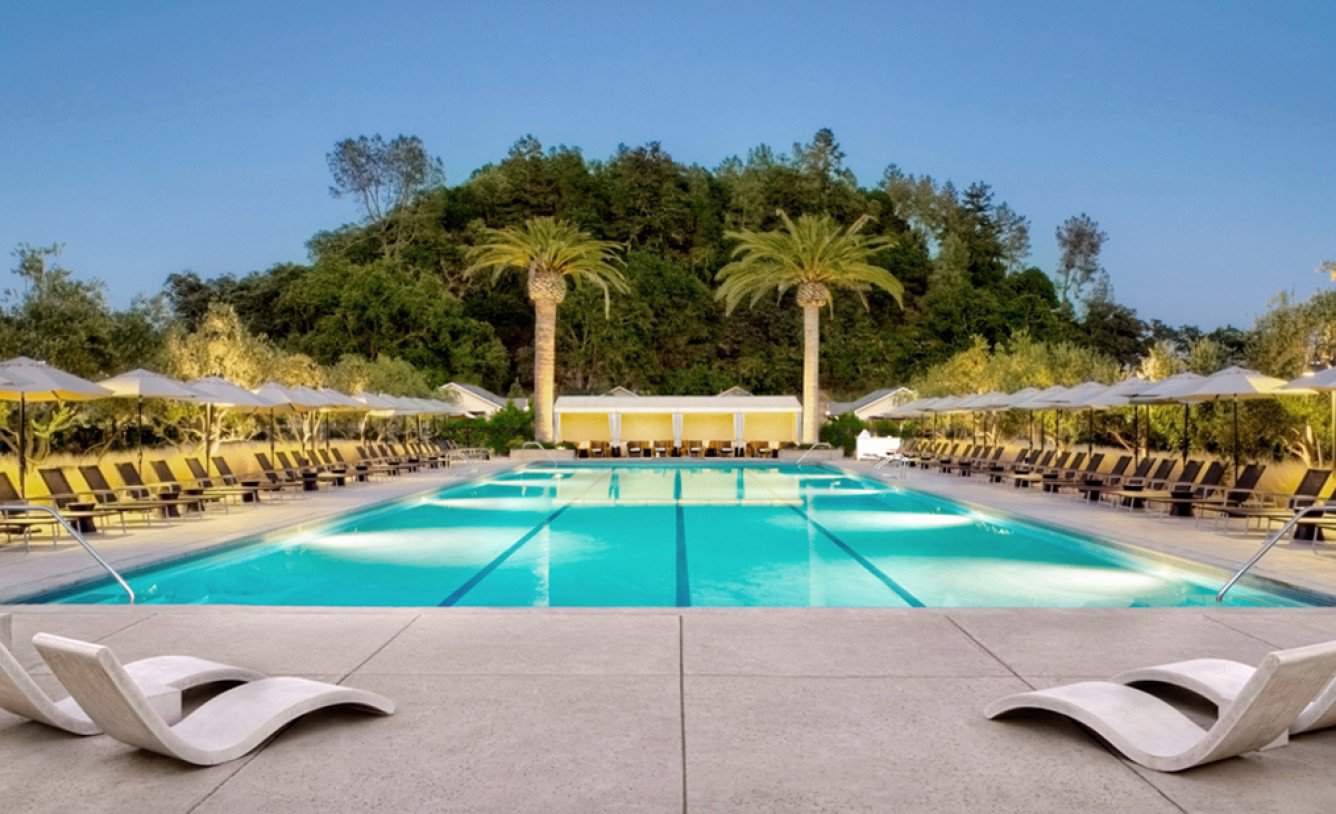 The 12 Best Hotels in Napa Valley
Why is it important to find the best hotels in Napa Valley? While wine tasting is the #1 attraction in Napa, choosing the right hotel can make all the difference in your wine country experience. You should return from wine tasting to a hotel or resort that enhances your relaxation. The best hotels in Napa Valley incorporate the beauty and romance of wine country into your stay.
Staying at some of the top hotels and resorts in Napa doesn't have to break the bank. The good news is that hotels, bed & breakfasts, inns, and resorts are all competing for your tourist dollars.  The savvy Napa Valley traveler knows that being on the lookout for discounts and packages, exceptional service and over-the-top amenities is key to ensuring the best experience. Make sure you do your homework. You can use our guide to saving money in wine country as a starting point.
We also recommend you plan your wine-tasting itinerary before you select the best Napa hotel to stay in. Your Napa tasting plan may be focused in a particular area, say Calistoga. You may want to walk to some of the wineries you visit. You may be in Napa for an event. Consider all of this before selecting a hotel, inn, or resort.
As you may have guessed by now, there is a wide range of options when choosing your lodging for a Napa visit. That's why we put together our list of the best hotels in Napa Valley. This is a starting point. You should also consider options like Air BnB if you want your own private residence for your stay.
Enjoy this post? Please LIKE US ON FACEBOOK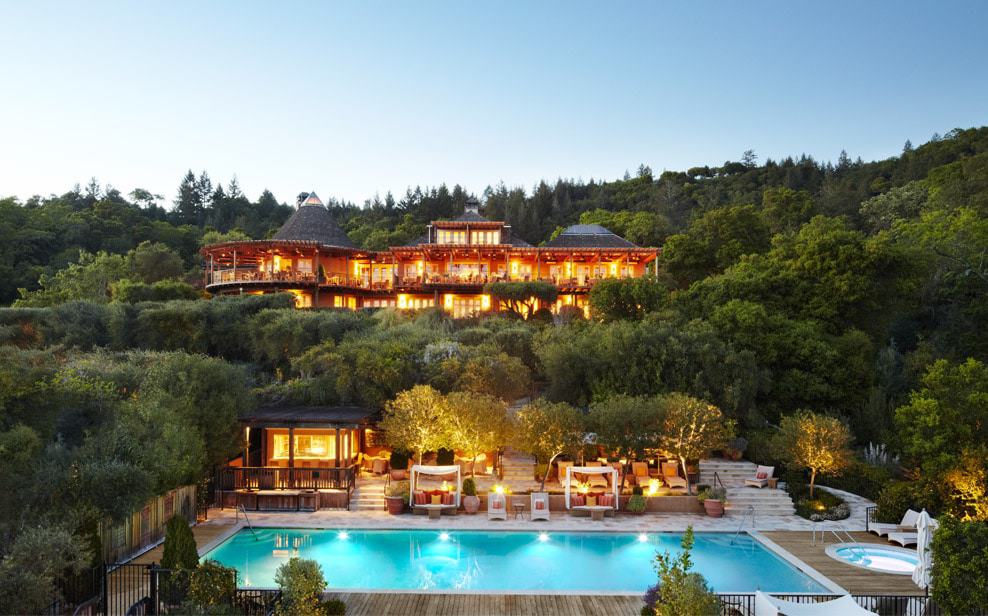 The Auberge is consistently one of the best hotels in Napa Valley. You could argue it sets the gold standard for hotel accommodations. This oasis makes the 5-star Forbes and Michelin guide list year after year.
Auberge du Soleil is a place like no other. The name translates to "The Inn of the Sun" - rightfully so as it sits, nestled along 33 acres of olive groves. It is easily one of Napa's most iconic luxury properties.
The resort caters more to adults than to families. They provide special offers for romantic getaways and have an adult-only premier pool that overlooks the valley. This is one of the best hotels in Napa Valley if it's time for a romantic getaway.
Amenities include a complimentary mini-bar, complimentary use of luxury Mercedes-Benz vehicles, fireplaces and outdoor terraces in every room, and in-room iPads. There is a world-class spa on-site offering purifying spa rituals and a private Japanese pavilion with complimentary yoga and meditation classes.
For reservations book online here.
The Four Seasons Napa Valley is the newest addition to the Valley's luxury resort lineup. This 85-room resort is surrounded by vineyards and features a high-end winery on site.
Guests can experience the best of Napa Valley's wine scene without leaving the property. However, if you do want to visit some of Napa's most iconic wineries, the Four Seasons is ideally located for biking or driving to them.
Sip wine by the adults-only pool while gazing at the vineyards or indulge in a signature spa treatment after a long day of tasting on the Silverado Trail.
This is Four Season's luxury made to fit the laid-back surroundings of Napa Valley. We are sure this spot will be on our list of the best Napa Valley hotels for a long time.
You can book your stay by clicking here.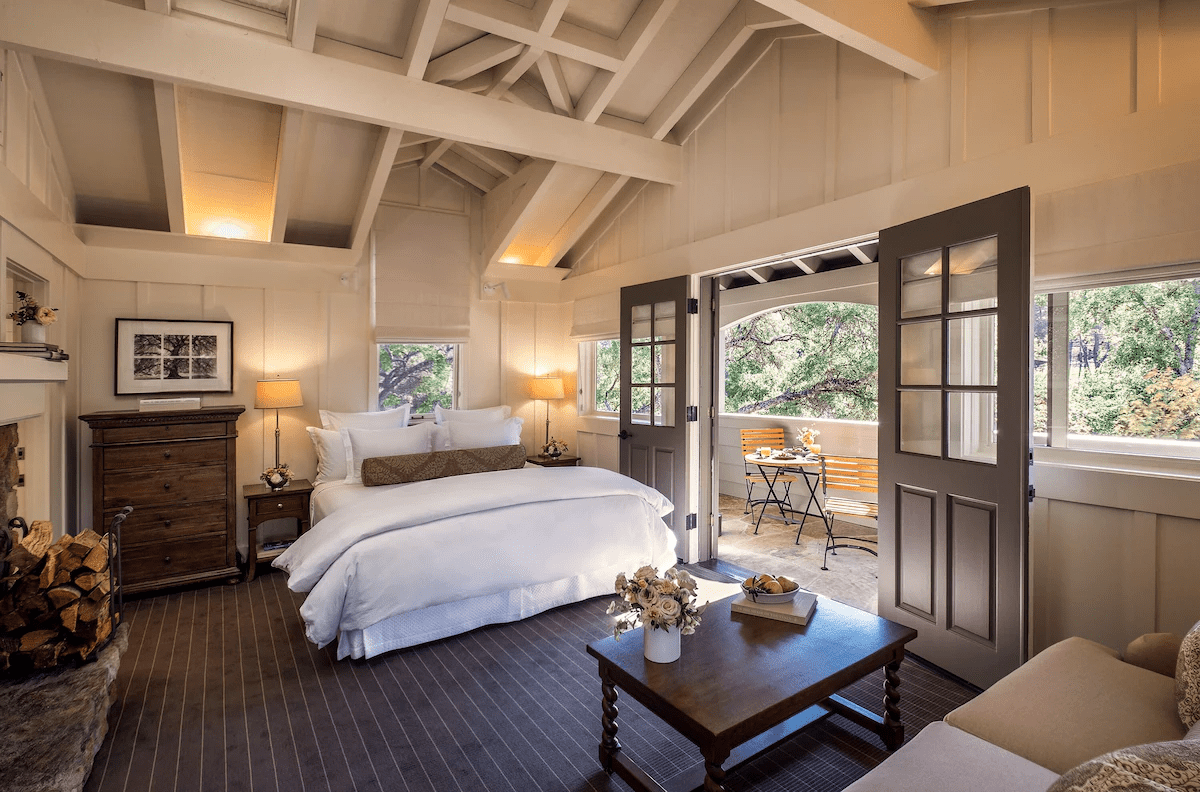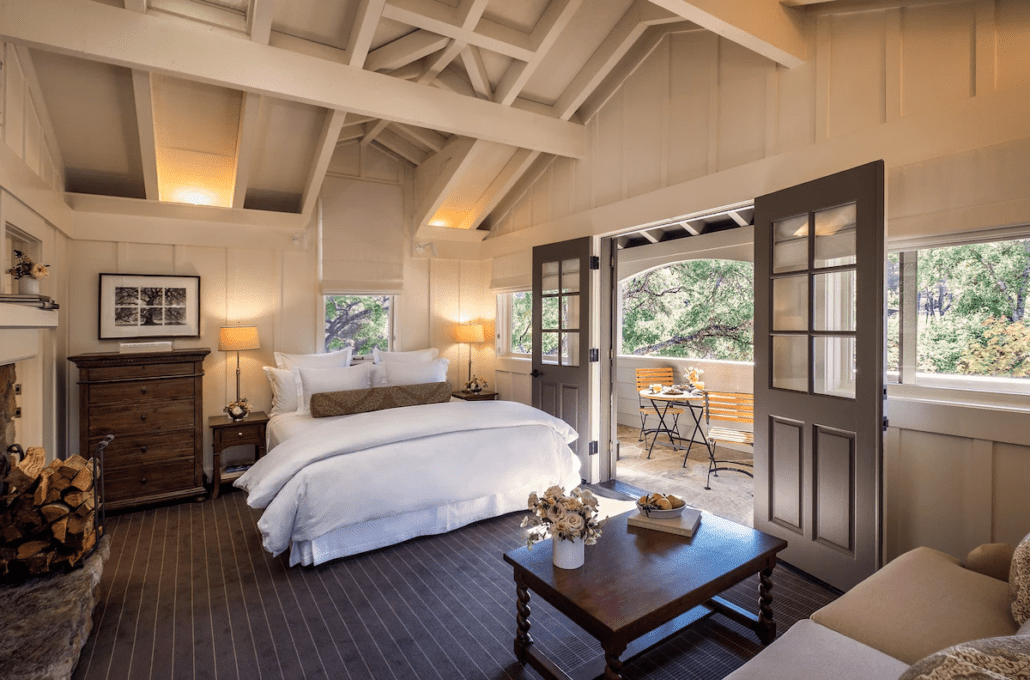 Meadowood is a private estate and destination for those who are seeking the best in Napa Valley culinary and wine experiences. It's a home-away-from-home setting where each room is made cozy with a fireplace and outdoor terrace.
The hotel was completely rebuilt after the Glass fire. The accommodations are stunning and offer a great blend of rustic and modern touches.
Sporting options are another reason this is one of the top Napa Valley hotels. Meadowood offers a wealth of activities for your inner sportsman including golf, tennis, croquet, hiking, and swimming.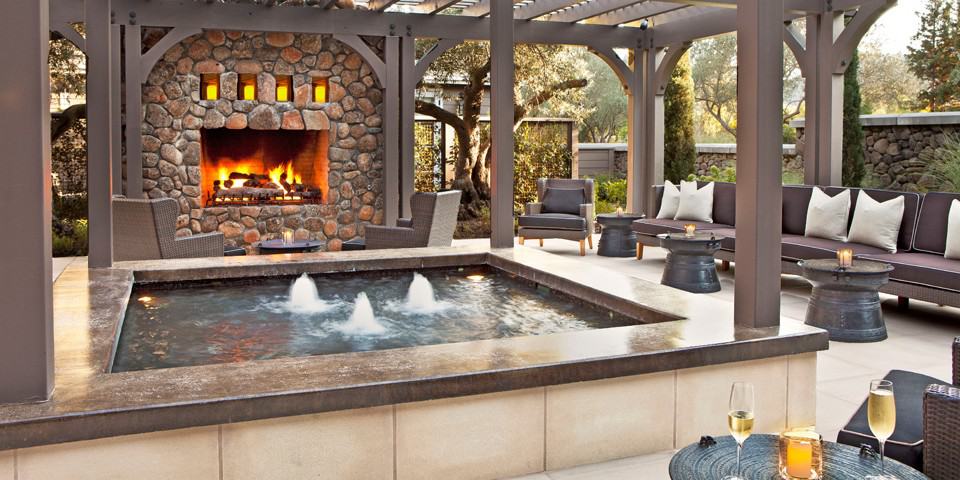 This hotel offers visitors a feast for the sense. The Robert Keenan and Lisa Holt design captures the simplicity and sophistication of today's Napa Valley. You are immersed in the calming colors and textures of nature and surrounded by extensive vineyards. This is the perfect way to connect with the local "terroir" of Yountville.
There is no need to get back in your car after you arrive. The hotel is situated within walking distance of markets, tasting rooms, and Michelin-starred restaurants. They even offer free bikes for you to explore a litter further afield. Grab a snack and a bottle of wine before you jump on your bikes and then find the perfect picnic spot!
Feeling more adventurous? Let the concierge of this intimate Napa hotel book you on a balloon ride high above the Napa Valley. This is a great way to take in the vineyards and wineries from above.
For reservations, you can book here online.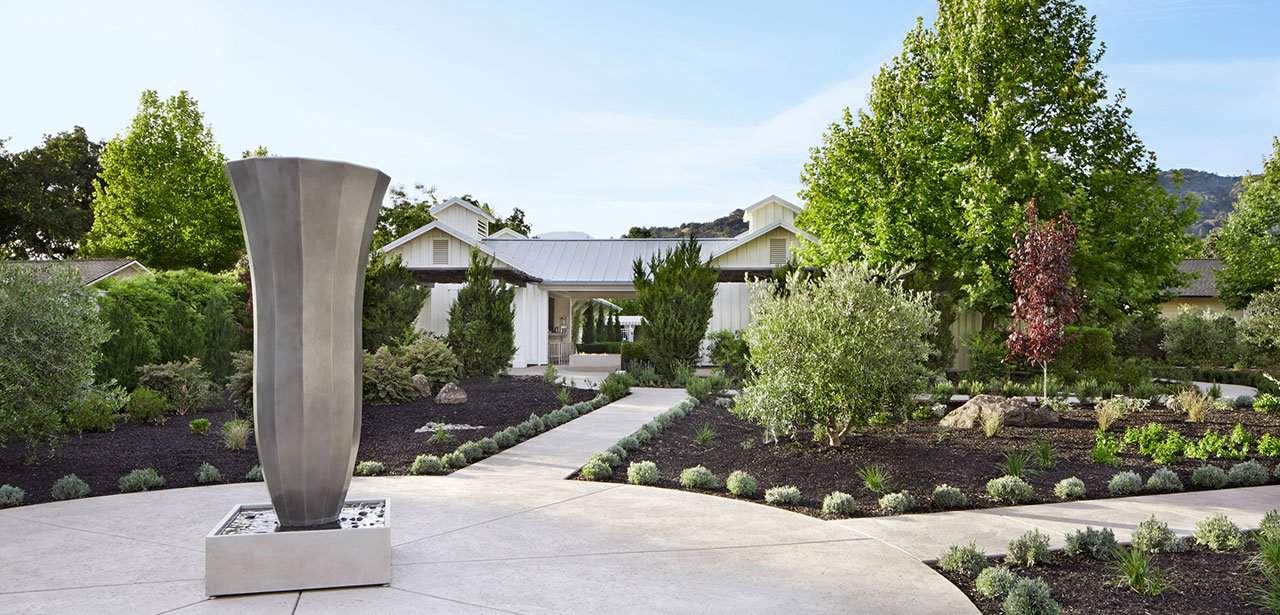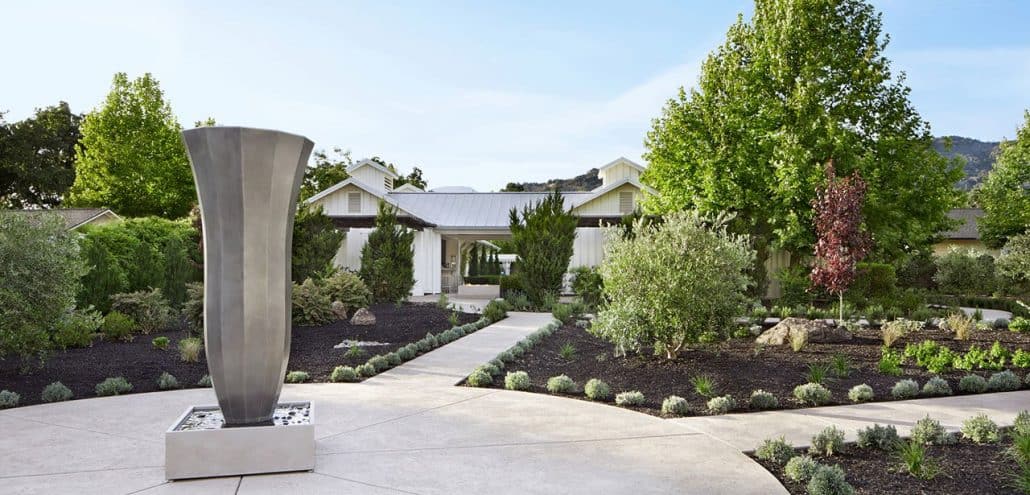 Photo Courtesy: Solage
Our next resort takes advantage of one of Calistoga's great natural resources. The geothermal waters that bubble up through the Napa Valley soil are put to great use by the Solage spa. That makes this one of the best resorts in Napa Valley if you are looking for a unique spa experience. Calistoga is known for its spring-fed mud baths. Solage has refined this experience at their Spa Solage.
The relaxing spa is just one great reason to visit Solage. The hotel boasts a 130-foot adults-only pool. Guests are provided two bikes per room to explore the local wineries. There is a Michelin-starred restaurant on site. This is also a dog-friendly Napa hotel!
If you are exploring the wineries at the north end of the Napa Valley and love unique spa experiences, this is one of the best hotels in Napa Valley.  For reservations book online or call (707) 266-7531.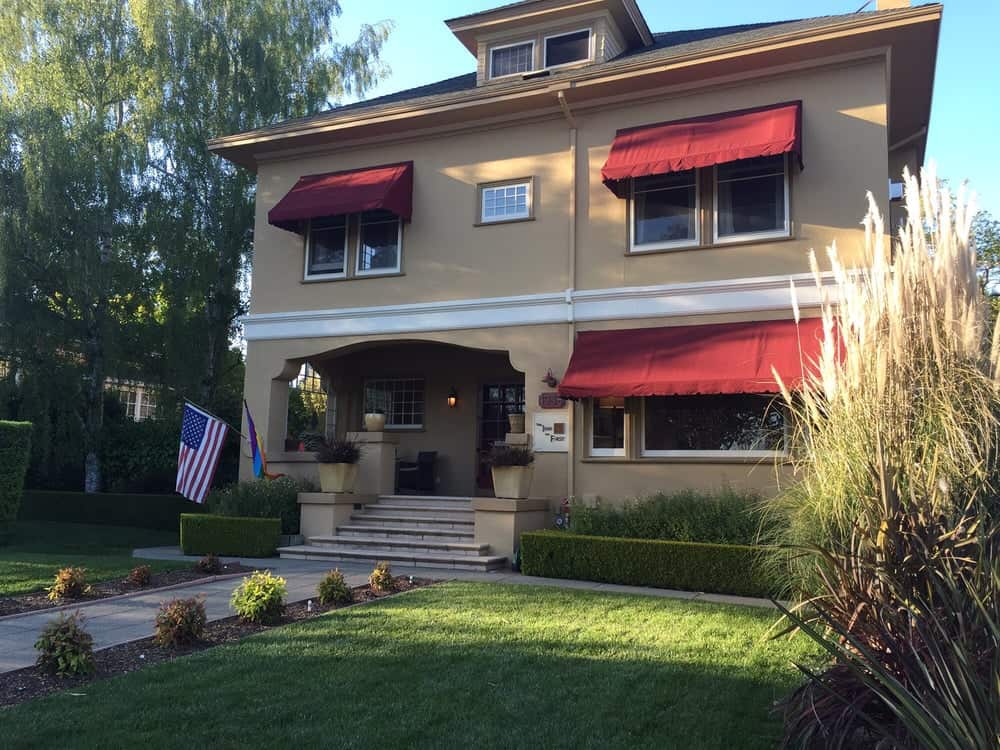 Rated as one of the top Bed & Breakfasts in Napa, The Inn on First has luxury room accommodations, a gourmet chef cooking up some memorable breakfasts, and delicious chocolate chip cookies offered all day long. It was formerly a mansion built in 1905 and has only seen three owners since its conversion in 2002.
The Inn is just a 10-minute walk from downtown Napa and offers a map of the best tasting rooms in town to visit. This is one of the best hotels in Napa Valley if you want to walk to your wine tastings.
The two owners run the Inn with great attention to detail - one owner is a chef and the other is a personal driver who offers a personalized tour of wine country for an extra fee which is added to the room.
Guests will feel right at home lounging in the outdoor courtyard reading their favorite book, and enjoying the complimentary in-room bottle of bubbly. The Inn even has dog-friendly rooms to bring your furry friend along. That makes it one of the best hotels in Napa for dog lovers!
You can book your room by clicking here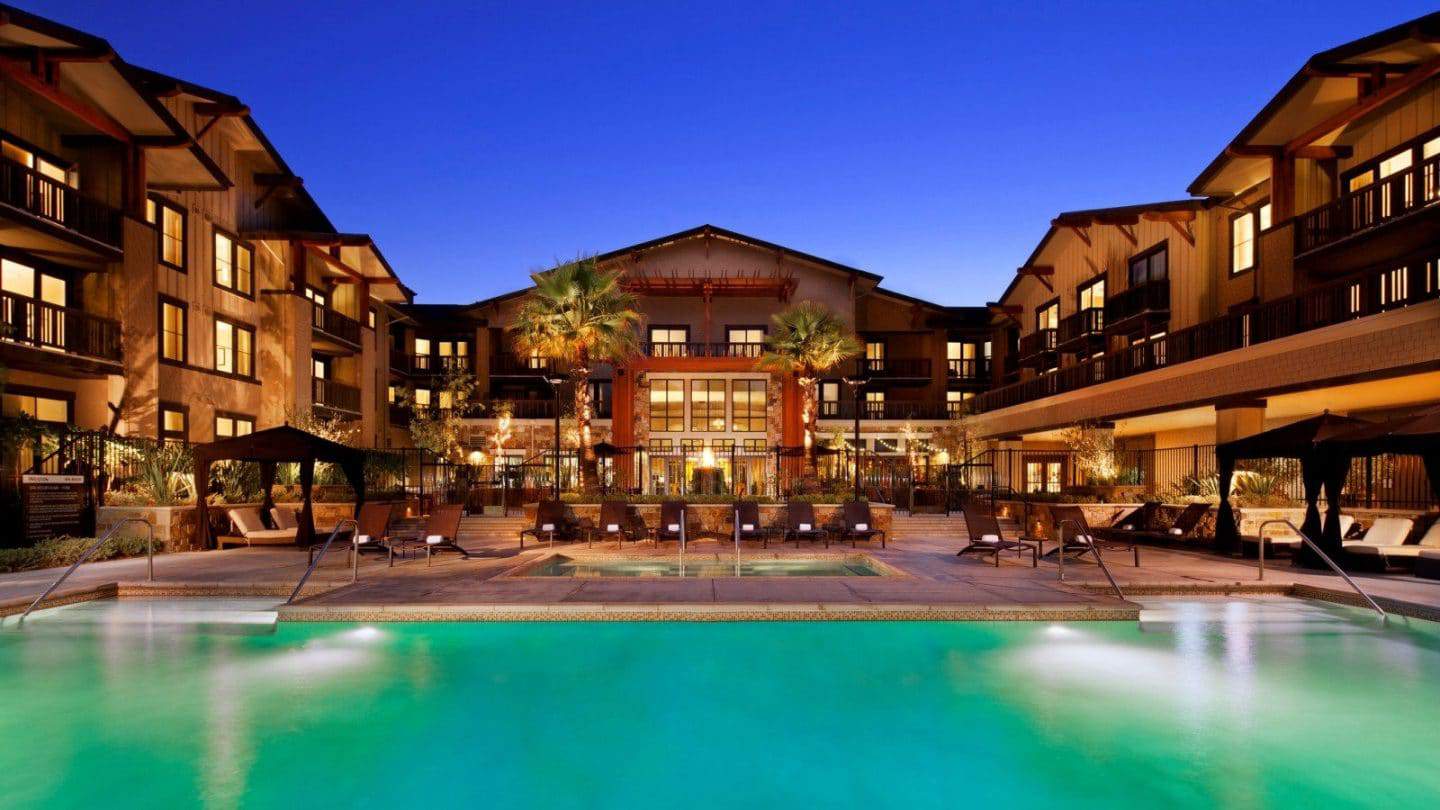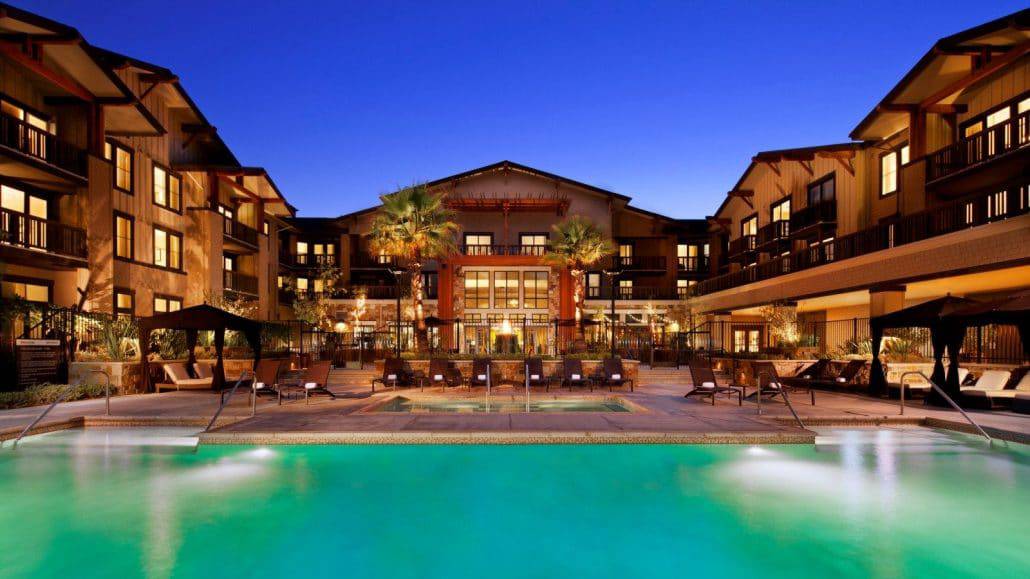 As a Westin property, you can expect some of their signature luxury amenities like their trademarked Heavenly Bed, complimentary Westin House Car, and 24-hour WestinWORKOUT Fitness Studio. This hotel also features a day spa, bocce courts, an outdoor saltwater pool, and a wine concierge.
It is within walking distance of downtown Napa. Their La Toque restaurant is Michelin awarded for the 6th year in a row and offers French-style cuisine including many vegan and vegetarian options.
Guests love the complimentary wine tasting every day in the lobby at 5 pm. It's hard to be one of the best hotels in Napa Valley without complimentary wine tasting!
For reservations follow this link

Talk about a prime location! This is another top Napa hotel for walking to your wine tastings. The Inn is located right in the heart of Downtown Napa's Riverfront District.
The waterfront location makes for tranquil views from the historic Hatt building where the Napa River Inn is housed. Each deluxe room features a fireplace and pillow top mattress. No resort fees are a bonus too!
The hospitality touches like complimentary house Lexus with a driver, free wine tasting upon check-in, turn-down service each night with chocolates and camomile tea, and complimentary "breakfast in bed" make the Napa River Inn a true contender for the best in Napa.
For reservations book online.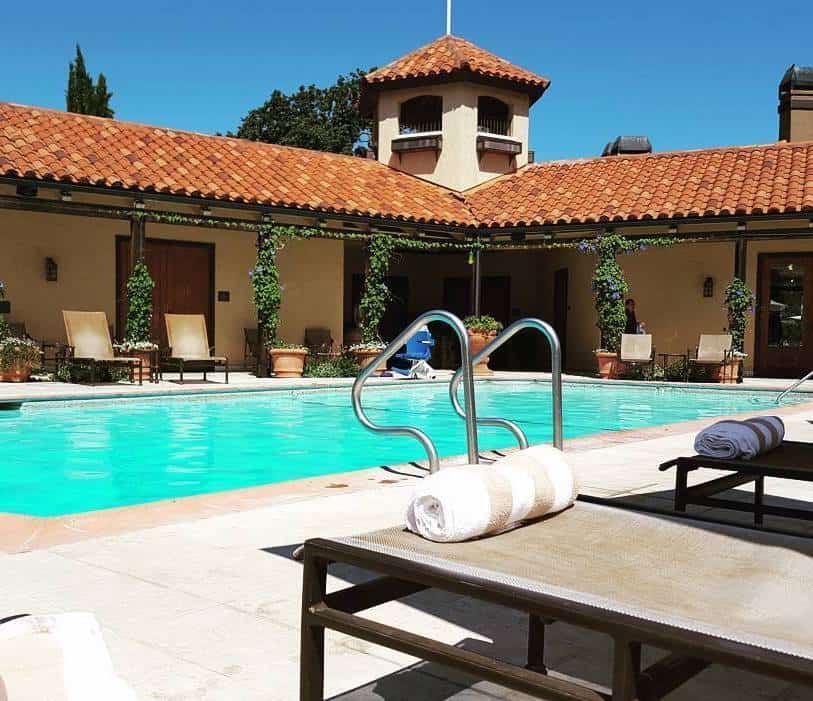 Another area of Napa that can not be missed is the little town of Yountville. This town is a condensed version of the mega wine-tasting lane of Hwy 29. Yountville boasts tasting rooms, restaurants, and a boutique hotel that make for a separate experience all its own. The Napa Valley Lodge is a Tuscan farmhouse estate right in the heart of Yountville and is tucked away in a quiet location off the main highway.
Some of the highlights of staying here include a welcome glass of champagne, a complimentary full breakfast (think continental on steroids with champagne), a beautiful pool with cabanas, vineyard views from your room, and reasonable room pricing per night.
Guests can enjoy the outdoor courtyard with a bocce ball court and fire pits, complimentary parking, free Wine House on Thursday and Friday evenings featuring local wineries, and complimentary use of bicycles to ride around Yountville.  Think your own private wine crawl on wheels! This is one of the best hotels in Napa Valley if you are focusing on the Yountville wineries.
Book your room here.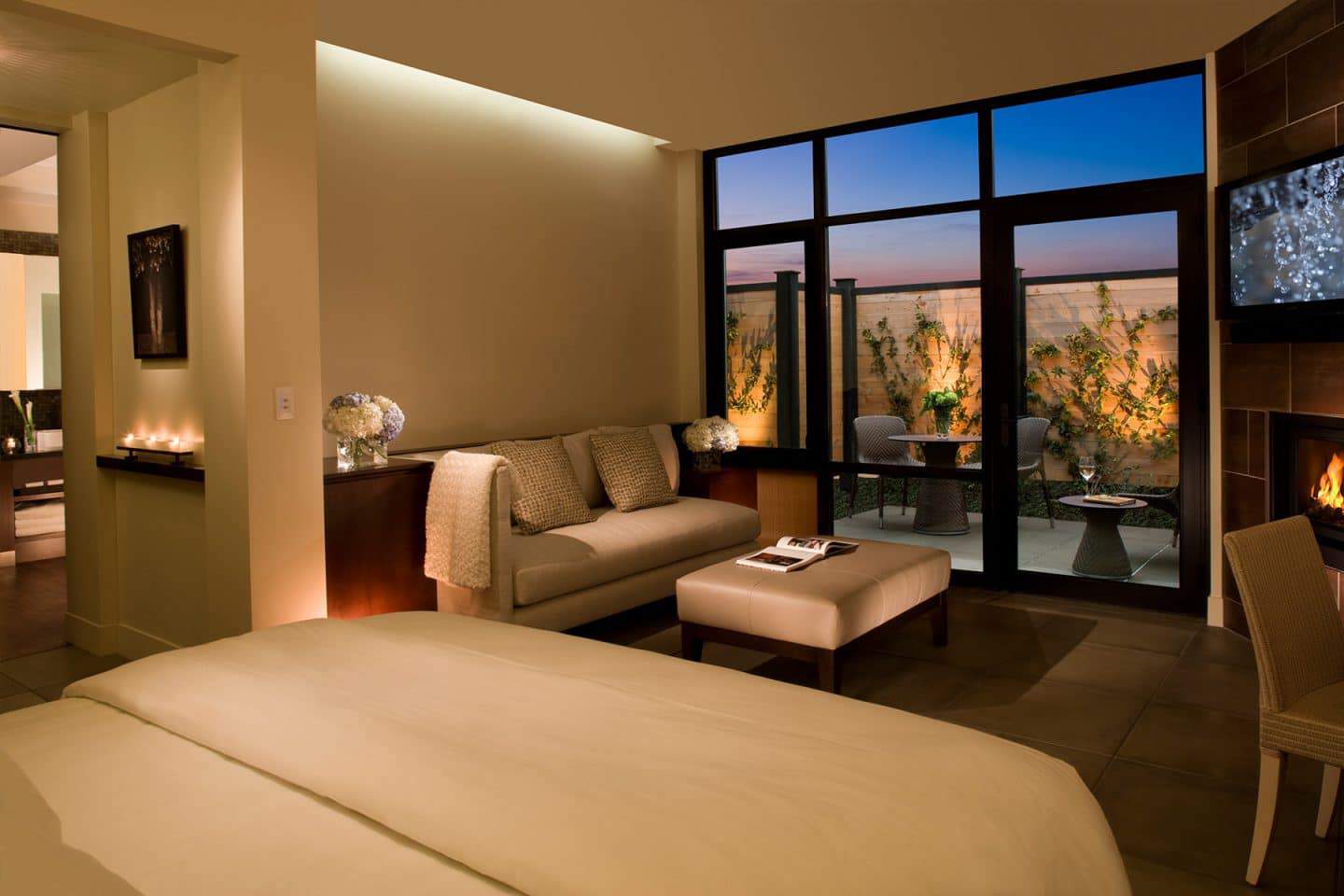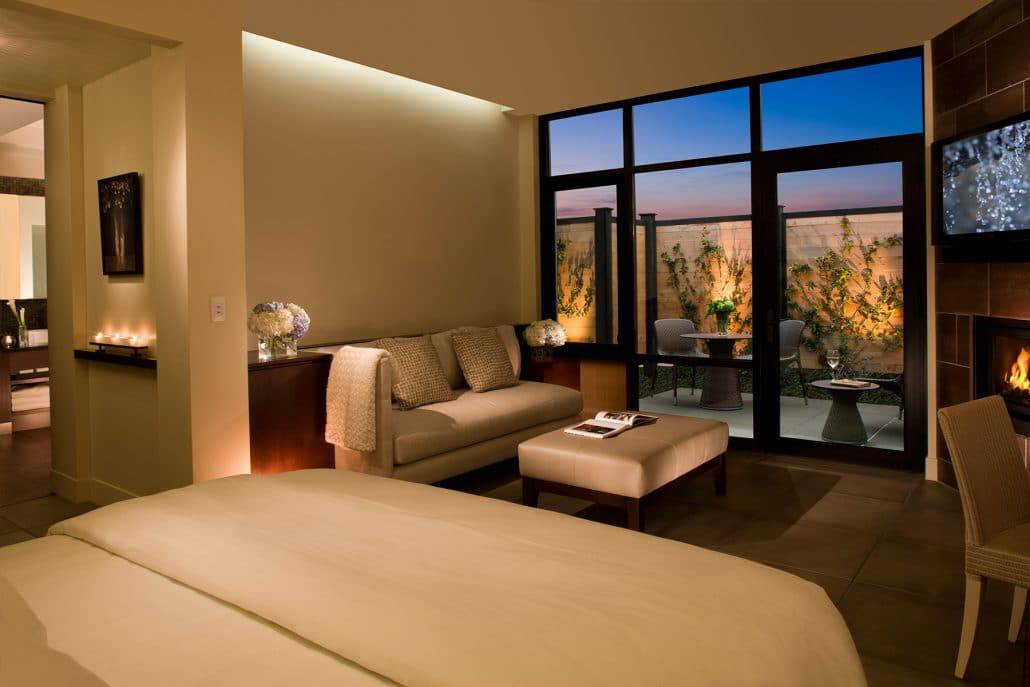 This hotel and spa is the definition of contemporary luxury. Guests can get pampered with amenities like in-room spa services, an on-site farm-to-table restaurant, and a rooftop pool and gardens. Bardessono is LEED-certified and prides itself on sustainable design which is why wood throughout the hotel is milled from salvaged trees, organic linens and cleaning supplies are used in each room, and solar panels cover the roofs of the hotel.
The hotel uses modern technology like iPads in each room to make ordering room service easy and entertaining. Lexus vehicles are on hand for your complimentary use. Activities like yoga every Monday and Saturday, Happy Hour at Lucy Restaurant on-site, and complimentary bicycles for use around town.
For reservations book online.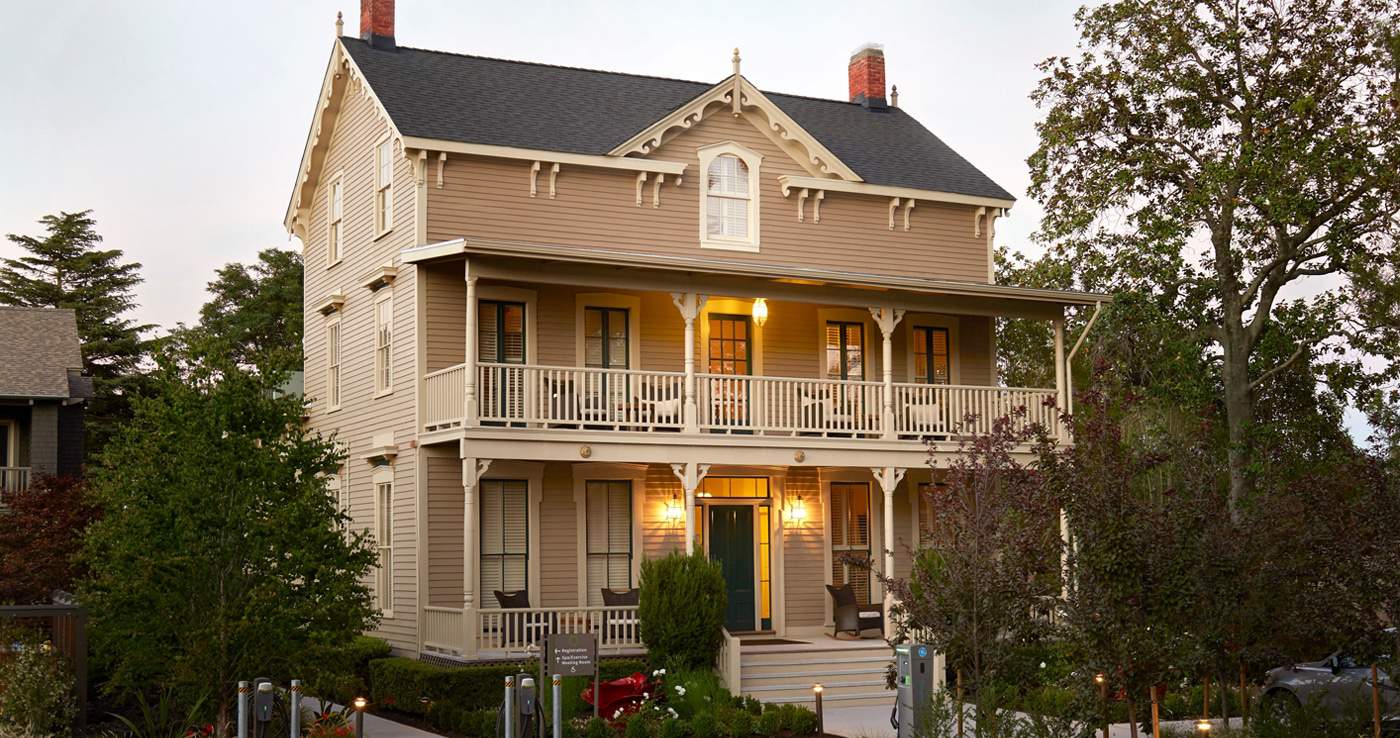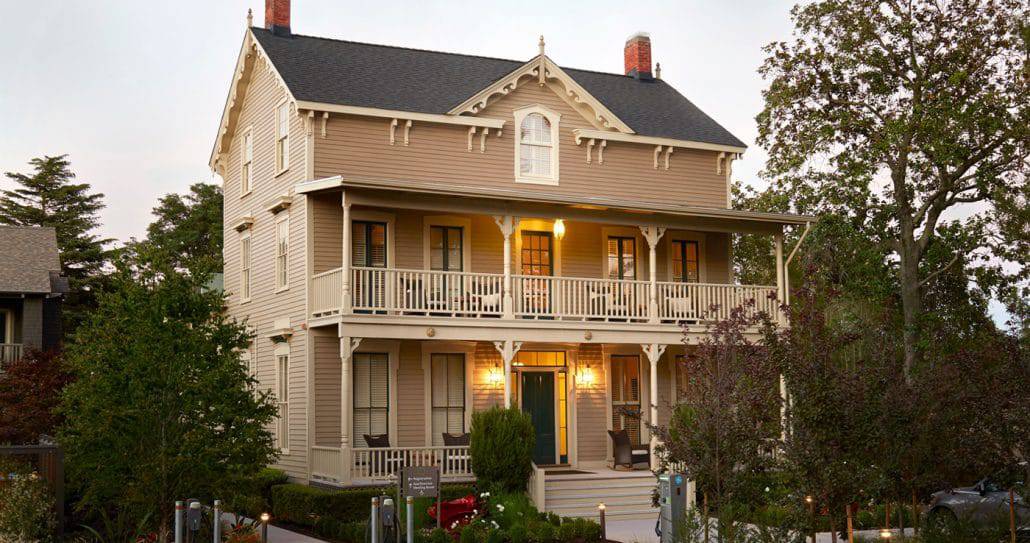 This is the hotel from the premier winemakers behind Hall Wines, Kathryn, and Craig Hall. Like their winery, they create a breathtaking experience by offering top-notch service, continental breakfast from Bouchon Bakery, happy hour with a free tasting from a local winery including cheese and meats, and an intimate outdoor setting with fire pits, hot tub, and pool.
The 41 hotel rooms and suites offer down-filled duvets, heated bathroom floors, organic bath products, and scenic country views of Napa's best vineyards. Senza is a top Napa Valley hotel if you want a more intimate experience.
For reservations book online or call (707) 253-0337.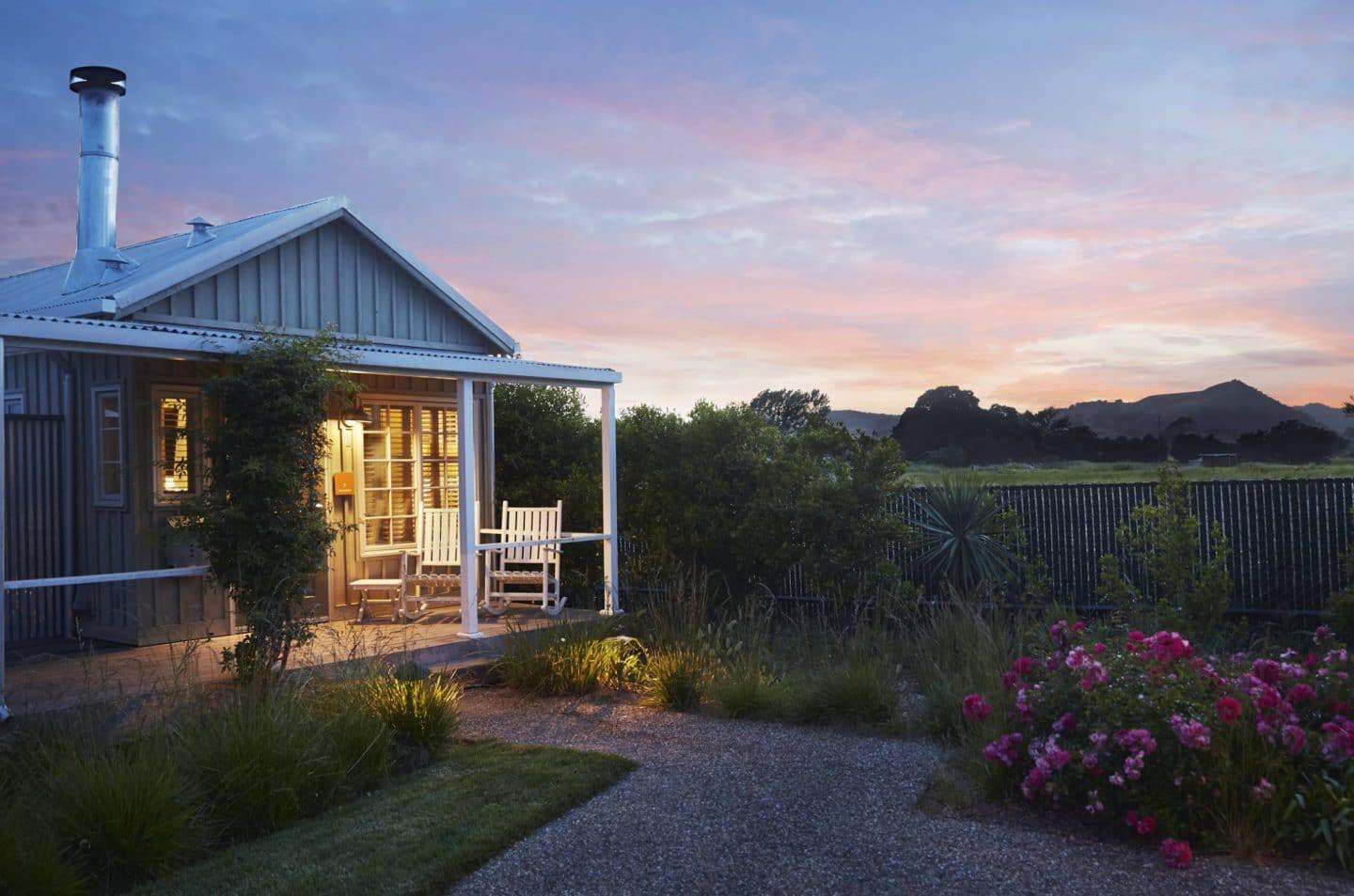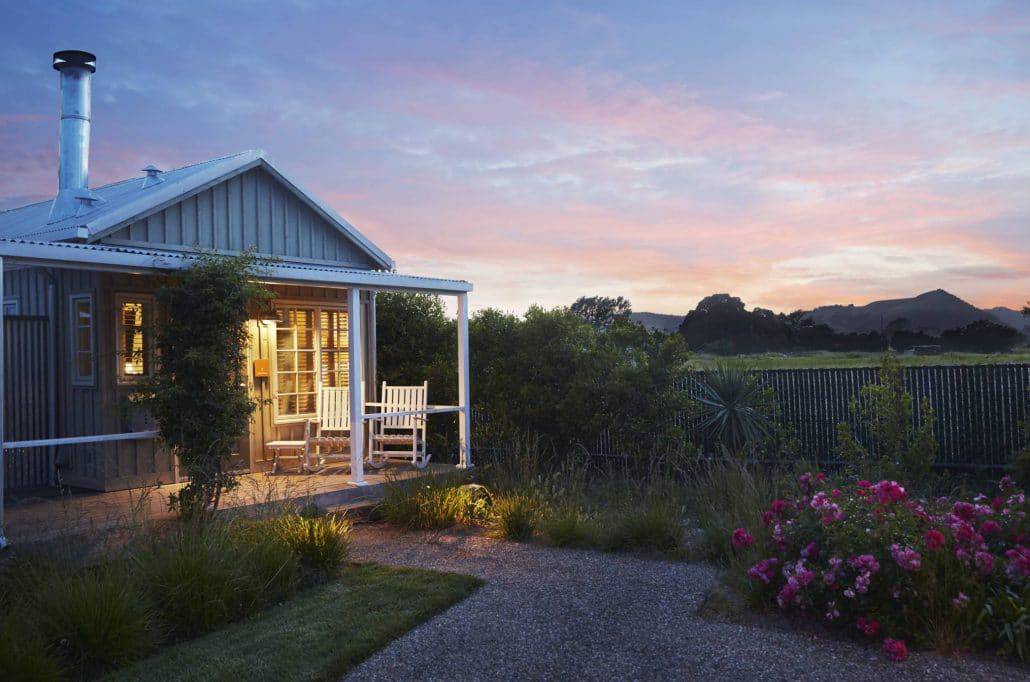 Looking for a self-contained vacation where you don't even need to leave your hotel? Carneros Resort & Spa offers all the luxury and resort amenities to keep you happy as a boozy clam.
Upon check-in, you're greeted with a complimentary glass of wine to kick-start your vacation. The suites offer private outdoor spaces with tubs where you can bathe naked without any nosy stares. Their infinity pool overlooks cascading vineyards.
The farm-to-table restaurant is essentially that with its very own organic garden where they pick fresh produce every day. They craft their bread, pastries, and charcuteries.  The on-site gourmet market has everything you need for the picnic of your dreams. You can find a 3,000-square-foot state-of-the-art fitness studio that offers strength training, boot camp, yoga, and guided meditation classes.
One of the highlights popular with guests is the outdoor fireplace where you can roast marshmallows for smores. They even sell s'mores kits at the hotel.
For reservations book online.
Conclusion
We hope you enjoyed our list of the best Napa Valley hotels. Napa is a beautiful place to visit any time of year. We know these hotels can get pricey in the spring and summer when the Valley is crowded. Consider visiting in the late Fall or Winter. You can often find deals at hotels and the wineries will be less crowded.
If you are looking for more affordable options, visit our post on the best places to stay in Napa on a budget.
Napa hotels that no longer make the list
Calistoga Ranch (Permanently Closed)
You can really get away from it all without giving up luxury accommodations. The Calistoga Ranch is located in a private canyon that features a rocky stream that feeds into a picturesque lake.  Travel and Leisure named this wine country resort a top-five destination in the US and it is surely one of the top Napa resorts.
The 50 rooms at the ranch are designed for indoor/outdoor living. There are acres of hiking trails, an onsite winery, and an award-winning spa. This is one of the best hotels in Napa Valley if you are visiting with kids. This is also a pet-friendly Napa hotel. You really need to see this hotel to appreciate its beauty of it. For reservations, you can book online or call (707) 254-2800