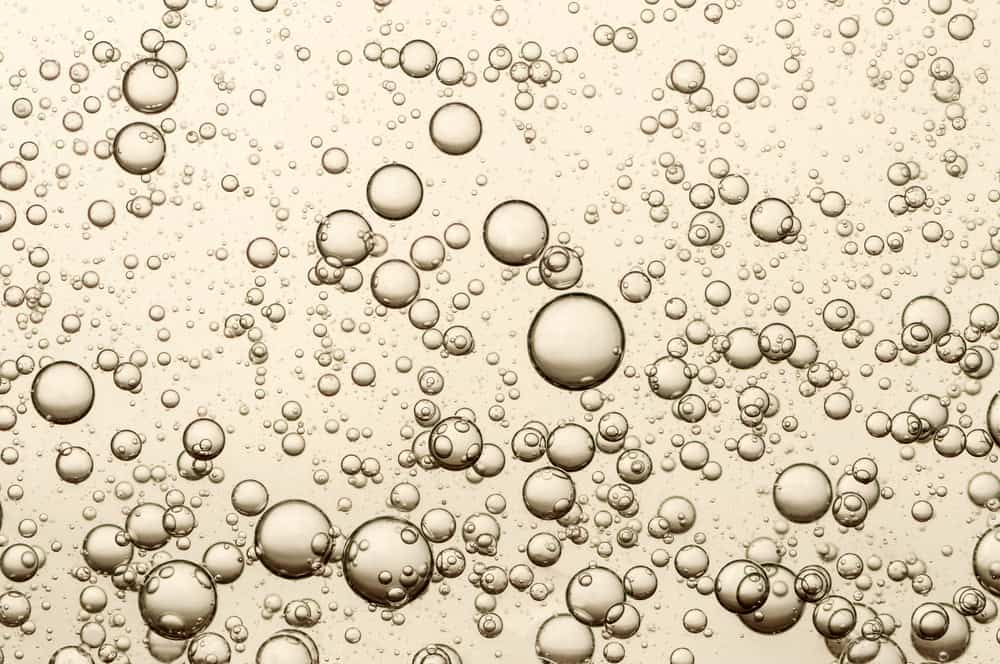 We decided to find the best champagne bottle stoppers. If we are being honest, there aren't many bottles of champagne, prosecco, cava, or any other sparkling wine that make it to the next day. That's the beauty of sparkling wine. It's so much fun to drink.
But let's pretend there is a bottle you need to store. Maybe it's just between pours or you popped open a bottle by mistake. You will quickly discover that you need a good bottle stopper that fits champagne bottles and can keep some of the bubbles in. The typical wine bottle stopper just isn't going to cut it and the cork certainly isn't going back in.
So what should you look for in the best champagne bottle stoppers? First off, you want to make sure the stopper is going to fit perfectly over the opening on sparkling wine bottles. Second, you need a stopper that will create a tight enough seal that will keep the sparkling wine pressurized. Finally, you want to make sure the stopper will keep any wine from leaking out when you store the bottle on its side.
Those are our top requirements. There are a few other things that are nice to have. You may want to find a stopper that doesn't extend much beyond the top of the bottle. That makes it easier to store your bottle standing up in the fridge if necessary because even the best wine fridges don't always accommodate some sparkling wine bottle sizes. You want components that are substantial enough to survive a number of uses. There are some models that are made of plastic, these will break down over time and any money you save will be wasted.
With all that said, there are three champagne stoppers we consider the best choices.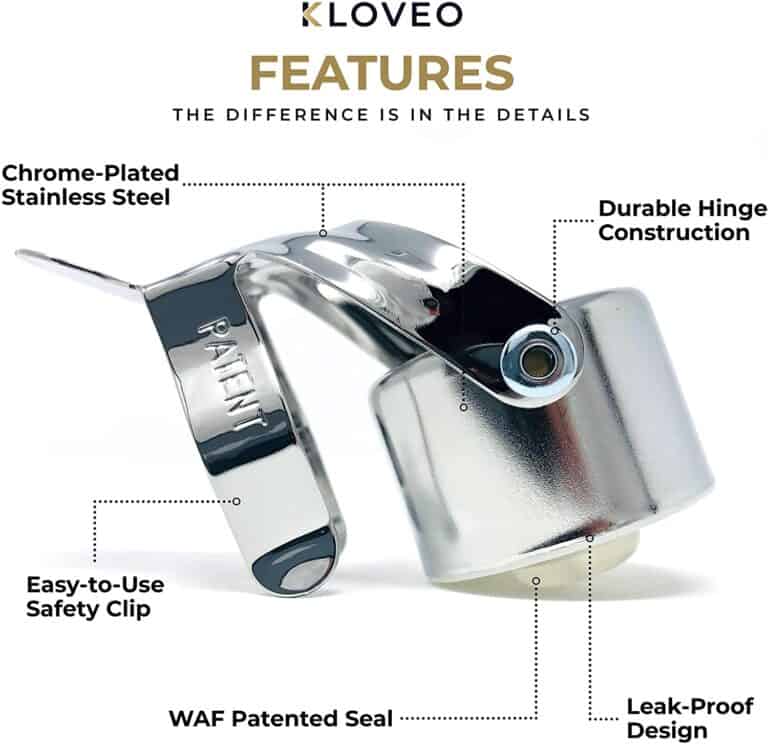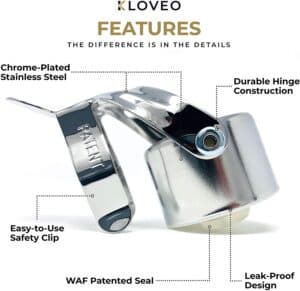 This stopper is designed to use the pressure created by the champagne to create a tight seal on the bottle. The seal gets tighter as the gas from the wine pushes against it. There is a safety latch that keeps the stopper firmly on the bottle despite the pressure from the sparkling wine.
The tight seal means the wine will continue to sparkle even after it's opened multiple times. The clip is designed to fit all standard 750ml bottles of champagne, prosecco, cava, etc.
This is stopper is not great for still wine because of the pressure-based design. However, it is a great gift for anyone who loves the bubbles.
Click here to see current prices and availability
Pair this with our favorite champagne bottle opener for a perfect holiday gift. Click here to see it.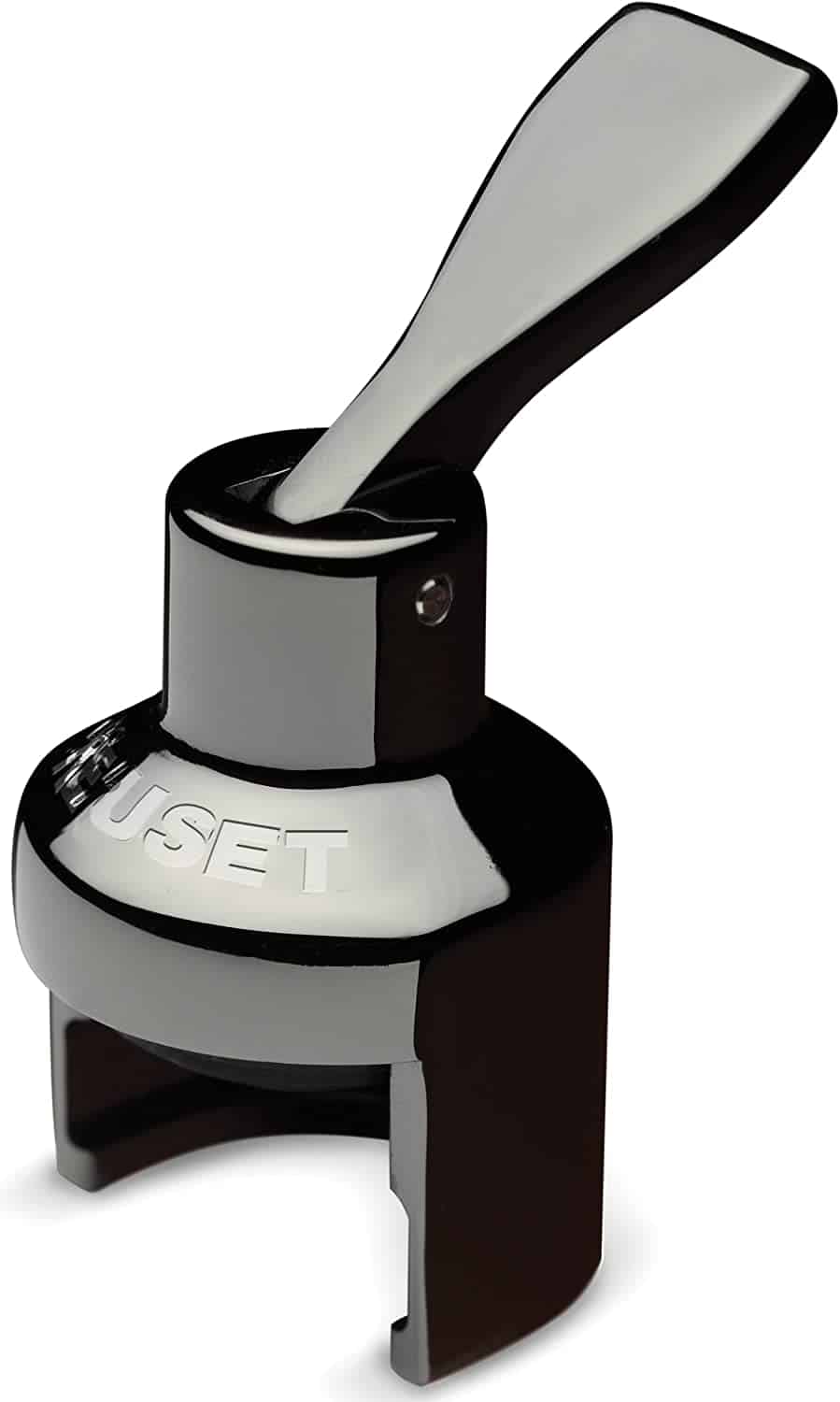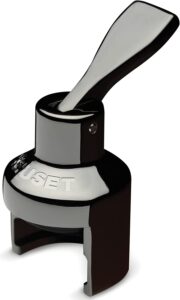 This is one of the best champagne bottle stoppers because it keeps the sparkle in the wine for more than a week. That is, of course, the most important reason to buy a champagne stopper. The simple and elegant design is what you would expect from Le Creuset. And the quality construction means this stopper will last for years.
This would be our number one selection if it weren't for a minor hiccup with the fit. The design of the stopper doesn't work with some bottles. While most people who own this stopper rave about it, there is a vocal minority who are turned off by the bottle shape limitation.
Ultimately, it's up to you to decide if that tradeoff is worth it.
You can order one by clicking here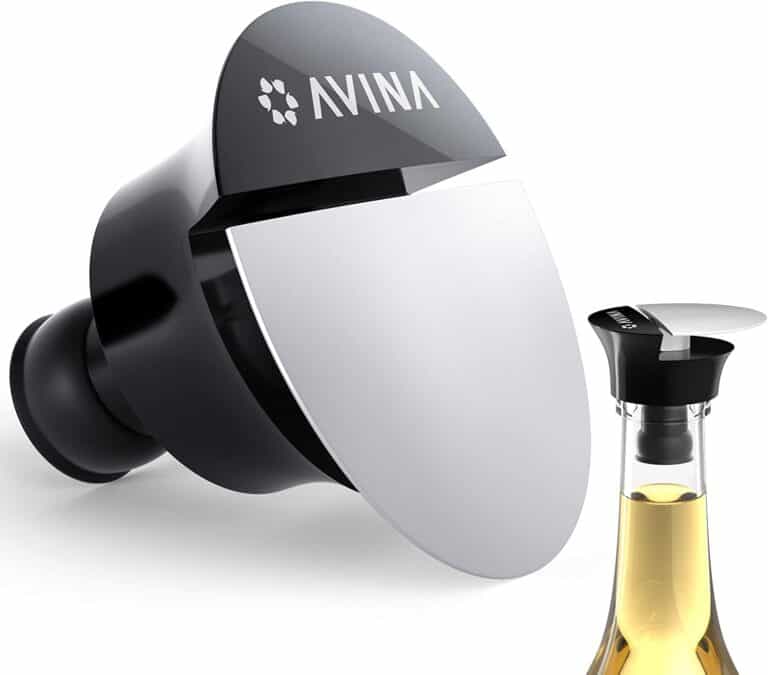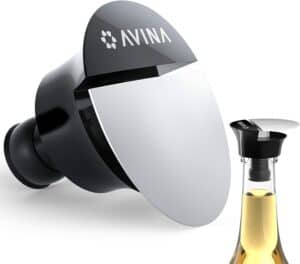 First off, the unique design of the Avina stopper intrigued us. This stopper expands inside the bottle to create a nice leak-free seal. That, combined with the fact it fits in all bottle sizes, landed it on our list of the best champagne stoppers.
We also like the fact that the stopper doesn't extend too far above the top of the bottle. That can come in handy when you don't have a lot of storage space and you need to stand the bottle upright.
This is the least expensive stopper on our list and they offer a lifetime guarantee.
Pick one up here.
An attractive three-pack from HYZ rounds out our list of the best champagne stoppers. You receive a rose gold, a gold, and a silver stopper in this package deal. Each stopper is covered by a lifetime guarantee.
These stoppers feature a high-quality pump that will help you create the perfect seal on your sparkling wine bottle. That will keep your bottle pressurized and plenty of bubbles will be waiting for you the next time up open the bottle.
These champagne stoppers also have a nice feature. You can turn a dial on the top of the sealer and set the date that the bottle was opened.
Click here to order this three-pack of sparkling wine stoppers.
Conclusion
While you may find cheaper options for sealing up your unfinished bottles of champagne, they probably won't keep it from going flat. Flat sparkling wine goes in the sink, so any money you saved will be wasted when you dump out a half-full bottle of your favorite sparkler.  We hope our list of the best champagne stoppers points you in the right direction and you find a stopper that lasts you for years to come.