The Best Wine Gift Baskets
So, you are searching for the best wine gift baskets online. There's hardly any other gourmet gift set that can match the wine and cheese or wine and chocolate combination. Whether you're looking for a fancy gift for your colleagues or clients or to surprise a family member on their birthday, you've come to the right place.
While we love the idea of giving a top wine club or cheese of the month club as a gift, sometimes gift baskets just make more sense.
In this article, we'll help you make a perfect choice. We've researched and hand-picked only the highest-quality curated wine baskets with cheese, chocolates, and sometimes both. You can read more about our review process here. 
Our Favorite Wine Basket Retailers
To start, here are our favorite sites for wine gift baskets. You can browse through these sites or look at the specific wine gifts baskets and wine sets we list below.
Gourmet Gift Baskets (click here)
Gift Tree (click here)
Wine.com (click here)
Broadway Basketeers (click here)
Discovering The 17 Best Wine Gift Baskets
Below you'll find a list of the 17 best wine gift baskets for your loved ones. To ensure we satisfy everyone's taste buds, we've picked the best wine and cheese baskets and the best wine and chocolates combinations.
Please note that this article about the best wine gift baskets contains affiliate links. That means we may be compensated if you purchase one of the baskets we list.
Let's jump right in.
1. California Classic Wine Basket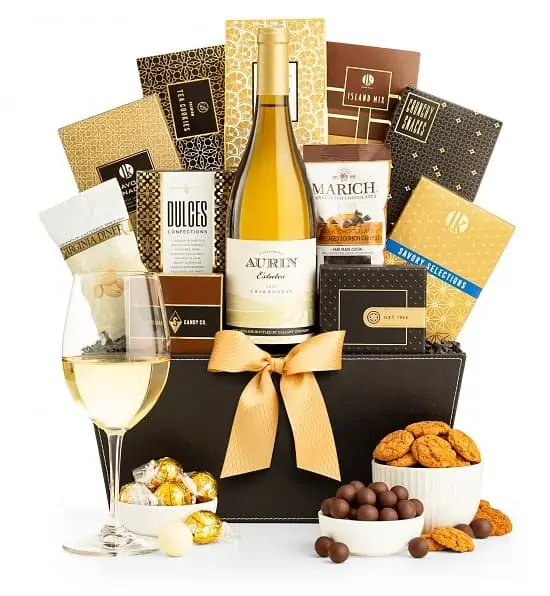 If you're looking to brighten someone's day, ordering this gorgeous wine gift basket will certainly do the trick. Inside, you can choose either a bottle of California Chardonnay or an elegantly styled California Red blend.
For an even greater impact, select white and red!
Snack-wise, you'll find Barrel-Aged Dark Chocolat Bourbon Caramels, Red Hatch Chile Peanuts, Lindor Truffles, and more.
Every little detail in this basket is well-thought-out and comes with a lovely solid-color decorative ribbon. The package also has a free card to add a greeting or send a message.
This $99.95 gift basket perfectly suits any party or event and is an excellent gift for wine and gourmet snack lovers.
Click here to find out more about this beautiful basket.
2. Artisan Charcuterie & Wine Tray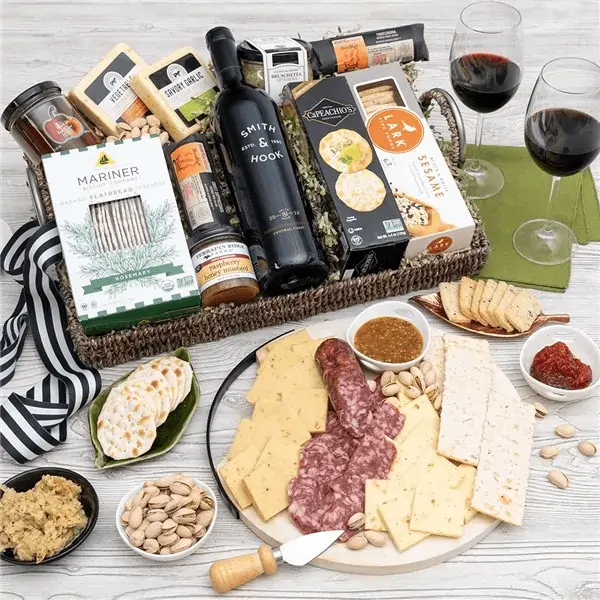 If you want to make an impression, you can stop right here. The Artisan Charcuterie and Wine Tray will dazzle your client, boss, friend, or whoever else you send it to. It features a bottle of premium wine; Cabernet Sauvignon by Smith & Hook.
It also features everything the recipient will need for a great charcuterie plate. Here is a portion of the yummy treats that are included.
Sweet Soppressata by Brookly Cured - 5 oz.
Organic Rosemary Flatbread Crackers by Mariner
Artichoke Bruschetta by Cucina & Amore - 7.9 oz.
Garlic Cheese by Mountain View Farms- 6 oz.
This memorable wine gift basket can be delivered next day!
Click here to order.
3. California 92 Pt Wine Gift Basket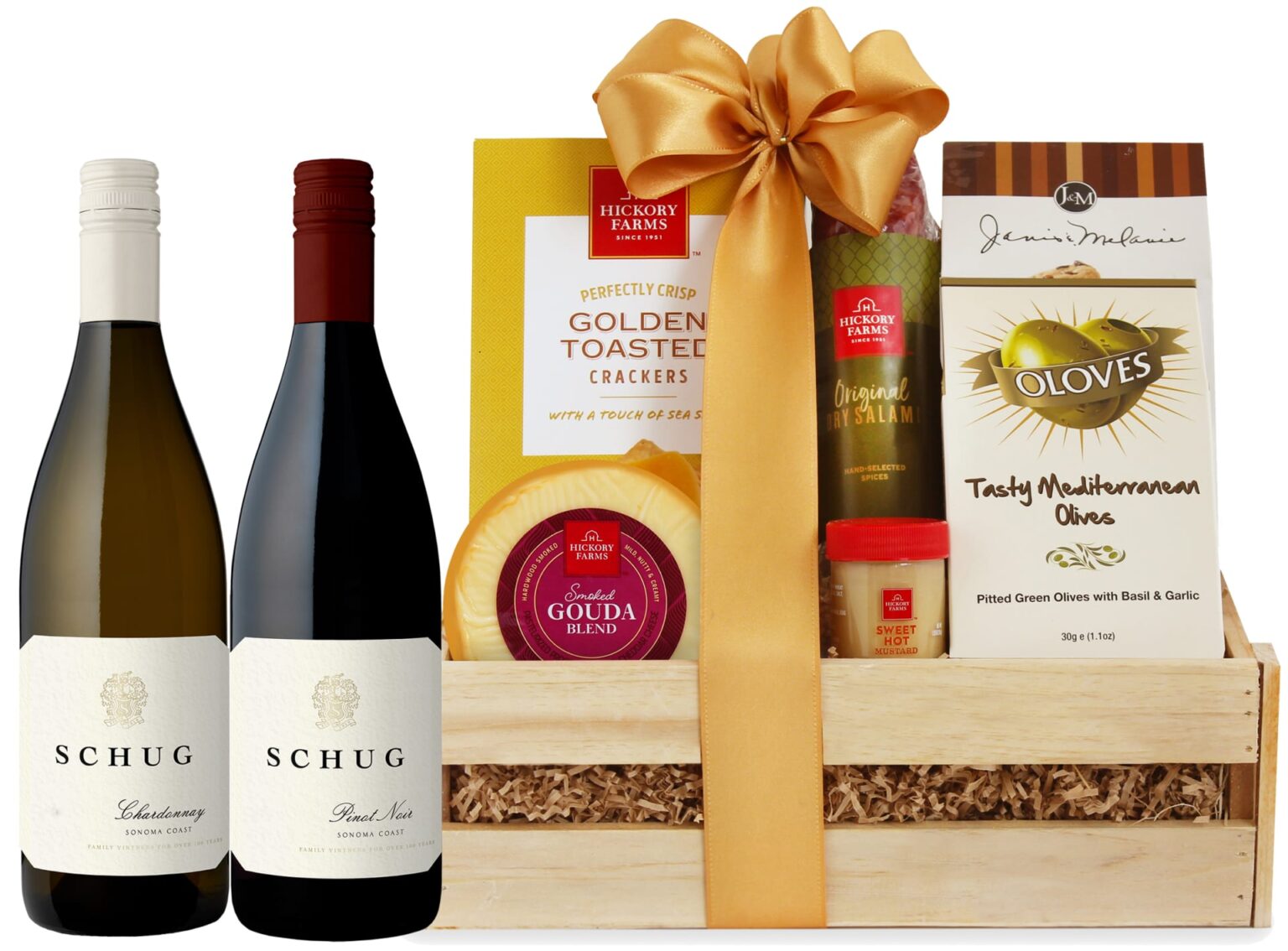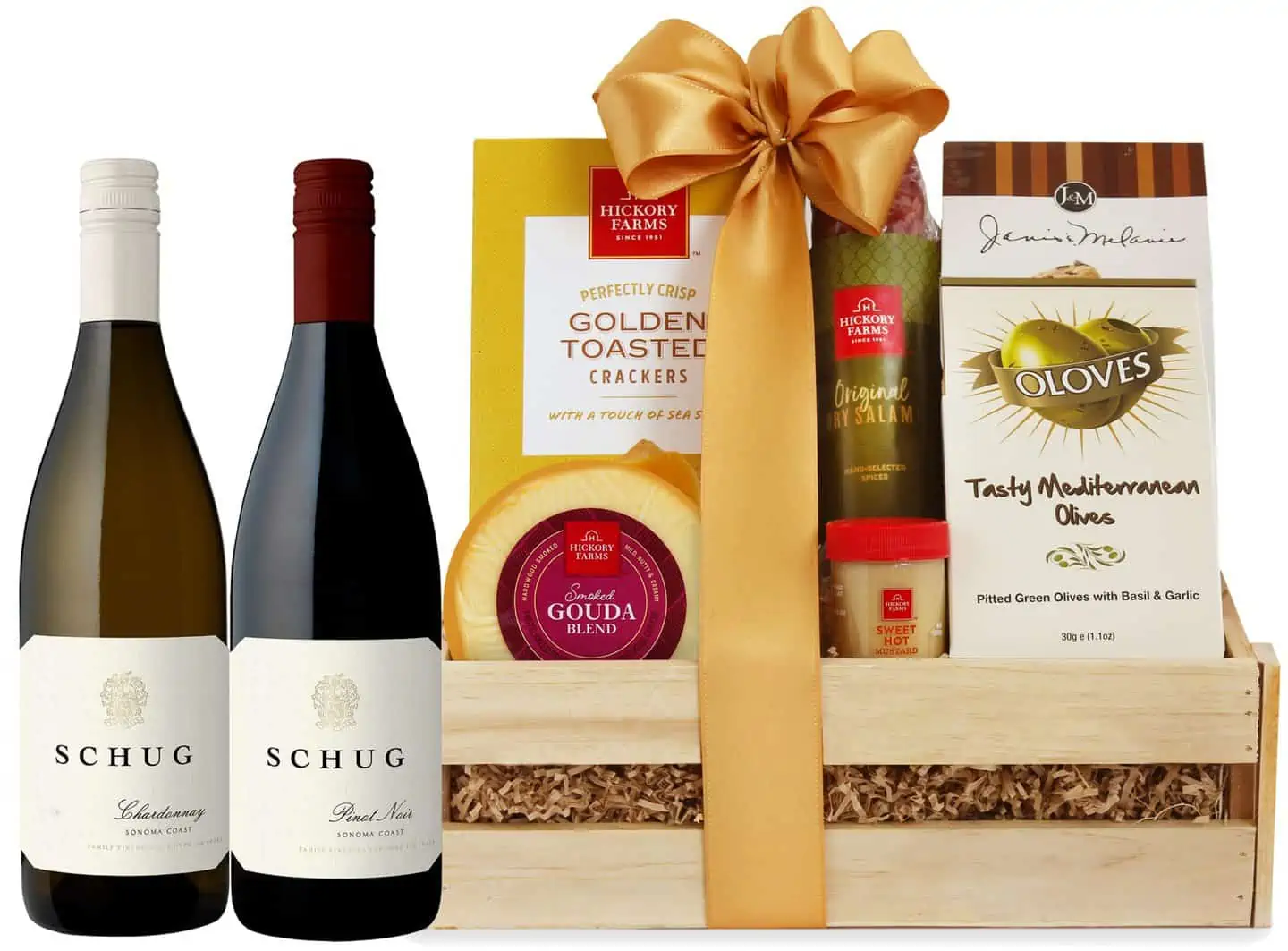 We're happy to present this beautiful all-Californian wine gift basket for those who want to taste the best wines from the region. Each wine scores over 90 pts. The set includes Pinot Noir and Chardonnay from Schug Winery in Sonoma along with an assortment of tasty gourmet foods.
The snacks include Hickory Farms smoked gouda and sweet hot mustard, Omaha Steaks Italian dry salami, J&M Chocolate Chip Cookies, Hickory Farms Golden Toasted crackers, and more.
This $89.99 stunning wine basket is an excellent gift idea for anyone who likes the taste of California's premium wines and some tasty snacks to accompany it.
Click here to get more details about the California 92 Pt. Wine Gift Basket.
4. Luxe Champagne and Chocolate Pairing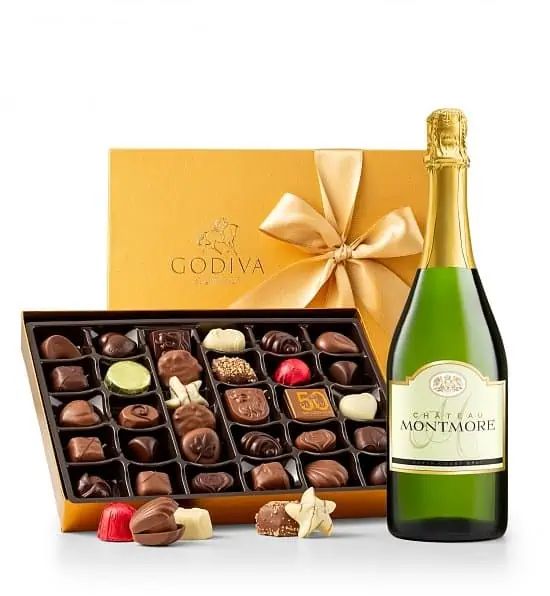 This elegant "Congrats" gift box is one of the best wine gift baskets for loving moms, girlfriends, or sisters. This Luxe Champagne and chocolate paring box features a bottle of Chateau Montmore Cuvee from California's north coast. 
The box also includes an assortment of Godiva chocolate truffles. You can easily personalize this memorable wine gift. 
Click here to find out more about this beautiful wine basket.
5. White Wine Ultimate Gift Tower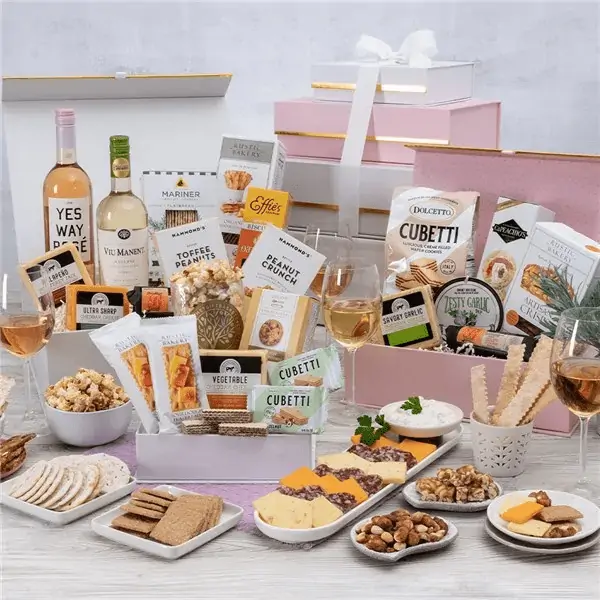 We were excited to come across this wine gift basket from Gourmet Gift Baskets. This newly created basket breaks away from the old habit of focusing on heavy red wines. We love the addition of a pink wine and love the updated packaging. If you want to send a more modern feeling gift basket, this may be the one for you.
So what do you get? This wine "basket" includes:
1 bottle of Yes Way Rose Wine
1 bottle of Sauvignon Blanc from Viu Manent
An assortment of crackers, cheese, and cured meats that are perfect for a charcuterie board
Yummy cookies and sweets that any recipient will love.
We believe this is one of the best wine gift boxes for anyone who wants to send a gift that is more fun and on-trend.
Click here to order this wonderful wine gift box (currently out of stock)
6. Brut Strength Champagne Crate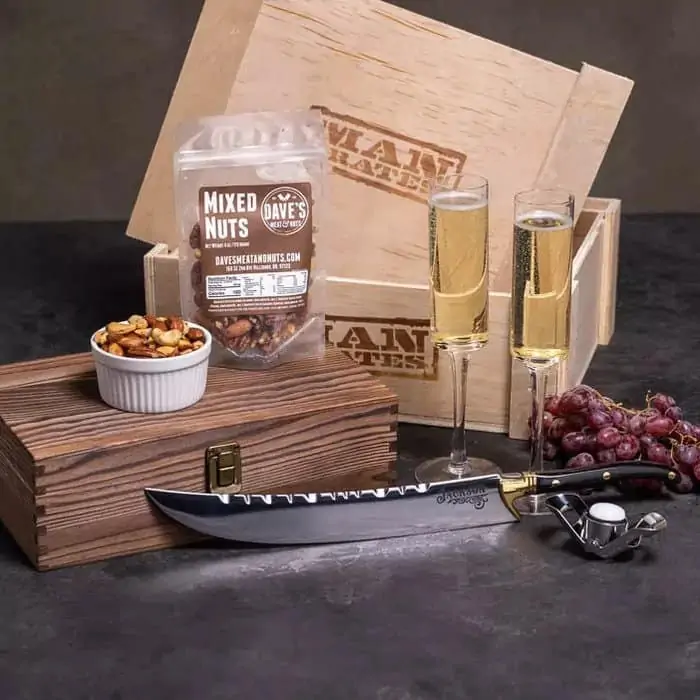 Featuring next on our list is this magnificent gift box, including a champagne flute set, personalized stainless steel champagne saber, a champagne stopper, and mixed roasted and salted nuts. To make things even more authentic, the whole box ships in a wooden crate with a laser-etched crowbar.
This $79.99 champagne gift box is a perfect gift for dads, brothers, or boyfriends who are into stylish champagne glasses and have a thing for champagne sabers.
Click here for more information about the Brut Strength Champagne Crate.
7. 90-Point Prosecco & Cheese Gift Basket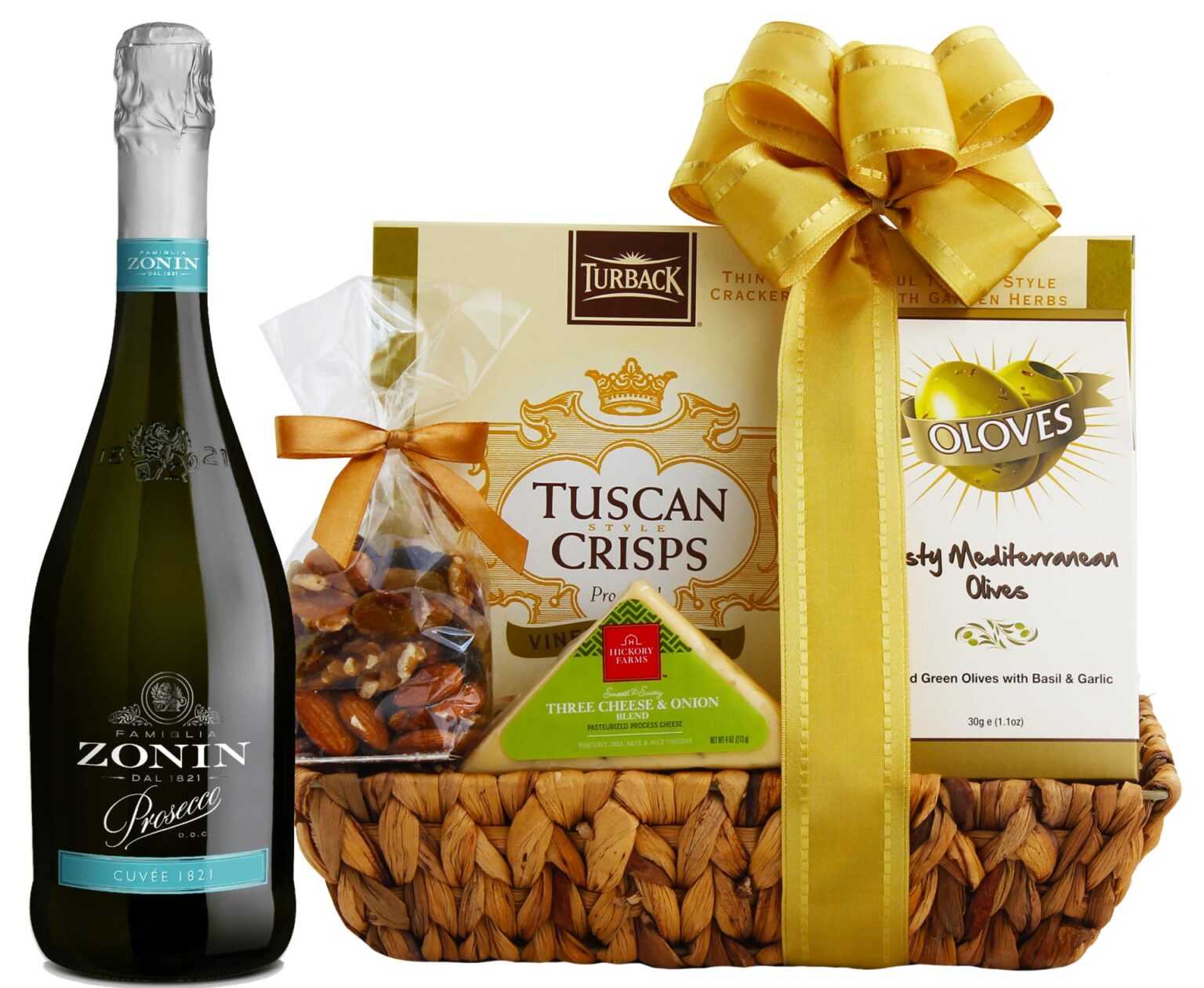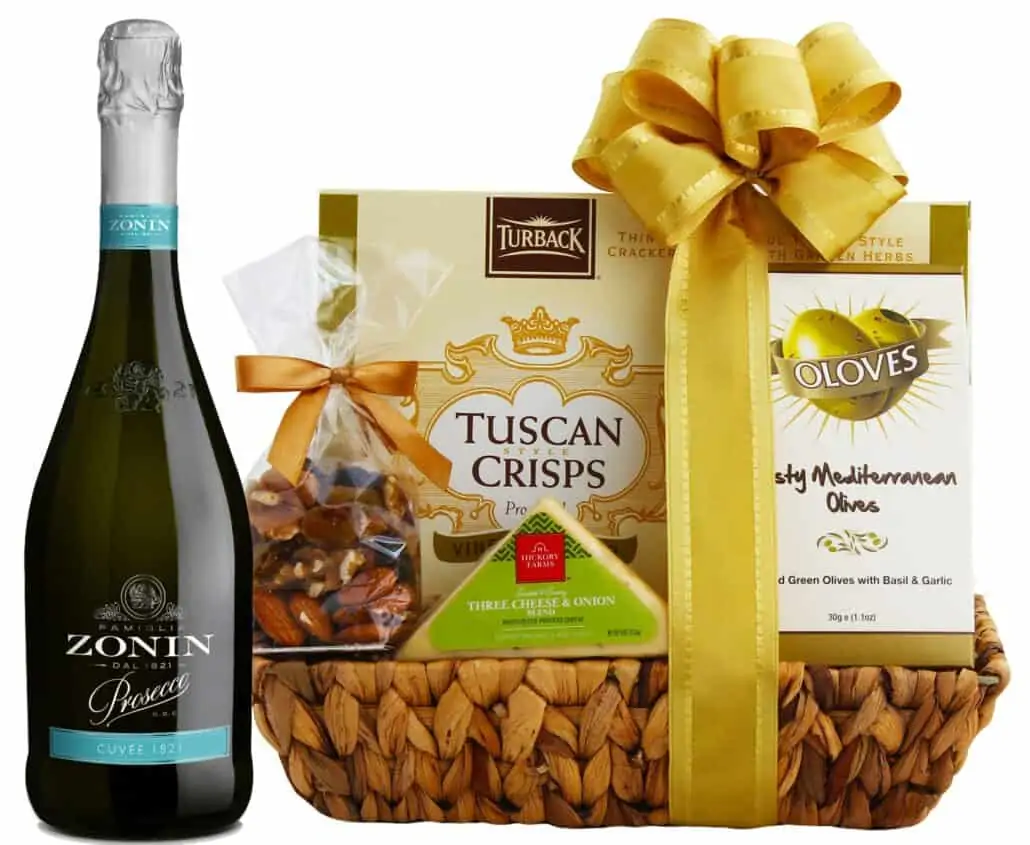 Here's one of the most charming wine and cheese gift baskets you can find for $44.99. Inside, you'll find a lovely Italian prosecco with a savory collection of cheese, olives, fruit and nut mix, and crackers.
The Zonin prosecco is a pale, straw-yellow mousse-rich wine with subtle green hues. An elegant wine enhanced by lovely fruity notes is bound to please every dry wine enthusiast. Just like other wines from the 90-point collection, this prosecco is one of the highest-rated wines on the market.
Click here to find out more about this charming wine basket.
8. The Red Carpet Wine Gift Basket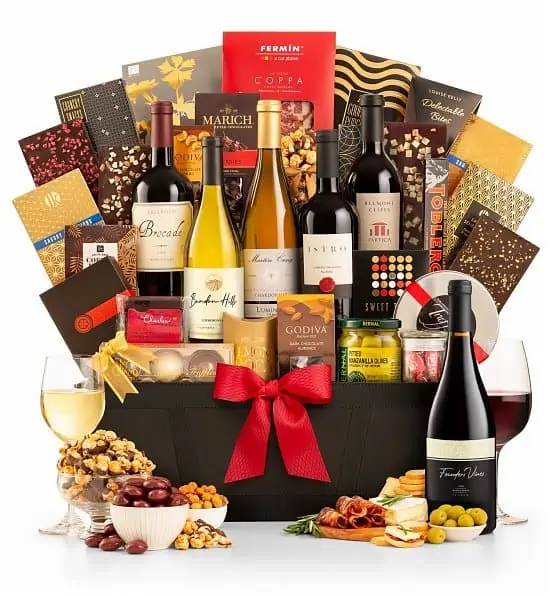 The Red Carpet Wine gift basket from Gift Tree is a gourmet gift in every sense. This impressive wine basket is equipped with the following wines:
Abelroth Brocade Napa Valley Meritage Reserve Bordeaux Blend

Bandon Hills Chardonnay

Belmont Cliffs Partica Napa Valley Reserve Cabernet Sauvignon

Founders Vine Russian River Pinot Noir

Istro North Coast Cabernet Sauvignon

Martin Craig Luminist Russian River Chardonnay
These wines are all rated with 90+ points, making this basket a perfect option for expert wine enthusiasts.
This basket comes with a pack of twenty-two gourmet snacks next to the six exquisite wines, including premium milk chocolate, chocolate drizzled popcorn, roasted almonds, olives, pretzels, chocolate truffles,  and much more.
The $499.95 content-packed basket is a great corporate gift. Many people can enjoy delicious snacks while sipping some of the highest-rated wines.
Click here to find out more about the Red Carpet Wine Basket.
9. 2020 Bella Italia Gift Basket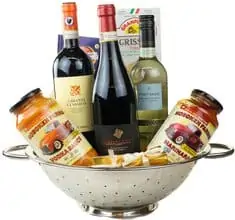 This lovely Bella Italia gift basket comes with three classic Italian wines: Pinot Grigio, Barbera, and Chianti. The Pinot Grigio has apple, pear, and almond notes, while the Barbera has violet and plum flavors followed by red fruit and a touch of earthiness. The Chianti comes with tart red berries, dried sage, and some hints of cedar.
All pasta lovers will appreciate its delicious gourmet pasta with sauces, including marinara and vodka sauce. On top of delicious food and drinks, this gorgeous gift basket comes in a colander, which can be a lovely addition to the recipient's kitchen.
This all-in-one wine, pasta, and snack gift basket will cost you $99.95, with delivery across the U.S starting from $16.13.
Click here for more details about the Bella Italia Gift Basket.
10. California Wine Corporate Crate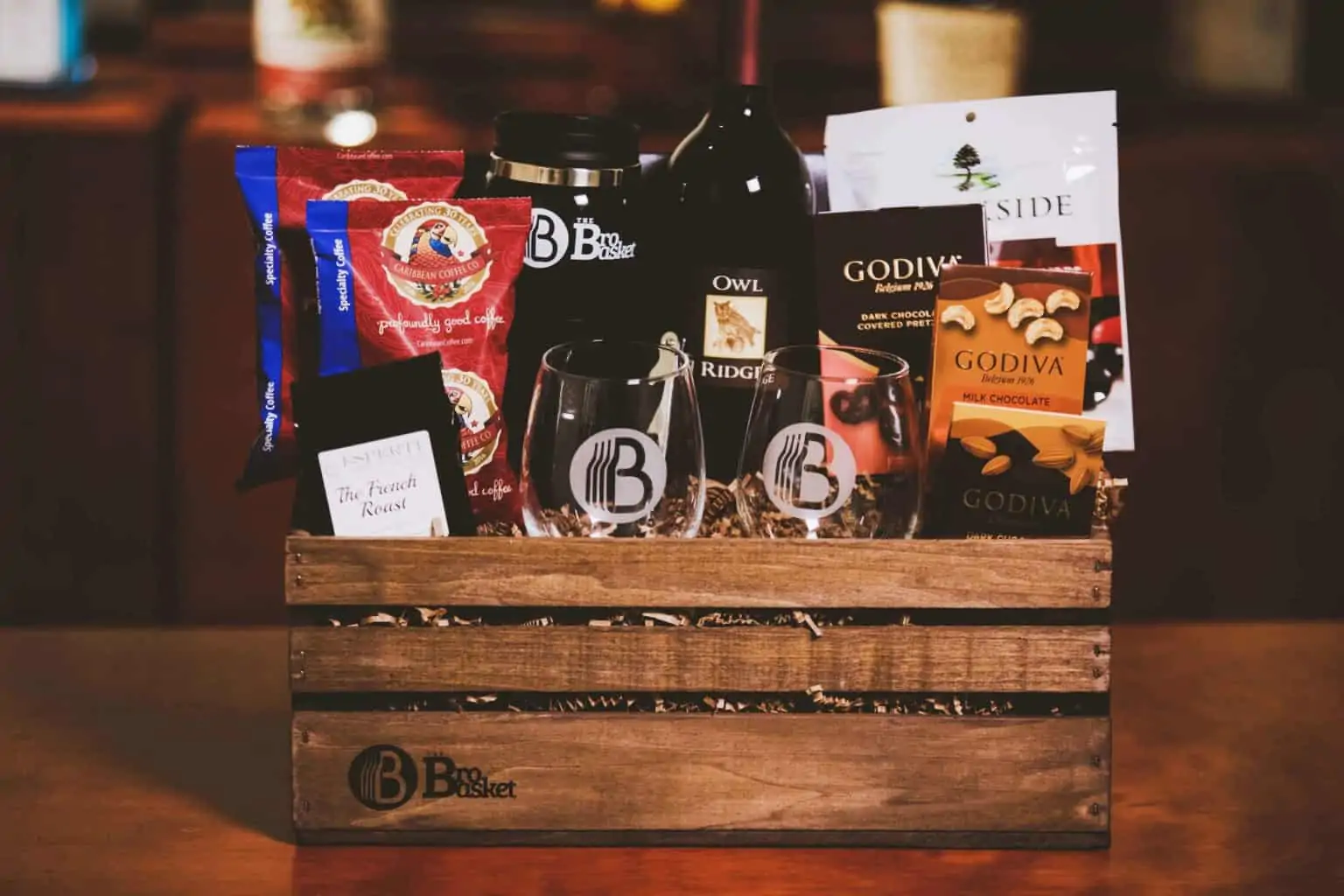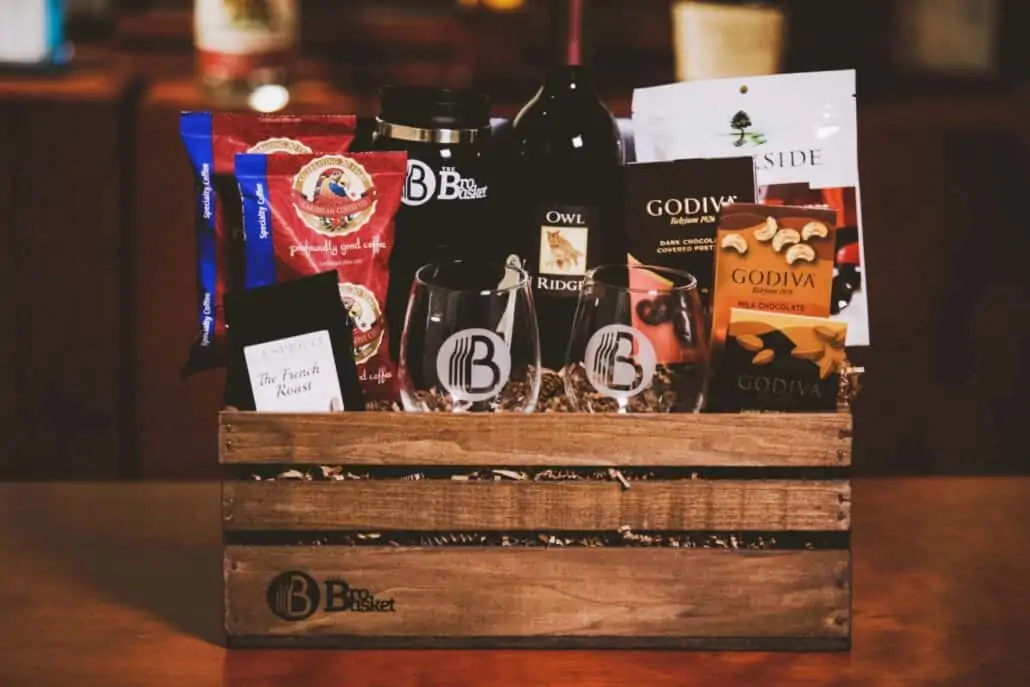 If you're looking for a gift basket that will make a long-lasting impression, you've found one. The California Wine Corporate Crate is one of the market's best wine and chocolate gift baskets anyone with a sweet tooth will cherish. Inside, there are three boxes of Godiva chocolates covered with pretzels, almonds, cashews, a BroBasket travel mug, Caribbean coffee, more dark chocolate, and a reusable wooden crate.
The central piece of this $129.95 wine gift box is a delicious 80 to 90 points rated California Grown red wine. You can choose between the Cabernet, Pinot, or Red Blend. You can also select a spirit and include up to two bottles in your basket.
Click here to find out more about the California Wine Corporate Crate.
11. California Grandeur Wine and Gourmet Gift Basket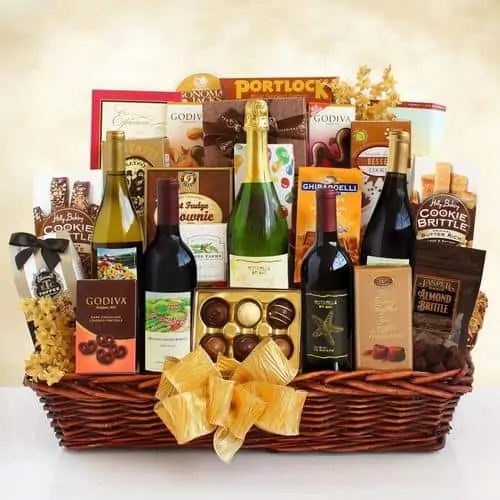 Are you looking for a gift basket for experienced wine lovers or a corporate gift for your team? With this Californian wine selection, you're sure to make a huge impression. Drink-wise, there are two California white wines and three reds. Snack-wise, this great gourmet gift is packed with two assorted Godiva chocolate bars, truffles, chocolate-covered nuts, cake cookies, savory crisps, chocolate toffee, smoked beef sticks, and much more.
This $299.95 wine and chocolate gift basket are one of the most elegant, sophisticated gourmet gifts everyone in the office or at any event will love.
Click here for more information about the California Grandeur Wine and Gourmet Gift Basket.
12. Silver Oak & Cakebread Red Wine Gift Basket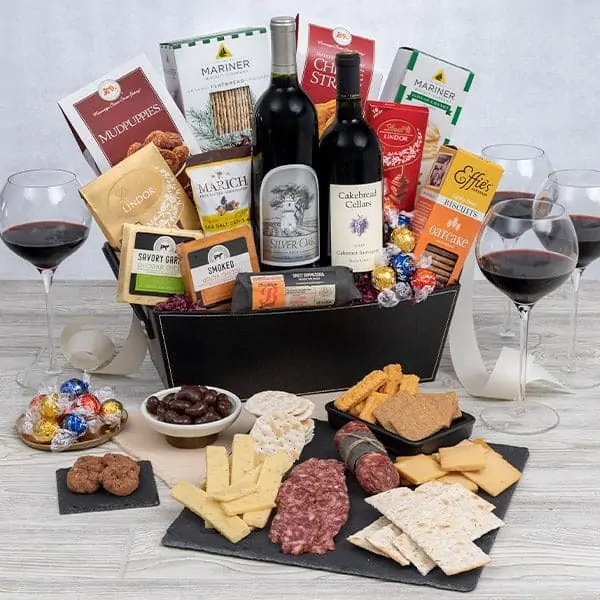 This is a high-end wine gift basket that is sure to please any red wine lover. The basket features two bottles of Napa Cabernet Sauvignon from top wineries. Silver Oak and Cakebread have a long track record of crafting top-quality Cab. The wines are paired with delicious cheeses from Mountain View Farms, soppressata from Brooklyn Cured, and chocolates from Lindt. Whoever is lucky enough to receive this basket can create a wonderful charcuterie plate to enjoy with their wine.
You can order by clicking here.
13. Perfect Pair Wine Gift Set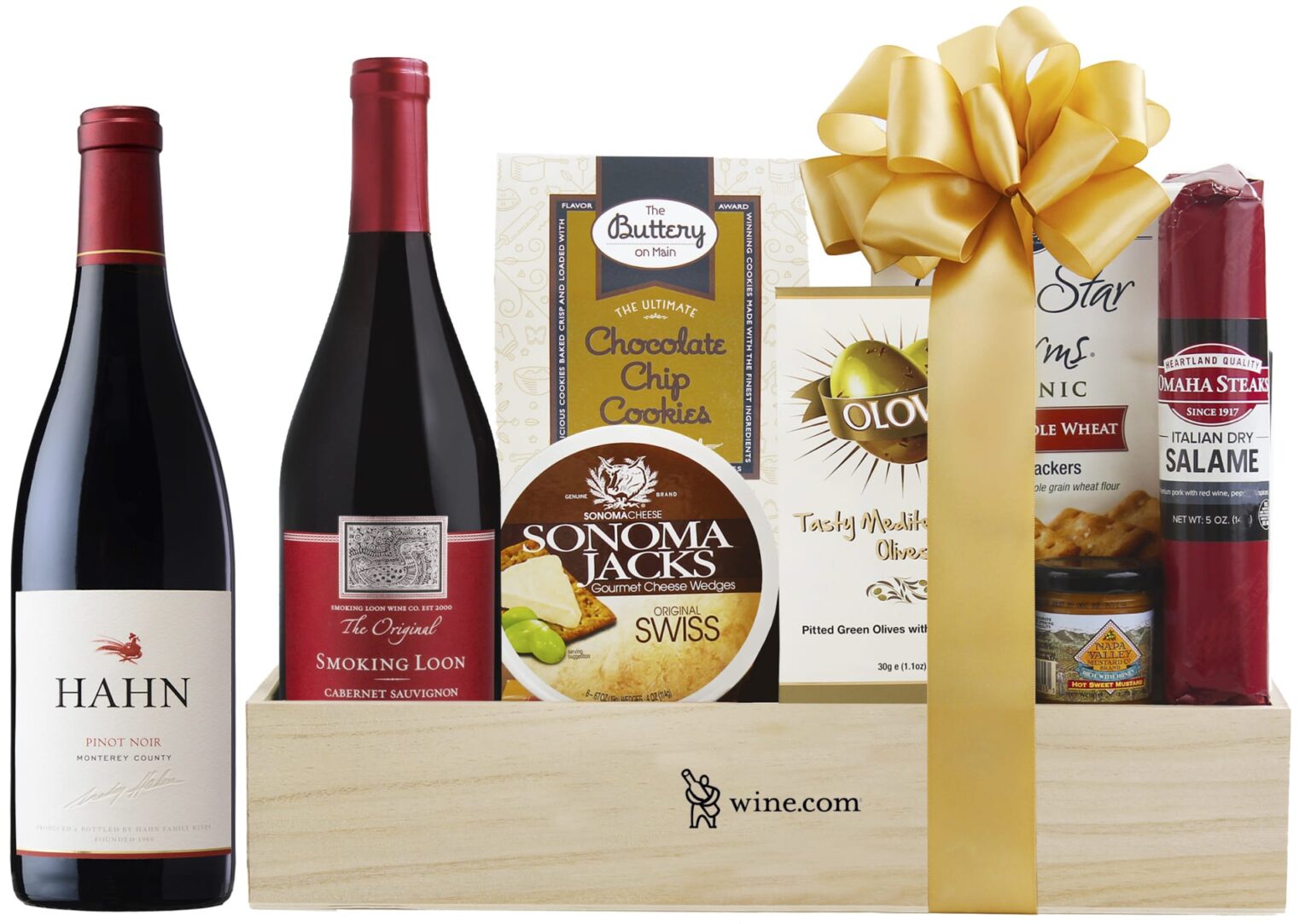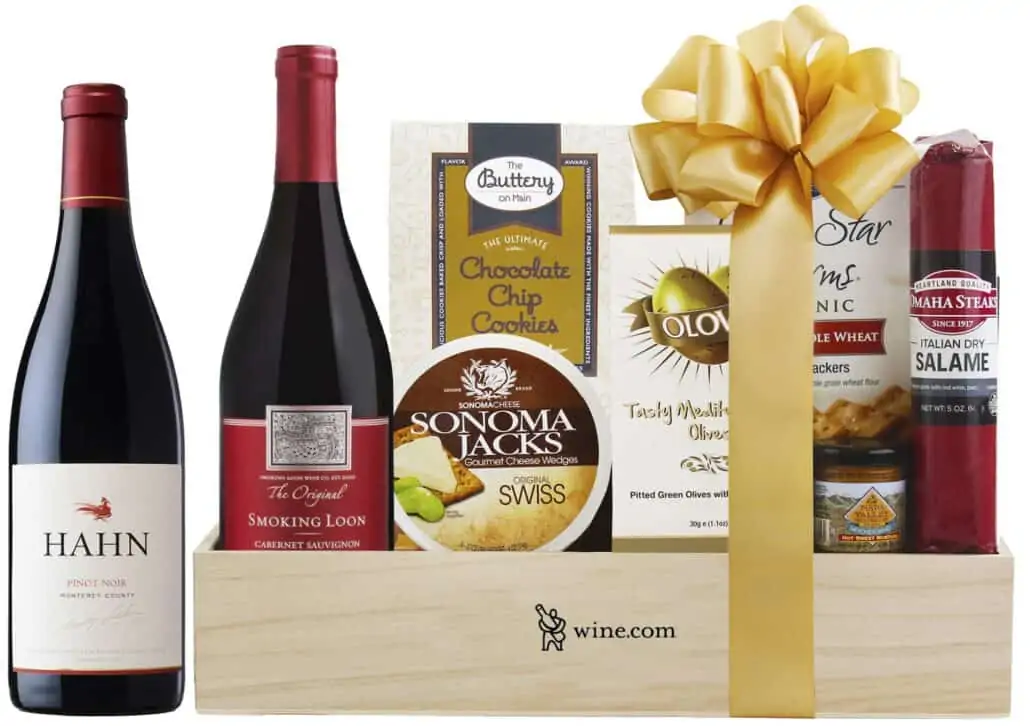 This Cabernet Sauvignon and Pinot Noir wine gift basket pairs just perfectly with a collection of savory and sweet snacks, including salami, crackers, cheese, chocolate chip cookies, olives, and more. All contents lay in a stunning solid wood crate.
The Smoking Loon Cabernet Sauvignon comes with vibrant blackberry and boysenberry aromas and American and French oak notes. The Hahn Monterey Pinot Noir has red cherry and red plum scents with a hint of spices.
The price for the Perfect Pair Wine Gift set is $69.99.
Click here for more information about the Perfect Pair Wine Gift Set.
14. Collector's Edition Grand Gourmet Wine Gift Basket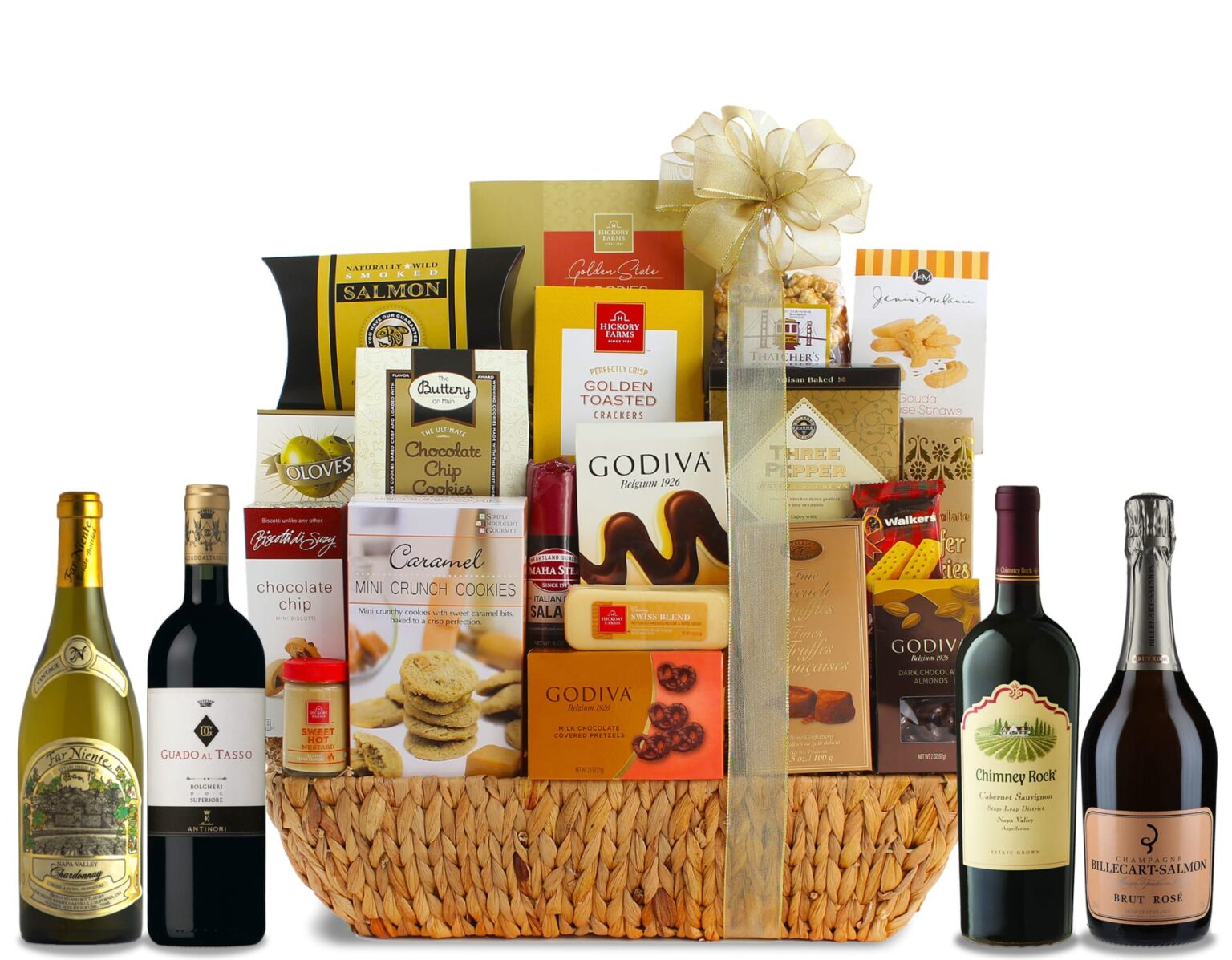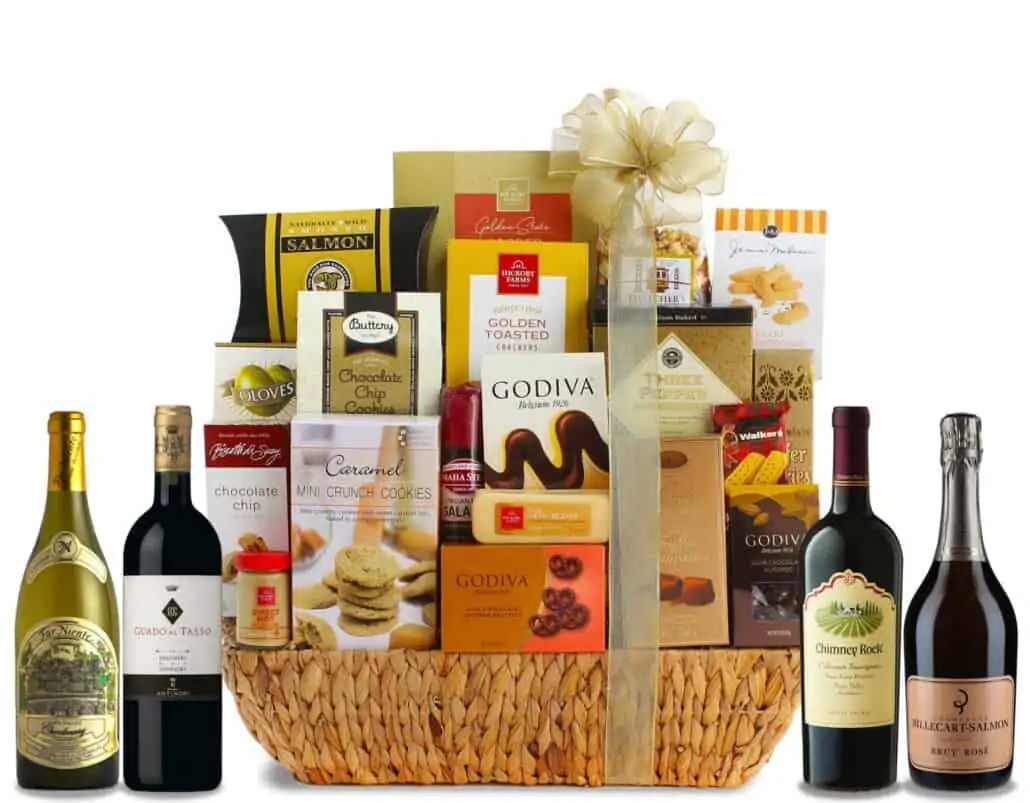 Last but not least is the ultimate Collector's Edition wine basket with the top goodies selection perfectly paired with four premium wines. Inside, you'll find:
Chimney Rock Cabernet Sauvignon dating from 2016 with a rating of 92 points

Billecart-Salmon's Brut Rose, 94-point rated

Tenuta Guado al Tasso's red wine with plum, blueberry jam, licorice root, and balsamic aromas from 2016. Impressive 98-point rating.

Far Niente's Chardonnay with melon, citrus, and white blossom aroma with flint and sweet oak notes from 2017. This wine has a 91-point rating.

Salmon fillet from Alaska Smokehouse

Cheese, crackers, olives

Italian Dry Salami from Omaha Steaks

Cheese straws

Chocolate pretzels

Godiva truffles and almond-covered chocolate

Caramel popcorn

Much more
This $499.99 ultimate gift basket can make a stunning entrance into any corporate event or large family gathering.
Click here for additional information about the Collector's Edition Grand Gourmet Wine Gift Basket.
15. Silver Oak Cabernet Basket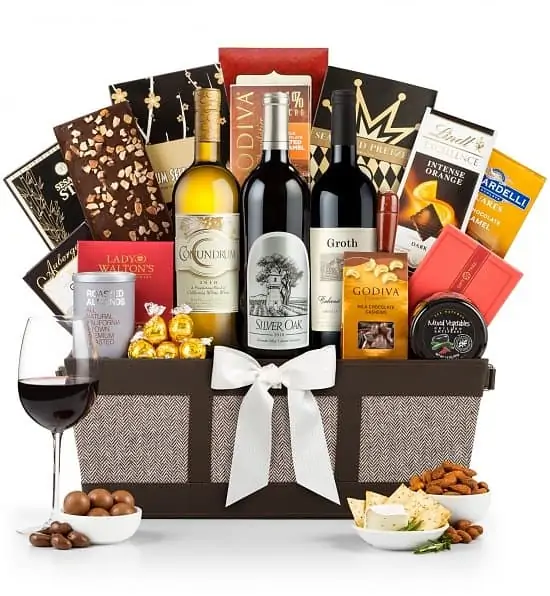 We present to you the ultimate wine and chocolate plus cashews, almonds, and olives gift basket. This delightful package is the perfect gift for a long-term client or a dear family member. Depending on your preference, you can go for the Alexander Valley ($349.95) standard option or the Napa Valley ($399.95) premium package.
These both include a unique Caymus Conundrum California White and Groth Napa Valley Cabernet Sauvignon. The third bottle is the Silver Oak Alexander Valley Cabernet or Napa Valley Cabernet Sauvignon.
This content-rich basket also comes with velvety white Camembert cheese, rich dark (and milk) chocolate with handcrafted caramels, Godiva milk chocolate cashews, and more tasty snacks.
Click here for more information about this basket.
It's Wine O'clock
Hopefully, this article marks the end of your best wine gift basket hunt. On this list, you can find single-bottled as well as five-bottled gift baskets for every occasion. We made sure to provide a diverse selection of the best wine and cheese gift baskets as hardly anything can match the combination of these two gourmet treats. Whatever your choice, you'll make a stunning entrance with any of these 15 gift baskets.