The best wine clubs of 2023 make it easy for you to enjoy great wine at home. Whether you want to find a wine club for yourself or to give a monthly wine subscription as a gift, we have reviewed a number of options for you to consider.
You can learn more about our review process to understand why you can trust our wine club recommendations.
How To Select The Best Wine Club
When choosing the best wine club, a few decisions upfront will help you quickly narrow down your options. 
Do you want to select your own wine? (I like NakedWines for this)
Or, do you want a savvy wine picker to do the work? (Click here to choose Plonk Wine Club if this is more your speed).
Or are you looking for a subscription that sends wines from regions like Napa Valley or Sonoma? I like the California Wine Club's Aged Cabernet Subscription for that. 
Whatever it is you are looking for from a club, there is a good chance you can find it on this list. Many clubs and monthly subscription services offer a good mix of wine selection, value, easy-to-navigate websites, clear service terms, and fun extras like food pairing tips.
At A Glance: Our Top 7 Picks For 2023
My Experience With Wine Clubs
I was a wine club member long before I got involved in the industry directly. I still get excited whenever a new box of wine appears at my door. Wine clubs have always been a way for me to discover new varietals, wine regions, and winemakers. I believe the best wine clubs should help you find exciting wines that you can't find on supermarket shelves.
Hopefully, you can experience the same joy I do.
This article focuses on a specific type of wine club. There are thousands of wineries in the US and most run wine clubs that deliver their wines to their members. These can be great options if you fall in love with a particular winery, but that's not what this list focuses on.
This article focuses on third-party wine clubs. These are clubs that ship out wines from a variety of wineries. I maintain a list of over 250 active third-party wine clubs. Having so many options is a blessing but also makes deciding on a club harder than ever.
The Wine Clubs I Focus On
Today, even the most basic wine subscription services allow you to customize your wine delivery, manage your membership online, and select a wide range of wine styles. You can choose wine styles, the number of bottles, and the frequency of shipments. The best wine clubs offer more value.
I created a comprehensive wine club selection guide to help you choose the right wine club to match your tastes and budget. This is my effort to assist wine consumers with the vast array of wine club choices available. 
I want to make it easier for you to narrow down your options using the experience I have had sampling clubs over the years.  I tried to include a wide range of club types so you can find one that suits your taste, and importantly, your budget.
This list covers the cost and the services you receive from each wine club, the types of wines they offer, and any additional benefits you receive from the best wine clubs.
[note] This post contains affiliate links, which means that if you click on one of the product links and decide you love what they have to offer, we will be compensated.
QUICK OVERVIEW: Our Top Picks for Best Wine Clubs
IMAGE
PRODUCT

Ambassador referral program
Love it guarantee
No hidden fees

Check Latest Price →

Free shipping
Biodynamic & organic
Customizable shipments

Check Latest Price →

Largest wine selection of any club
Sommelier selects wines to match your tastes
Reliable customer service

Check Latest Price Use Code Pick50 To Save $50 →

Satisfaction guarantee
Free shipping on 6 bottles or more
No minimum orders

Check Latest Price →

You get access to a number of interesting small production wines at a great price
You are helping small winemakers establish themselves
You will be part of one of the best wine club communities on the web

Check Latest Price (claim discount) →

Free shipping
Cancel anytime
Clean and easy to navigate website

Check Latest Price →

Wine Access (Michelin Prestige Wine Club)

Wines from the most exclusive wine lists
Expert Food and Wine Pairings
Access to rare wines

Check Latest Price →

Exclusive access to French wines
Sourced from family wineries
Wine selected by French wine expert

Check Latest Price →

No commitment
Money back guarantee
Abundant array of choices and selections

Check Latest Price →
The 7 Best Wine Clubs 2023
The California Wine Club is a California-based wine club focusing on small family-owned wineries.  With long-standing customer allegiance and a generous ambassador referral program. This is the luxury mom & pop shop version of a wine club you've been waiting for.
Don't let the name fool you. The California Wine Club is more than just one of the best California wine clubs. They offer international wine boxes and wine subscriptions that cover other regions in the US.
Want to learn more about this wine subscription box? Please read our detailed review of The California Wine Club.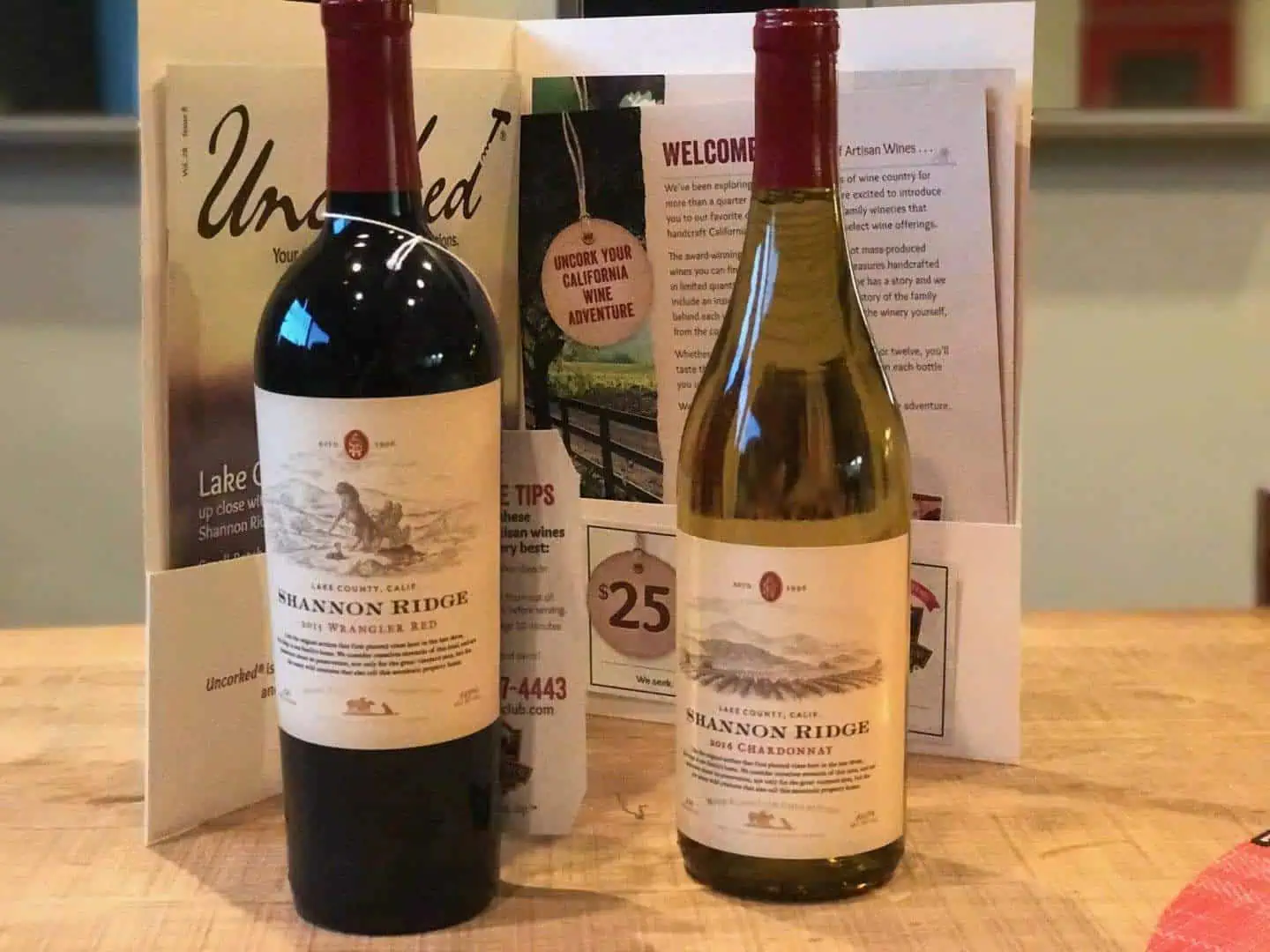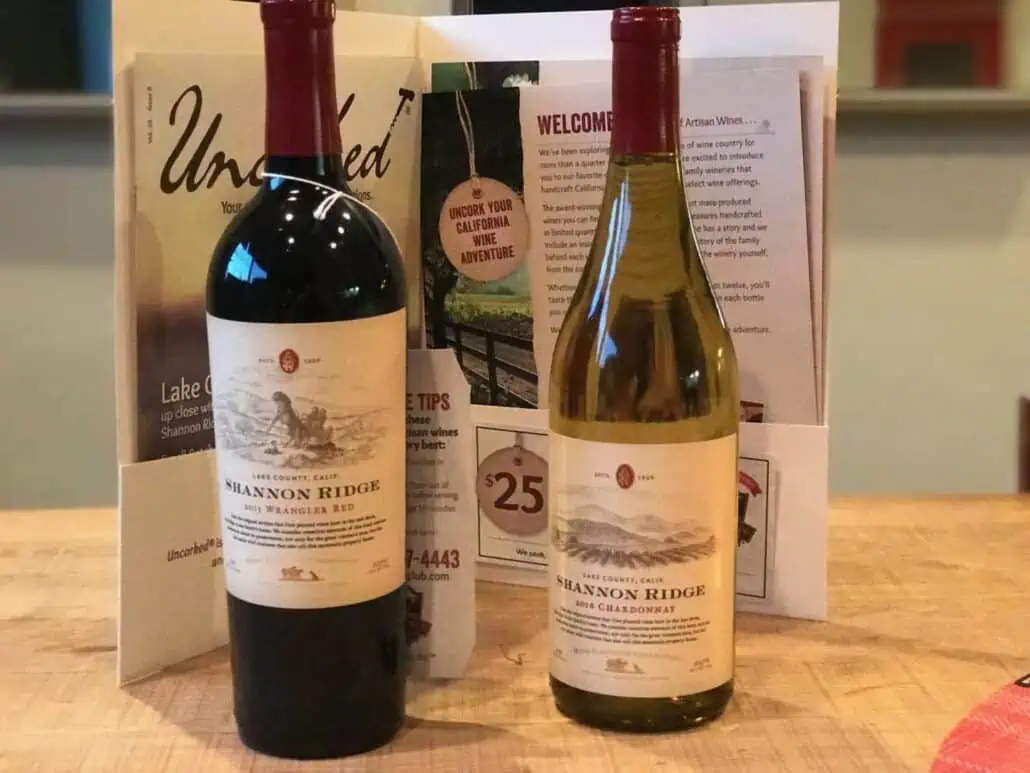 Price:
Memberships start at $40.95 per month plus shipping.
How it Works:
The California Wine Club has five different membership options. These wine club subscriptions feature two wines per month.  Each option features a specific style of wine based on your preference.
The options range from classic handcrafted wines in the premier series to one of the best Napa wine clubs called the Aged Cabernet Series. This is the perfect club for serious collectors of Napa cabs.
Pros:
Love It Guarantee
Great range of wine club options
Ambassador Referral Program (earn money when your friends sign up for their wine of the month club),
No hidden fees
Cancel anytime
Long track record
Cons:
Can't be customized to your tastes
Most of their clubs only ship California wines
Who Will Enjoy This Club:
This club is perfect for someone who loves popular varietals from solid wineries. The California Wine Club is closer to the traditional wine of the month club than many newer clubs. The California Wine Club isn't going to introduce you to any exotic wines. Instead, it will deliver premium wines consistently and at a great price. That is what makes it one of the best wine clubs in 2023.
Are you looking for a Napa Valley Wine Club? The California Wine Club has one of the best. You can learn more about it here.
Click Here | Sign Up For The California Wine Club
Plonk or "cheap bulk wine" is certainly not what you get from this wine club. Plonk Wine Club will select and send you some of the most delicious and interesting wines you've ever tasted. They have a sharp focus on finding the best artisanal and sustainably grown boutique wines.
Many wine clubs claim they will deliver unique varietals from out-of-the-way producers. Plonk is just better at it!
Want to learn more about the Plonk and its gifted wine picker? Read my full Plonk Wine Club Review and our interview with Plonk Wine Club founder and pro wine hunter Etty Lewensztain.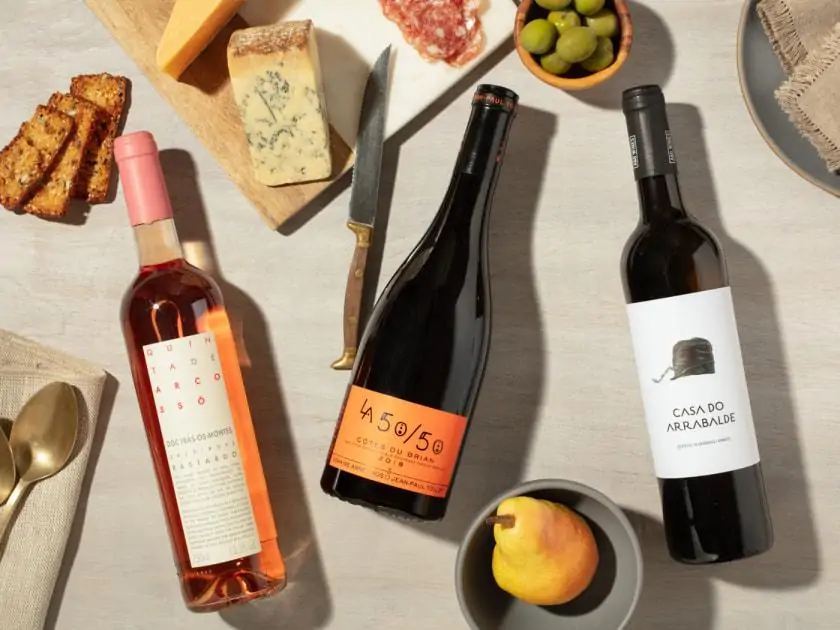 Price:
Starts at $110.00 per month for four bottles + free shipping.
How it Works:
Select your wine preferences, the number of bottles (either 4 or 12 per month), and the duration. This way, you can get a shipment catered not only to your tastes but your frequency of wine drinking as well.
Plonk will curate wines based on your preferences and they will arrive at your door on the schedule you selected. This is the perfect wine subscription if you want someone else to do all the work. Etty is a master at finding value wines.
Pros:
Top-notch wine curator
Biodynamic & organic wines
Wide range of regions and varietals
Free Shipping
Customizable Shipments
Cons:
Can be a little pricey
Can't customize to your tastes
Includes some non-traditional wine varietals
Who Will Enjoy This Club:
Plonk is for anyone who is starting to get serious about wine. I say that because Plonk specializes in introducing unique wines. You will receive wines that are more complex and are made from varietals you may not be familiar with. This is what makes Plonk great. You will develop your palate and expand your wine knowledge with each delivery. This is the best wine club for you if you want unique wines that are very high quality.
Click Here | For The Best Deal on the Plonk Wine Club | Enter NEWMEMBER at checkout
The incredible selection of Wine.com is now available as a curated monthly wine subscription. You get a combination of wine knowledge from the Wine.com sommeliers and the vast library of wines they can select bottles from. Wine.com has over 17,000 different wines to choose from.
The club allows you to tailor the shipments to your tastes and then the Somms do the rest.
I've been very happy with the shipments I've received since signing up. Each box of six wines has hit the mark with a great blend of whites and reds from all over the world. I just haven't experienced this with other wine clubs.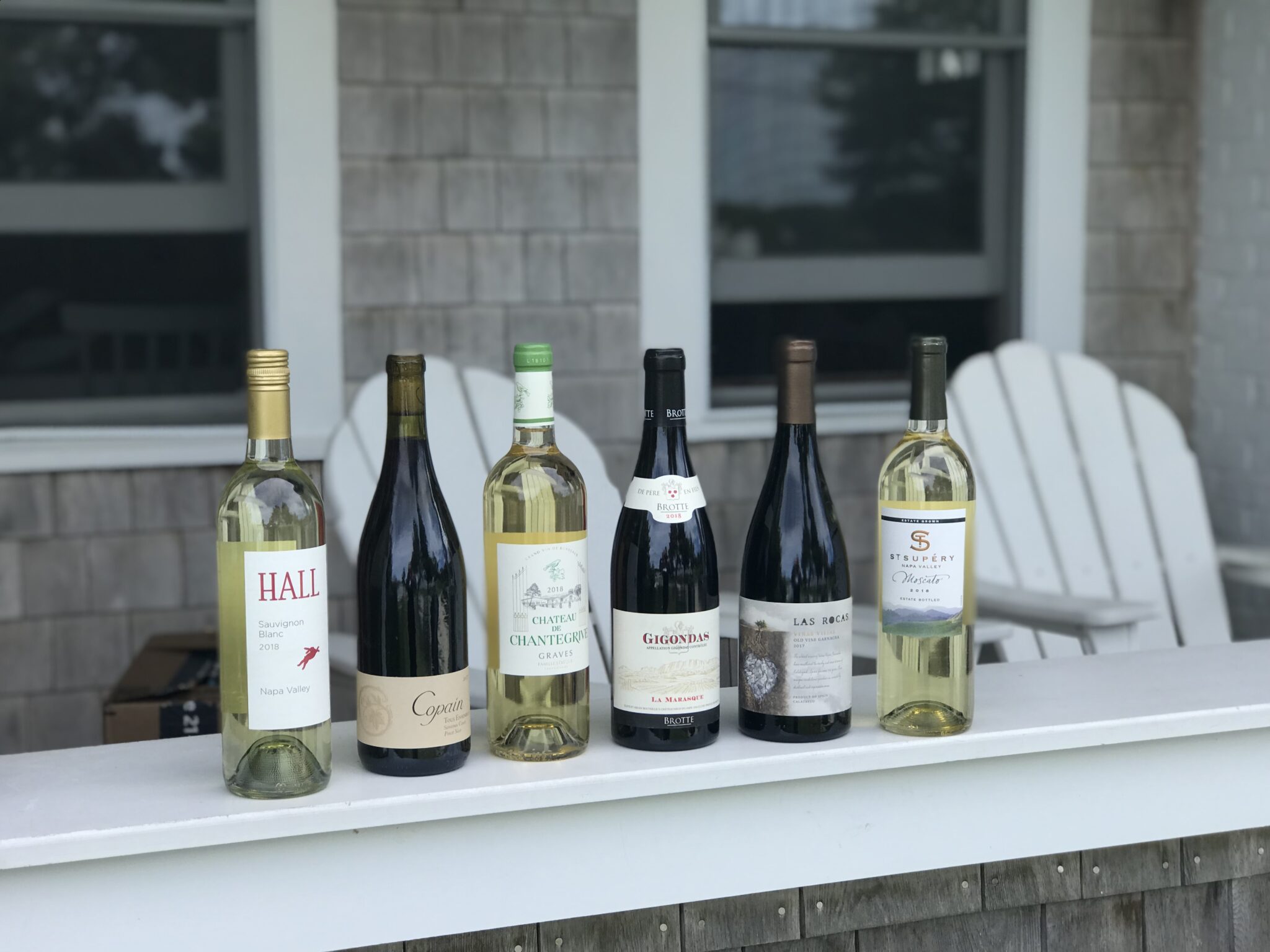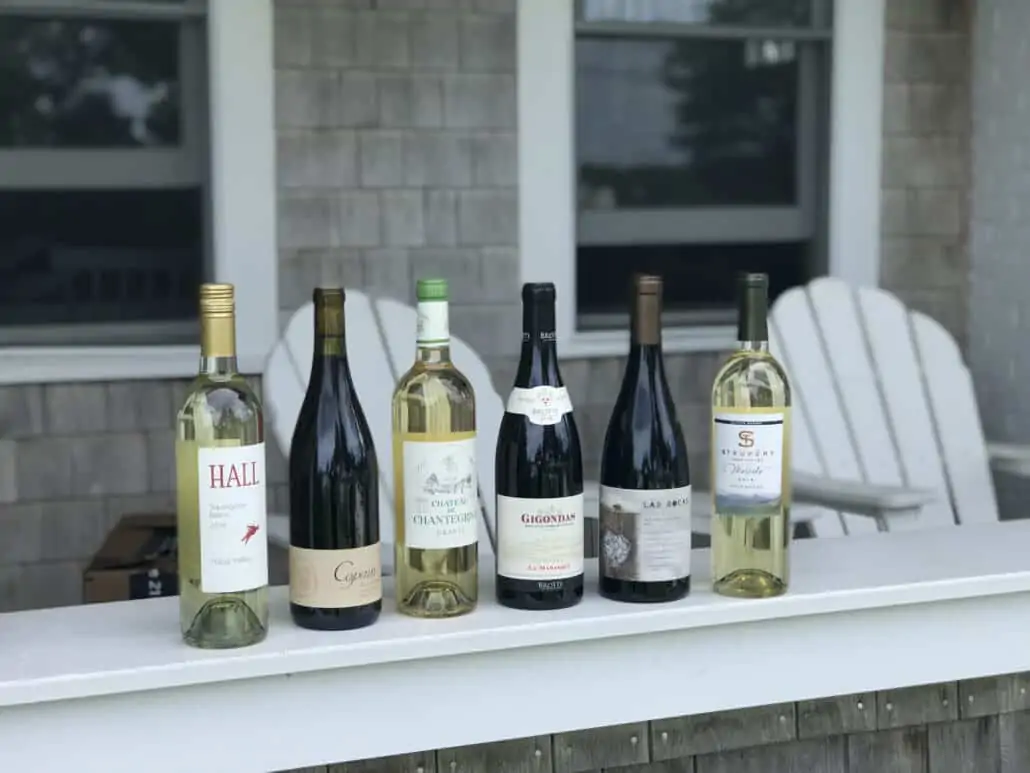 Price:
Starts at around $150 per month for six bottles + free shipping. We say "around" because the average wine price can vary a bit from month to month. We asked them to send bottles that average $25 and they have hit that each time.
How it Works:
You start out with a brief onboarding process. You tell Picked which kinds of wines you usually enjoy, whether you are an adventurous wine drinker, how many reds vs. whites to send in each box, and how often to send you wine. You also select the average price per bottle as we mentioned above. This really turns into one of the best wine clubs when you provide feedback that the Sommeliers can use to select wines for future shipments.
Pros:
Massive wine inventory
Knowledgeable wine pickers
Great initial discount
Personalized selections in each wine club shipment
Ships out stickers with wine name and price so you can label bottles
Cons:
Shipment costs vary based on the wine they pick
The only option is six bottles per shipment
Who Will Enjoy This Club:
Because this club can be customized and has a great selection, it's really perfect for just about anyone. You can read our full review of "picked" by Wine.com here.
Click Here | Sign up for picked from Wine.com | Use Promo Pick50 to save
This is the kind of wine club you get when a bunch of Napa Valley insiders and various sommeliers get together and start talking wine. As you can imagine, the results are very good. The philosophy that makes this one of the best online wine clubs is simple, find the best wines at the best price.
This wine club's buyers have industry connections the average wine lover can only dream about. That means your wine subscription box is filled with premium wines and not mass-produced plonk with fancy labels.
There are two new wine club options from Wine Access that we are really excited to share with you.
The first is the Michelin Prestige Wine Club. Wine Access partnered with the Michelin Guide to find the best wine lists from Michelin Starred restaurants. As a club member, you receive shipments of the wines featured on these lists. The club is a great way to get access to wines chosen by the top Somms across the country. You can learn more about the wine subscription here.
The second club is a partnership with Decanter. This is Europe's most respected wine publication. The same group that rates wines for Decanter select the wines you receive from this club. I believe this is a great club to join if you are more focused on building a wine portfolio than having a bottle around to drink with dinner. You can learn more about this club by clicking here.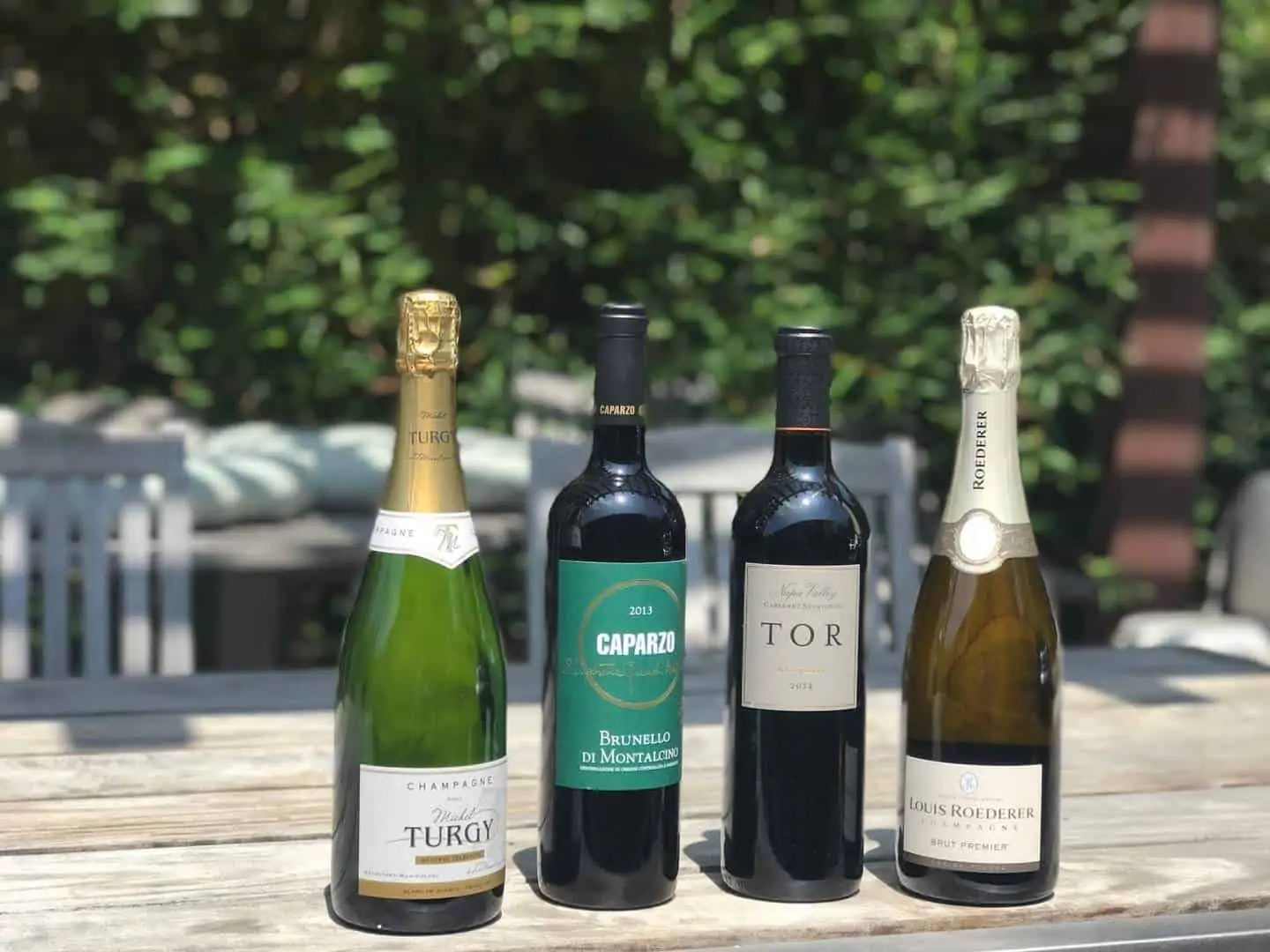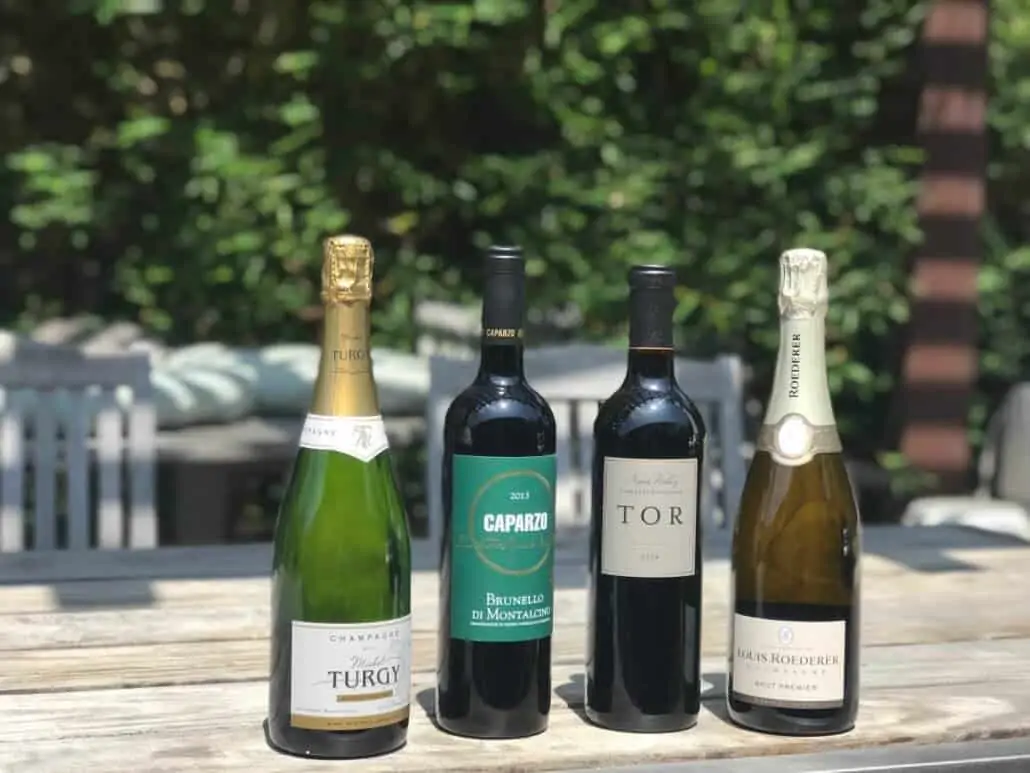 Price:
If you choose to select one of the older Wine Access subscriptions you have a few options. Join the popular Discovery Wine Club and you will receive half a case of wine (6 bottles) every quarter for $150 per shipment. Your wine club membership includes shipping and a 10% discount on any purchases on the Wine Access website.
The Connoisseur Wine Club is the same price, but you receive two luxury bottles of wine per quarter instead of the half case.
How it Works:
First, you tell Wine Access if you want your wine subscription box to include all red or a mix of red and white. Once you are signed up, the wines ship each month in a climate-controlled box.  Then the fun starts! Open your wine club delivery and pop open a bottle or two.
Pros: 
Great wine selection process
Temperature controlled shipping
Themed clubs with expert wine pickers
Responsive customer service
Cons:
No customizing wine preferences or frequency of shipments
Specialized clubs like the Wine Folly Club disappear
Minimum of six bottles per shipment in Discovery Club
Pricey (Michelin club works out to $50/bottle)
Click here to sign up for the Wine Access Discovery Wine Club
Gold Medal Wine Club is a wine of the month club featuring wine from family-owned wineries all over the world.  Authentic and small-production wines are the heart of this wine subscription box.
The wine and wineries that make it into this club must meet strict qualifications to be selected, including awards won for their wines. This is one of the best wine clubs for anyone who is serious about finding high-quality small production wines.
You can read our detailed Gold Medal Wine Club review here.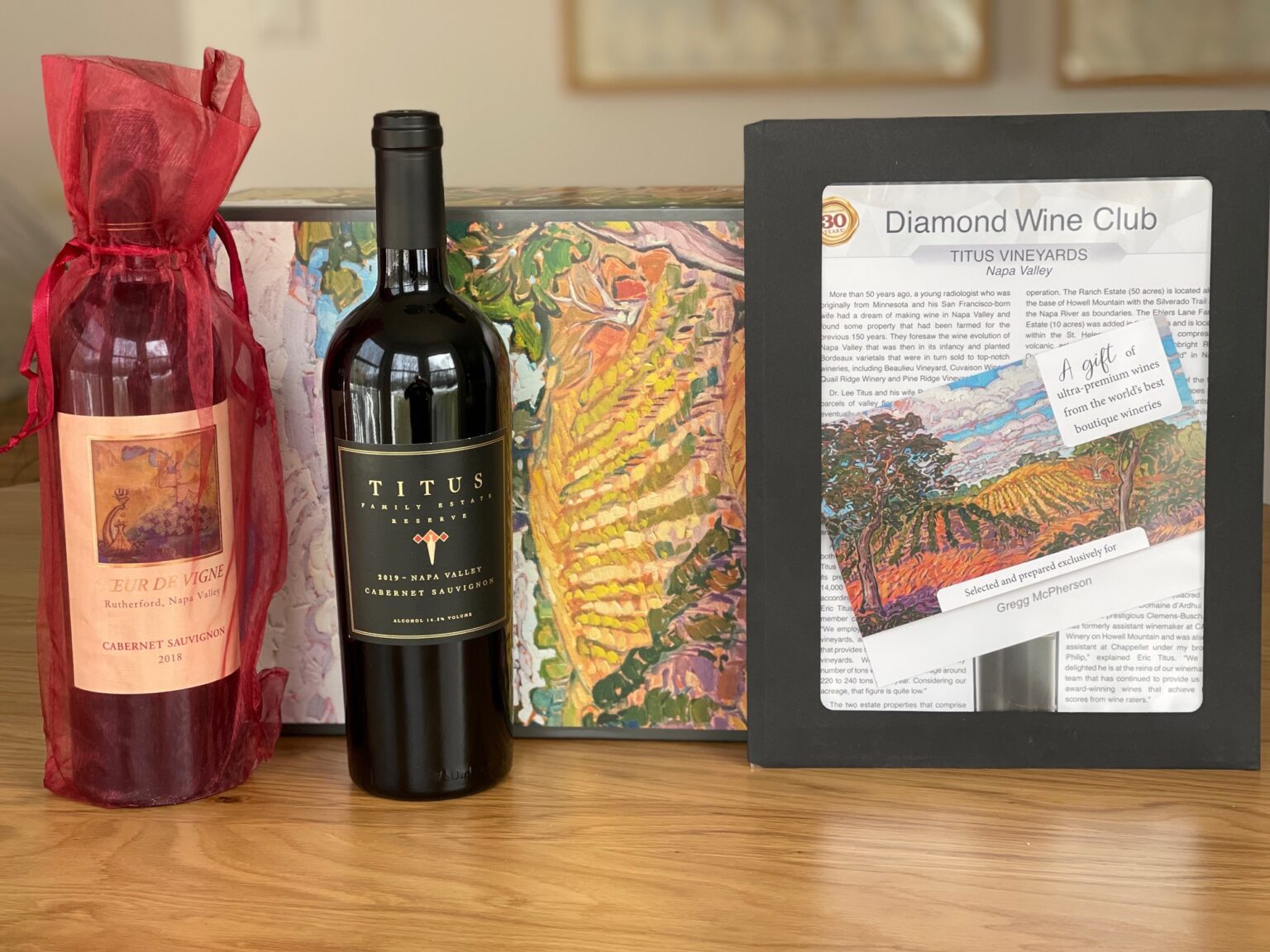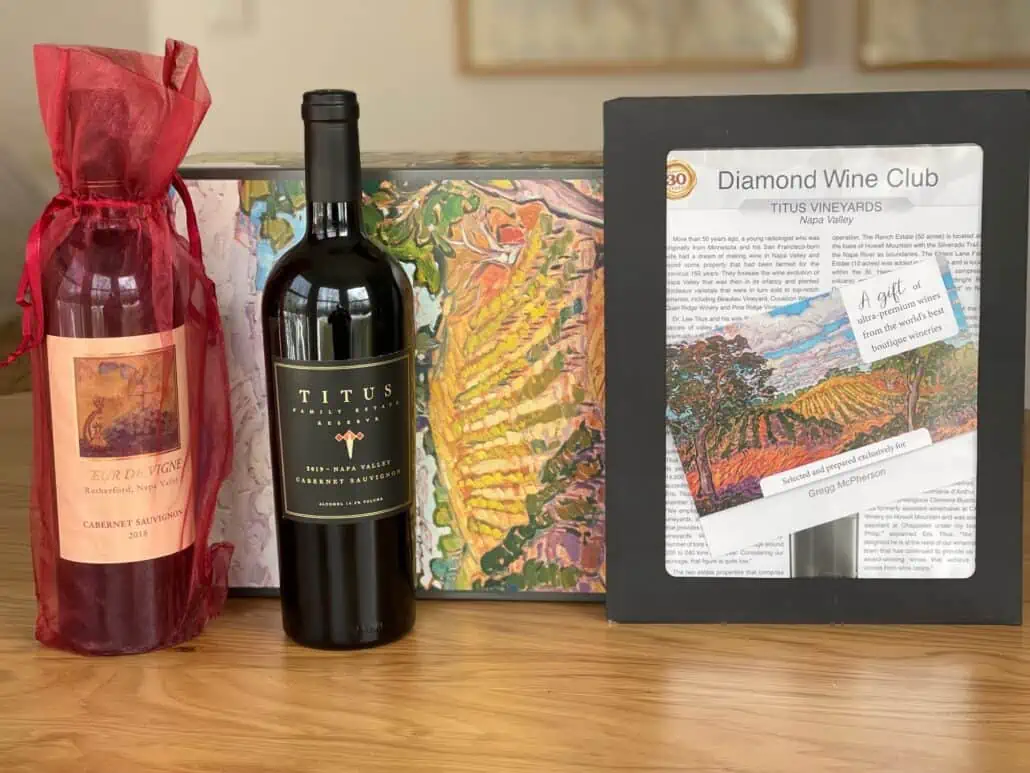 Price:
Memberships start at $47.90.
How it Works:
There are 6 different club options to choose from ranging from the Gold Club featuring wines from the best boutique wineries all the way up to the Diamond Wine club featuring luxury and collectible wines. This Diamond Wine Club caps its membership at 500. This allows them to ship you high-end wines made in small lots.
Pros:
Satisfaction Guarantee
Premium Wine Options
Customize the number of bottles and frequency of shipments
Discounts on Wine Store purchases
No minimum orders
No obligations
Cons:
Website navigation could be improved
Can't customize wine preferences
Click Here | Sign Up For The Gold Medal Wine Club
We love the Nakedwines.com concept. It is their support of small independent winemakers that got our attention.
In an industry that is dominated by just a few corporate wine producers, Nakedwines.com stands apart. They allow you to support the growth of promising small-production vintners. This is the best wine club if you want to feel like you are part of a wine-loving community.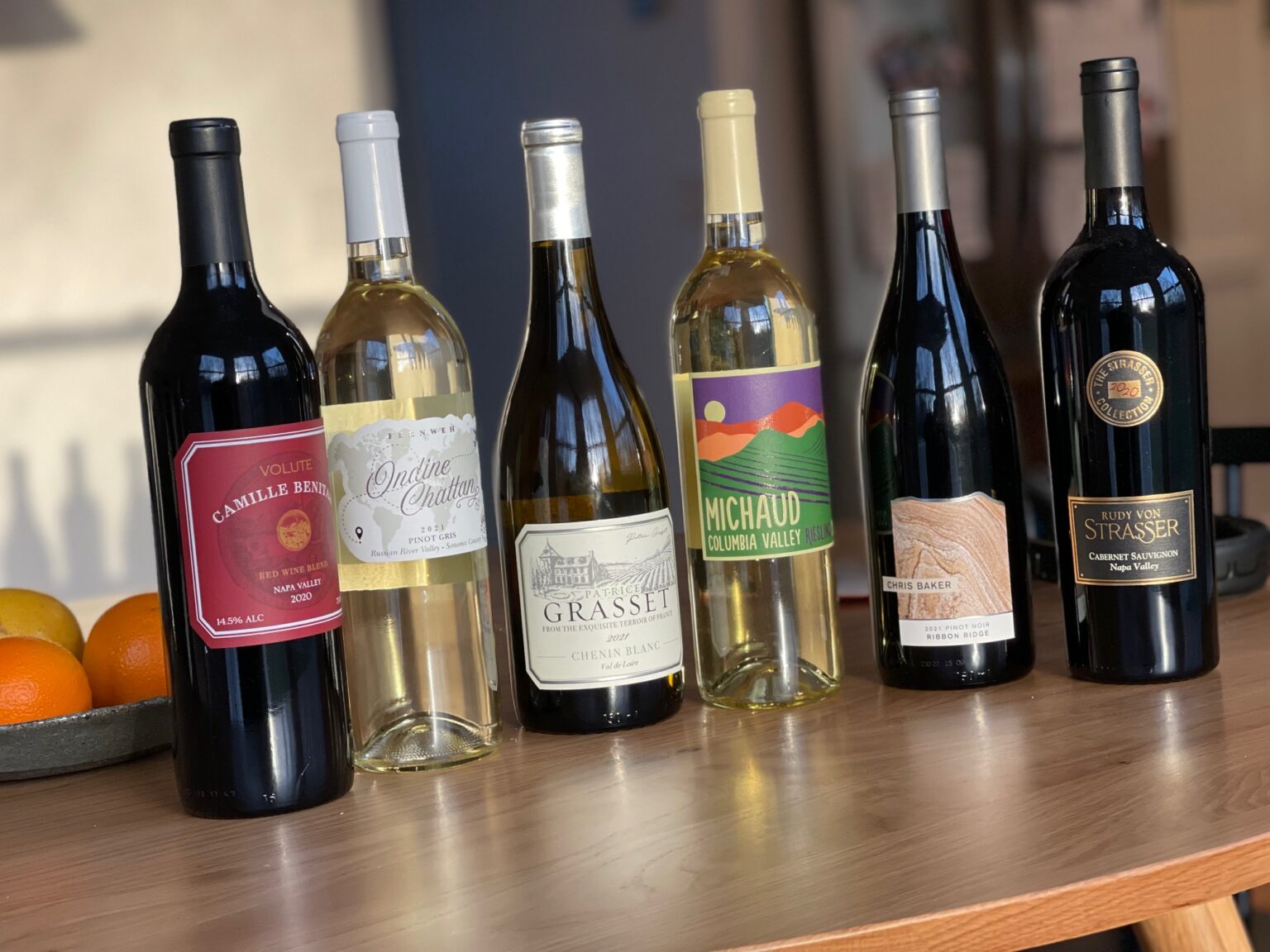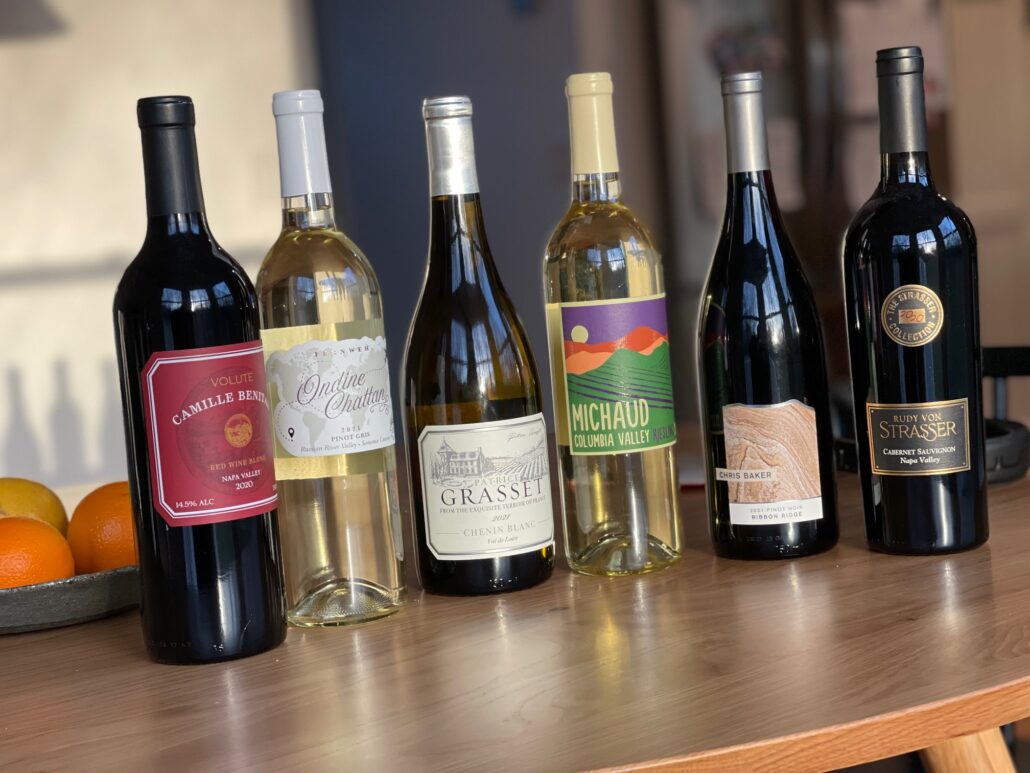 Price:
Deposit $40/month as an Angel (your money is then available to select and purchase wine)
How it Works:
The first step is to add your name to the Nakedwines.com "Angel's" waiting list. You should be approved quickly and then you can start buying wine with the money you deposit. You will be able to select wines from a number of exciting small producers.
Pros:
You get access to a number of interesting small-production wines
Great wine club community
Supports small winemakers
Affordable wines
Select your own wines
Cons:
No expert help selecting wines
The wine "angel" setup is confusing
You can read our complete review of NakedWines to learn more about this unique online wine club.
Let Us Help You Get Started | Click here to sign up.
This wine club is based in the Seattle, Washington area. Cellars Wine Club was founded in 1999 making it one of the earliest online wine clubs. They have expanded since then, but continue to use their expertise in relationship building and wine tasting to deliver great wines to their members.
This is a great wine subscription service for lovers of boutique wines and it has one of the best web stores we've seen from any of the wine subscription boxes out there. You can get more detail from our review of Cellars wine club.
This is also a great wine subscription service for lovers of West Coast wine. Cellars wine club has formed relationships with many of the top producers out west!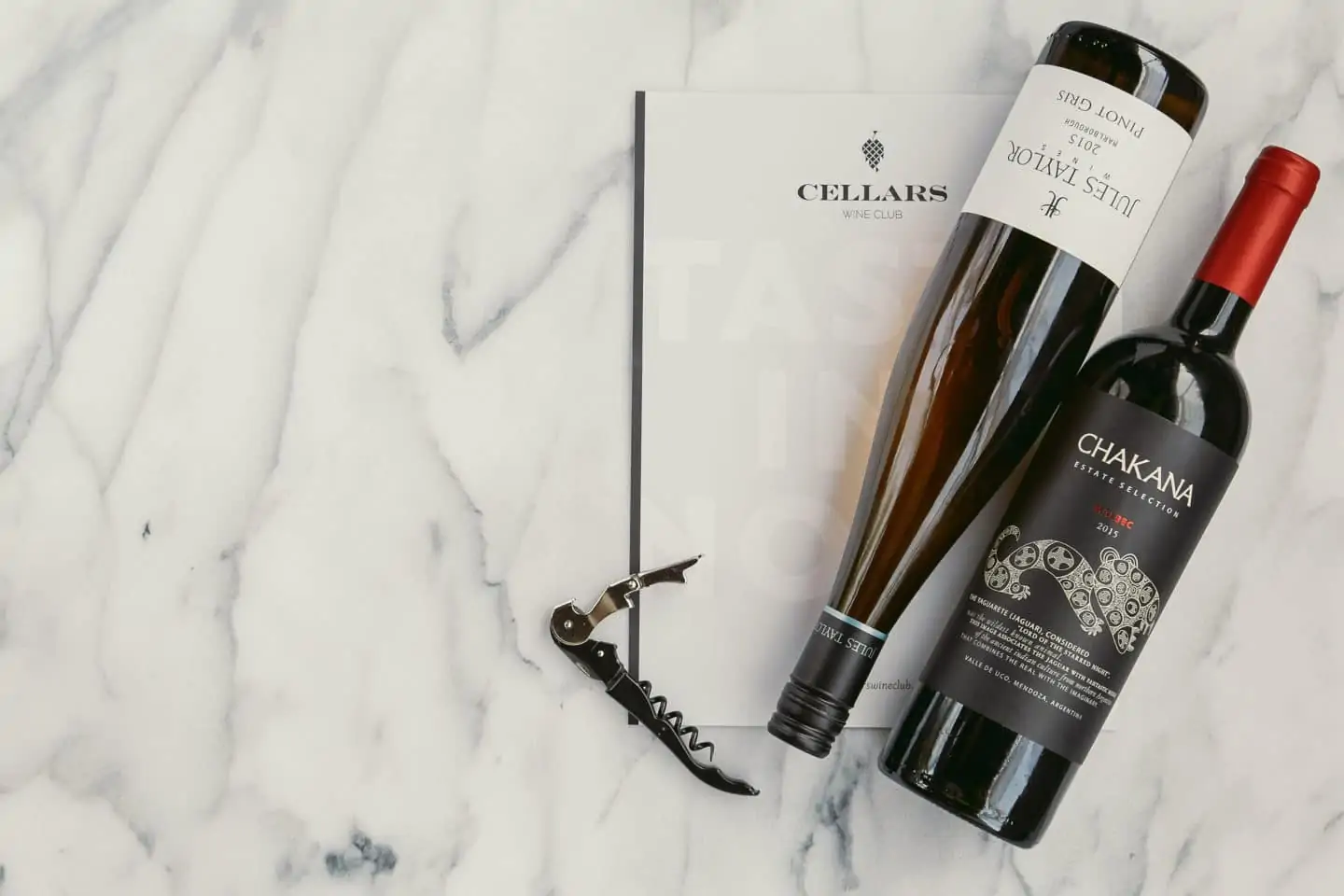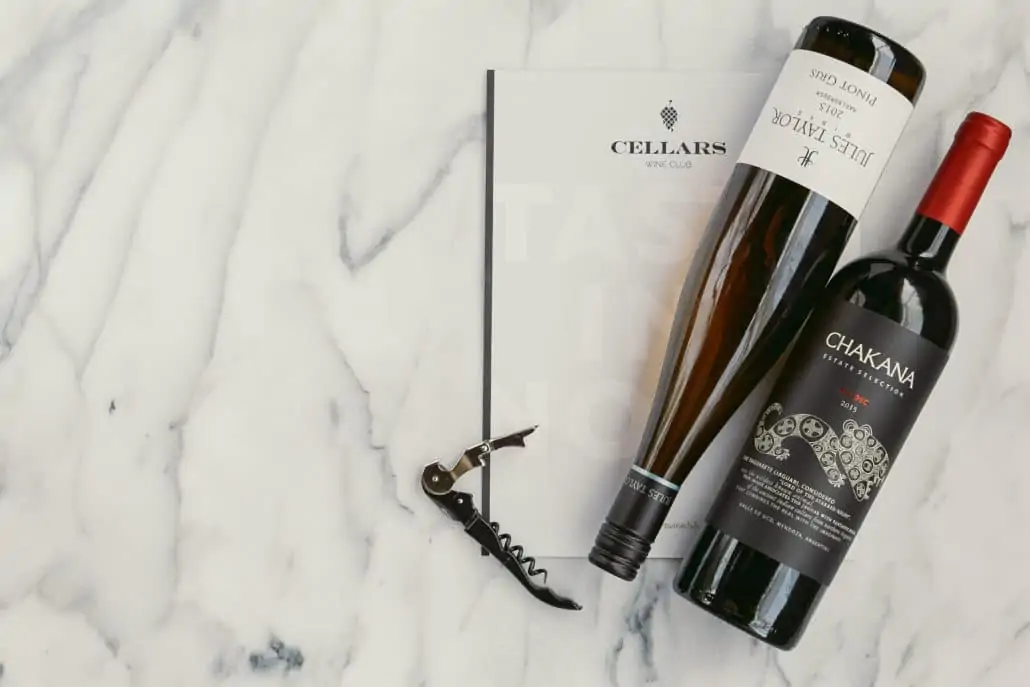 Price:
Single bottles start at $29 while double bottle clubs start at $49 with free shipping on all orders.
How it Works:
Choose from 9 different club options starting from the premium club, the perfect wine subscription for wine novices, all the way up to the 90 points wine club featuring 2 bottles of wine that have scored over 90 pts. from world-renowned wine experts like Robert Parker or the Wine Spectator. Cellars wine club even features a sparkling wine subscription if you love sparkles.
Pros:
Clean and easy-to-navigate website
Sparkling wine club option
Single bottle shipment option
Free shipping
"No Bad Bottle" Guarantee
Cancel Anytime
Finding and ordering on CellarWineClub.com is a pleasure
Cons:
Smaller operation than the others on our list
No temperature-controlled shipping option
Click here to join one of the best wine clubs
WINC
Winc is a wine club designed for today's wine consumers.  Sign up for Winc and you will experience options ranging from sparkling Rosés to bold Tempranillos. That's in addition to all the classics like Cabernet Sauvignon and Chardonnay.
Winc partners with wineries in California and beyond to craft unique wine offerings. That allows them to be one of the most creative wine subscription services. Their wine subscription boxes are totally customizable and there is a big selection (over 60 wines) that you can choose from.
If you want to receive the best of the best each month you can sign up for the Winc select wine club. Members that opt for Winc Select get first dibs on premier bottles.
Read our full Winc review.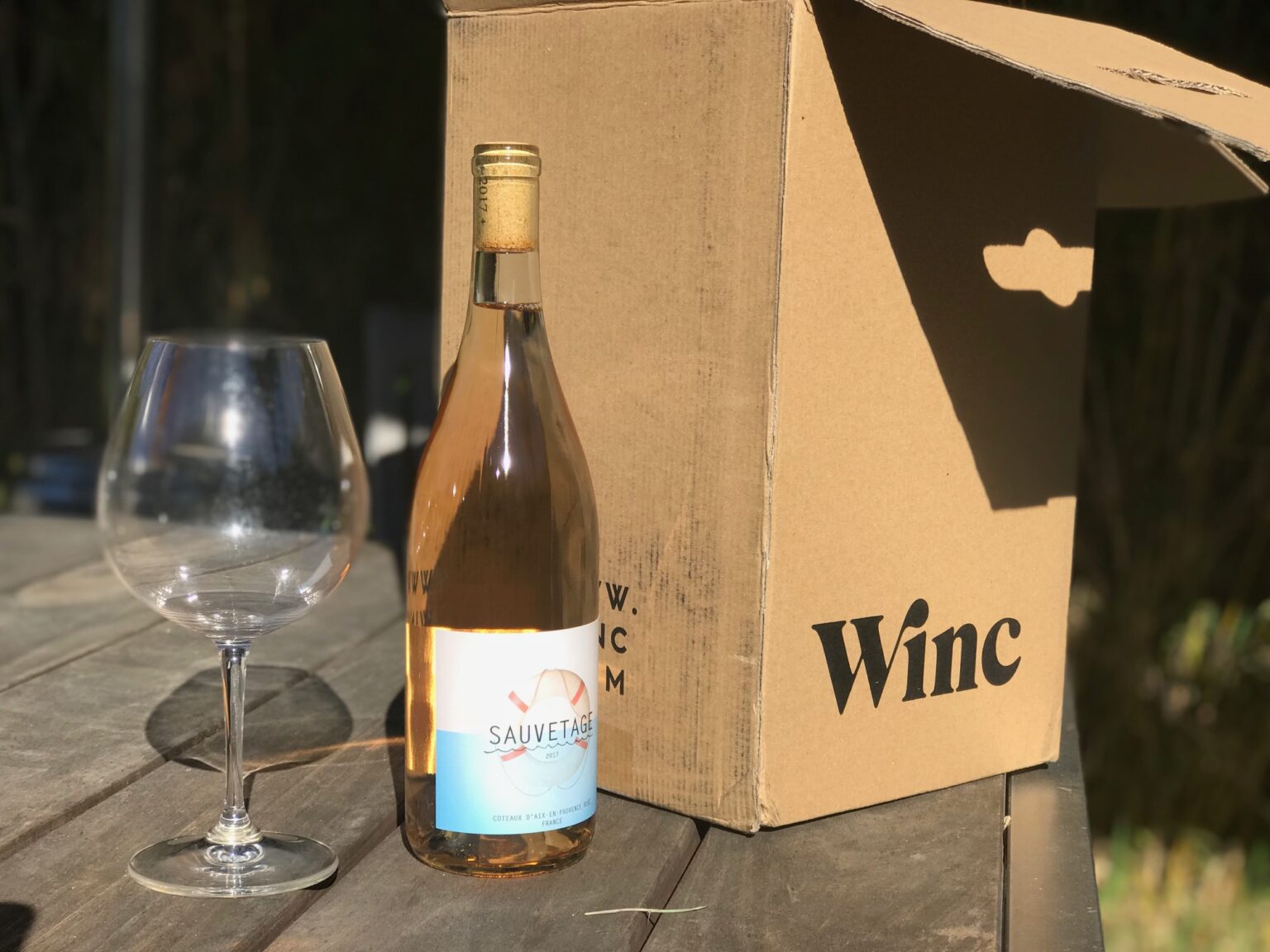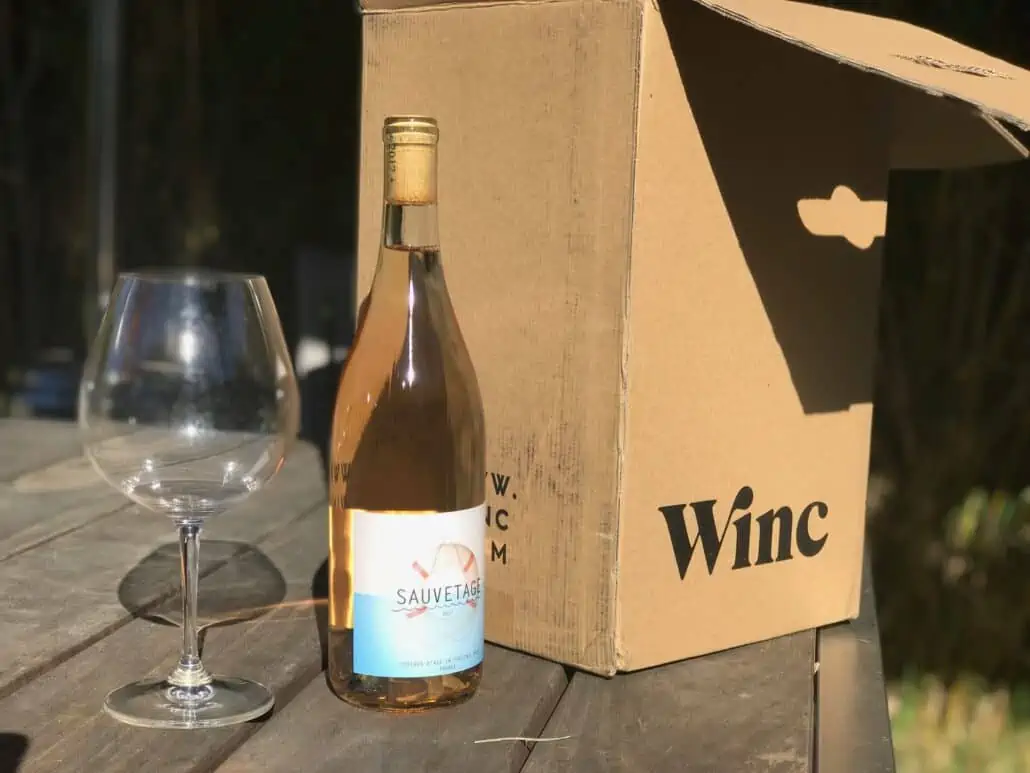 Price:
No charge for membership. Bottles start at $12.99 and top out at around $35.
How it Works:
You will take a short 6-question Palate Profile™ survey. Then, Winc will send you wines specifically chosen for you based on the results. After you receive and try your wines, you can submit ratings to better personalize your next shipment. This is one of the most customizable wine subscription boxes you'll find online.
Pros:
Complimentary shipping on boxes of 4 or more wines
Winc Satisfaction Guarantee
Skip any month's shipment with no charge
No long-term commitment
Detailed wine descriptions, and pairing ideas on the Winc.com website
Cons:
It can be tricky to cancel your membership (this has improved)
They don't offer any wines you'd want to collect or age
They recently went bankrupt and there is a new owner
Who Will Enjoy This Club:
Winc is designed for casual wine lovers who want a wide range of options at a great price. This isn't a club for wine collectors. The wines from Winc are meant to be enjoyed soon after you receive them. We love having a few bottles from Winc around to bring to parties or drink on a Wednesday night.
Winc is constantly releasing new wines to keep things interesting. You will always have new wine styles to try. That's why we consider Winc one of the top wine clubs.
Great Niche and Specialty Wine Clubs
Just outside of the top wine clubs, you can find a number of great options that fit specific niches. These clubs tend to focus on a region, varietal, packaging type, or offer unique ways of selecting wines for you.
SomMailier is built around a family who has been making French wine for 5 generations and has access to boutique French wines that are not yet accessible in the US. If you have already traveled to France, you know exactly what we are talking about. Those are the wines people rave about when they visit France but can't find when they are back in the US. Most of the wines come from very small wineries with families making wines for several generations (like the family behind SomMailier).
With SomMailier, you'll receive more than just French wines. You'll get to learn about the different wine regions, winemakers, and the history of each wine as well as food pairing ideas and great tasting notes. It's a full experience of French wines without spending a fortune!
Each bottle comes with a special back label with even more information on each wine such as the grape varieties, the right serving temperature, the holding time, and more pairing ideas. This is definitely one of the best wine clubs for lovers of french wine. 

Price
:
Quarterly deliveries start at $110.00 for 3 bottles + shipping
How it works
:
The family behind SomMailier has been making French wine for 5 generations and has access to incredible boutique wines that are only sold in France for the most part. They bring 6 different wines (3 reds and 3 whites) to the US every 3 months in small quantities only for their members. You can select to receive 3 or 6 bottles every 3 months (all reds, all whites, or a mix). Those wines can't be found in US retail stores yet.
Advantages
:
You get to experience wines the same way you would if you were living in France. You'll learn about everything around each wine (winemaker, wine region, food pairing) and this would make a perfect gift for any occasion! No commitment, no membership fees, Satisfaction Guarantee. We like it so much that we featured the SomMailier wine club on our list of the best places to buy French wine online.
Click Here | Order The SomMailier French Wine Club
This is the club for you if you love sparkling wine. We Drink Bubbles curates monthly selections of boutique sparklers from around the globe. They focus on bottles you will not find at the supermarket or at the local wine shop.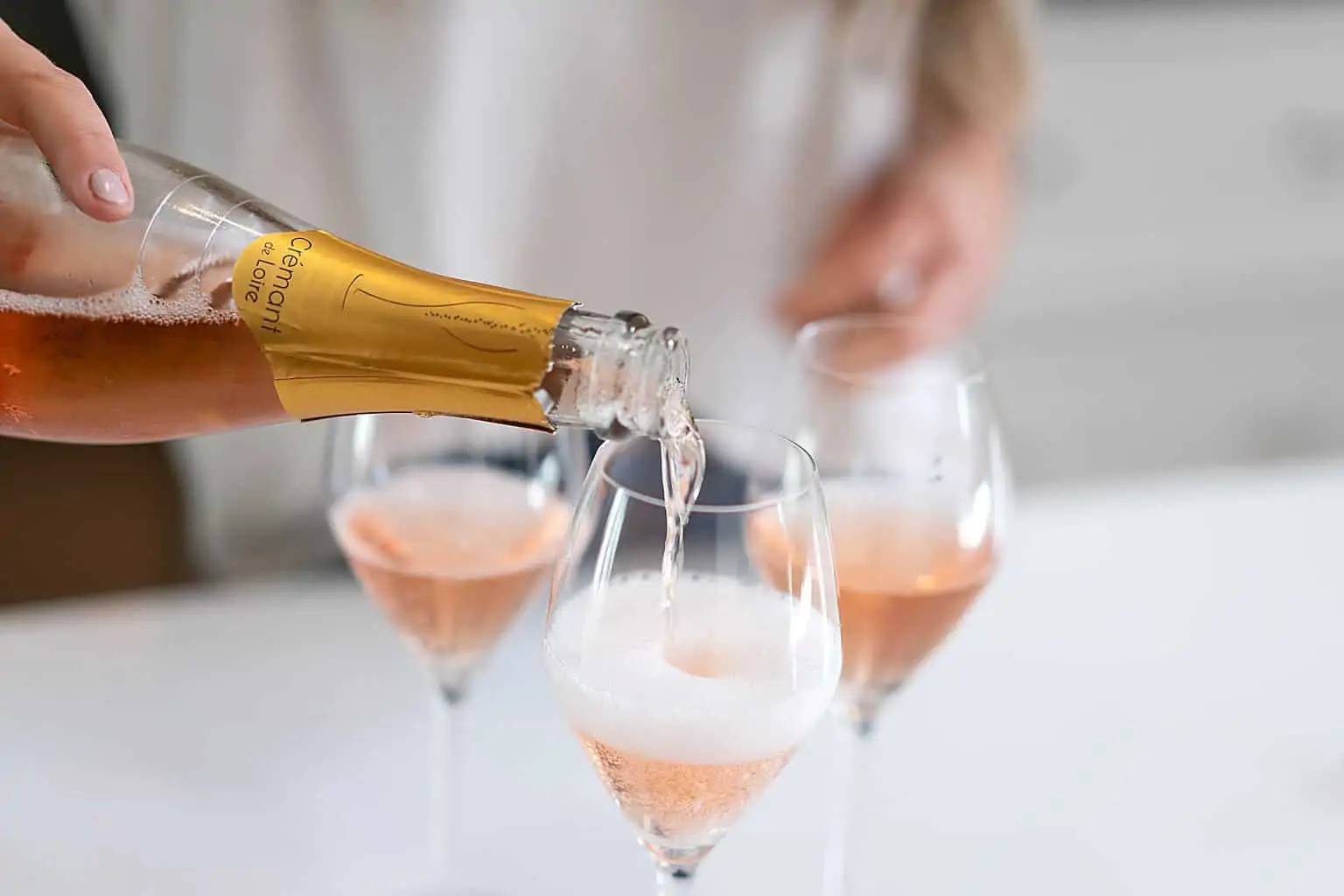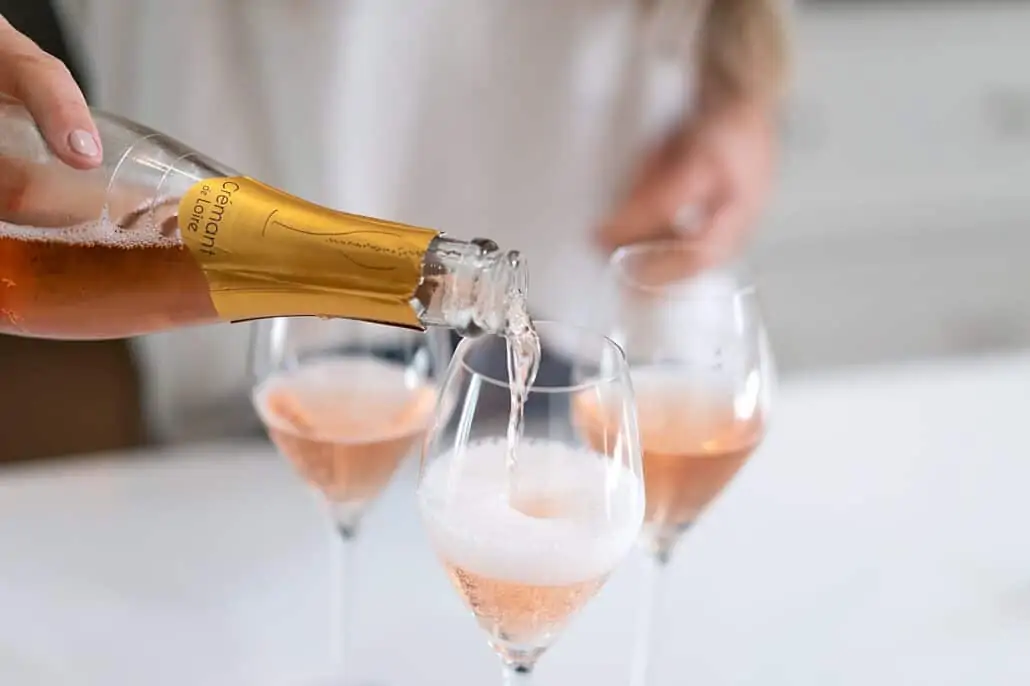 Price: 
Your monthly subscription costs $120 for three bottles of premium sparkling wine. The cost of shipping is included.
How it Works:
This club is very simple. You select how often you want your shipment of three bottles to arrive. The bubbles arrive at your door. You can cancel the membership at any time or you can choose to skip a month.
Advantages:
Top-notch sparkling wine and champagne from around the world at great prices. This is one of the best wine clubs for anyone who loves bubbles! You can see our full list of the best champagne clubs here.
We Drink Bubbles offers custom gifting. You can specify the design of the packing, add graphics or logos, and select the quality of the bubbles you send. This is a great wine club for corporate or holiday gifts!
Learn more about We Drink Bubbles by clicking here.
The Raw Wine Club is one of the best wine clubs for natural wines. We know that the term natural wine can be polarizing, but it's really just a way to group wines that are made with less intervention. The Raw Wine Club does an excellent job curating top wines from natural wine producers around the globe.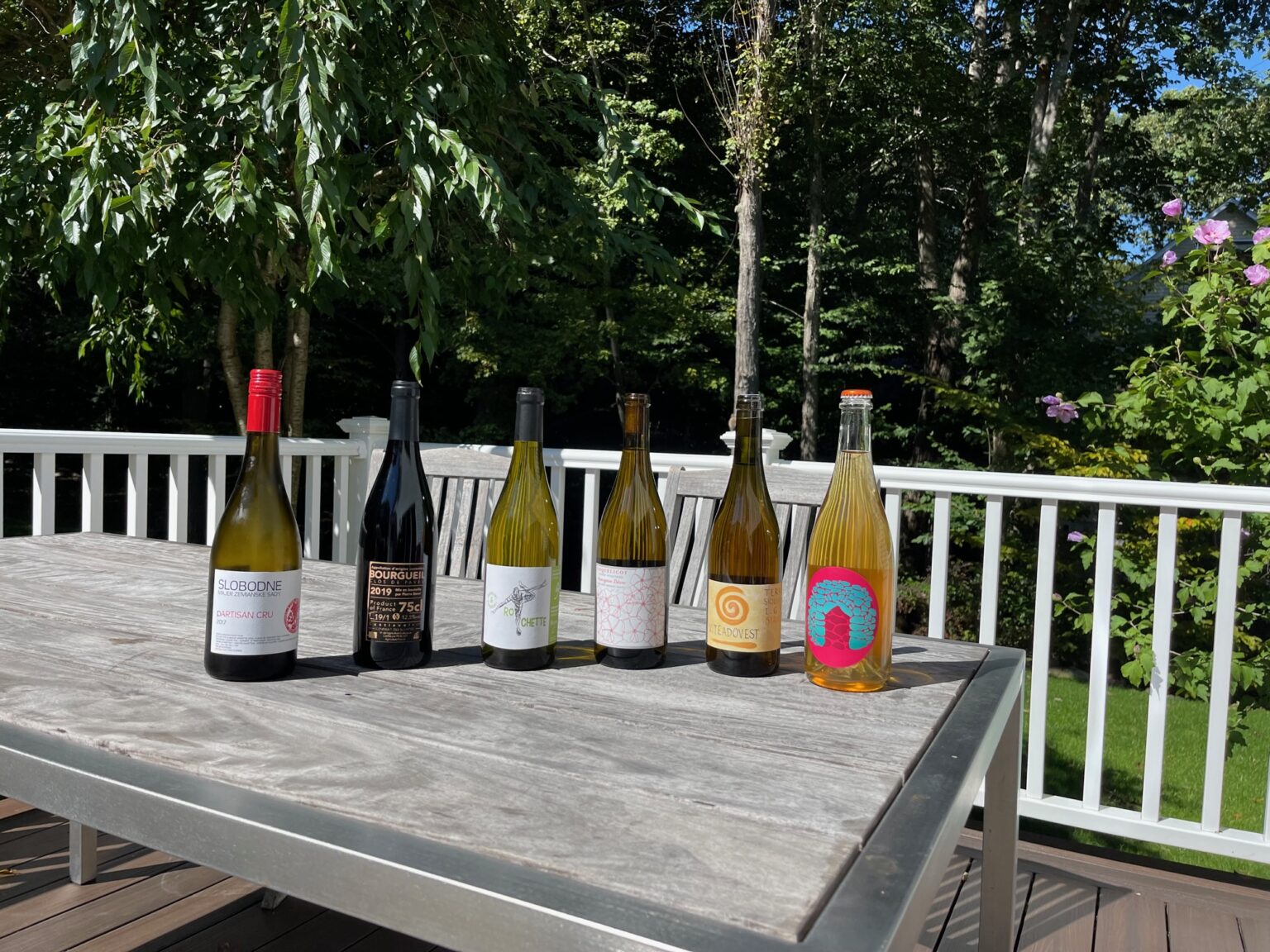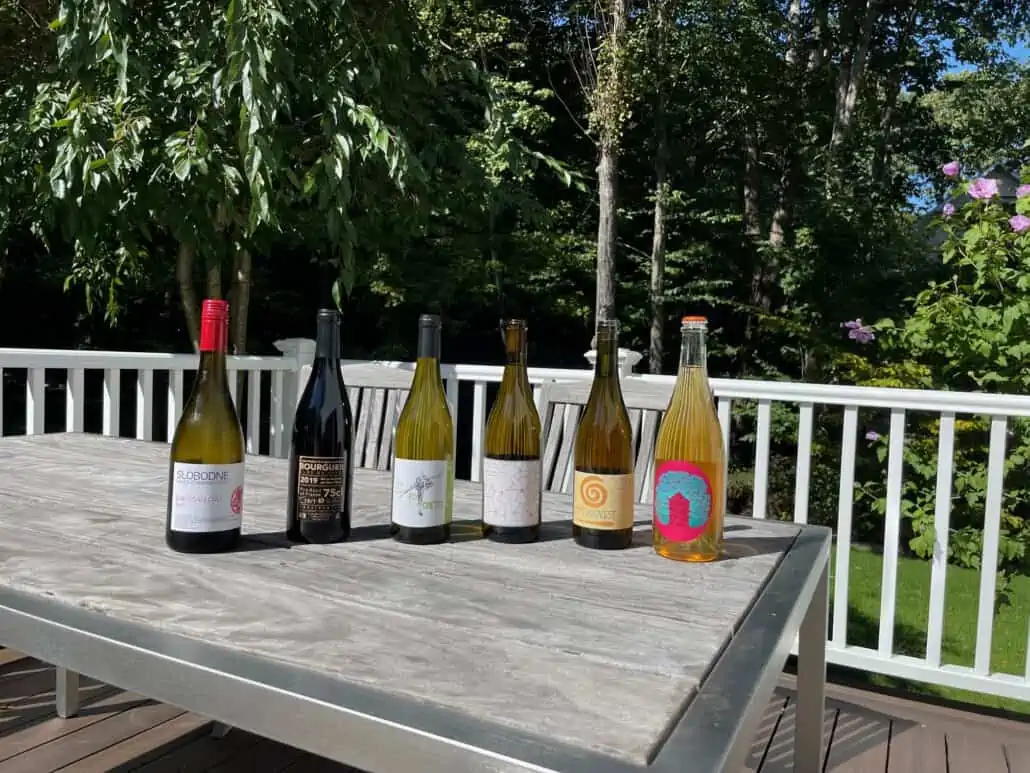 Price:
$199 for six bottles or $360 for twelve bottles every month plus any tax due to your state. Shipping is included.
How It works:
Raw Wine will curate a box for you each month. The wines are selected by natural wine legend Isabelle Legeron. Wines ship out on the tenth day of the month and typically take a few days to arrive. The shipments come via UPS.
Advantages:
You have an expert wine picker on your side who has deep connections in the natural wine community. Your membership will give you access to a world of delicious wines made from grapes grown organically or with biodynamic farming practices.
These wines are also treated differently by the winemakers. Natural wines aren't tinkered with during the fermentation process. That means each vintage tastes slightly different. We think the Raw Wine Club is one of the better wine subscriptions available right now.
Click here to sign up
This is a Napa Valley wine club with a twist. The wine comes in a compostable box.
You may be familiar with some of the boxed wine selections at your local grocery store. Those wines are often made from lower-quality grapes. That's not the case with BOXT. These are premium wines that happen to be packaged in an environmentally friendly way. That's what makes this the best wine club that comes in a box.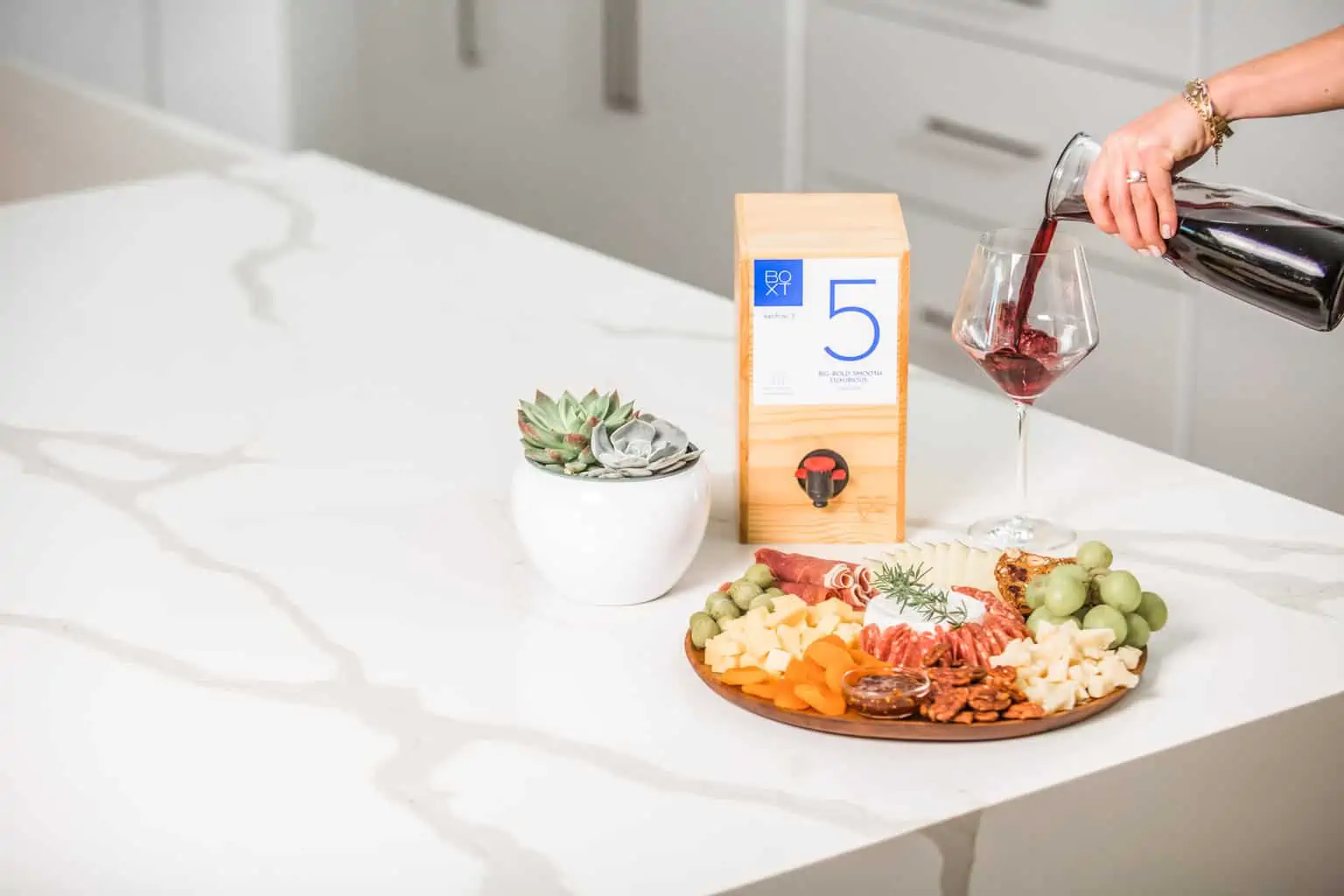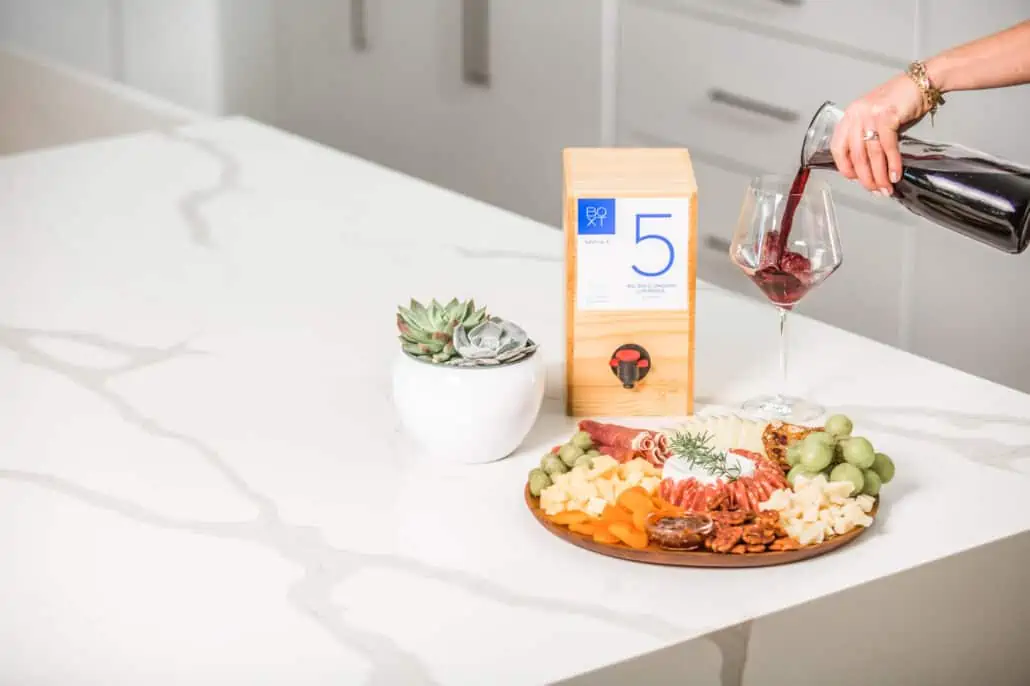 Price: 
You sign up for either one or two boxes per month. The first option is $64 the second option is $124. Each box contains the equivalent of four bottles of wine. Shipping is included in the price.
How it Works:
BOXT offers eight wine "profiles". Each profile has specific characteristics that make it unique. This makes it easier for you to decide on which wine to buy. If you enjoy wine a dry red wine with a red berry profile, for instance, you would select Profile 4. This is much easier than researching individual varietals to see what their aroma and flavor characteristics are.
The wines ship out on the first Monday of the month.
Advantages:
This is a great wine club if you are looking for an environmentally friendly option. Packaging the wine in a box vs. a bottle reduces the carbon footprint of each shipment by 50%.
A wine that is packaged in a box stays fresh longer than bottled wine. Your wine will still taste great six weeks after you have your first glass.
Click here to sign up for or gift the BOXT Wine Club
This is a small family-run wine club that focuses on finding top-quality red and sparkling wines. The owner is serious about expanding the palates of wine club members. That means you will receive varietals (grape types) that you may not be familiar with. Or you make get wines that are from regions that you typically don't see at your local wine shop.
We love wine clubs with great wine pickers. Uncovering great wines that aren't widely available is a valuable skill to have. That's what makes this one of the best wine clubs to try.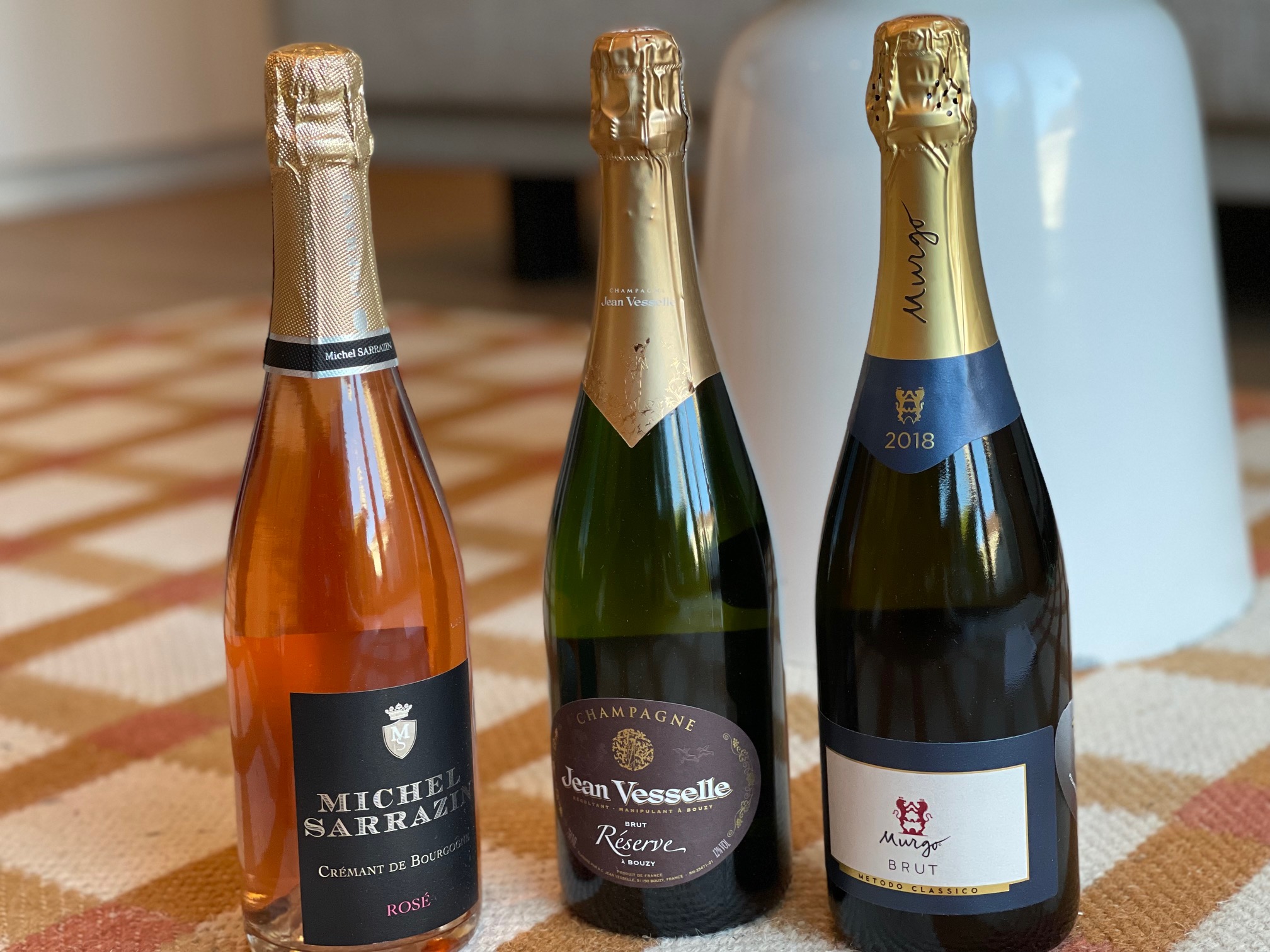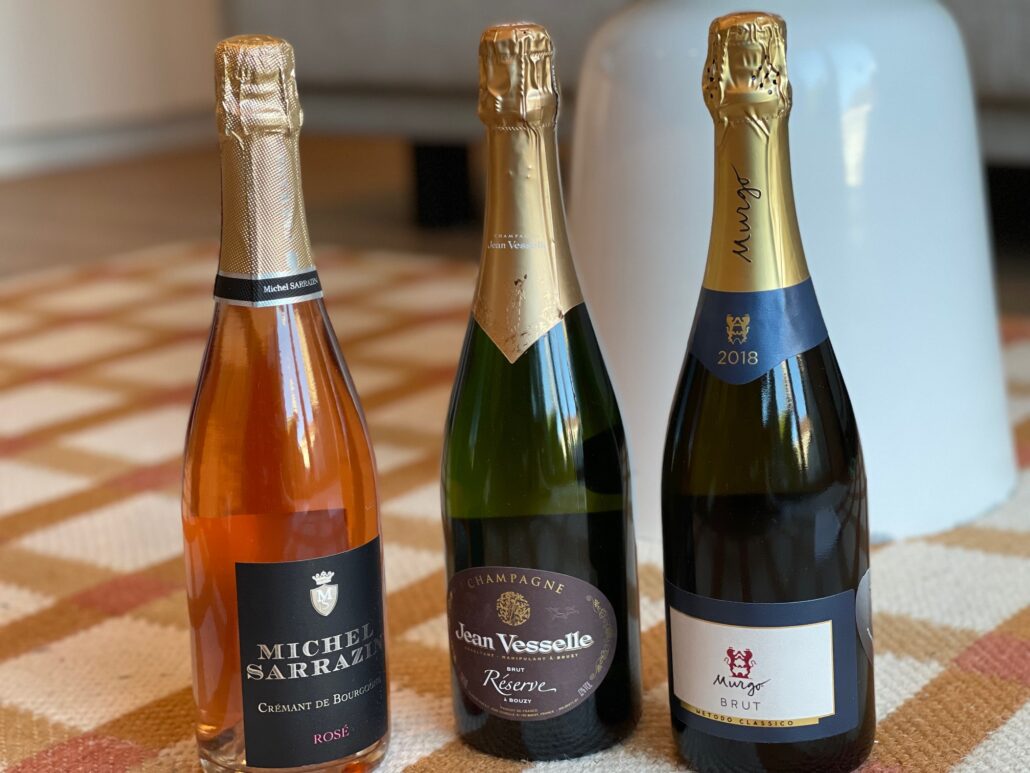 Price: Pour Me has very straightforward prices. You will pay $100 for a shipment of three bottles. You can decide how often you'd like to receive your shipments.
How it Works: First you choose the type of wine you want. You can either select three bottles of red, three bottles of champagne/sparkling wine, or a mixture of both. Then you select how often you want to receive the wine. Pour Me wines will select some delicious and unique wines and send them to you. You can cancel at any time.
Advantages: Pour Me is a newer club and they are working very hard to get established. This means they are spending time to delight their customers. This is the best time to join a wine club.
Use the link below and save 20% on your first order.
Click Here | Learn More About Pour Me Wine Club
The Best Discounted Wine Clubs
If you are looking for a way to quickly fill your wine inventory at great prices, these are the clubs for you.
The Splash Wine club is a great option for value-conscious wine lovers. A family-run wine retailer and club operator that has one of the lowest markups in the industry. You can purchase wine by the case or sign up for a monthly wine club. We like how flexible the Splash Wines club is.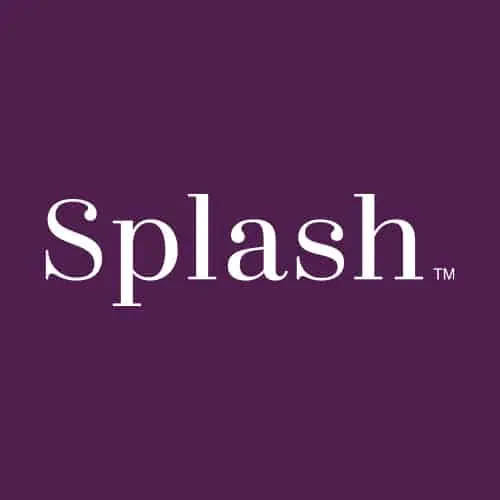 Price:
We suggest you take advantage of their 18-bottle offer. This one-time deal gets you 18 bottles of wine for only $107.82 and that includes shipping. We will do the math for you. You are only paying $5.99 per bottle. Splash doesn't automatically sign you up for their wine club when you take advantage of this offer.
When signing up for the subscription service, there are several offers to consider. They range in price from $59 for six bottles to $89 for 12. You can also pay a little extra to upgrade to an all-red wine club.
How it Works:
That all depends on what you sign up for. In general, you are getting a curated box of six or twelve wines. You decide if you want all white, all red, or a mix, and then select how often you want them delivered. They offer monthly, bi-monthly, and quarterly delivery options.
Advantages:
Great prices
Flexible club options
Quality wine (they guarantee that you like the wine or you can send it back)
One of the best wine clubs for value-conscious wine lovers
Click here | To order 18 bottles for only $5.99 each.
Wall Street Journal Wine Club is the perfect wine subscription service if you want an abundant array of choices and selections. They have a unique discovery club that delivers every 3 months. It is packed with a multitude of wine options. The WSJ club is one of the best wine subscriptions if you want to try absolutely everything the wine world has to offer. Price: Starting at $69 every three months plus $19.99 shipping.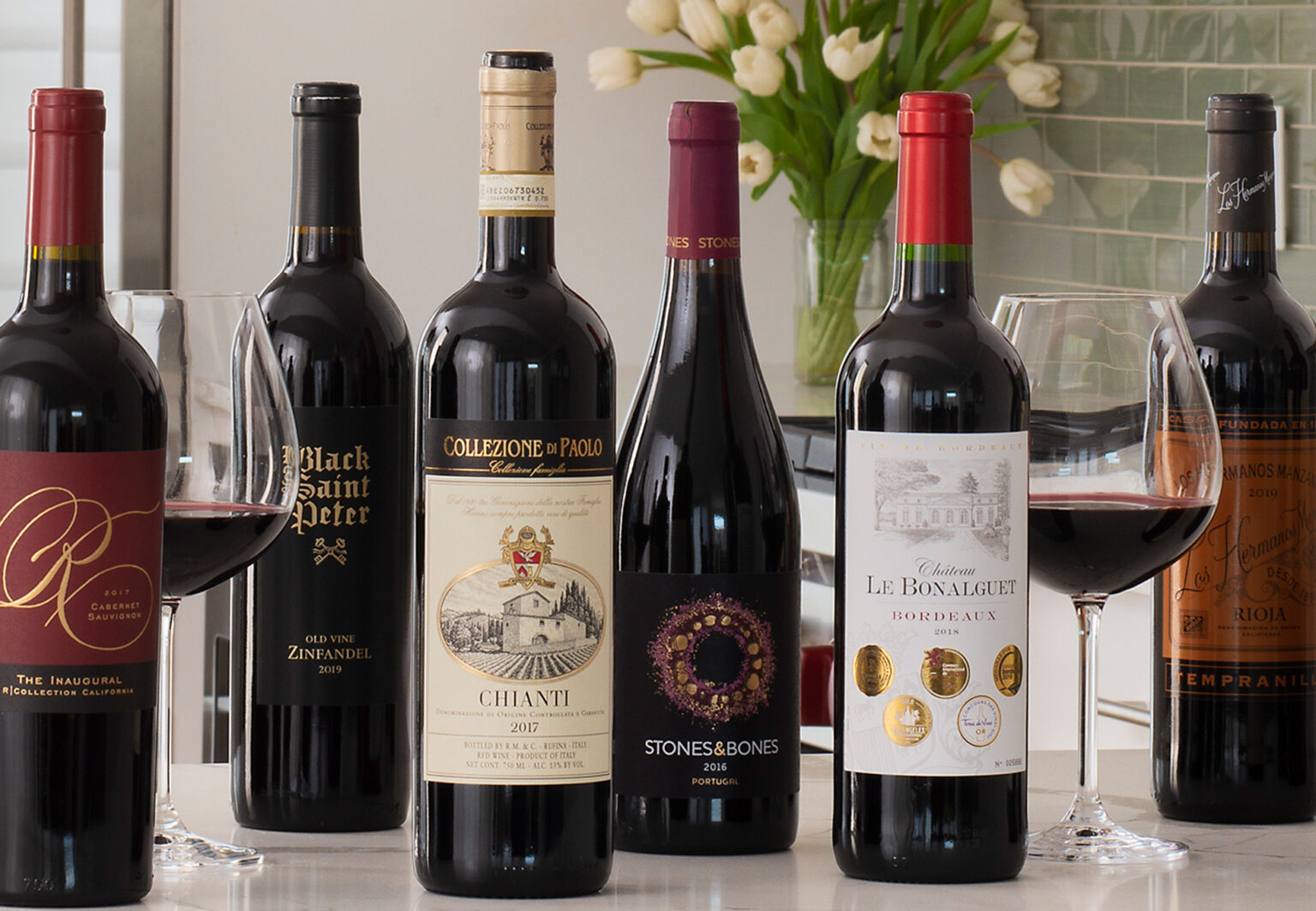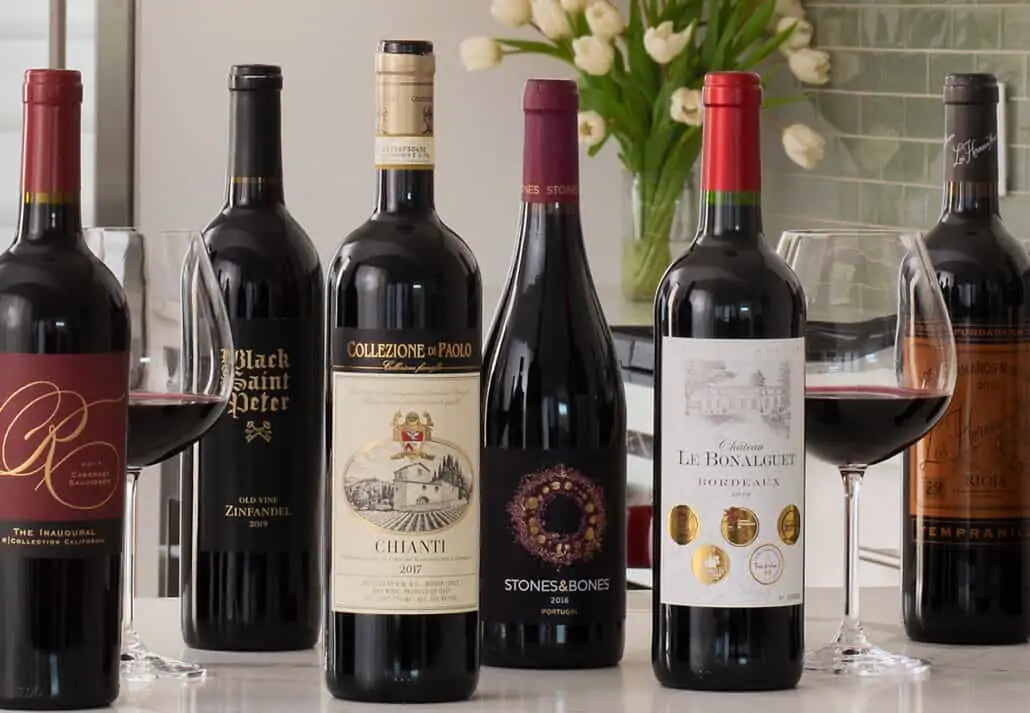 Price:
This club is all about the upfront offer. Your first shipment currently includes 14 bottles of wine for only 69.99. Each of the club shipments after that cost $169.99 plus 19.99 for shipping.
How it Works:
Check out their wine discovery club and you get a tailored case of 12 wines delivered straight to you every 3 months.
Advantages:
Excellent discount on initial club order
Cancel at any time
Money-back guarantee
One of the best wine clubs to quickly stock a wine cellar
Click here | Sign up for the WSJ wine club and save over $100
This wine club follows the model of many negociant wineries in France. They discover top-quality fruit that isn't being put to good use. They buy up the juice and bottle it. They don't disclose where the vino comes from, but they make it clear this wine of the month club is all from 90+ wines. They also have a nice store where you can purchase bottles you enjoyed in your last wine subscription box.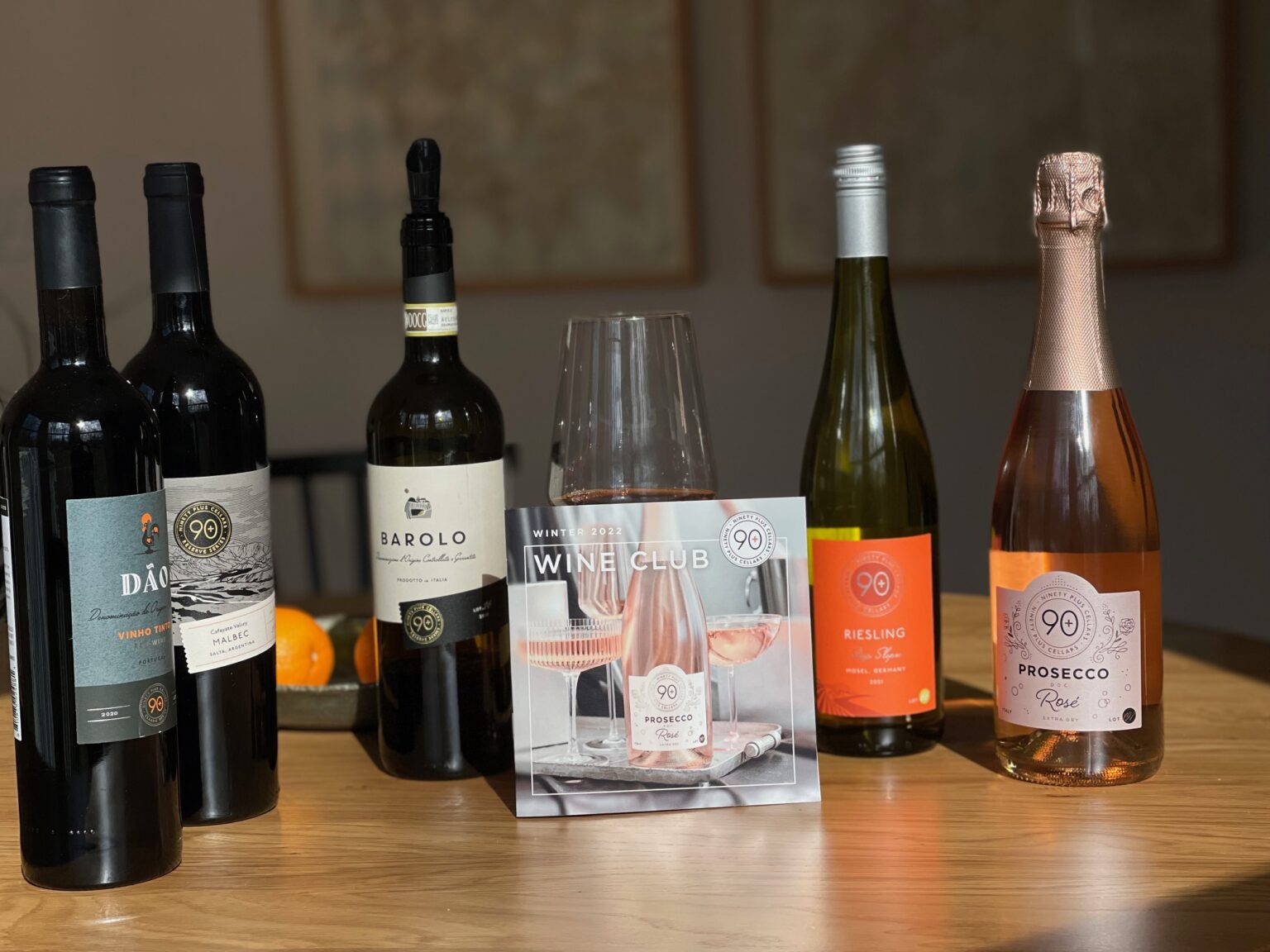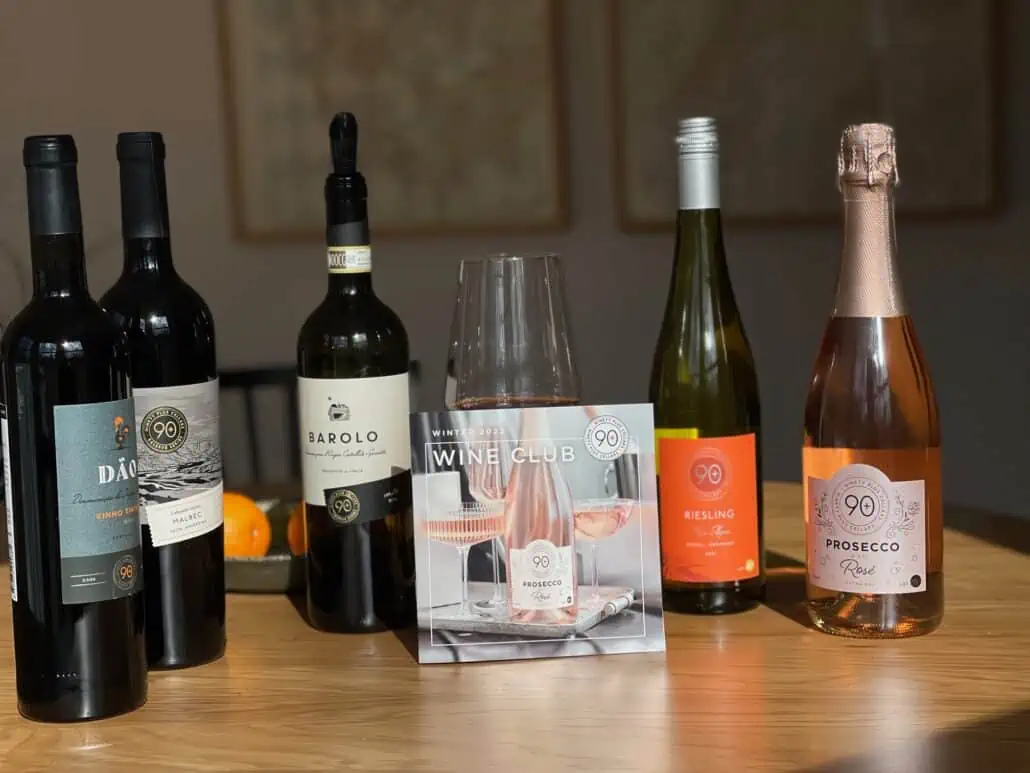 Price: 
You can order 3 bottles per quarter for $50. The $50 includes your wine club shipping.
You can also elect to go with the 6 bottles per quarter option for $95 or a case of wine for $180. The "case of wine" club is just $15/bottle.
How it Works:
Just select the number of bottles you want to receive each quarter. You can either select a mixed bottle wine club or, if you are going for six bottles, you can select an all-red wine club or mixed.
Advantages:
You get discounts on orders from the ninetypluscellars.com website. You also get detailed tasting notes, but the biggest advantage is the wine. Their unique model means you are getting premium wine at a big discount. That makes this a top-value wine club.
Bright Cellars is all about helping people discover the art of drinking wine. They have a great referral program to earn bonus bottles of wine, so it's the perfect place to be to share wine with your friends! This is the wine club where social networking means free wine for you.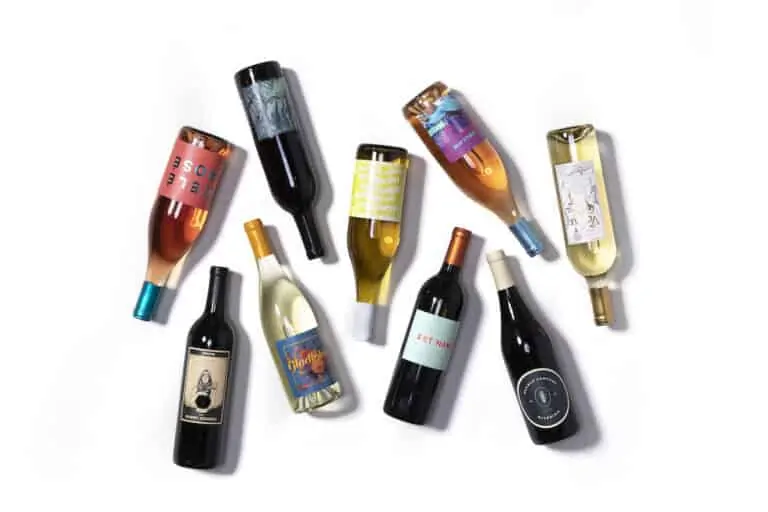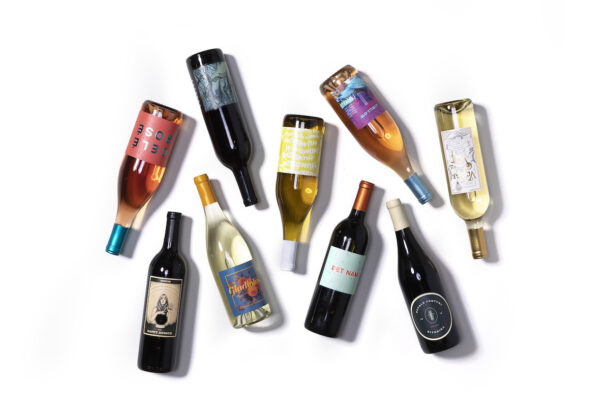 Price:
$88 a month for 4 bottles of wine plus shipping.
How it Works:
Take their short wine quiz and they will match you with 4 wines specifically for your taste preferences. Their Bright Points algorithm is truly one of a kind so that your wine shipments will truly be catered to your tastes.  Rate your wines after you try them and your shipments will improve from there! This is a great wine of the month club option for tech-savvy drinkers.
Advantages:
No Commitment, No membership fees, Referral Program, Satisfaction Guarantee.
[SPECIAL] Save $50 on Bright Cellars Wine Club through this link
Wine Awesomeness is all about value and simplicity. They find the wines that you probably wouldn't. You get incredible wines with a unique guarantee that you won't be able to curate the same box for less, or you get a free year of wine! That makes this one of the best wine clubs for the money. Wine Awesomeness also provides a nice guide in each box they send. This guide helps you get the most out of the wines with helpful pairings and a backstory for each bottle. This is a fun and educational bonus that comes with your wine subscription.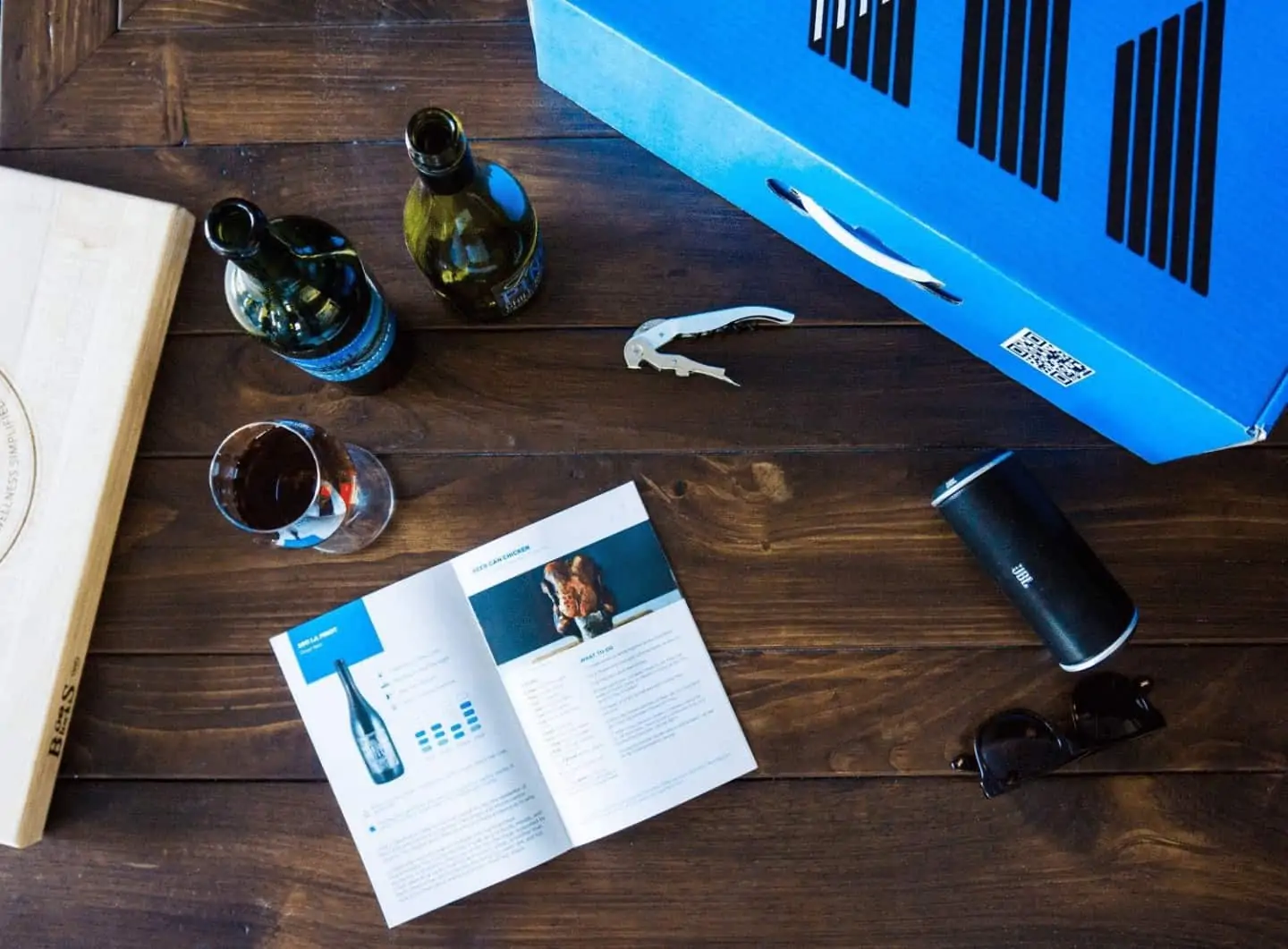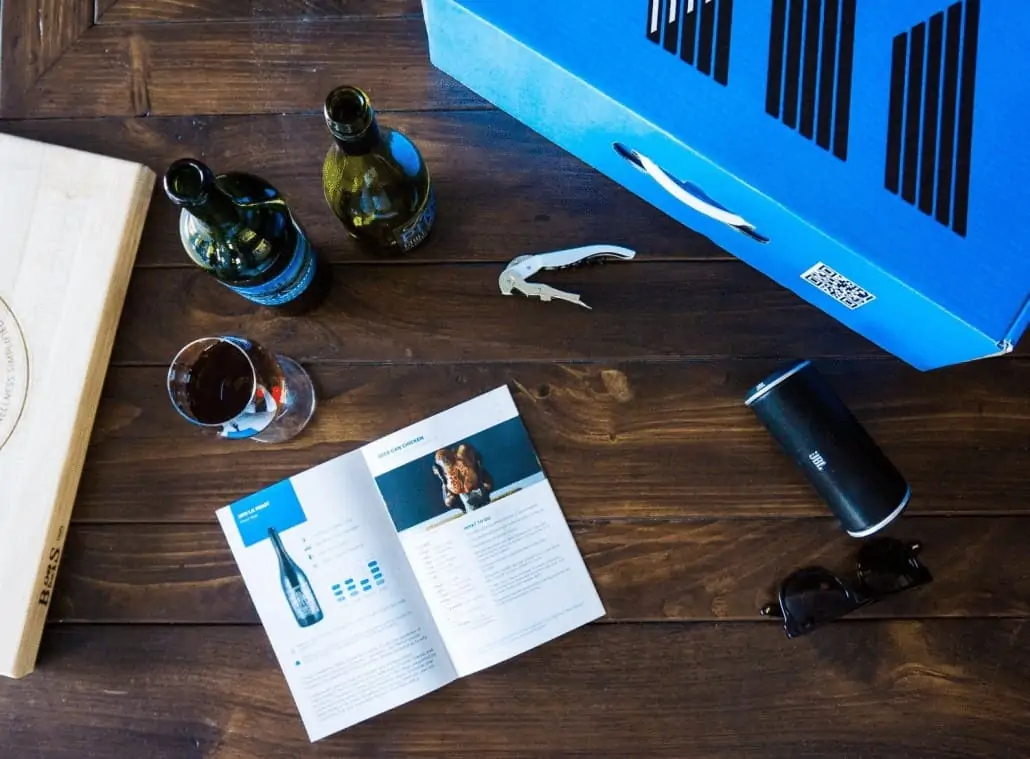 Price: $49 a month for 3 wines plus $10 for delivery. You can also select a monthly wine box with 6 or 12 bottles.
How it Works: You get a trendy and awesome (hence the name) themed wine box each month. You choose from either 3 red wines, 3 white wines, or a variety of one red, one, white, and one sparkling wine or rosé.
You can also ask to select your own wines each month. This is a great wine of the month club for really picky wine drinkers!
Advantages: Simplicity, free shipping, low price guarantee, no obligations, and a fun guide that ships with each box.
This is the company that started it all. They pioneered the idea of sending a monthly shipment of wine to your home. This was before the internet (yes, there was a time before the internet). The wines are selected through monthly blind tastings. Only the top 1% of wines tasted are selected to ship to club members. The default shipment includes one red and one white. This is a straightforward club with no gimmicks, just really good wine. Who wouldn't want to be a part of the original wine of the month club?
Price: Memberships start at $23.96 a month.
How it Works: You choose the series and the amount of wine you would like, plus your choice of red wine, white wine, or a mix of both. Every month you will receive vintage wine with their newsletter full of wine information, recipes, and more.
Advantages: You never pay for a bottle you don't like, cancel anytime, no membership fees.
Click Here | Order The Original Wine Of The Month Club
How To Find The Best Wine Clubs And Wine Subscription Boxes
We hope you read and enjoyed our list of the best wine clubs. Maybe you were wondering as you read, how did they come up with this list. Which specific characteristics make a wine club worthy of consideration? We hope to answer that question and provide you with valuable information about how wine clubs operate. You can apply this knowledge when trying to decide if joining a wine club makes sense.
There are over 250 wine clubs available online today. That doesn't include thousands of clubs that are run directly by wineries. That's almost too much choice. Read on to find out how to quickly weed out the clubs and subscriptions that don't match your tastes or budget.
Why Do People Join Wine Clubs?
People join wine clubs for a number of reasons. Those reasons include:
The convenience of having wine delivered to your door
The variety of wines that clubs offer
Access to the wines of smaller wineries that aren't available in local stores
Having wine picked for you by wine experts
The joy of having a package of new wines to open each month
There are many more reasons that people join wine clubs. The most basic reason is that they love wine. Finding the best wine club for your taste is very satisfying.
How Do Wine Clubs Work?
There are a few basic formats for wine club membership. It's important that you understand which wine club membership format you are signing up for and make sure it fits your expectations. We will discuss the common wine club and subscription types below.
Wine of the month clubs (wine picker clubs)
When you join a classic wine of the month style club, you can expect someone else to pick the wine for you. The degree of personalization varies depending on the club. Some clubs will send out the same wines to everyone in the club. The best wine clubs will tailor their shipments to match your preferences.
Advantages:
An expert picks out the wine
You benefit from the club's ability to buy in bulk
You may have access to smaller vineyards that only sell through clubs
Disadvantages:
Many clubs send the same wine shipment to all members
The person picking the wine may not share your taste
They can be harder to customize
They don't always have wines from past shipments available for re-purchase
Wine Subscription Services
With a wine subscription, you often select the wines yourself. You pick how often you want to receive your shipment and how many bottles you would like. The wine subscription service will remind you to go in and pick your wines before the wine shipments go out each month or quarter.
Advantages:
You pick the wine that matches your tastes
You can typically order the same wines each month
It's often easier to skip months or pause your subscription
Disadvantages
You have to pick the wine
They often have fewer wines to pick from
The wines they do have are often in one niche
While these models differ, they do share a lot in common. We will cover some of the factors you must consider no matter which club type you choose.
How Much Do Wine Clubs Cost
The range of wine club membership prices varies widely and is partly determined by you. Some plans start at less than $50 a month. Other wine clubs cost more than an average monthly mortgage payment.
When you are breaking down the cost of a wine club, consider these items:
Minimum monthly plan costs
Shipping costs
Introductory pricing (how big a discount do you get and for how many shipments)
Per-bottle price (we like to spread the shipping cost of the number of bottles)
Re-stocking fees for any wines you want to send back (check to see if offer free replacement for bottles you don't like)
Taxes
Calculating the per-bottle price will help you compare your wine club options. This is the best way to make an informed decision before joining. Make sure your per-bottle price isn't based on the introductory offer price.
How Many Bottles And How Often 
One of the biggest complaints we here from wine of the month club members is, "I have nowhere to put all the bottles they keep sending". The second biggest complaint is about having too many bottles of the same wine.
To avoid this problem. think about how often you drink wine. Do you have it every night with dinner, is it something you only enjoy on the weekends, or do the bottles only come out around the holidays?
If you only drink occasionally, receiving a case of wine each month doesn't make a lot of sense. A wine surplus can become a big hassle. If you are trying to fill a wine cellar, that's a different story. In that case, just make sure the wine club ships wines that age well. The best wine clubs for you will deliver enjoyable wines in the right quantity.
Just note that most wine clubs send wines that are meant to be consumed within a year or two. If you plan to drink a bottle or two per week, you should look for a club that sends six bottles.
If you enjoy visiting local wine shops or wineries, consider keeping the number of bottles you receive a month a little lower. Or increase the number a little if you prefer to only receive wine at home.
The best wine clubs and wine subscription services will offer you choices. You should see plans with as few as 2 bottles a month up to 12 per month.
How Good Is The Wine Quality
When you think about choosing the best wine club, don't just think about quantity. A case of poorly made wine isn't a "value buy" just because the wine is cheap. Some cheap wine clubs try to hide behind known brand names or celebrity endorsers. What you end up with is bulk wine that is dressed up and then marked up. The club may include a generic wine pairing sheet in the box or a "newsletter" to increase the perceived value of the shipment. Don't be fooled.
You can learn more about how to taste wine to determine the quality but you won't have a chance to taste the wines before you join.
Ask the wine club manager to send you a list of the wines that went out in the last three shipments.
Here is what you should look for 
Where the wine is made
How is the wine graded (you can find regional grading systems here)
Is it made from the grapes of a single vineyard, a single AVA (region), or an unknown number of vineyards and regions
Look at reviews on Wine Searcher and Vivino. You should also look at the average price for the wine on these sites.
What you are trying to avoid are wines that don't have any clear origin. These are most likely bulk wines that are made from the cheapest grapes. The grapes are often a blend from various vineyards. You can assume there is a fair amount of chemistry used to make these wines palatable.
Here is a list of bulk wine producers. If the club you are considering mostly includes these wines, you should move on.
Does The Wine Subscription Service Or Club Have A Theme
So once you've done the tedious part of the homework - looking at the price and number of bottles,- it's time for the fun part!
Think about what you want from your wine club. Do you want shipments of wine you know you'll love? Do you want to taste new wines from places that will broaden your horizons? Do you want a deeper dive into a region you already enjoy?  Maybe you are passionate about organic and natural wines.
Wine Club Themes To Consider
The best wine club for a curious wine novice may explore the wines of the world each month. Or it may provide a wide selection of varietals to sample
If you are a passionate fan of one or two grape varieties, you may want to look for a club that allows you to specify (and exclude) certain kinds of wine.
Look at clubs that specialize in age-worthy bottles if you are building a long-term wine portfolio.
Want an easy-to-drink bottle to pair with dinner, there are clubs that specialize in that too.
As we said above, there are hundreds of clubs out there. Many of them fill specialized niches really well.
Wine Club Shipping
You may overlook shipping when selecting the best wine club. This is a mistake. Once your new wine club packs your wine and hands it over to their shipping company, the relationship is now between you and the shipper.
Issues like tracking, location holds, returns, non-contact deliveries, reroutes, and damage claims are all part of the wine club and wine subscription experience. You should ask who the wine club uses for delivery and then find out what the shipper's policies are for the following:
Multiple delivery attempts
Return shipments
Filing damage claims
Adult signature requirements
Hold at location
Rerouting shipments
Also, research the nearest pickup locations for that shipper. It's no fun driving 50 miles to get a wine club box.
The best wine clubs will have information about their shipper and shipping policies clearly marked on their website.
The Fine Print and Wine Club Customer Service
Much of the joy we get from the best wine clubs comes from our relationship with the people who work there. You want to find a club that is easy to get in touch with and does what they say they will do. It also helps to read the fine print upfront before you have an issue.
What to look for in the fine print 
Shipping costs
Cancellation policy
Criteria of wine selection and duplicate bottles
How to pause shipments
Bad bottle guarantees
Shipping methods in hot weather
You are better off knowing where the potential issues are than being surprised later.
How To Assess Customer Service
We suggest you do the following:
Go to the social media pages of the wine clubs and read the comments
Call the 800 number and ask about canceling
Initiate an online chat and see how long it takes to get answers
Visit the Better Business Bureau website and read any complaints and how the wine club responded.
Conclusion
There are a lot of great reasons to join a wine club or wine subscription service. Doing your homework upfront will allow you to avoid the pitfalls and find the best wine clubs for your taste. We hope you find a club you love!
About The Author:
Gregg McPherson is a co-owner of the California Winery Advisor. Gregg is a lifelong wine lover who holds a WSET Level 2 Award In Wines. The reviews are Gregg's personal opinions. He reviews and writes about wine to help consumers in their search for great wine.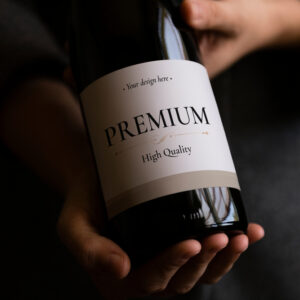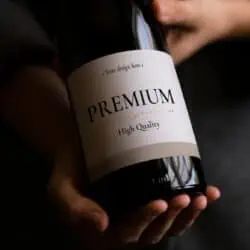 After extensive research (and a lot of imbibing) for our list of the 25 best wine clubs, we decided there was a need to focus […]
Read More