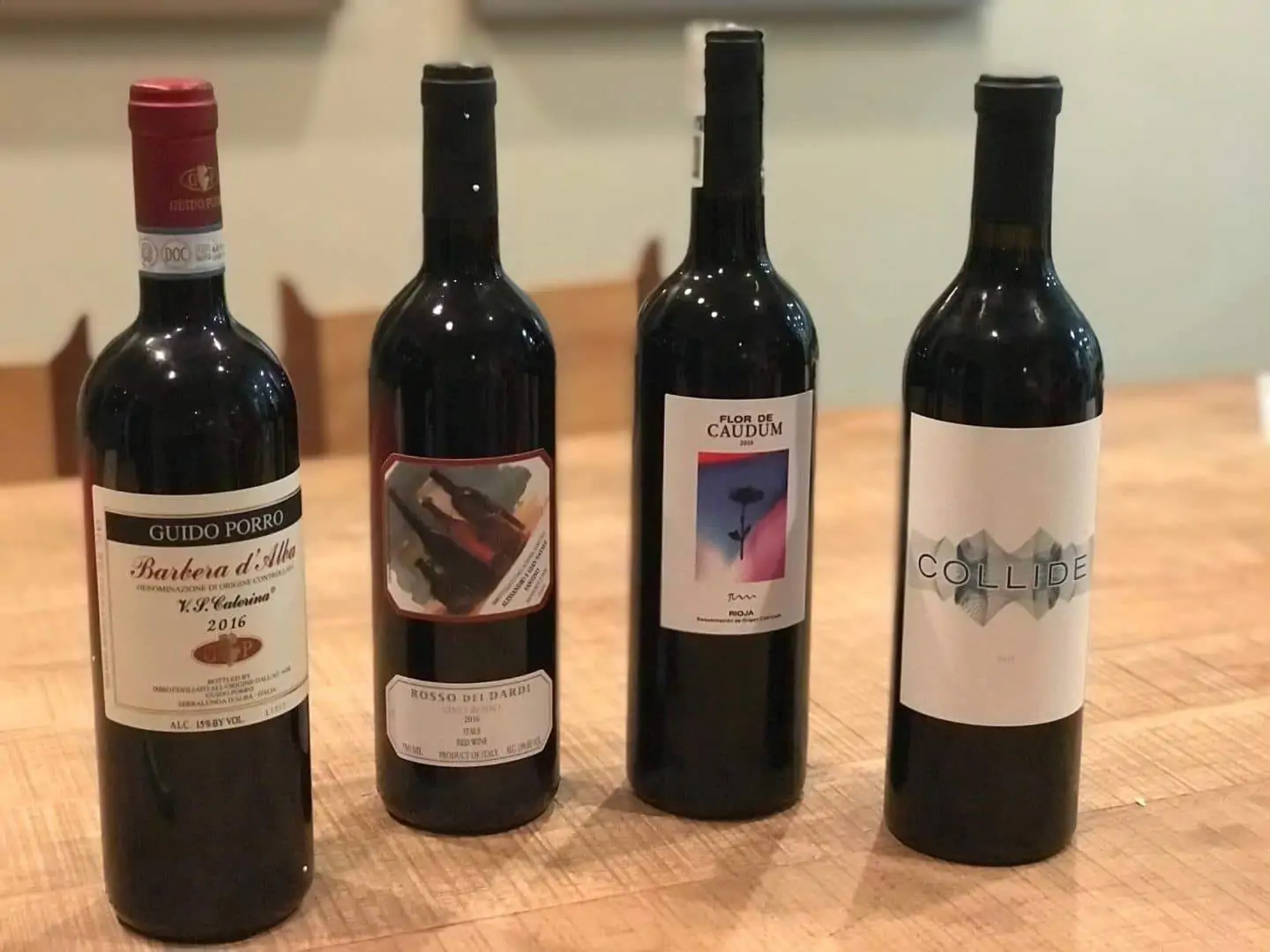 The Plonk Wine Club | Overview
We want to start this Plonk wine club review by letting you know we are fans. We will get into detail about why that is below, but we just want to get that out of the way.
So why do we consistently rank Plonk Wine Club as one of the top online wine clubs? We put them there because we believe great wine clubs are defined by the person picking the wines. Our idea of a perfect club is one that finds great wines and delivers them to you at a great price. That's what you get with Plonk.
So why is Plonk Wine Club able to do this when so many other clubs fail? 
The success of Plonk comes down to the people. And the most important person at Plonk is Etty Lewensztain. Etty just has a knack for finding great wine at reasonable prices. By great, we mean wine with complexity, balance, and intensity. It seems like Etty has special powers that allow her to find little gems that are overlooked by the masses.
When you receive a shipment from Plonk, you feel like a wine industry insider. The bland wines on the supermarket shelf become a distant memory. That is what makes writing a glowing review of Plonk wine club easy.
Why does Plonk Wine Club focus on natural, organic, and biodynamic wines? 
Did you realize that many mass-produced wines contain additives to enhance the color, improve the flavor, and increase or decrease the acidity? Many supermarket wines are more like science experiments than fermented grape juice. The wines that Plonk Wine Club selects are made with minimal intervention. That means the quality of the grapes shines through.
The Plonk Wine Club | Pricing
Plonk offers three unique clubs. You can pick from:
When you sign up for Plonk, you can select shipments of either 4. 6 or 12 wines. The wines are shipped the first week of each month.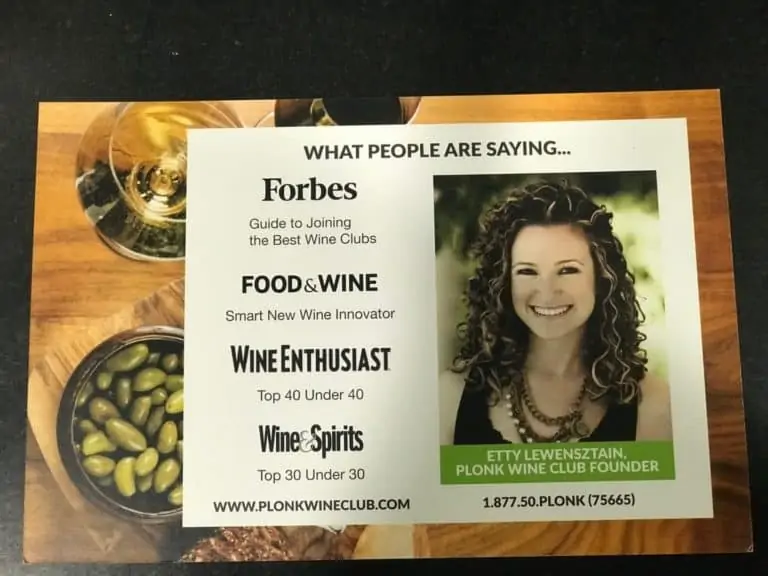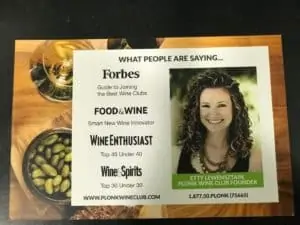 How much does it cost?
The Mixed Wine Club, Red Wine Club, and White Wine Club cost $110 per shipment. That includes shipping. You can't find many Plonk Wine Club coupons on the internet, but occasionally you will find a 10% discount offer.
The specialty clubs like the Plonk Cabernet Club and Pinot Noir Club are no longer available. This seems like a good change to us. Etty can focus on picking great wines and not be confined by a specific varietal.
The Plonk Wine Club | Service
The club gives you the option of pre-paying for 3,6 or 12 months. You cannot cancel when you pre-pay. You also have the option of paying as you go each month. In this case, you can cancel before your next shipment goes out.
The club also gives you a satisfaction guarantee.
Plonk Wine Club offers a 100% satisfaction guarantee on any wines you don't love. Please contact Customer Service at 1-877-50-PLONK (75665) or help@plonkwineclub.com for assistance and we will send you replacement bottles for any wines you are unsatisfied with.
The Plonk Wine Club | The Wine
This is what we care about and this is where Plonk Wine Club really shines. Unique, high-quality wines at great prices. Why else do you join a wine club?
Plonk focuses on small production, natural wines from around the globe. The beauty of being a Plonk Wine Club member is that you have one of the best wine pickers working for you day and night to find unique and affordable bottles.
The founder of Plonk, Etty Klein, is a master of finding unheralded wine regions, unheard of varietals, and as yet undiscovered winemakers. This allows her to find truly memorable wines that are selling at reasonable prices.
The Plonk Wine Club | Who is this right for?
We think this wine club is great for a wide range of wine lovers because they find such great wine. This may not be the best club for someone who wants to be involved in picking out their wine each month, but why join a wine club if you want to pick all your wine? Etty will find great values wines that you likely will not find yourself. She provides detailed tasting notes that you can taste along with. This is a fun exercise for any wine lover.
The wine pairings are a nice touch. We found the food they choose for the pairing can be a little fussy at times. We hope they will include more realistic food pairings that appeal to the typical wine drinker.
The Plonk Wine Club | How do I order?
We've provided two nice red buttons for you to sign up for the Plonk Wine Club, so go ahead and click away! Or click here to save on your first Plonk wine club order.
The Plonk Wine Club | Do they ship to my state?
Although not clearly stated, there are a few states that most wine clubs don't ship to for legal restrictions. These include Alaska, Arkansas, Hawaii, Mississippi, and Utah, in addition to the District of Columbia and Puerto Rico.
Comparing Plonk To Alternative Wine Clubs
To make things more interesting, we've compared Plonk Wine Club to two other wine clubs worth trying. Check out our summary of each club and see whether they might satisfy your taste and needs better.
Plonk vs. Wine Awesomeness Wine Club
As mentioned earlier, Plonk Wine Club might not be the best option for those who prefer to pick their own wine every month. Here's a great alternative in that regard – Wine Awesomeness Wine Club.
If trying out new wine from all corners of the world every month sounds great to you, you might want to give this club a try. The whole idea behind Wine Awesomeness is inviting wine lovers to dive into an international wine adventure and explore what's out there. Finding a wine from their collection at your local grocery store would be near impossible. And we're not kidding!
Similar to Plonk Wine Club, you can choose whether you want all-red, all-white, or a variety of wines with your membership. With Wine Awesomeness, you can have three or six bottles per month.
What about the pricing? Wine Awesomeness has Plonk Wine Club beat when it comes to pricing, as they offer a great deal at pretty much half the price. You can get the three-bottle membership for $49 per month or the six-bottle for $79 a month. Just like Plonk Wine Club, shipping is free for all wine club members. The only downside compared to Plonk is that Wine Awesomeness doesn't offer a 12-bottle package for those wine aficionados who down a bottle every other day.
As for the wine on offer, Wine Awesomeness seems to have a larger collection of wines from around the globe. They also offer more discounts and promotions.
What is great about this wine club is that they make sure all five of your senses are in a perfect symphony when drinking their wine. Not only will you get food recommendations for each wine but also music advice. Yes, you read it right. Wine Awesomeness is awesome to the point where they tell you the pairing of specific songs and bottles of wine. These folks really put their all into creating a wine ambiance for all senses.
If you're more into diversity and exotic wines, you can hardly go wrong with Wine Awesomeness Wine Club. On the other hand, Plonk Wine Club's biodynamic organic winemaking is nothing to sneeze at.
Learn more by reading our Wine Awesomeness review.
Plonk vs. Bright Cellars Wine Club
Here's another great alternative to Plonk Wine Club. While Plonk is mainly focused on organic wine, Bright Cellars have an excellent personalization process for each wine club member. When you decide to become a member, you'll take a short quiz that helps define your taste profile! How cool is that? They will ship you bottles of wine that match your taste – making this wine club perfect for those who would rather stick to their established taste. If you're a fan of semi-dry red, you can have only that type of wine delivered. Or if you're into cranberry and chocolate, you'll have a bottle to match. You get the point.
The fact that you can mix and match different tastes (they ask you about your favorite fruit, juice, chocolate type, etc.) also makes this wine club suitable for the younger wine lovers who value experimentation.
Another great thing about this approach is that your taste profile should only become more sophisticated over the course of your membership. The folks over at Bright Cellars will ask you to leave feedback about every bottle of wine tried to help refine your future wine selection.
Just like Plonk, Bright Cellars Wine Club offers both domestic and international wines.
What about the pricing? Bright Cellars is more affordable than Plonk, as is to be expected. The four-bottle monthly membership is $80 plus $8 shipping. Even with free shipping, Plonk's offer still works out around $12 more expensive.
However, Bright Cellars Wine Club only offers a four-bottle subscription, which might be too few for the passionate wine drinkers. If you're looking for a 6 or 12-bottle option, you might be better off with Plonk's organic wines.
Another nice feature of Bright Cellars is the possibility to earn points by referring friends. You can redeem these points for bonus wine bottles! And just like Plonk, this wine club has a satisfaction guarantee where they send you a replacement for any bottle that you don't find satisfactory (in the rare instance that this ever happens with these guys!).
While you can't find Plonk Wine Club coupons very often, Bright Cellars coupons are more common. 
You can read our Bright Cellars review for more information.