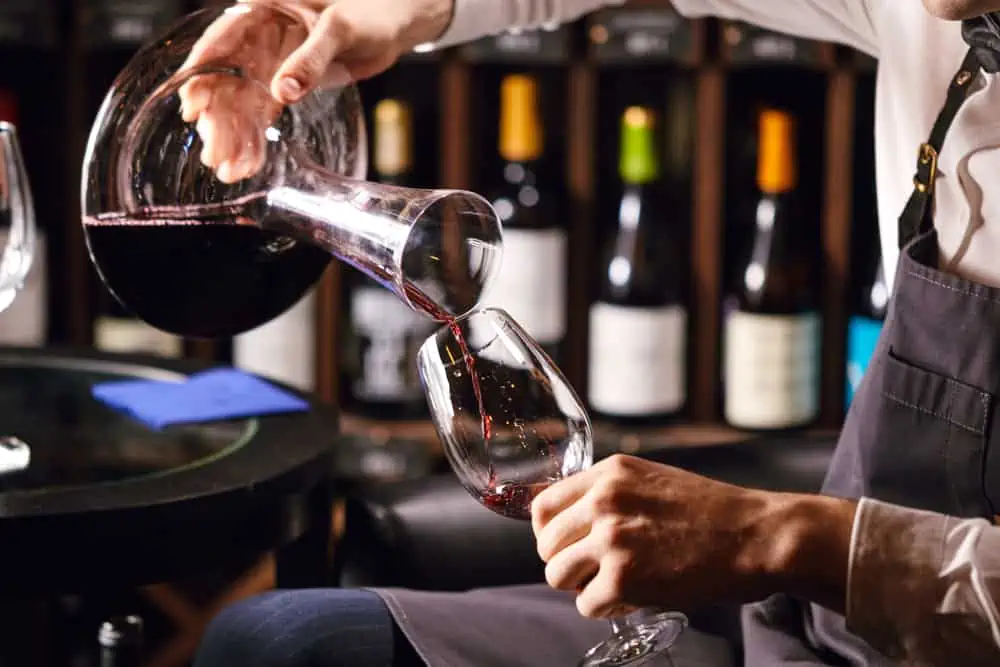 Aerating and decanting will expose wine to the air, but they have different purposes. Aerating is primarily used to lessen the harshness of tannins. It also opens up the aromas and flavors of younger wines by creating contact between esters and the air. Decanting wine separates sediments in the wine from the liquid. This is generally needed for older wines. 
Aerating can be done in a few ways: by swirling the wine in the glass, using a special aerating device that exposes the wine to air as it's poured, or in a pinch, pouring the wine back and forth between two wine glasses. The goal is to expose the wine to oxygen, which helps to soften the tannins and bring out the subtle flavors and aromas. 
Decanting involves pouring the wine into a separate vessel, usually a decanter. Done carefully, you can separate any sediment or solids that may have accumulated in the bottle. This process also allows the wine to breathe and open up, but its primary purpose is to ensure it is free of sediment, which can negatively impact its flavor and texture. 
When to Aerate vs. Decant
Aerating makes sense for full-body red wines with high tannin levels. These wines haven't had a chance to age and mellow, so the tannins can be unpleasant. These wines are often described as being tight. This means they haven't "opened up" and their aroma and flavor can be muted. Exposing these wines to oxygen is the key to enjoying them.
On the other hand, older wines may have significant sediment buildup in the bottle. The sediment isn't harmful. The formation of sediment is a natural process that occurs while the wine is in an unopened bottle. That said, too much sediment can negatively impact the wine's flavor and texture. Decanting these wines will help to separate the clear wine from the sediment, allowing you to enjoy the full flavor potential of the wine without any unpleasant notes.
In the vast majority of cases, you don't need to decant white wines. White wines may have tartrate crystals in them. These can look like little pieces of broken glass, but they aren't harmful and don't change the character of the wine. If you open a bottle of white and see a lot of these crystals on the cork it might make sense to decant the bottle to remove any crystals that formed at the bottom.
Tips for Aerating and Decanting
Aerating and decanting can be tricky for beginners, so here are a few tips to ensure you get the most out of each process: 
Use an aerating device or pour the wine back and forth between two glasses to aerate effectively.

When decanting, pour the wine slowly and carefully to avoid disturbing sediment.

If you're unsure whether a wine needs to be aerated or decanted, taste it first and then decide which method to use based on its flavor and texture.

Don't aerate or decant white wines; they are generally too delicate to benefit from either process.

Experiment with different aerating and decanting times to see what works best. Some wines may only need a few minutes to open up, while others may benefit from several hours in a decanter.
Final Thoughts
Aerating and decanting are two methods of exposing wine to air that can help bring out the best in your favorite wines. Whether you're looking to soften the tannins of a young red wine or separate sediment from an older vintage, these processes can enhance the flavor and enjoyment of your wine. With a little practice and experimentation, you'll soon discover the benefits of aerating and decanting for yourself. You can see our favorite wine aerators here.