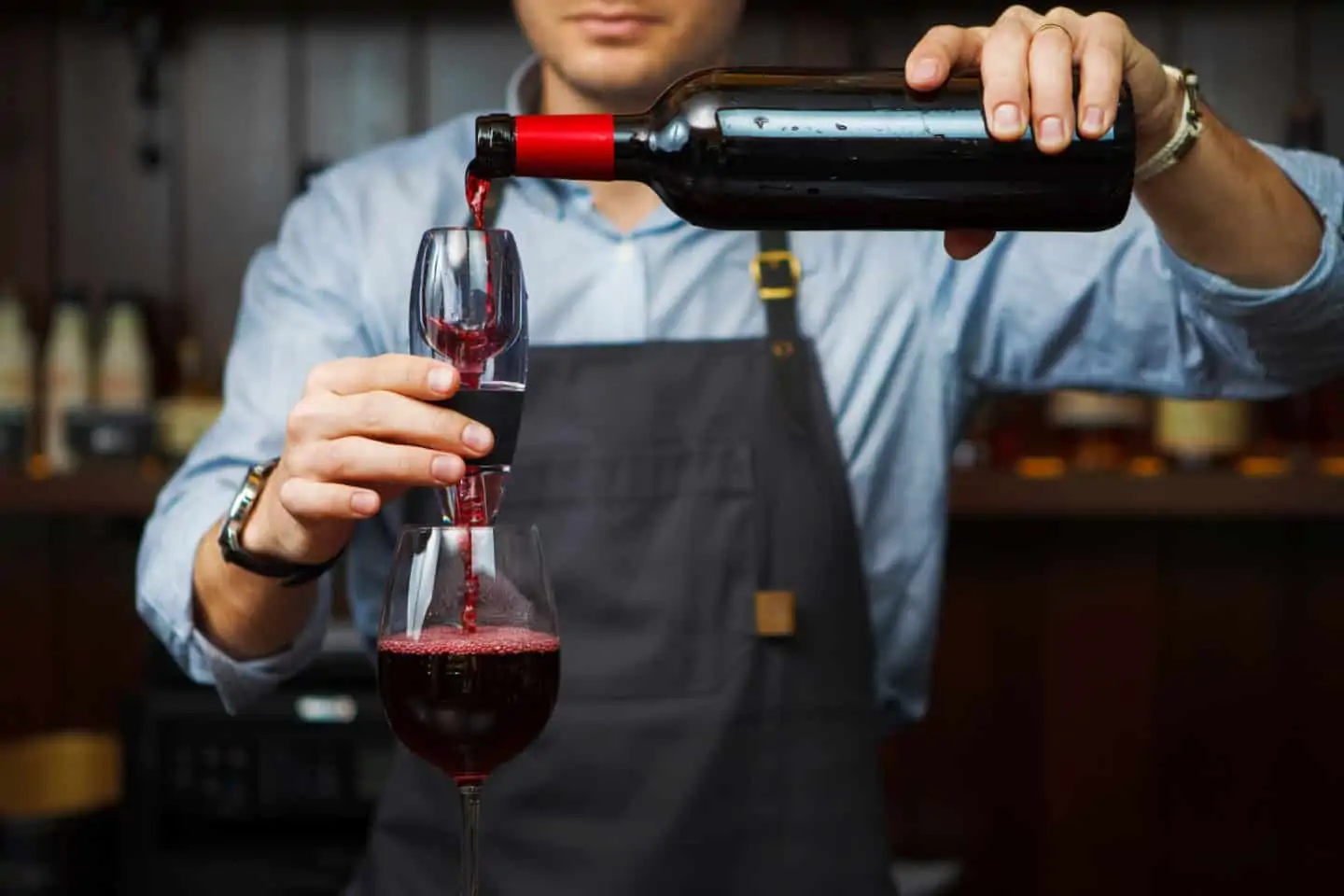 Why do you need a great wine aerator? Most wines are meant to be opened and enjoyed on the day of purchase. Some, however, become much more enjoyable to drink after they are allowed to "breathe".
Remember, many fine wines have been cooped up in barrels and bottles for most of their lives. The molecules that make up the wine need a chance to mix with oxygen in order to evaporate some of the edgier aromas and flavors.
The aromas that make wine so enjoyable are also enhanced by allowing the wine to make full contact with the air. That's why you see wine experts swirling wine before they test the aromas.
At A Glance: Our Top Picks for Wine Aerators
The downside of this is that aeration takes time. Many experts advise up to an hour, or even two, for some of the bigger, bolder reds. Who wants to wait that long to enjoy their first glass? Not us! Enter the new wave of wine aerators that speed up the process, aerating wine with a precision that defies old-style decanters. If you're the impulsive sort that might want to open a bottle and prepare it for drinking at its very best, in an instant, here are the seven best wine aerators to do just that, from the simplest to the most sophisticated.
QUICK OVERVIEW: Our Top Picks for Wine Aerators
IMAGE
PRODUCT
<!—INSERT CODE BELOW—>

Our Top Pick

The Vintorio Wine Aerator Pourer

Simple
Affordable
Does a great job of aerating wine quickly

View on Amazon →

Rabbit Wine Aerator Pourer

Aerate your wine into perfection instantly
Keeps your tablecloth safe from wine stains
Elegantly designed

View on Amazon →

Vinturi V1010 Red Wine Aerator

For use with all red wines
Classic Vinturi look and patented design
Comes with a no-drip stand

View on Amazon →

Three Pouring Spouts
Perfect Pour Every Time
Built To last

View on Amazon →

JIFAR Electric Wine Aerator Dispenser Pump

Luxury carrying case
Hard and flexible straw
Automatic operation

View on Amazon →

Lets your glass of wine breathe without lengthy decanting
Ensures rest of the bottle remains perfectly preserved
Streams of wine are exposed quickly to air

View on Amazon →

Aervana Electric Wine Aerator

Instant aeration
Easy to use
Provides more air contact surface

View on Amazon →
[note] This post about the best wine aerators contains affiliate links, which means that if you click on one of the product links and decide you love what they have to offer, we will be compensated.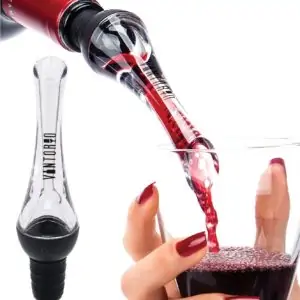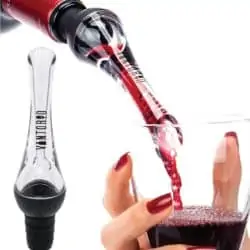 This could not be easier. Open the wine. Insert the pourer into the bottle's neck, and pour it into the glass. This slick wine aerator is designed with an acrylic pouring spout with air intakes that pull air into the wine as it passes through the spout. The process is called the Bernoulli Effect, and it will up the ante on grocery store wines remarkably, removing harsh aromas and flavors that make your wine taste and smell unpleasant. The spout fits into a rubber stopper designed to enhance the effect, with a flow regulator plate in the aeration chamber that controls the pour. Vintorio's lifetime guarantee makes it an easy choice.
Click Here | Check Current Prices For This Wine Aerator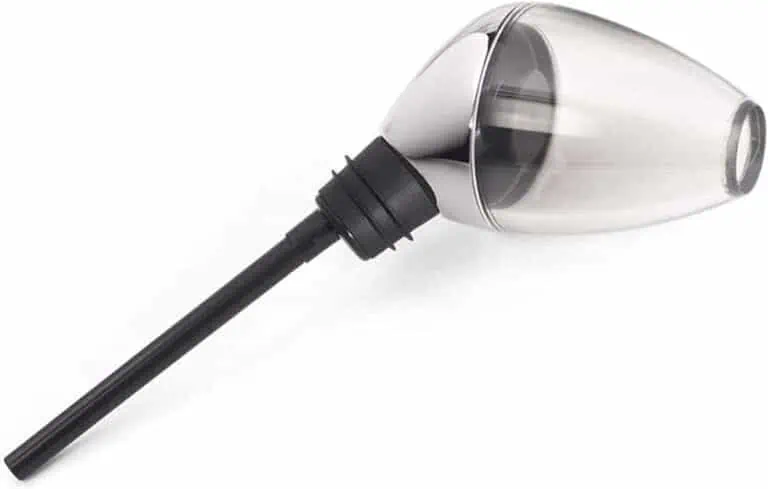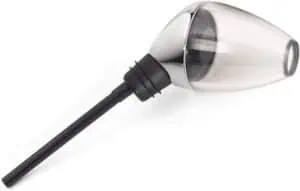 This is a straightforward aerator from a well-known and respected brand. The Rabbit wine aerator fits in any standard-size bottle securely. It provides a consistent pour while it uniformly exposes the wine to air. This unlocks the wine's true potential by activating the volatile compounds that give wines their unique aromas.
This version shown above comes with a stylish wine stopper on the off chance you don't finish the bottle you opened! It is available in limited quantities here. The link below is for the Rabbit wine aerator only.
Click here to order the Rabbit Wine Aerator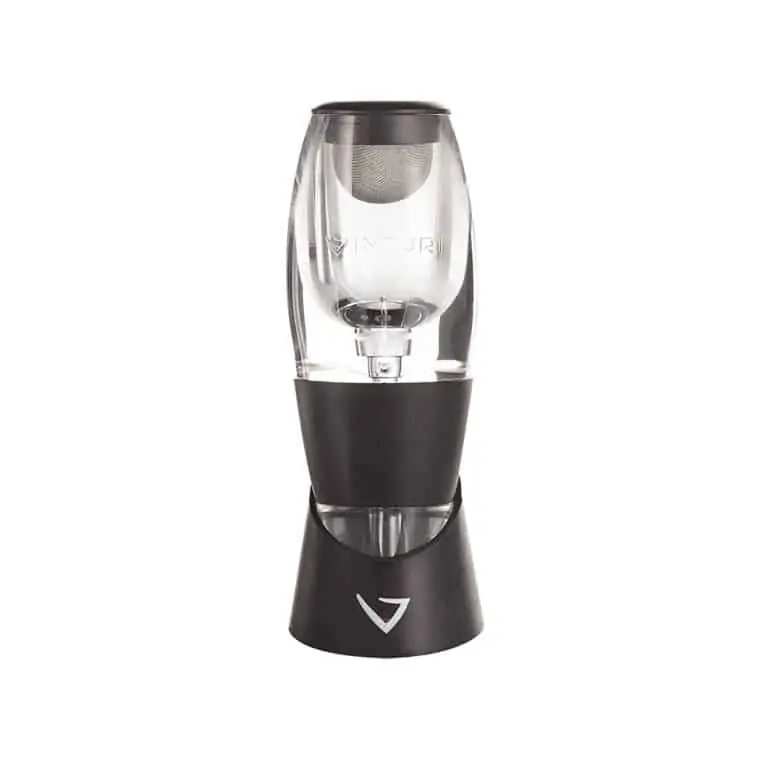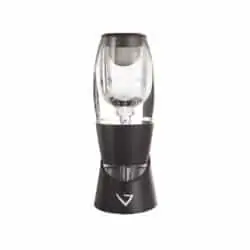 Similar to the VinLuxe, the Vinturi is a streamlined, handheld device that can be used to aerate a glass, or set atop a decanter to aerate the entire bottle. Like the engine of a Ferrari, it can be identified by the distinctive sound it makes as the wine flows through the device. And, like many Ferraris, it favors red. Sporting a clear acrylic top on black silicone and an easy-grip body, the Vinturi also comes with a no-drip stand and a filter that screens out cork or sediment. And yes, they make one for white wine as well.
Click To Check Current Prices For This Wine Aerator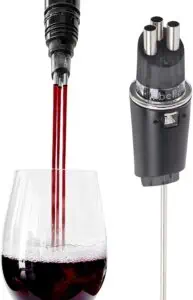 We get a lot of feedback about the Tribella Wine Aerator. Some of our readers swear that this is the best wine aerator on the market. The design of the Tribella does offer some advantages. The triple spout opening creates a lot of surface area as the wine goes into your glass. They also do a nice job of eliminating drips when you pour. It's worth a look.
Click here to learn more about the Tribella Wine Aerator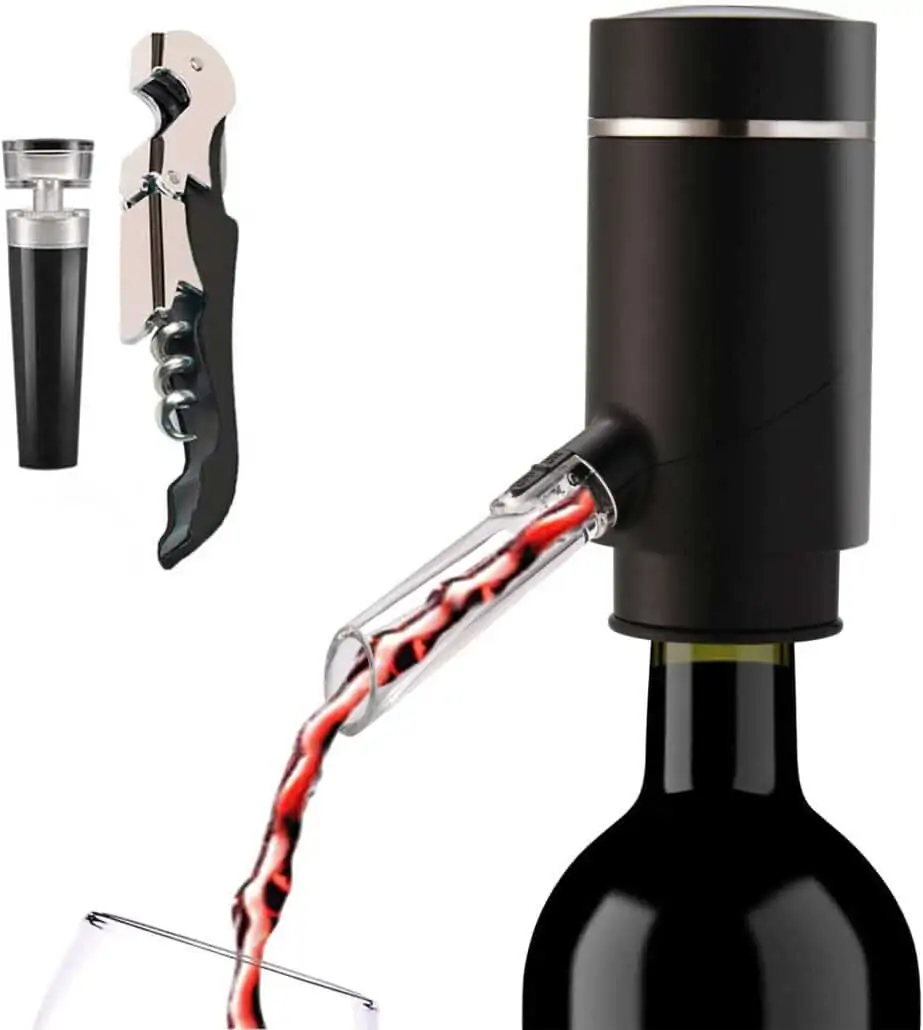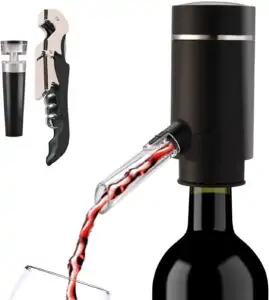 This category of wine aerators has grown a lot in the last few years. There is a good reason for this. With one device you get a wine aerator, an electric pourer, and a stopper for storing your wine. The device is powered by four AA batteries that pump and aerate your wine. You simply push the button on the top of the aerator and viola, perfectly aerated wine in your glass. The unit is easy to clean and comes with a storage bag.
The Aervana electric wine aerator listed below is the best quality version of the wine pump/aerator.  The JIFAR is a great option at a lower price if the cost is your primary concern.
Check Current Prices For This Wine Aerator Here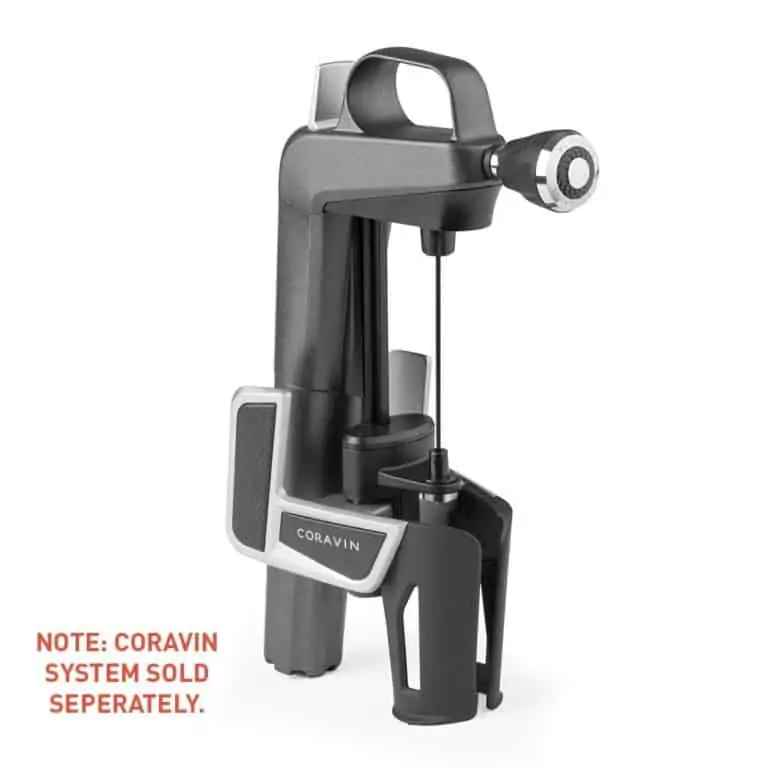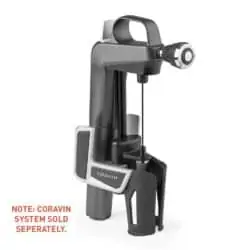 This wine aerator is meant for use with a Coravin system. The Coravin is a unique wine opener/pourer that extracts wine from your bottle without disturbing the cork. That means you can keep wine tasting fresh for years. The aerator is an additional feature that can be added to the pourer. This is a great wine gadget if you collect expensive wine or belong to a great wine club.
If you already own a Coravin, this is a nice addition. Once you have this, you won't really need another wine gadget.
Check Current Prices For This Wine Aerator
Choose between the Aervana Original and the Aervana Select with a variable aeration adjustment for a little more sophisticated process. This bottle-top dispenser fits into the bottle's neck, dispensing wine through a "tap" driven by a one-finger push of the button on top of the device.  Powered by 6 AAA batteries, it is ready to aerate more than 100 750 ml or magnum-size bottles of wine. A stand is included with this one-touch dispenser, and cleaning is facilitated by filling an empty wine bottle with clear water and pumping it through the device.
Check Current Prices For This Wine Aerator
Why You Need The Best Wine Aerator
I bet you are wondering why you should bother aerating your wine. If you're a wine enthusiast, you've probably heard terms like "aeration" and "decantation." Like many people, you may find the whole idea a bit confusing. But the truth is, there's a straightforward logic behind these fancy phrases:
Your wine has been cooped up in a bottle. Now you are letting your wine breathe.
So why is this important?
In this article, we dive into the science behind aeration and how it can help you enjoy the full-bodied taste of wine. You'll also see the best way to aerate wine so that every sip provides a symphony of exciting aromas and flavors. And we will introduce you to our favorite low-cost way to aerate wine the right way.
What Exactly Is Aeration?
Simply put, aeration is the process of exposing your wine to air. Wine contains hundreds of compounds that react with oxygen through a process called oxidation. What's more, many of those compounds evaporate, meaning that they turn from liquid into gas and leave your wine.
You don't have to be a chemist to understand the benefits of these processes. In a nutshell, proper aeration allows the undesirable compounds of wine to disperse, letting the wine express its full taste and smell. The best wine aerators will speed up the dispersion of these compounds.
The main reason to aerate wine is to let it release these compounds as they don't contribute to a pleasant drinking experience. Instead, they're generally used to protect your wine from going bad.
Without aeration, it's tough to notice the subtle notes that different elements offer. Instead, your wine will be overpowered by volatile compounds, which will rob it of its rich flavor and aroma. In this context, the reason to aerate wine is to let it "settle" into its true character and taste.
However, not all wines can benefit from this process.
Which Wines Need Aeration?
As a general rule, aeration is mostly reserved for red wines. However, there are a few groups of whites that share similar traits with their red counterparts. To ensure that there's a reason to aerate the wine of your choice, here's a brief overview of some groups that can benefit from the process the most:
1. Young, Tannic Red Wines
Wines contain the most tannins while they're young. Tannins are the compounds that give the wine a mouth-drying, astringent effect. Naturally, there's a good reason to aerate wine with a high tannic profile. Aeration mellows tannins and gives your wine a softer feel.
Some of the wines with the highest tannin concentration include:
Barbera
Cabernet Sauvignon
Bordeaux
Montepulciano
These wines have a long aging process, and their aroma will benefit the most from a high-quality wine aerator. Your reds can have a more mature, rich expression of subtle tastes.
2. Aged, Sedimented Red Wines
While aging gives your wine a smoother, more abundant taste, there's a point at which you'll notice some shortcomings of the process. Tannins and other elements will start binding and solidifying, leaving visible sediment.
In most cases, this occurs after 8-10 years, depending on factors like the varietal involved and the storage conditions. The best wine aerators will filter out this sediment before it hits your glass.
3. Dry, Heavy White Wines
As mentioned, there are whites with characteristics similar to the majority of reds. This goes for full-bodied wines with a dense mouthfeel such as:
White Bordeaux
Young Corton-Charlemagne
Alsace
Burgundies
As a rule of thumb, every white wine that doesn't seem to yield a rich aroma or taste right out of the bottle could do with some aerating. You'd be surprised by the difference that it can make.
How to Aerate Wine?
Many people think that simply opening the bottle is enough to let their wine release its full flavor and aroma. But this isn't the best way to aerate wine. The bottleneck is too narrow to allow oxygen to enter the whole bottle and ensure evaporation. At best, you can expect to soften your wine's roughest edges to a small degree.
This is why many enthusiasts use aerators. The best wine aerators do a great job of "opening" your wine without breaking the bank. Aerators with wider openings can allow up to 40% more oxygen to enter your wine and it provides a nice flow from your bottle into your glass.
As for sedimented wines, the first thing you need to do is let all sediment fall to the bottom in case you've been storing your wine sideways. This can take up to a few days to ensure that all sediment has settled.
Then, all you have to do is gently pour the wine to ensure that the sediment doesn't get agitated and mixed with the wine. Once your wine is free of sediment, let it sit in a glass for a few minutes, and you're good to go.
Let Your Wine Breathe
Now that you understand how aeration works and the main reasons to buy a great wine aerator, go ahead and give it a try yourself. This process is effortless and can make a world of difference.
Again, you might not get the full effect by simply opening your bottle. The best way to aerate wine is to use a decanter or aerator. It can significantly improve your drinking experience and let you discover the notes you haven't noticed before.
Winer Aerators That Are No Longer Available Or Recommended
AirVinum
Properly aerated wine is more pleasurable to drink. We decant, swirl, and pour our wine through all manner of contraptions in order to achieve this goal. As the gadgets meant to enhance the enjoyment of our wine become increasingly complex and costly, they are losing touch with that basic goal. Fortunately, the makers of the AirVinum appear to have their priorities in order.
The AirVinum is all about the simplicity of design. That's the beauty of it. With this affordable device, you can make your wine more enjoyable to drink. We are placing this wine aerator at the top of our list because it does a great job of aerating wine quickly. The no-drip pour is an added bonus and it's sure to make a great gift with quirky sayings taking center stage on their simple packaging.
You can learn more about why the AirVinum does such a great job aerating wine here.
Check Current Prices For This Wine Aerator
This digital sommelier wine aerator comes with a mobile app that advises decanting times for specific wines, along with how to decant spirits as well. Just open the wine, pour the bottle into the decanter placed on the machine, and let the technology remove moisture, dust, odors, and undesirable chemistry through aeration with concentrated, purified oxygen taken from the ambient air. Easier than a coffee machine, and much more fun, the iSommelier is one of the best wine aerators for serious wine lovers with a big budget.
UPDATE - There is a similar wine aerator from Humbee that sells for less than half the price of the iSommelier and gets good reviews. You can check it out here.
Check Current Prices For This Wine Aerator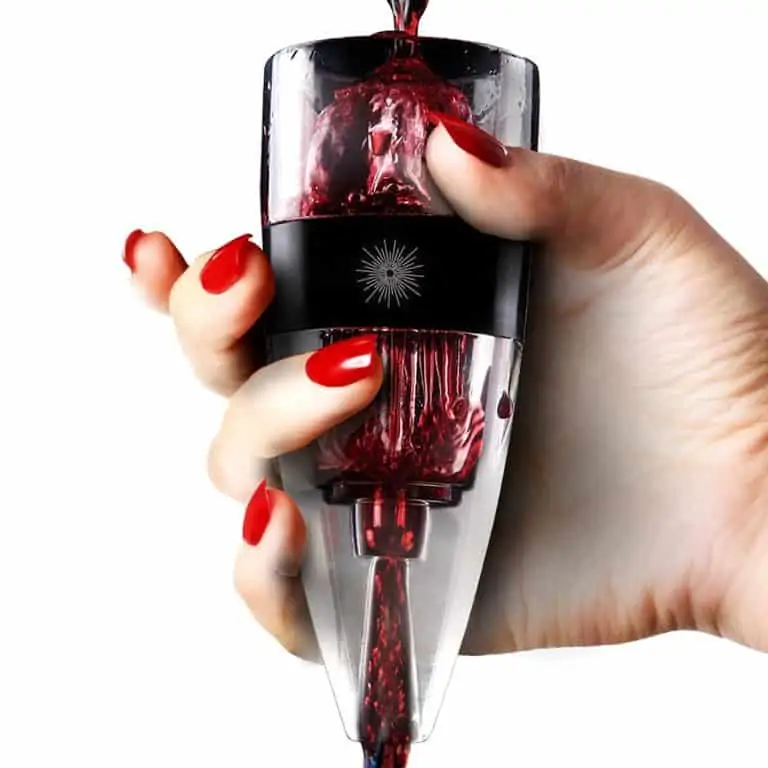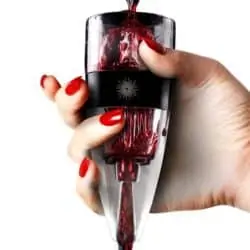 The VinLuxe PRO: $18.95
Sleek and effective, the VinLuxe PRO goes about its work a little differently. After opening the wine, hold this wine aerator in one hand above the wineglass, then pour through the top of the aerator and watch the magic happen. Wine gets aerated 300 percent faster than with a decanter, using a patented 3-step process. It comes with a non-skid base to hold the device when not in use, and a travel pouch to pack it up and go mobile. It cleans easily by running clear water through it, and also has a 100 percent lifetime satisfaction and replacement guarantee, so it's hard to go wrong.  This is one of the best wine aerators you can find for under $20.
Check Current Prices For This Wine Aerator
Conclusion
You will start to notice a difference once you find the perfect wine aerator. Whether you choose a simple design like the Rabbit aerator or a fancier option like the Aervana is a matter of personal taste. We believe all the aerators on our list of the best wine aerators will help you better appreciate a fine wine.
The next step is to get the best wine glasses to pour your precious liquid into. A properly designed wine glass will trap and direct those volatile chemicals you just unleashed with your aerator. The combination of a properly aerated wine and the perfect glass is sublime!