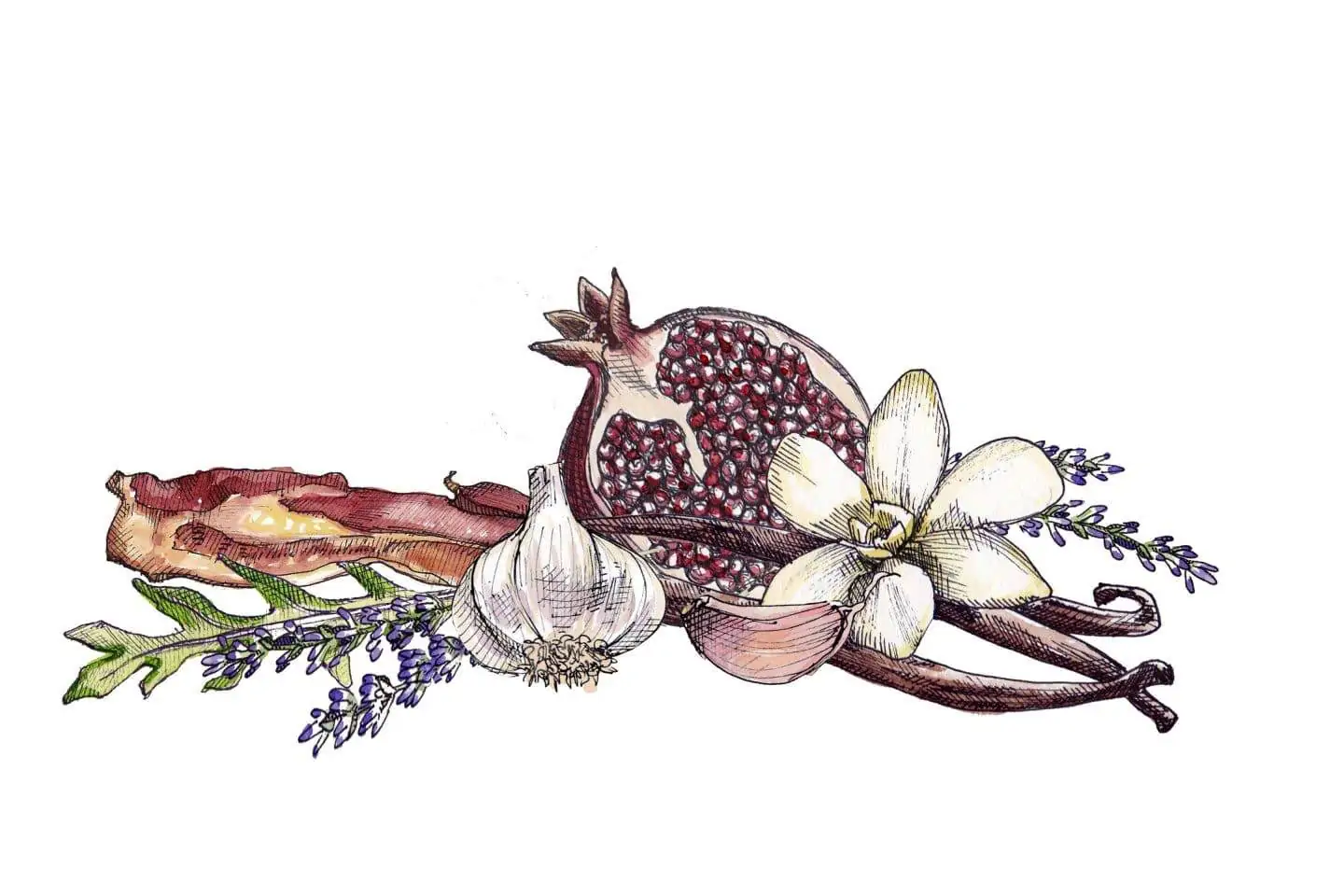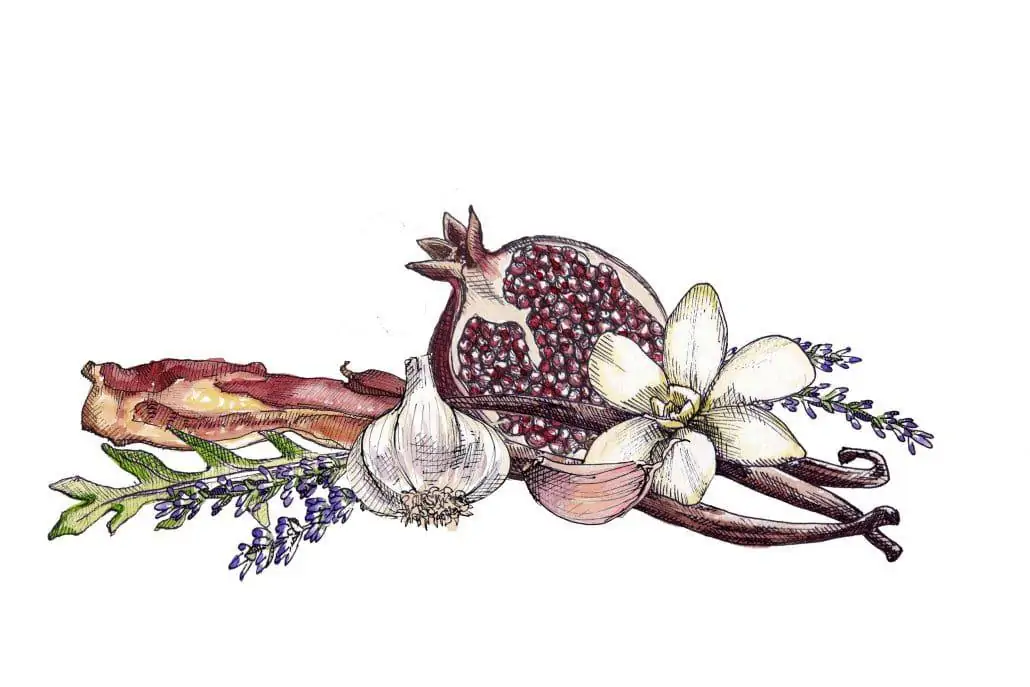 So you are interested in identifying common wine faults? This is a great skill to have if you are an amateur winemaker. It's also a great way to impress friends. Whatever your reason for wanting to know why your wine smells like horse pee, we are here to help.
Head over to the first wine tasting skills article if you're just now joining us. Everyone else, strap in and put on your helmets; we're getting to the nitty-gritty of the aroma wheel.
I'm hoping at this point your interest has been piqued and your wine wheels are turning because the following is all about the quirky jargon floating around the industry.  Below, I've listed some major aroma compounds that are part of a grape varietal's chemical nature, which are still being studied by oenologists today. Turns out the makeup of these tiny, juicy grapes are hard to analyze. Wine tasters end up using some odd wine descriptions to explain the impact of the chemicals below.
Pyrazines in Wine Descriptions
First up are pyrazines. If not monitored, pyrazines will take over the wine and make it largely undrinkable turning a hint of bell pepper into a composting green nightmare. The grapes that tend to showcase pyrazine notes are Cabernet Franc, Cabernet Sauvignon, and Sauvignon Blanc. Can you find the link between the varietals here? They are similar by nature. Cabernet Franc and Sauvignon Blanc crossed and became the proud parents of Cabernet Sauvignon. A touch of bell pepper isn't considered a wine fault, but you still don't want to smell much of it in a good Cab.
Aromas or tastes you will notice:
Green bell pepper
Grass
Asparagus, Arugula
Anything herbaceous
Terpenes in Wine Descriptions
Let's talk about Terpenes. As you can probably discern, the wine descriptions for Terpenes typically come from powerful, pungent wines. You'll smell manufactured dish soap for Torrontes, Lychee and orange/lemon oils for Gewurztraminer, and petrol for Riesling. Not to mention the beautifully aromatic family of Muscat.
One other point to note, Terpenes have been found in American Oak – so it's not uncommon to pick up floral components in wine descriptions of Aussie Shiraz, Rioja, California Zinfandel…the list goes on.
Aromas or tastes you will notice:
Lavender
Bergamot Oil
Lychee
Hand soap
Petrol
Rose
Thiols or Mercaptans
Now let's cover thiols. The dead or residual yeast, known as lees in the wine world, react with sulfur during primary fermentation and can result in odors on both ends of the spectrum.
In low concentrations, a smoky, gunflint aroma can be found in Chablis wines (Chardonnay) and some whites from Loire and Bordeaux. In high concentrations, it will mask all flavors of the wine and result in some pretty unfavorable wine descriptions like rotten eggs or excessively cooked vegetables. This is one of the common wine faults you really want to avoid.
Aromas or tastes you will notice:
Gunflint
Smoke
Coffee grinds
Cat Pee
Garlic
Rotten Egg
Brettanomyces
While Brett is essential in some Belgian beers like Lambic and Geuze, it's not always wanted in the wine world. At its core, Brettanomyces is a natural yeast found on grape skins, and at controlled levels, it can improve the complexity of red wines by adding aromas of clove and fatty bacon – just smell an aged Syrah from Hermitage to understand this wine description. It's unbelievable.
At undesirable levels, you'll immediately pick up on stinky aromas like a high school locker room or saddle sweat. Not the wine descriptions you want right? It's really not appealing. An untamed Chinon from Loire Valley comes to mind. Disclaimer: Chinon wines are fantastic, don't let this deter you.
Aromas or tastes you will notice:
Bacon fat
Band-aid
Horse-sweat/Animalistic
Body Odor
Baby Diaper
Volatile Acidity
Now with Brettanomyces fresh on your mind, I quickly wanted to touch on volatile acidity (VA), which is a byproduct of the yeast reaction in wines. Once again, it's all about moderation. There are laws in place that bar VA from reaching a certain threshold; the maximum is slightly raised for red wines since they are typically more robust and contain higher levels of tannin, alcohol, and body. The most known volatile acids are lactic and acetic. If not monitored, acetic acid will start bringing out strong scents of varnish instead of the beautiful balsamic notes that you can find in Red Chianti and Burgundy.
That's a quick summary of the major flavor compounds at play in the world of wine and hopefully, you've added to your repertoire as a result. It should be noted this is not a conclusive list of compounds or wine descriptions, but it's a start.
There are also Geosmins, Esters, and we only took a glimpse into the rabbit holes of Mercaptans and Sulphurs.  But I'll go ahead and tell you right now, it's a very dry subject and ultimately, I think you'd rather enjoy a glass of wine instead of diving into a book about chemical reactions and ethanol.
Aromas or tastes you will notice:
Balsamic Reduction
Nail Polish Remover/Varnish
Pickled
Sauerkraut
Happy drinking, everyone!