Flying with Wine Like an Expert
Flying with wine is easy if you follow some simple guidelines and have the right gear. Knowing that your precious wine is traveling safely with you feels a lot better than handing it off to a third party.
Opening a bottle of your favorite vintage and enjoying it in your home is a wonderful sensation. But, you may receive an invitation to some special occasion and decide that bringing that exceptional bottle you've been saving with you is just the thing needed to elevate the event even further. Or if you like to travel, bringing back a few bottles each time can leave you with a very respectable collection before long.
Now, if you are driving to your destination, then traveling with wine is a relatively straightforward affair. Of course, you still need to make sure your precious cargo is packed safely. The last thing you want to see is a broken bottle. It's a good idea to invest in some specialized accessories to protect your bottles from bumps and the heat. But there are no other major issues to worry about. However, that is not the case if you plan to fly with wine.
For one, protecting your bottles from damage becomes even more important. Various people will handle your luggage around airports, and you don't know how careful they'll be. There are also conveyor belts and other things that come with boarding a plane, all leading to an increased risk of that expensive bottle breaking. Your best bet of avoiding this is to get some proper wine travel bags.
Secondly, you need to take the rules and restrictions into account. As you are well aware, air travel is subject to very strict security measures. This means there are limitations as to what you can bring onto a plane. Fortunately, these restrictions are not too severe when it comes to traveling with wine. Still, you need to be aware of them in advance in order to avoid any nasty surprises when you get to airport security.
This article will help with both of these issues.
Rules and Regulations | Flying with Wine
When you want to fly with wine, there are, in general, three types of rules to keep an eye out for.
Rules of National Security Agencies
For the States, this refers to the regulations of the TSA (Transportation Security Administration). Here, we can make another distinction:
Wine in Carry-On Luggage
Strictly speaking, you are allowed to bring alcohol in your carry-on. But, there is a big limitation regarding the size – the bottle cannot be bigger than 100ml (3.40z). As we are talking about full-sized wine bottles, this essentially means you'll need to turn to the other option.
You may be able to bypass this restriction by purchasing wine in a duty-free store after you've cleared security, but that is not the scenario this article will focus on.
Wine in Checked Luggage
When it comes to flying with wine, this is the way to go. Once again, the TSA does have restrictions in place, but they do not generally impact wine lovers. Specifically, the only restriction for checked luggage is the alcohol content of the beverage.
If it is below 24%, there are no added restrictions.
If the alcohol content is between 24% and 70%, each passenger is limited to 5l (1.3 gallons).
Beverages with an alcohol content above 70% are prohibited
Now, the alcohol content isn't the same in every wine. But even fortified wines tend to be between the 18% and 20% mark. As a result, no special restrictions apply to this beverage. Therefore, the TSA won't mind the wine in your suitcase as long as you've followed the standard procedures.
Airline Rules
If your intention is to check wine as luggage, the best course of action is to do a bit of research on the airline you'll be using. They will follow the TSA's rules, but they may also have some added policies. For example, this could refer to how the bottles need to be packed and whether you have to use bottle protectors.
Additionally, even though the TSA does not place added restrictions on wine in checked luggage, you still need to abide by the weight limits each airline has in place. So, check ahead to see how much weight you have to work with.
Import Laws
Finally, if you're bringing in wine from abroad, there are some added rules to follow. Most notably, you'll need to pay extra duties. You can generally enter one liter of alcohol into the States duty-free, but the rest will come with an added cost. These costs will depend on several factors but are generally almost negligible when the wine is for your personal use.
Finally, while on the topic of international travel, you should make sure to check the applicable regulations if you're planning to bring wine into another country. We've focused on the USA, but you might face a different scenario.
Wine Travel Bags
Now that we've gone over the rules that relate to traveling with wine on an airplane, it is clear that checked luggage is your best bet. But, that also means your precious bottles will be out of your hands. As such, you want to pack them in a way that ensures the best protection possible. And for this, you need specialized travel bags.
Wine Suitcases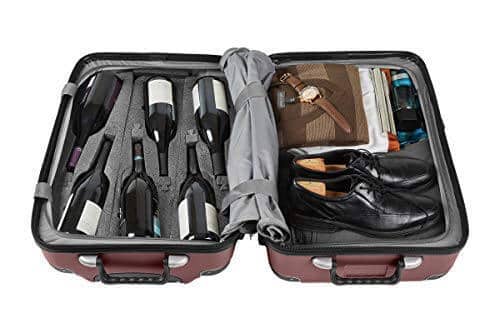 A really good option is to go for a wine suitcase. Typically, they will have a hard outer case and some sort of foam inserts on the inside. This ensures your bottles will have a snug fit, protecting them from the shocks that are inevitable with this mode of travel.
There are options out there that cost less, but these suitcases can provide a lot of value for money. If traveling with wine is something you do on a regular basis, one of these will really prove its worth with time.
Look here for our recommendation | The best wine suitcase
The Wine Check Bag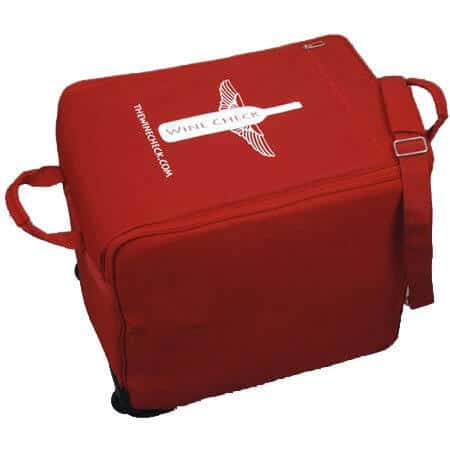 Another very popular option is the Wine Check bag. As you can tell by the name, it is designed to be used when flying with wine. When combined with the appropriate inserts, this travel bag will make getting your wine on and off a plane much easier.
Its nylon construction makes it lightweight, meaning it will stay under the usual weight limits even when fully loaded. In conjunction with the inserts, it provides several layers of protection to keep your bottles safe.
We believe the Wine Check is one of the best travel bags for wine out there – look here for more info.
Bottle Protectors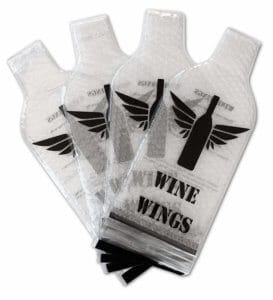 Lastly, if you don't want a separate travel bag for your wine, you can go for bottle protectors instead. With them, you can pack wine bottles into your regular suitcase with a lot of added protection.
There are several types available. Some are inflatable and use air to protect your bottles while others rely on different methods. But they all decrease the risk your bottles will get damaged and are leak-proof to protect the other items in your suitcase.
To see some outstanding wine bottle protectors, click here.
Conclusion
When you want to fly with wine, you need to prepare. You should make sure you'll comply with all the applicable rules and regulations and take extra care when packing your wine. Hopefully, this article will help you with both. It might take a bit of extra work, but traveling with wine can open up even more ways to enjoy this sublime beverage – airplanes should not get in the way of this.