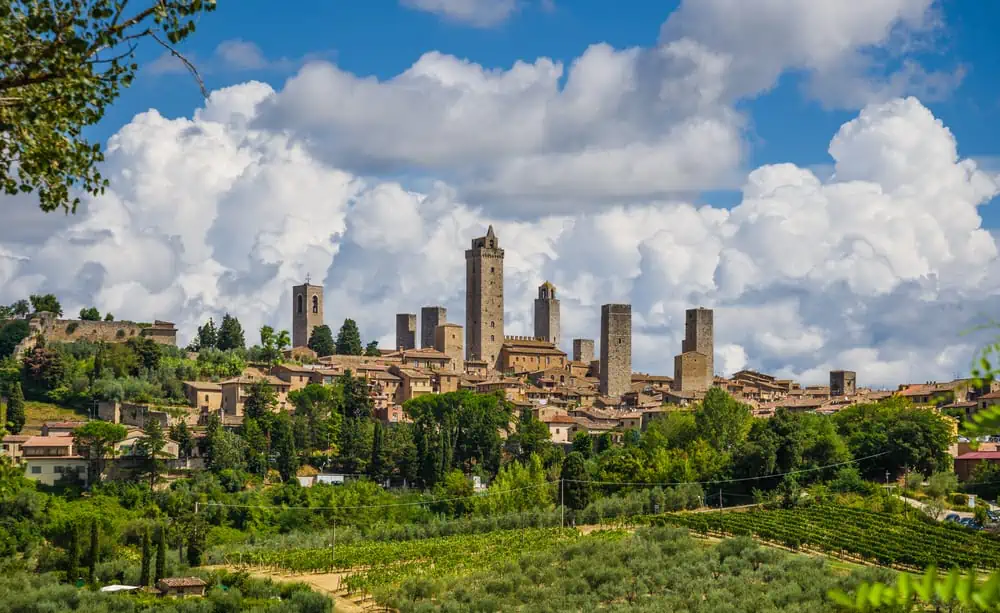 The Old World wine regions of France, Italy, and Spain are steeped in history, tradition, and diverse grape varieties. These countries have shaped the wine industry and continue influencing winemaking practices worldwide. 
This high-level overview touches on the rich wine history, current production, grape types, and most famous wine styles of these prestigious regions, showcasing their unique characteristics and enduring appeal.
We provide links after each country if you want to dive deeper into the history and wines of each country. 
France: The Birthplace of Fine Wine
France is often regarded as the birthplace of fine wine, with a history spanning over 2,000 years. The French wine industry has evolved through centuries of trial and error, resulting in a complex system of appellations, classifications, and strict regulations ensuring each bottle's quality and authenticity.
Today, France is one of the largest wine producers in the world, with several renowned wine regions such as Bordeaux, Burgundy, Champagne, and the Rhône Valley. These regions are home to some of the most sought-after wines from indigenous and international grape varieties.
Grape Varieties and Wine Styles 
France boasts an impressive array of grape varieties, the most famous being Cabernet Sauvignon, Merlot, Pinot Noir, Chardonnay, and Sauvignon Blanc. These grapes produce some of the finest and most iconic French wine styles. 
The classic red blends in Bordeaux are predominantly made from Cabernet Sauvignon and Merlot, with smaller amounts of Cabernet Franc, Petit Verdot, and Malbec. These wines are known for their structure, longevity, and complex flavors. Bordeaux also produces exceptional white wines from Sauvignon Blanc and Sémillon, often blended to create crisp, aromatic dry whites or luscious, sweet dessert wines like Sauternes. 
Burgundy is synonymous with Pinot Noir and Chardonnay, which are used to produce elegant, terroir-driven reds and whites, respectively. These wines are highly prized for their finesse, complexity, and ability to age gracefully. Conversely, Champagne is renowned for its sparkling wines made from Chardonnay, Pinot Noir, and Pinot Meunier. These celebrated bubblies range from delicate and mineral-driven to rich and toasty, with an unmistakable finesse that has made them synonymous with luxury and celebration. 
The Rhône Valley produces powerful red wines from Syrah in the Northern Rhône and blends of Grenache, Syrah, and Mourvèdre in the Southern Rhône. The region also offers a variety of white wines made from grapes such as Viognier, Marsanne, and Roussanne.
For a deeper understanding of French wines, read:
French Wines: The Essential Guide to the Wines and Wine Growing Regions of France  
Click here to order it on Amazon.
Italy: A Tapestry of Wine Regions
Italy is a patchwork of wine regions with distinct histories, cultures, and grape varieties. The country's winemaking traditions date back over 3,000 years. Today, Italy is one of the world's largest wine producers, encompassing twenty diverse regions from Alto Adige in the Alps to the sun-drenched island of Sicily. 
Italian wines are known for their food-friendly nature, vibrant acidity, and expressive flavors. The country boasts an astonishing number of grape varieties, with over 350 officially recognized by the Italian government. 
Grape Varieties and Wine Styles 
Some of Italy's most famous grape varieties include Sangiovese, Nebbiolo, Barbera, Pinot Grigio, and Trebbiano. These grapes give rise to a wide range of wine styles that showcase the diversity of Italy's terroirs. 
Tuscany is home to Sangiovese, the grape behind the renowned Chianti, Brunello di Montalcino, and Vino Nobile di Montepulciano wines. These reds are characterized by their bright acidity, firm tannins, and flavors of red fruits, earth, and spice. 
In Piedmont, Nebbiolo is responsible for the prestigious Barolo and Barbaresco wines. These age-worthy reds are prized for their complex aromas of red fruits, flowers, tar, and truffles, as well as their power structure and high acidity. 
Veneto is known for its crisp, refreshing Pinot Grigio and unique Amarone della Valpolicella, a rich, full-bodied red wine made from partially dried Corvina, Rondinella, and Molinara grapes. This winemaking technique concentrates the flavors and sugars, producing a powerful, velvety wine with notes of dried fruits, chocolate, and spices. 
Here is a book to read if you want to dig deeper into the world of Italian wine:
Vino: The Essential Guide to Real Italian Wine
You can order it on Amazon by clicking here.
Spain: A Wine Lover's Paradise
Spain has a rich and diverse wine history dating back over 3,000 years. The country's varied climate, geography, and indigenous grape varieties have given rise to an incredible range of wine styles. Spain is the third-largest wine producer globally, with numerous thriving wine regions such as Rioja, Ribera del Duero, Priorat, and Penedès. 
Spanish wines are often characterized by their balance of tradition and innovation, with many winemakers embracing modern techniques while staying true to their roots. 
Grape Varieties and Wine Styles 
Spain is home to many grape varieties, including Tempranillo, Garnacha, Albariño, and Verdejo. These grapes form the foundation for many of the country's most iconic wine styles. 
Rioja is Spain's most famous wine region. It is renowned for its age-worthy red wines made predominantly from Tempranillo, often blended with smaller amounts of Garnacha, Graciano, and Mazuelo. These wines are known for their complex flavors of red fruits, earth, and spice and their ability to evolve and develop over time. 
Ribera del Duero is another celebrated region for Tempranillo, producing robust, full-bodied reds with dark fruit flavors, firm tannins, and a distinctive minerality. In contrast, the Rías Baixas and Rueda coastal regions are famous for their white wines from Albariño and Verdejo. These crisp, aromatic whites showcase zesty acidity and pronounced citrus, stone fruit, and herbs flavors, making them perfect partners for the region's seafood bounty. 
Read our post on the wine grapes of Spain to better understand this old-world wine region.
Conclusion
In conclusion, the Old World wine regions of France, Italy, and Spain offer a fascinating journey through history, tradition, and a vast array of grape varieties and wine styles. Each country has made an indelible mark on the world of wine, and their enduring appeal is a testament to their expertise, passion, and dedication to the art of winemaking. By exploring these prestigious regions, wine lovers can deepen their understanding and appreciation of the incredible diversity and complexity of the Old World.