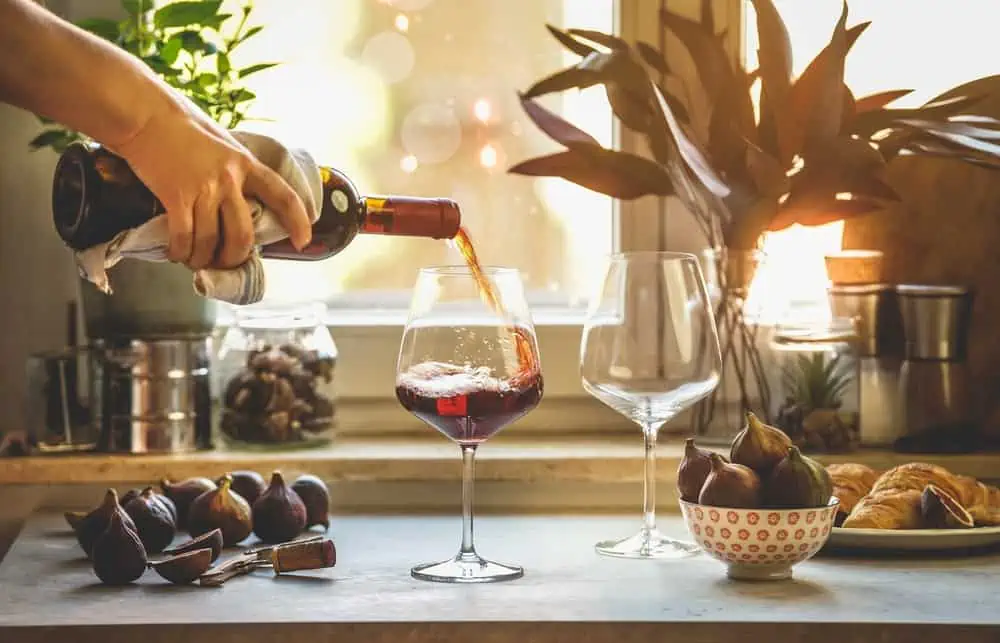 Popular Red Wine Varietals: Cabernet Sauvignon, Pinot Noir, Syrah and Merlot
Now, let's plunge into the heart of our adventure – four of the most loved red wine varietals.
Cabernet Sauvignon
Cabernet Sauvignon, a natural cross between Cabernet Franc and Sauvignon Blanc, is one of the world's most widely recognized and acclaimed red wine grape varieties. Originally from Bordeaux, France, it is grown in nearly every major wine-producing country today, making it a global varietal.
Known for its dark color and full-bodied profile, Cabernet Sauvignon typically has an alcohol content of over 13.5%. The flavor profile is assertive, with robust tannins more pronounced than those found in Merlot and a denser texture and weight than Pinot Noir.
Flavor-wise, Cabernet Sauvignon expresses blackberry, cassis, plum, currant, spice, and tobacco notes. The exact flavor can vary based on the specific terroir where the grapes are grown, but these are some common characteristics.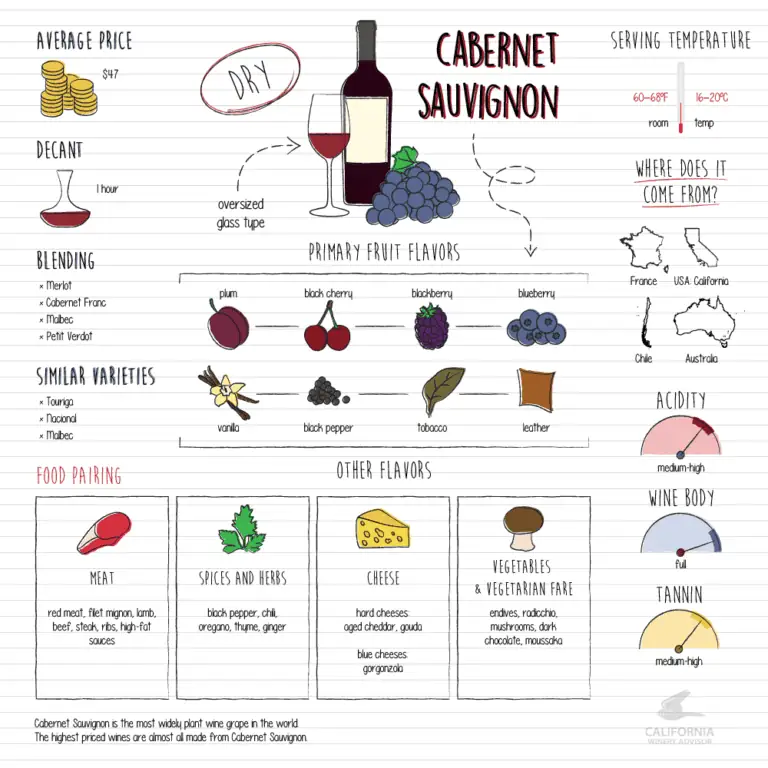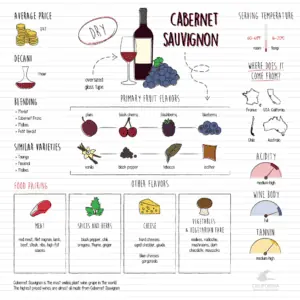 Pinot Noir
Pinot Noir is a highly coveted red wine variety known for its delicate complexity and elegance. Originating from the Burgundy region of France, this grape has found success in various parts of the world, including Oregon's Willamette Valley and California's Santa Lucia Highlands in the U.S.
Typically, Pinot Noir has aromatic notes ranging from fresh red fruits like strawberries, cherries, and raspberries to more earthy undertones such as mushrooms, damp earth, and even a hint of barnyard. The flavor profile can depend heavily on where the grapes are grown, with cooler climates producing lighter-bodied wines with higher acidity and more pronounced red fruit flavors, while warmer climates can yield fuller-bodied wines with darker fruit notes and often a touch of spice.
The mouthfeel of Pinot Noir is generally light to medium-bodied, with soft tannins that make it smooth and easy to drink. This, coupled with its high acidity, makes Pinot Noir an excellent food pairing wine, complementing dishes ranging from poultry and pork to fish and vegetarian fare.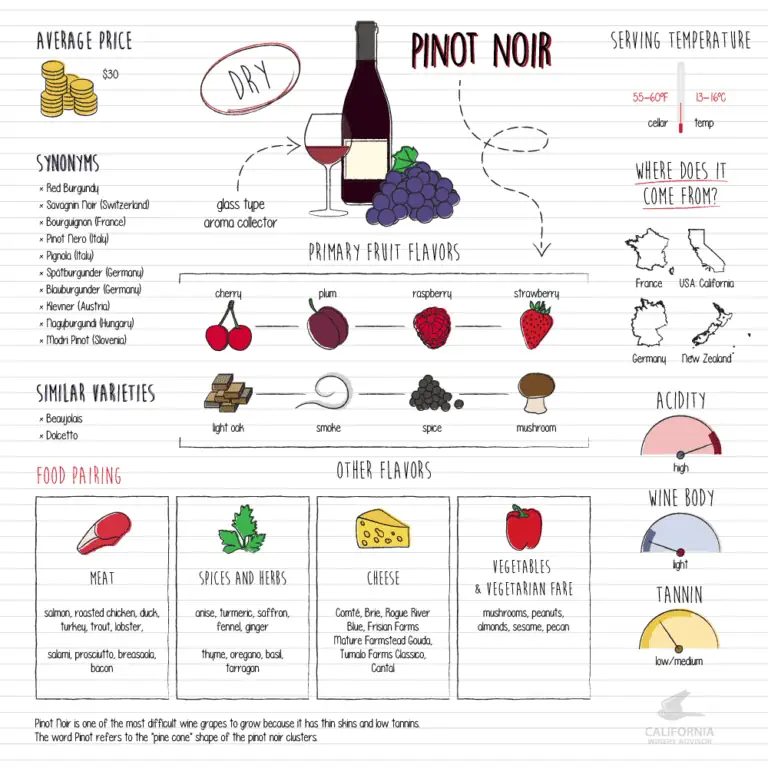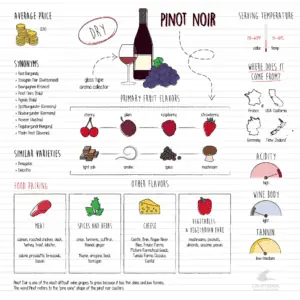 Syrah/Shiraz
Syrah, also known as Shiraz, is a dark-skinned grape variety used primarily to produce robust, full-bodied red wine. This grape variety's origins can be traced back to France, where it is predominantly grown in the Rhône region. However, it has found a second home in Australia, where it is famously known as Shiraz.
Syrah and Shiraz wines are made from the same grape variety, and the use of two names emanates from the variety's development on different continents. While they're genetically identical, the style of wine can differ dramatically depending on where it's grown and how it's made.
Syrah wines are typically more elegant, lean, and savory, often showcasing dark berries, pepper, and sometimes meaty notes. In contrast, Shiraz wines, particularly those from Australia, are known for their powerful, fruit-driven character with ripe blackberry, plum, and spicy flavors.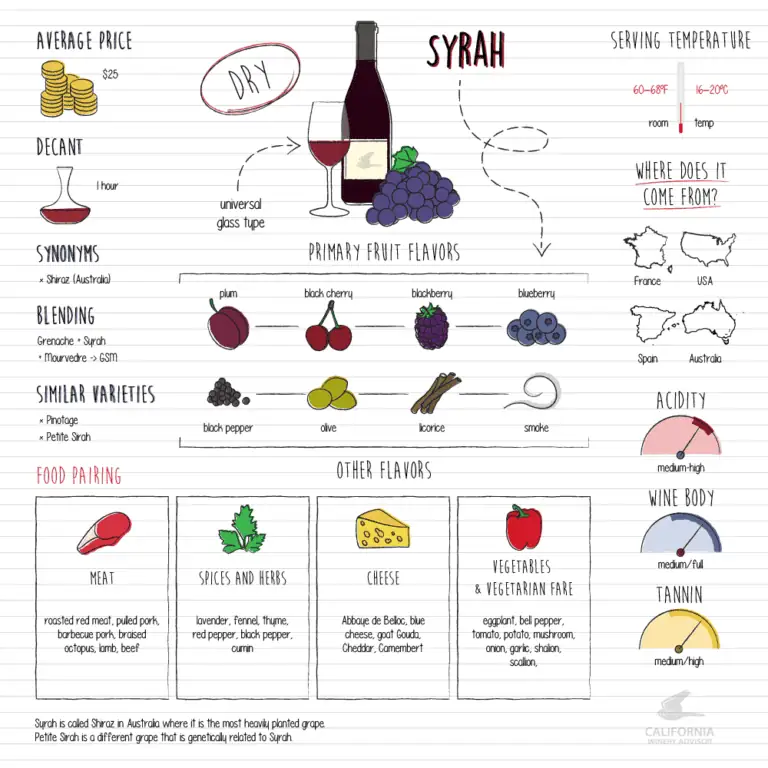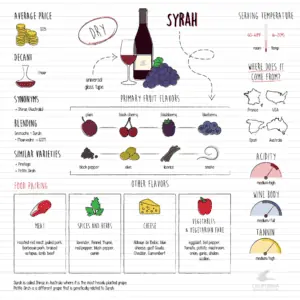 Merlot
Aromatically, Merlot is often characterized by its luscious notes of ripe fruits like plums, cherries, and blackberries, often complemented by subtle hints of vanilla, clove, or chocolate, especially if the wine has been aged in oak barrels. These aromas can vary based on the climate where the grapes have been grown; cooler climates tend to produce Merlots with more red fruit and herbal notes, while warmer climates yield wines with darker fruit flavors and often a higher alcohol content.
Upon tasting, Merlot typically presents a velvety, full-bodied mouthfeel with medium to high tannins that provide structure without overwhelming the palate. The fruit-forward nature of Merlot makes it incredibly approachable, particularly for novice wine drinkers. However, its complexity and potential for aging also appeal to seasoned wine enthusiasts.
In terms of food pairing, Merlot's versatility shines through. Its balance of fruit, acidity, and tannins makes it compatible with various dishes, from grilled meats and hearty pasta dishes to a variety of cheeses.
Remember, the best way to understand and appreciate Merlot is by tasting. So, explore different bottles from various regions and discover the grape's richness and diversity. Cheers!
A Nod to Red Blends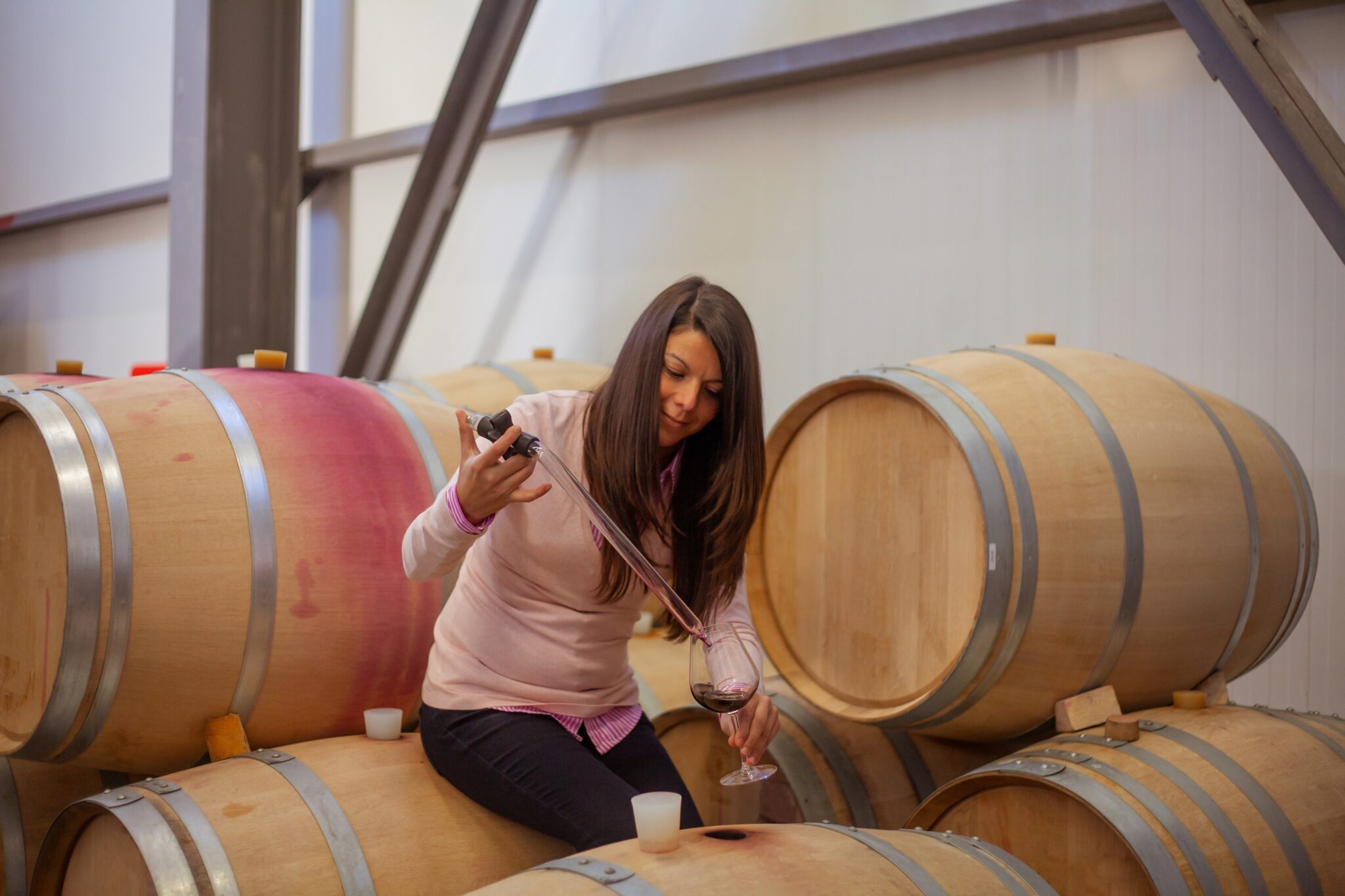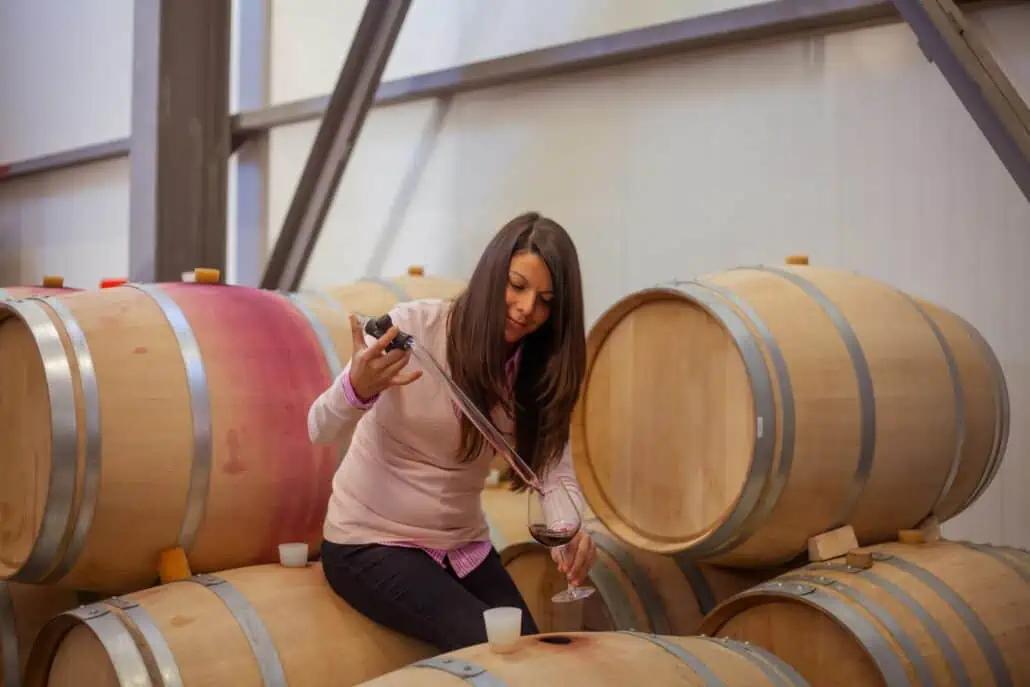 Red blends are wines made from a mix of different red grape varieties artfully blended together by the winemaker. The aim is to create a wine that's greater than the sum of its parts, with each grape contributing something unique to the final product.
For instance, one grape might provide color and tannin, another may offer ripe fruit flavors, while a third could add acidity or structure. The winemaker's skill lies in selecting the right grapes and deciding the proportion of each to achieve the desired taste profile.
Some of the most famous red blends include Bordeaux blends from France (typically a mix of Cabernet Sauvignon, Merlot, and Cabernet Franc) and Super Tuscan blends from Italy (often a blend of indigenous Sangiovese with international varieties like Cabernet Sauvignon). However, blending wines is common in all wine-growing regions worldwide.
Making a red blend allows winemakers to craft consistent wines year after year, even when individual grape varieties may have had a challenging growing season. It also allows them to experiment and create unique, signature wines.
Beyond the Beaten Path: Red Varietals To Fall In Love With
While these varietals make for a delightful introduction to red wines, the universe of red wine is expansive and diverse. There's a treasure trove of lesser-known but equally intriguing varietals awaiting discovery. Curious? Dive deeper into this riveting world here.
Red Wine Production: A Brief Overview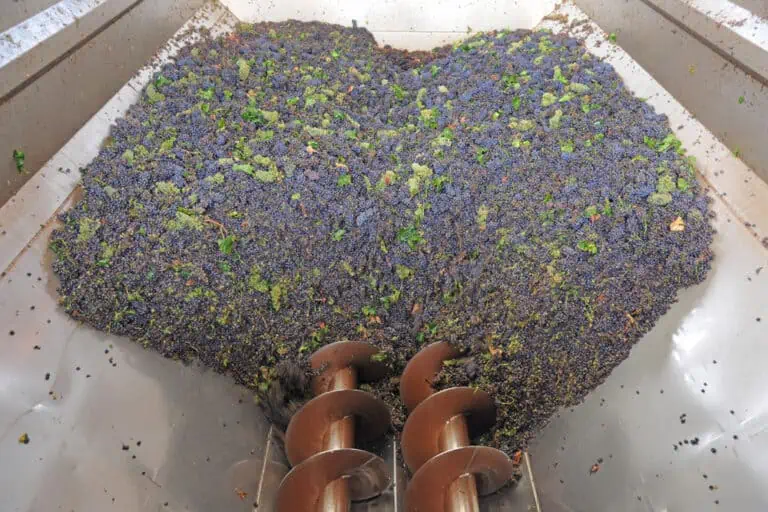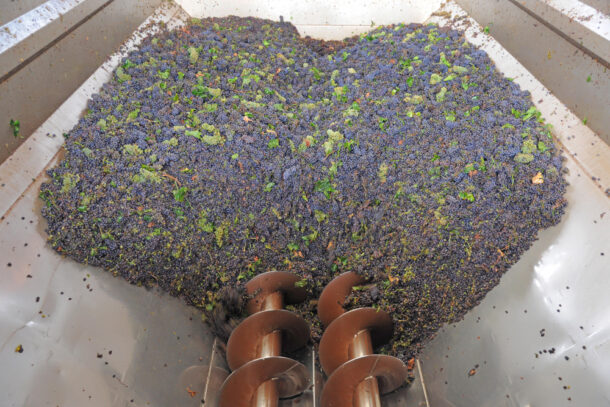 Your Red Wine Adventure Starts Here
As we round off this introductory guide, remember that the world of red wines is a playground for exploration. Whether your palate leans towards the robust Cabernet Sauvignon, the velvety Merlot, or the delicate Pinot Noir, each sip is a step closer to unraveling the art and science behind these mesmerizing creations. So, pour yourself a glass and raise a toast to the beginning of your red wine adventure. Let the voyage of discover commence!